The man who listed the Egyptian president for sale on eBay Mashable
This Bizarre, Marble-Powered Instrument Is the Coolest Thing in the World Curbed. Chuck L: "Watch and listen." Reminds me of the Strandbeests.
'I ate my friends to survive' BBC
NASA's Graveyards: Haunting Images Reveal Remnants of the Space Race Core77 (resilc)
Kids, concussion and sport Economist. American football is done in 10 years unless the medical industry finds treatments for brain trauma.
Immune cell breakthrough in cancer fight Financial Times
Why the war on drugs is unwinnable Boing Boing (resilc). Important.
Three major concepts that shatter the myths surrounding drug legalization Raw Story (furzy)
Inside the "most toxic city in America" where the earth is poisoned by lead and zinc Business Insider (resilc)
Got ransomware? What are your options? Naked Security (Glenn F)
China?
China's Rebalancing Is Overrated Bloomberg

China Begins to Tackle Its 'Zombie' Factory Problem Wall Street Journal
Japan's monetary firepower misses mark Financial Times
Only the IMF can now save Brazil Telegraph (Ryan R). Um, that requires a liberal definition of the word "save".
Refugee Crisis
'Do not come to Europe' – EU's Tusk BBC

A welcome intervention from France over Brexit Financial Times, Yes, this is in the correct category.
Brexit?
The Price Britain Pays for Europe Bloomberg

Is Brexit a threat to foreign direct investment? Financial Times

Fog in the Channel: Brexit through the eyes of international trade Bruegel
Tsipras Must Purge Cabinet to Lift Economy, Greek Industry Says Bloomberg
Syraqistan
Big Brother is Watching You Watch
Apple Is Rolling Up Supporters in Privacy Fight Against F.B.I. New York Times

Health care takes on the fight against trafficking Marketplace (guurst). You'll see why I put this story here.
Imperial Collapse Watch
Don't Fall for Obama's $3 Billion Arms Buildup at Russia's Door Defense One (resilc). "There is no Russian resurgence. Washington is playing on your Cold War fears to get you to pay for something the U.S. does not need and can't afford."
Clinton E-Mail Hairball
Trump Panic
Mitt Romney Remarks on Republican Presidential Race CSpan (Kevin C)
2016
Tulsi Gabbard, the first Hindu in the US Congress, on Modi, Hinduism, and linking Islam to terror Quartz (resilc)
Georgia's GOP governor uses New Testament to reject anti-LGBT 'religious freedom' bill Raw Story
Flint Is in the News, but Lead Poisoning Is Even Worse in Cleveland New York Times
Oil
Dallas Fed Unplugs Oil Bulls, Warns of Liquidity Crunch, Contagion Wolf Richter

Anadarko Slashes 80% Of Onshore Rigs, To Lay Off 95% Of Contractors OilPrice (Glenn F)
Hedge funds have been getting crushed, and it is hurting everyone else in the market Business Insider (David L)
Class Warfare
Making the Journey From Menace to Neighbor, All on One Brooklyn Block New York Times (resilic). Telling.

5 Ways to Minimize Inequality Amongst Americans Huffington Post

Costco to Raise Its Minimum Wage Wall Street Journal

The Dynamics of Retreat Jacobin (Chuck L). A must read, and arguably a case study of the thesis outlined by Richard Kline in Progressively Losing. However, the depiction of the 1970s is not right. If you look at Fed Flow of Funds data, corporate profits after the 1974-1975 recession abated were strong. But the overall level of growth was mediocre, and American companies were losing ground to German and Japanese competitors. The issue wasn't corporate profits per se, but that executives resented how much was going to employee benefits and social welfare programs, and they were convinced that workers were only going to keep asking for more unless they were disciplined.
Antidote du jour. More raccoon exploits: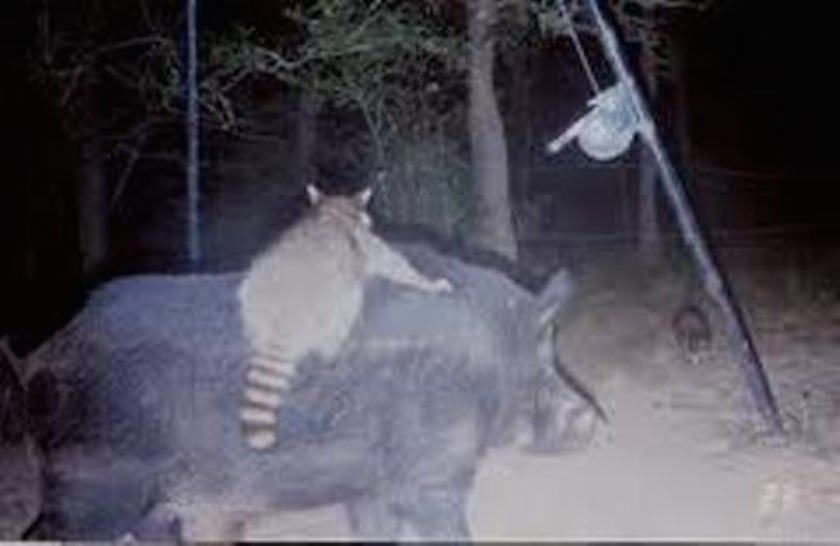 See yesterday's Links and Antidote du Jour here.