We've depicted the various settlements of mortgage liability, most importantly, the 2012 49 state/Federal deal called the National Mortgage Settlement, as a "get out of jail almost free" card for banks. It was tantamount to a second bailout for the widespread failure to securitize mortgages in accordance with the bank's own requirements, and the resulting foreclosure abuses that resulted.
The Wall Street Journal has endeavored to find out where the money, which nominally totals $110 billion across the six biggest banks, went. While the story does not say so crisply, perilously little benefitted borrowers despite concerted efforts to pretend otherwise.
The reason that the Journal fails to discern this fact it that it perpetuates one of the myth of these deals, which yours truly, Dave Dayen, and others who have written regularly on this topic, have debunked: that the "consumer relief" portion of these deals represented a meaningful cost to the perps, and was beneficial to homeowners.
Of that $110 billion, nearly $45 billion was called "consumer relief," which experts argued had real economic costs to the banks on the order of ten cents on the dollar: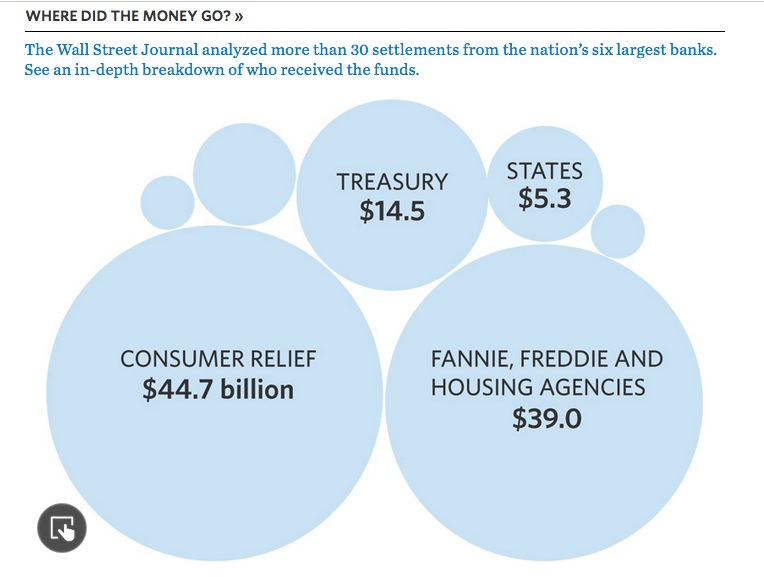 But those were not hard dollar payments, but mere credits for the banks doing things they would have done anyhow, such as bulldozing vacant homes, or making modification where it suited them (too often of securitized first mortgages which enhanced the value of second mortgages they owned). Mind you, mortgage investors were up in arms about the fact that the National Mortgage Settlement gave credits for modifying mortgages that banks did not own.
A casual look into our archives should help remind readers of how bank-favorable these deals were. From a 2012 post:
As we and others have written at considerable length, the mortgage settlement was a big exercise in optics. The $26.1 billion number sounds impressive until you compare it to the size of the housing market and the damage done to homeowners. 40% of the value of the settlement can come from junk credits, things the banks would have done anyhow or should be doing in the normal course of business, like razing vacant homes, short sales, and giving homes to charities. And of the remaining part, which was a relatively small amount of actual cash payment ($5.8 billion, but that included over a billion of fines federal regulators rolled into that total), the rest is supposed to be reduction of mortgage principal. Oh, but wait, they can take credit for modifying OTHER PEOPLE'S MORTGAGES, meaning those owned by investors. And they've been doing that in more than half the cases….

Today, the settlement monitor Joseph Smith released another PR piece, um, progress report. These reports are already sus since the monitor isn't require to say anything about his work until first quarter 2013. So this looks like an exercise in messaging over moving the ball forward (reports like this take a lot of work and divert resources from oversight).

We can see with this report that more effort has gone into creative accounting to make the results look better than they really are. Smith's first progress report gave prominent play to this chart, which was troubling. Despite the claim, taken up by the media, that borrowers got "relief", what it showed instead is that they got overwhelmingly was short sales…

We weren't alone in criticizing the prevalence of short sales, which results in borrowers losing their homes, over various forms of relief, most important, deep principal mods, which keep them in place. Even with the housing market bounce, losses on foreclosures are so high (70%+ of mortgage value) that a deep mod (30% to 50%) is a win-win if the borrower has an adequate level of income.
Now the hue and cry over the high proportion of short sales did lead the banks to tone it down going forward. But we went through the status of other categories of relief and concluded:
So this sorry settlement is playing out as predicted: relief for only a small number of borrowers, and then mainly better off ones, with the banks getting a huge "get out of liability" card on the cheap. And to add insult to injury, we have to read colored pie charts doctored to make a bad story look a smidge less awful.
What does the Journal tell us of what happened to the hard dollar components? Roughly $50 billion went into a black hole at Treasury:
Of $109.96 billion of federal fines related to the housing crisis since 2010, roughly $50 billion ended up with the U.S. government with little disclosure of what happened next, according to a Wall Street Journal analysis….
• The Treasury Department received almost $49 billion of the funds, including money the agency received directly and sums funneled to it by other departments, including government-chartered housing associations Fannie Mae and Freddie Mac. How the money is spent isn't specified….

• The Justice Department, whose prosecutors led many of the negotiations with banks, collected at least $447 million. How it spends the money isn't specified.
States received $5.3 billion, and the funds were almost always deployed to fill various budget gaps rather than aid harmed borrowers. The PR, um, convenient assumption, was that "consumer relief" took care of that. Again from the Journal:
In New York, Gov. Andrew Cuomo is using proceeds to help replace the Tappan Zee Bridge north of New York City, renovate the Port of Albany and provide high-speed Internet access in rural communities…

Most states have directed settlement funds to state pension plans, which oversee savings accounts for public employees such as teachers, judges and other government workers. Many of those funds had invested in mortgage securities that went sour during the crisis. California sent the bulk of its $700 million in bank penalties to its two biggest state pension funds. The office of state Attorney General Kamala Harris said it held back $28 million for itself "to support this and related litigation."
Mind you, I am not saying these other uses of funds at the state level were not worthwhile. But the main objective should have been to make sure that the parties that suffered the most were the main beneficiaries. And have no doubt about it: they weren't. Not only did the banks provide "consumer relief" only that was cheap and convenient to them, they were also not required to fix their servicing procedures and platforms, which virtually assures that borrowers that fall into arrears are likely to be mistreated.
And the officialdom is in denial not just regarding the human costs, but the political one, that of deligitimating authority. Because Obama was so deeply wedded to his neoliberal agenda, he didn't appear at all chastened by the losses the Democratic Party took in Congress during his Presidency. And he ignored the key portent of losing the 60 seat majority in the Senate when Scott Brown won in Massachusetts. Political scientist Tom Ferguson found that there was a strong correlation between foreclosure rates and the proportion of votes in a district cast for Brown. Similarly, the continuing calls for prosecution of bank executives are a refection of the widespread recognition that the financial services industry nearly took down the entire economy, got a massive taxpayer bailout while Main Street was left to take its lumps, and not only did no one go to jail, hardly anyone even took any career hits. If the officialdom is mystified as to the rise of Sanders and Trump, they need to look at the handling of the mortgage crisis as one of many examples where the elites were favored over the general public, and contrary to their pet beliefs, the public is not so clueless as to be fooled about who were the winners and losers.