By Lambert Strether of Corrente.
TPP/TTiP/TISA
"Opinion columns published in California newspapers over the last year in support of the Trans-Pacific Partnership use language nearly identical to drafts written and distributed by public relations professionals who were retained by the Japanese government to build U.S. support for the controversial trade agreement" [The Intercept].
2016
Policy
Operative K is at it again: "As with so much else, this year's election is crucial. A Democrat in the White House would enforce the spirit as well as the letter of [financial] reform — and would also appoint judges [Merrick Gardland *** cough *** moderate Republican *** cough ***] sympathetic to that endeavor" [Paul Krugman, New York Times]. Dear Lord, yes. The FIRE sector invested all that money in Clinton — without hope of return! — for a deeply spiritual purpose. Why, it's almost as if they're doing God's work!

"The recent kerfluffle about Bernie Sanders purportedly not knowing how to bust up the big banks says far more about the threat Sanders poses to the Democratic establishment and its Wall Street wing than it does about the candidate himself" [Robert Reich, LA Progressive]. "Of course Sanders knows how to bust up the big banks. He's already introduced legislation to do just that. And even without new legislation a president has the power under the Dodd-Frank reform act to initiate such a breakup."
The Voters
"One answer is to talk with, not about, them. For waffling white working-class voters, we found that when we focused the conversation on issues, not personality, many working-class people were eager to hear new information and actually engage in a discussion instead of a yelling match. Connecting voters with more and better information can shift hearts and minds. We found that if we provide people with a systemic target for their economic woes and anxieties instead of focusing on "the other," we can begin to counter bigotry" [In These Times].

"Fewer younger women have seen their prospects limited by discrimination and child-care responsibilities. Here's what they have faced personally: being part of the generation hardest hit by the Great Recession, and seeing student debt and poor job prospects as major career obstacles" [WaPo]. In other words, people are a lot more likely to worry about identity politics when they can pay the bills.

"Show Me What Democracy Looks Like" [On the Top Step]. Running for office in Ferguson.
Money
"Chapman Cubine is being paid millions of dollars for direct marketing campaigns by the DNC, while it is also receiving millions of dollars to work on behalf of Hillary's campaign and the Hillary Victory Fund, a joint fundraising committee set up between Hillary Clinton, the DNC and 33 state campaign committees. That last Committee has been raising serious questions of impropriety since Hillary has not won the Democratic Presidential primary race" [Wall Street on Parade]. The DNC is so transparent. And not in a good way.
Corruption
Watching the Democrat Establishment defending the indefensible majority opinion in Citizens United — the doctrine that anything short of an outright quid pro quo is not corruption — is both pathetic and enraging. For example:

In trying to defend Hillary Clinton, @BarneyFrank of 2016 seems to be arguing with @BarneyFrank of 2012 pic.twitter.com/u8Bp6Ij5Sk

— David Sirota (@davidsirota) April 10, 2016

Sad!

"Clinton's family foundation has accepted millions of dollars directly from major fossil fuel companies — including from those that lobbied her State Department just before the agency approved a controversial pipeline delivering what environmentalists call one of the world's dirtiest sources of energy. The Clinton Foundation did not respond to International Business Times' request for comment" [David Sirota, International Business Times].

"Congresscritters spend 4 hours/day on the phone, begging for money" [Boing Boing]. Of course, the Sanders campaign shows the way out of that ethical and institutional morass. But the Democrat Establishment doesn't want to hear it. Therefore, they like spending four hours a day on the phone sucking up to rich people, and then servicing them. It's what they do, and who they are. ("When a creature has developed into one thing, he will choose death rather than change into his opposite" — Frank Herbert.)

"NYC Mayor Bill de Blasio joins Hillary on list of Dems being investigated by FBI" [Bizpac Review]. How cozy!
New York
Hillary cutting the line to get into that subway car:

Hey, it's not like that woman Clinton's minders nudged out of the way actually had to get to work or anything.

New York's closed primary: "In New York, about 20 percent of the state's 11.7 million voters are unaffiliated with any party, according to Board of Elections data" [MSNBC]. "Also barred from the April 19 primary are voters registered with third parties, including the 48,000 people registered with the Working Families Party. The party endorsed Sanders and its volunteers have been working hard for the insurgent, but those registered on its line won't be able to vote for him. Neither will the 26,000 Green Party members in the state."
The Trail
"Sanders Supporters Call on Vermont Superdelegates to Drop Clinton" [Seven Days]. "The letter [from Rights & Democracy] specifically targets four Vermont superdelegates who have said they plan to vote for Clinton at the convention: Sen. Patrick Leahy (D-Vt.), Gov. Peter Shumlin, former governor Howard Dean and Democratic National Committee member Billi Gosh. It notes that Sanders defeated Clinton 86.1 to 13.6 percent in the state's Democratic primary… By Friday evening, more than 3,000 had signed."

"After losing an embarrassing six straight primaries, including the critical states of Florida and Illinois, the upstart presidential candidate came under tremendous pressure from the party establishment to get out of the race. Party insiders called his proposals "simplistic," pundits fretted he was too old and even a key aide admitted one goal was to show "we were not the candidate of kooks'" [Will Bunch, CNN]. "But the challenger insisted that he'd tapped into real anger among the ignored rank-and-file voters who wanted him to fight all the way to the party convention in July. … And so, in the spring of 1976, Ronald Reagan pressed on." He got you, didn't he? Ha.

"The Best from 'Mad Dog Mattis'" [Free Beacon]. Still wondering if Mattis is Rove's "fresh face." Not that I don't think highly of Rove's existing face, you understand.
Clinton Email Hairball
"Obama on Hillary Clinton's emails: 'There's classified and then there's classified.' How does that work?" [WaPo]. We already know how that works. If you're a whistleblower like Thomas Drake, you go to jail. If you're an elite member of the political class you have impunity, and so you don't. Nice to see Obama standing between Clinton and the pitchforks, though.
Stats Watch
No interesting stats today, at least to Econoday.
Short Uber?
Just witnessed @Uber driver literally peeing in a cup and flinging it out window in city streets. Ridiculous

— Maria Bartiromo (@MariaBartiromo) April 11, 2016
"The economic calendar is moderate. Once again, the Fed participants will be out in force. More importantly, earnings reports begin with Alcoa on Monday and the big banks late in the week. This season might be the most important in recent years. Economic reports reflect only modest growth. The Q1 GDP estimate is plunging" [Econintersect]. "For equity investors, nothing is more important than earnings and future earnings potential."
"February 2015 Philly Fed Coincident Index Rate of Year-over-Year Growth Trend Unchanged" [Econintersect]. There's also a handy map of state coincident indexes. Rust belt and New York between 0.6% and 1.0%.
Wholesale trade (April 8, 2016): "Here we go- the inventory liquidation looks to be underway in earnest" [Mosler Economics]. "Again, sales also fell, so the inventory to sales ratio remains at a still very high 1.36%.Look for more downward revisions to Q1 GDP."
"Assets invested in ETFs/ETPs listed globally have broken through the 3 trillion US dollars milestone for the second time at the end of Q1 2016, according to ETFGI" [ETFGI]. "ETFGI [sic] the leading independent research and consultancy firm on trends in the global ETF/ETP ecosystem." Ugh. "Ecosystem." Another horrid cliché, in the "innovation" bucket.
"Prada SpA reported its lowest profit in five years on ebbing demand in Asia and said it's impossible to make any forecast this year" [The Fashion Law].
Shipping: "The red carpet was rolled out in Greece over the weekend as one of the nation's most important foreign investors touched down to seal a huge port deal while promising further maritime investment in the Mediterranean country" [Splash247]. "Xu Lirong, chairman of China Cosco Shipping, came to Athens on Friday to officially sign for the takeover of Pireaus port. China Cosco is paying EUR280.5m to take the port private with an initial 51% stake. The company will pay another EUR88m within five years to increase its stake by a further 16%." One European terminus of the Silk Road, and at a bargain basement price. Thanks, Wolfgang!
Shipping: "Today, Piraeus could again be a lifeline for Greece, helping attract billions in foreign investment and turning a backwater into a global hub" [Foreign Policy]. "COSCO is reportedly interested in snapping up the Greek railway system, which is also set to be privatized. Doing so could transform the Port of Piraeus into a key corridor linking Germany, Central Europe, the Indian Ocean, and China, [said said Frans-Paul van der Putten, a China expert at the Netherlands Institute of International Relations]."
"American Cities Are Nowhere Near Ready for Self-Driving Cars" [Wired]. No duh!
Today's Fear & Greed Index: 69, Greed (previous close: 68, Greed) [CNN]. One week ago: 75 (Extreme Greed). (0 is Extreme Fear; 100 is Extreme Greed). Last updated Apr 11 at 11:27am. No Stormy Monday this time!
#NuitDebout
"Violent scenes break out in France as tens of thousands protest controversial labour reform" [Independent]. Well, of course. The tight focus shot of a black clad young man with a background of smoke and/or flame is such a cliche. "Scenes," indeed; as in spectacle.
"Police evacuate protesters from Paris square following riots" [Guardian]. It will be interesting to see if #NuitDebout leaps the Atlantic to Montreal. I've seen rumors of a Facebook page, but no reports of events.
" «Nuit Debout» : citizens are back in the squares in Paris" [Open Democracy]. "[T]he movement in France is not casual at all. Since late February, all the ingredients have been united for the emergence of a movement similar to the Spanish 'indignados movement' and the 'Occupy' in 2011."
"Podemos isn't necessarily a role model that many want to follow. Nuit debout is founded on participation and the rejection of representation. By entering party politics, Podemos became part of the establishment that the Indignados and Nuit Debout are reacting against" [Independent].
#PanamaPapers
"[F]or many, the Panama Papers are reminiscent of a broader phenomenon that played out in the run-up and the aftermath of the 2008 global financial crisis: The perception of a system run and managed by a political establishment that serves the rich and connected and fails to hold these elites accountable for the damage they cause to the rest of society. There is still notable residual resentment that very few bankers were brought to justice for their role in a financial debacle that caused significant misery and almost tipped the world into a devastating multiyear depression" [Mohamed A. El-Erian, Bloomberg]. WTF do you mean, "almost"? One unintended side effect: "There will be even less appetite to govern from the bipartisan political center, thus making it more difficult to secure sufficient buy-in for pro-growth structural reforms, better demand management and more timely solutions for excessively high levels of over-indebtedness." What a shame, given the operational definition of "pro-growth structural reforms" (like passing TPP, a Grand Bargain, and so forth).
"Iceland's Pirate Party ready to board ship of state" [France24]. "Recent public opinion polls have shown the party with 43 percent of voter support, with many Icelanders furious to discover that hundreds of their rich and powerful countrymen were named in the so-called Panama Papers leak which exposed hidden offshore dealings around the world."
Dear Old Blighty
"Thousands of protesters storm Downing Street calling on David Cameron to quit amid Panama Papers row" [Telegraph]. The Tories are very efficient at stabbing their leaders in the back and heaving them over the side if need be. If Cameron were in serious trouble with his party, I'd expect to see leaks in the press from his rivals, sticking the shiv in. Have I missed them?
And a historical note:
Dennis Skinner is a legend. #ResignDavidCameron pic.twitter.com/bMV70aIDeU

— Sean O' Donovan (@henriksen1) April 9, 2016
Black Injustice Tipping Point
"When black neighborhoods are compared with white neighborhoods of similar income levels, you see similar rates of crime. The fallacy of comparing white neighborhoods with black neighborhoods is in lumping together together wealthy and upper-middle-class neighborhoods (categories that not many black folks are in) with middle- and low-income ones. But that's not how the world works. Poor white people in Memphis aren't kicking it with rich ones in Bel Air" [(The excellent) Boots Riley (remembered from Occupy Oakland), Guardian]. "Yet the myth of black-on-black crime has enormous staying power."
"Police used punches, knee strikes, elbow strikes, slaps, wrist twists, baton blows and Tasers at Homan Square, according to documents released to the Guardian in the course of its transparency lawsuit about the warehouse. The new information contradicts an official denial about treatment of prisoners at the facility" [Guardian]. Sure is odd the Guardian is pursuing this story, instead of the local Chicago press. And this is on Rahm's watch. Maybe somebody should ask Clinton about this? Given that Rahm is the quintessential Democrat Establishment figure?
Water
"Classified U.S. cables reviewed by Reveal from The Center for Investigative Reporting show a mounting concern by global political and business leaders that water shortages could spark unrest across the world, with dire consequences" [Reveal]. "Many of the cables read like diary entries from an apocalyptic sci-fi novel." Maybe I should have filed this under The Jackpot…
"Following Monday's announcement that Chicago is preparing a water testing program to determine whether the city's pipes are partly responsible for problems with lead poisoning, Water Management commissioner Tom Powers has announced his resignation" [The Chicagoist]. "Powers has so far served as Mayor Rahm Emanuel's sole Water Management commissioner, and he will be replaced by Barrett Murphy—a deputy who has worked for the city since his appointment by former Mayor Richard M. Daley." Maybe somebody should ask Clinton about this, too?
The Jackpot
"Researchers fly over 8,000 well pads and find hundreds of methane leaks" [Public Source].
Imperial Collapse Watch
"Ancient Rome's Donald Trump" [Project Syndicate]. No spoilers!
"What Rome Can Teach Us Today" [Foreign Affairs]. A review of Mary Beard's SPQR. "SPQR is a translation of Roman history into the English of today—into the phrases and patterns of thought that we absorb from mass media and that bring order and meaning to our lives—and Beard's genius is in using this idiom alone, rather than outright comparison, to suggest ancient parallels with the politics and controversies of the twenty-first century."
"According to the American Academy of Arts and Sciences' recently completed Lincoln Project report, between 2008 and 2013 states reduced financial support to top public research universities by close to 30 percent. At the same time, these states increased support of prisons by more than 130 percent" [The Atlantic].
Class Warfare
"Poor New Yorkers Tend to Live Longer Than Other Poor Americans" [New York Times]. And why?
research found that New York was, in many ways, a model city for factors that seem to predict where poor people live longer. It is a wealthy, highly educated city with a high tax base. The local government spends a lot on social services for low-income residents. It has low rates of smoking and has many immigrants, who tend to be healthier than native-born Americans.
Goddamn Communists. If we could clean them out, we could kill a lot more working people!
"Treating workers as if they are widgets to be used up and discarded is a central part of the revised relationship between employers and employees that techies proclaim is an innovation as important as chips and software. The model originated in Silicon Valley, but it's spreading" [New York Times]. Read the story for the language. It's absolutely vile.
"University of Chicago Medicine didn't want an adult trauma center. What caused its change of heart? In part one of our two-part series, we examine how activists and their allies upped the pressure on the prestigious university health system" [Crains Business Review]. Surely an amazing source for an article with this theme?
"As we argue in our forthcoming book, the neo-liberal narrative of a diminishing state is a myth. The capacity of the currency-issuing, legislating state is well understood by the neo-liberals and, while they have publicly declared the state to be irrelevant in the globalised world, the reality is different, they have actively co-opted the state to advance their own ends at the expense of the rest of us" [Bill Mitchell].
News of the Wired
"Software is too important to be mediocre" [Seth Godin].
"How an internet mapping glitch turned a random Kansas farm into a digital hell" [Fusion]. Watch those defaults…
This is defiantly retro and could be fun [HTML etext]. Only works in Chrome, for me.
"One Artist Holds the Exclusive Rights in This Shade of Black" [The Fashion Law]. And not Frank Stella.
"Swearing, it seems, can be creative, smart, and even downright lyrical. This should also open our eyes to the unique subfield of research that spends its time deconstructing the many and varied ways in which, and reasons why, we swear" [Scientific American].
Readers seemed enjoy funk from Bernie Worrell, so here's James Brown's Escape-ism:
(One of the more amazing transitions in popular — vernacular? — music at 2:38. And here, unbelievably, are the lyrics, with exegesis.) This should get you going after your coffee break!
* * *
Readers, I still need to fix my fershuggeneh contact form! Hopefully noting that fact publicly will serve a lash and a spur to my endeavors. (Meanwhile, thanks to readers, who already have my email address, who sent in images of plants!)
See the previous Water Cooler (with plant) here. And here's today's plant (Kokuanani):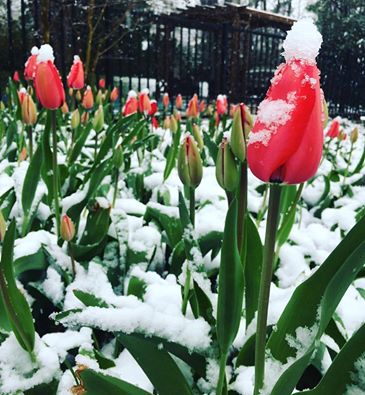 Kokuanani writes: "As one of my friends noted: 'What the heck, April?!!'"
* * *
Readers, Water Cooler will not exist without your regular support. Your tip will be welcome today, and indeed any day. If you enjoy what you're reading, please click the hat!