By Lambert Strether of Corrente.
TPP/TTiP/TISA
"More than 50 public health, religious and labor groups — including Doctors Without Borders, the Catholic lobby group Network and the Communications Workers of America — are urging Congress to reject the Trans-Pacific Partnership, the 12-nation free trade agreement between the United States and Pacific Rim nations" [WaPo]. "In a letter sent to Congress on Tuesday, the groups argue that the intellectual property and pharmaceutical provisions in the pact would make it more difficult for people in TPP countries to access affordable medicine."
"The ruling coalition may give up trying to get the Trans-Pacific Partnership ratified during the current Diet session if resistance from opposition parties means it is delayed beyond the end of April, a senior ruling lawmaker said Wednesday" [Japan Times]. "Prime Minister Shinzo Abe has instructed the coalition not to "forcibly" proceed with the TPP deliberations, Kyodo News reported. He is thought to fear a voter backlash in the Upper House election this summer." Hmm. And then there's this: "The records of TPP negotiations, released by the government in response to opposition demands, were largely blacked out, ostensibly to protect secret parts of the multinational trade negotiations." I'm not at all familiar with the mores of Japanese domestic politics. But from some of the details in the story, it appears that the TPP debate has been unusually robust.
2016
Policy
Sylvia, a wonderful comic strip I remember from when I read newspapers, had a continuing series titled "The Woman Who Lies in Her Personal Journal" (and the author, Nicole Hollander, is still going strong). Anyhow, The Woman Who Lies in Her Personal Journal reminds me of Hillary Clinton. Here she is, lying about Honduras [Think Progress].

Clinton told the NY Daily News on Monday that the Honduran government "followed the law" in ousting its president and said, "I think in retrospect we managed a very difficult situation without bloodshed."

"I didn't like the way it looked or the way they did it," she said, "but they had a very strong argument that they had followed the constitution and the legal precedence."

But at the time, the U.S. embassy in Honduras wrote that "there is no doubt" that what happened was "an illegal and unconstitutional coup." The Embassy cable also emphasizes that the Honduran "Congress and the judiciary removed Zelaya on the basis of a hasty, ad-hoc, extralegal, secret, 48-hour process" and called their reasons for doing so "mere supposition or ex-post rationalizations of a patently illegal act."

Then again, perhaps it's not lying, but bullshit. As Harry Frankfurt reminds us in On Bullshit (PDF):

———[S]he is not concerned with the truth-value of what she says. That is why she cannot be regarded as lying; for she does not presume that she knows the truth, and therefore she cannot be deliberately promulgating a proposition that she presumes to be false: Her statement is grounded neither in a belief that it is true nor, as a lie must be, in a belief that it is not true. It is just this lack of connection to a concern with truth this — indifference to how things really are — that I regard as of the essence of bullshit.

"Barack Obama says Libya was 'worst mistake' of his presidency" [Guardian]. Rolling the tape: "Mr. Gates, among others, thought Mrs. Clinton's backing decisive. Mr. Obama later told him privately in the Oval Office, he said, that the Libya decision was "51-49." "I've always thought that Hillary's support for the broader mission in Libya put the president on the 51 side of the line for a more aggressive approach" [New York Times].
Corruption
"Panama Papers include one of U.S.'s biggest wartime military contractors" [Fusion].

Four months after that hearing, the State Department awarded Triple Canopy a contract worth nearly a billion dollars to protect U.S. diplomats traveling in Iraq. What Balderas didn't mention in his two and a half hours before the commission — what the Panama Papers now reveal — was that, just weeks prior, Triple Canopy had acquired Edinburgh International, a Dubai-based military contractor, operating out of a suite of offshore companies in the British Virgin Islands, registered for a time through the Panamanian law firm Mossack Fonseca.

…That acquisition — run through an offshore shell company, Trifecta International Holdings Inc., that Triple Canopy created specifically for the purchase — gave one of America's larger and more controversial security contractors a business structure with the potential to sidestep the very same U.S. oversight and accountability that Balderas had made a selling point to the commission.

…serious security and propriety questions arise when a military contractor, performing sensitive security tasks for U.S. government officials in a war zone, has concealable offshore holdings, says Charles Tiefer, a contracting expert at the University of Baltimore law school — and a member of the Commission on Wartime Contracting who sat in on Balderas' 2010 testimony.

Simply knowing that such offshores exist isn't enough information for the U.S. to provide oversight of a company's activities. "There's no defense-auditing sunshine on a British Virgin Island company," Tiefer told Fusion. "All that the U.S. knows is that there's [a company] out there."

Such offshore activities are not as routine among military contractors as Triple Canopy portrays them, Tiefer said. In his three years on the contracting commission, "The alarm bells went off on the very few occasions when an American or British company had an overseas [holding]," he said.

I'm filing this here, instead of under #PanamaPapers, because of the Clinton Dynasty connections. First, Bill Clinton (as President), from Jeremy Scahill:

The news that I'm breaking on Triple Canopy, though, is that I obtained federal contracts that were signed in February and March by the Obama administration with Triple Canopy to act as a private paramilitary force operating out of Jerusalem. And this is also part of a very secretive State Department program called the Worldwide Personal Protective Service, which was started under the Clinton administration as a privatized wing of the State Department's Diplomatic Security division. Triple Canopy was paid $5 million in February, March by the Obama administration to provide, quote, "security services" in Israel.

Second, Hillary Clinton* (as Secretary of State):

As a US Senator, Hillary Clinton sponsored legislation to ban the US State Department from hiring private security contractors in Iraq, but as Secretary of State, she ceded all security in the embassies in Baghdad and Kabul to the same private security contractors, and now one firm has been cited in an Inspector General report. The Office of Inspector General for the US State Department has concluded that improper protocols by the US State Department on Clinton's watch allowed a private security firm to make the US State Department needlessly spend about $130 million.

The name of the company is Triple Canopy LLC. An Alter Net story from 2009 likened the relationship between President Obama and Triple Canopy to former President George W. Bush's relationship to Blackwater:

How cozy. A phishing equilibrium, perhaps? Defined by Akerlof as follows: "[I]f we have some weakness or other — some way in which we canbe phished for fools for more than the usual profit — in the phishing equilibrium someone will take advantage of it." Well, a humongous defense firm organizing its affairs to evade scrutiny certainly looks like "some weakness or other" to me. So who would "take advantage" of such a thing? Maybe somebody should ask either Clinton. Or both!

* Right wing site, I know. But sourced to Alternet, Wired, the Office of the Inspector General, and I was pressed temporally….
The Voters
"Hillary Clinton Responds to Bernie Sanders' Remark That She's "Condescending" to Young People" [Cosmopolitan]. "And for those who don't support me, I'm going to support them." As long as their names aren't on The Dreaded Clinton Spreadsheet of Vengeance, of course.
New York
As far as Clinton blaming Vermont for New York's gun violence: "But 1 percent of crime guns whose sources were identified in 2014 originated from Vermont: 55 of 4,585" [WaPo]. The top state is Virginia, governed by Democratic fixer and Clintonite Terry McAuliffe.

"Bernie Sanders' decision to leave the campaign trail late Thursday and head to a Vatican City conference later this week still has some allies scratching their heads and wondering whether it's the best use of the underdog's limited time" [Politico].
The Trail
"Why I'm Supporting Bernie Sanders" [Senator Jeff Merkely, New York Times]. "It is time to recommit ourselves to that vision of a country that measures our nation's success not at the boardroom table, but at kitchen tables across America. Bernie Sanders stands for that America, and so I stand with Bernie Sanders for president." I like this especially because it turns policies like Medicare for All and tuition-free college into "kitchen table issues" — both a cliché, and exactly what they are.

"The mothers of Michael Brown, Trayvon Martin, Eric Garner and Tamir Rice, and a half-dozen other black women who had lost children in clashes with the police or in gun violence, were flown in from around the country and invited to gather around a table. They were joined by Hillary Clinton, who asked them, one by one, to tell her their stories" [New York Times].

"The Daily 202: Donald Trump will almost certainly not be the Republican nominee if he cannot win on the first ballot in Cleveland" [WaPo].

"GOPers Face Wave Of Threats From Trump Fans Incensed By Delegate Counts" [Talking Points Memo].
Clinton Email Hairball
"Judicial Watch, feds negotiate fact-finding in Clinton email case" [Politico]. A shark fin ripples through the water…
Stats Watch
Producer Price Index-FD, week of March 2016: "A rise for energy prices wasn't enough to lift producer prices, which are continuing to suffer from the global deflationary pull, into the positive column. Producer prices fell 0.1 percent in March for a year-on-year rate that is also at minus 0.1 percent" [Econoday]. "But a very key weakness in the report is a 0.2 percent drop for services which is the first decline for this usually stable reading since October last year. March's dip for services reflects declines for fuels, chemicals, and machinery. Year-on-year, wholesale service prices are up only 1.2 percent." And: "The Producer Price Index year-over-year inflation is insignificantly below zero. The intermediate processing continues to show a large deflation in the supply chain" [Econintersect]. And: "The March PPI figures were softer than expected, as both the total index and the core component declined by 0.1%. The food component was much more negative than I had anticipated (down 0.9%), with the surprise mainly driven by large drops in fresh fruit and vegetable prices. These categories often feed through to the CPI in the same month. Energy costs rose by 1.8%, roughly in line with my expectations. The core component was also marginally negative, pushed down by declines in financial services prices and wholesale trade services" [Amhert Pierpont Securities, Across the Curve].
Retail Sales, March 2016: "Retail sales, down a disappointing 0.3 percent in March, were pulled lower by auto sales but unfortunately do show wider weakness" [Econoday]. "A sign of the month's weakness is contraction at restaurants, which like autos is a discretionary category and which fell a very sharp 0.8 percent in the month. A plus is building materials which rose a very strong 1.4 percent for a second month in gains that point to extending strength for residential investment. Other components include a sharp decline for apparel and for department stores, offset by a second straight strong gain for health & personal care." But: "Retail sales declined according to US Census headline data. Our view is that this month's data was mixed, There was an improvement in the rolling averages" [Econintersect]. But: "This print solidifies the well-entrenched narrative of a very weak Q1 for the US economy. Our current tracking for annualized growth remains around 0.6%" [TDSecurities, Across the Curve]. What is arguably a greater source of concern, is that this print makes for a poor handoff to Q2 for consumer spending. For the Federal Reserve, who are balancing concern over the global backdrop with a softer spate of domestic data, momentum in growth heading into the middle of the year is quite important. This print therefore argues for continued caution and will place more emphasis on other parts of the economy to keep the recovery narrative entrenched." Dear Lord. Is everything about the narrative, these days?
MBA Mortgage Applications, week of April 8, 2016: "Driven by falling interest rates, mortgage application activity was brisk in the April 8 week" [Econoday]. "Purchase applications are up a striking 24 percent from this time last year, attaining the second highest level since May 2010."
Business Inventories, February 2016: "Sales are falling but fortunately so are inventories which fell 0.1 percent in February vs a 0.4 percent decline for sales. The combination keeps the inventory-to-sales ratio, which has been trending higher, at 1.41" [Econoday].
Atlanta Fed Business Inflation Expectations, April 2016: "Oil prices may be moving higher but they did nothing to lift the Atlanta Fed business inflation expectations which slipped 1 tenth in the April report to a year-on-year 1.7 percent. This is the lowest reading since September" [Econoday]. "This report, together with this morning's producer price report, justify the Federal Reserve wait-and-see rate-hike policy."
"The GDPNow model forecast for real GDP growth (seasonally adjusted annual rate) in the first quarter of 2016 is 0.3 percent on April 13, up from 0.1 percent on April 8" [Federal Reserve Bank of Atlanta].
Shipping: "Recession due to overtonnaging is the default condition of the global shipping industry for the long term, nearly 88% of voters in a survey carried on this site believe" [Splash247].
Shipping: "A fleet of trucks just drove themselves across Europe" [Quartz].
Honey for the Bears: "VC Peter Thiel Says Just About Everything Is Overvalued, Not Just Tech" [Bloomberg]. And: "More Startups Are Getting Lower Valuations Than Joining the Billion-Dollar Club" [Bloomberg].
"[Taco Bell is] betting its future on plenty of cheesy elasticity for maximum customer goo" [Bloomberg]. One of the all-time great business reporting sentences! And such a great metaphor!
"BuzzFeed cuts projected revenue by half after missing 2015 financial target" [Guardian].
"In the 20 years since it became an independent nonprofit corporation, NAV CANADA has transformed itself from a public agency struggling with antiquated technology into a global leader in air-traffic systems" [Bloomberg]. And here's the truly radical move: "NAV CANADA's senior engineers decided the model of using outside contractors was broken. The corporation decided to take the unprecedented step of upgrading the computer code themselves." Of course, that could never happen here…
"A majority of credit cards in the U.S. now contain a chip designed to add more security — yet most payment terminals at retailers can't read the new technology. And the situation isn't going to improve anytime soon" [Bloomberg]. But electronic cash? No problemo!
Today's Fear & Greed Index: 70, Greed (previous close: 68, Greed) [CNN]. One week ago: 76 (Extreme Greed). (0 is Extreme Fear; 100 is Extreme Greed). Last updated Apr 13 at 2:02pm
#PanamaPapers
"Panama Papers: Abu Dhabi emir's vast London property empire revealed" [International Business Times]. "Al-Nahyan owns most of prestigious Berkeley Square, according to the Panama Papers and Land Registry records, including the garden in the middle of it all. And he owns huge chunks of the surrounding streets of Mayfair, such as Bruton Street, Bruton Place, Hill Street and Hay's Mews." Any Londoners out there? Lively neighborhoods, are they? Bustling streets? Lot of lit windows at night?
Water
"Disaster Capitalism's Coming Use of The Lead Water Pipe Crisis" [The Real News Network (dcblogger)].
"Northeastern province in Thailand celebrates dry Songkran water festival" [Asian Correspondent]. Culturally, that's a bit like celebrating the Kentucky Derby without mint juleps. Economically… Well, "disaster" isn't the word. Yet.
"Manila water plan draws US rep's criticism for IFC role" [AP]. The lending arm of the World Bank, the International Finance Corp, has an equity stake in the company that privatized Manila's water supply.
Gaia
"[B]irding is no longer just a retired person's leisurely hobby. These days, fresh-faced young birders with smartphones in hand are uploading photos and data faster than you can flip through Birds & Blooms" [Seven Days]. So those smartphones are good for something after all. Do we have any birders in the readership?
"Unnatural Selection" [Elizabeth Kolbert, The New Yorker]. "[Ruth] Gates thought about the corals she'd seen perish and the ones she'd seen pull through. What if the qualities that made some corals hardier than others could be identified? Perhaps this information could be used to produce tougher varieties. Humans might, in this way, design reefs capable of withstanding human influence. … "Really, what I am is a futurist," [Gates said]. "Our project is acknowledging that a future is coming where nature is no longer fully natural."
Class Warfare
"You're Making Your Financial Adviser Rich" [Bloomberg]. And if the heatlh stats are right, literally extending his (or her) life at the expense of your own. They don't call it class warfare without a reason.
"Elizabeth Warren Is Why JPMorgan Has a Living Will Problem" [Wall Street on Parade]. Of course, the living wills are secret: "The public has never been allowed to see those 10,000 pages of what it would take to unwind one of the banking behemoths but is instead provided with a mere glimpse of each bank's plan." 10,000 pages! That's aircraft maintenance-manual scale! Imagine if all the brainpower that went into producing those documents had been put to productive use!
"How a Wharton professor grossly inflates Social Security's deficit to argue for a 'fix'" [ Michael Hiltzik, Los Angeles Times]. The professor is Olivia Mitchell, who "comes to the Social Security debate with gilt-edged credentials as a pension and retirement expert." Mitchell cites a figure of $28 trilllion for Social Security's "shortfall." "Most Social Security experts view that $28-trillion figure as a red flag. That's because many people who cite it are ideologues aiming to scare the public into thinking the program's finances are far worse than they." Read the article for her solution; sounds like the sort of "pragmatic" "solution" Clinton would like…
"The Department of Education will send letters to 387,000 people they've identified as being eligible for a total and permanent disability discharge, a designation that allows federal student loan borrowers who can't work because of a disability to have their loans forgiven" [MarketWatch]. But "can't get a decent job because of a crapified economy"? The more fool you!
News of the Wired
"Is Email Sinking the U.S. Economy?" [Cal Newport]. "With this rise of constant connectivity — as I've documented in detail — a drop in cognitive ability is absolutely unavoidable."
' Mossberg: Slack beats email, but still needs to get better " [The Verge]. "[U]sers, including me, also have some serious gripes about Slack, primarily around a supreme irony: while it has replaced the tyranny of email for many, it has unleashed a chaotic tyranny of its own. Posts and their responses pour in so fast that, even being away from Slack for a couple of hours can leave you feeling hopelessly behind. You're constantly tempted to converse on Slack instead of thinking or planning or doing other work. And, for new employees, just untangling the cacophony of voices on Slack can be confusing and disheartening."
" Useless robot waitstaff force the closure of two restaurants in China" [The Verge].
"A growing body of research in cognitive science illuminates the physical and mental toll bland cityscapes exact on residents. Generally, these researchers argue that humans are healthier when they live among variety — a cacophony of bars, bodegas, and independent shops — or work in well-designed, unique spaces, rather than unattractive, generic ones" [New York Magazine].
* * *
Readers, I still need to fix my fershuggeneh contact form! Hopefully noting that fact publicly will serve a lash and a spur to my endeavors. (Meanwhile, thanks to readers, who already have my email address, who sent in images of plants!)
See the previous Water Cooler (with plant) here. And here's today's plant (Tia)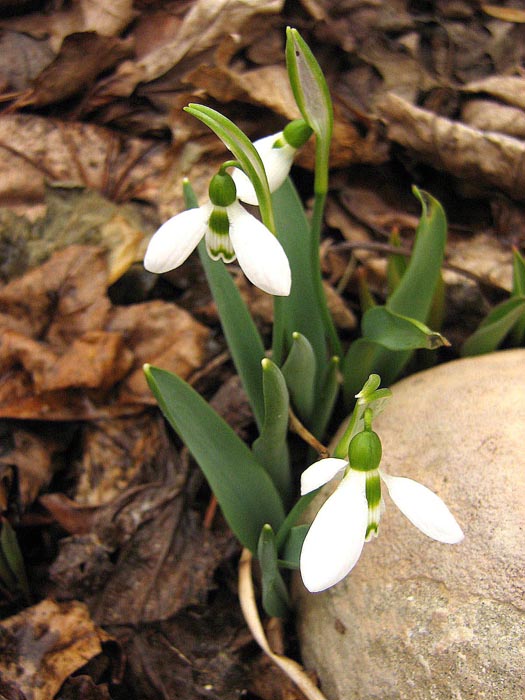 Tia writes: "Last of the snowdrops!" (in Northern Colorado).
* * *
Readers, Water Cooler will not exist without your regular support. Your tip will be welcome today, and indeed any day. If you enjoy what you're reading, please click the hat!