By Lambert Strether of Corrente.
TPP/TTiP/TISA
"The European Commission says that its new investment proposal –the Investment Court System – will protect governments' abilities to regulate on crucial matters such as public health and environmental protection" [The Transnational Institute]. "But analysis of five of the most controversial arbitration cases in recent years shows they could still be launched under the current proposal." In other words, just a rebranding.
Presidential Candidate Questionaire [Pennsylvania Fair Trade Coalition]. Clinton's answers; Sanders answers.
"The [US Free Trade Agreement with Panama] seems to have incentivized more tax haven activity in Panama, not less [Lori Wallach, HuffPo]. "The Obama administration sold the FTA with claims it would generate economic benefits and force Panama to end its tax haven activities. Instead, U.S.-Panama trade is flat. And Mossack Fonseca's records shows if anything, the FTA's investor protections and the U.S. stamp of approval made Panama a preferred venue to hide assets."
"France threatens halt to TTIP talks barring progress in coming months" [Reuters].
2016
Readers: No anatomical references, please; I don't want to waste time ripping them out. And if you respond to comments containing them, your comment has to be ripped out too, since otherwise WordPress corrupts the comment nesting. Thank you.
Policy
"Fighting for Change in the U.S. Senate" [Elizabeth Warren, Harvard School of Public Heatlh]. Interesting speech.
Money
"Democratic National Committee (DNC) Chairwoman Debbie Wasserman Schultz on Sunday said she agrees that there is an 'obscene' amount of money in politics" [The Hill]. "'Absolutely,' the Florida Democrat said on NBC's 'Meet the Press' in response to a question about whether she believes what Democratic presidential candidate Sen. Bernie Sanders (I-Vt.) said about there being too much money in politics."

"Sanders' big spending also means that he's burned through a lot of his cash. So while the Vermont senator has brought in more money than Clinton recently, the Sanders campaign had just $17.2 million in cash on hand, compared to Clinton's $30.8 million last month" [International Business Times].
The Voters
"Liberals might not need the South, but leftists do" [Jacobin]. "[R]egardless of who wins the Democratic Party nomination, leaving the South behind would doom millions of voters who refuse to go along with the region's right-wing Republicans."

"How American oligarchs created the concept of race to divide and conquer the poor" [WaPo].

Question: How did wealthy landowners thwart the efforts of enslaved Africans and European indentured servants to join forces in a common struggle for economic justice?

Answer: Divide and conquer through the invention of race. Make the white servants feel superior to black slaves by virtue of skin color; manipulate poor whites into believing that any perceived gains by blacks had come at their expense.

"But Sanders' performance and prospects can't be assessed by the metrics of traditional electoral politics, because he has always set the goals of his campaign on terms that defy the yardsticks of campaigning as we know it" [Guardian]. "In Sanders' own telling, Obama's biggest mistake was that 'after his brilliant campaign in 2008, he basically said to the millions of people who supported him: 'Thanks for getting me elected – I will take it from here.' I will not make that mistake."
Corruption
"During Jack Lew's confirmation hearing, Senator Chuck Grassley asked Lew why he took almost $1 million from an insolvent bank being propped up by the taxpayer. Lew answered: 'I will leave it to others to judge.' When Hillary Clinton was asked by CNN's Anderson Cooper why she took $675,000 for three speeches from Goldman Sachs, her response was: "Well, I don't know. That's what they offered'" [Wall Street on Parade].
New York
"4) Polls In worrying ways, Mrs. Clinton is moving in the wrong direction. Mr. Sanders erased her national lead in a recent round of polls while her unfavorability ratings have climbed. The latest Wall Street Journal/NBC News poll showed that 56% of voters in both parties held a negative view of Mrs. Clinton, compared to 32% who viewed her positively. That 24-point gap has nearly doubled in the past month. By contrast, 45% saw Mr. Sanders in a positive light, versus 36% who viewed him negatively. And yet, Mrs. Clinton isn't losing. She's winning" [Wall Street Journal, "Five Reasons the New York Democratic Primary Felt Competitive"]. Trump's unfavorables are huge, too. And he's winning, too.

"Senior Clinton Aide Tells Reporter: Fuck Bernie" [Gawker]. Well, that unity schtick didn't even last a news cycle, did it?

"5 takeaways from the New York primary" [Politico]. "Bernie and Hillary officially hate each other's guts. 'We kicked his ass tonight," a senior Clinton aide told me Tuesday night. "I hope this convinces Bernie to tone it down. If not, f— him." As Clinton said: "This one was personal."

"The Clinton campaign was, from its start, built for the general election. She and her team, though, have stepped carefully to keep from alienating primary rival Bernie Sanders and his supporters by appearing dismissive of his candidacy" [Bloomberg]. Oh, wait..

"'From long lines and dramatic understaffing to longtime voters being forced to cast affidavit ballots and thousands of registered New Yorkers being dropped from the rolls, what's happening today is a disgrace,' [Sanders] said" [CNN]. Shouldn't a competent party apparatus be able to hold an election without butchering it? "Speaking to CNN on Tuesday night, Board of Elections Executive Director Michael Ryan pushed back against the growing criticism, saying, 'We're not finding that there were issues throughout the city that are any different than what we experience in other elections.'" I believe it.

"Presidential primary voters in the five boroughs ran an obstacle course of ineptitude to cast their ballots: Broken machines, shuttered precincts and purged voter rolls" [New York Daily News]. " The most complaints came from Brooklyn, where entire sections of poll books listing the names of eligible voters were reported missing, according to state Attorney General Eric Schneiderman." Sure is odd. One thing is clear: This disproportionately discourages new voters.

Clinton supporter reaction to online reports of voting problems was pretty scathing. One voter's response:

Shame on u for not knowing that u needed to get the gem from the tower across the lava moat BEFORE using the Gold Chalice in order to vote

— noah kulwin (@nkulw) April 20, 2016

"A Huffington Post impostor site falsely reported that New York primary voters witnessed their votes changing from Bernie Sanders to Hillary Clinton" [Snopes].
Pennsylvania
"After his resounding victory in New York Tuesday night, Republican front-runner Donald Trump looks ahead to a series of primaries in the Northeast, including Pennsylvania, where he will deploy a new strategy that includes aggressively courting delegates, a tactic he had previously and vocally panned as unnecessary and part of a 'rigged' system" [NBC News].
The Trail
"After New York comes the question: What does Bernie want?" [WaPo]. He told you: Medicare for All, tuition-free college, $15-hour minimum wage.

"[A]ny young and ambitious Democrat looking at the demographics of the party and the demographics of Sanders supporters has to conclude that his brand of politics is extremely promising for the future. There are racial and demographic gaps between Clinton and Sanders supporters, but the overwhelming reality is that for all groups, the young people are feeling the Bern" [Matt Yglesias, Vox].

"[The Sanders letter to the DNC] is clearly about using the confusing and complicated infrastructure of party fundraising to imply corruption that isn't there" [Amanda Marcotte, Salon]. Lost in all the verbiage is that the ClintonVictory fund collected IIRC $35 million, ostensible for the states, but only $2 million of it actually got to them. The rest went to ClintonLand. Clintonite defenses of the Victory fund oddly, or not, never actually follow the money trail, which was pieced together by Politico and WaPo. And since I just linked to Marcotte, I'll just leave this here–

"And though any and all instances of sexist slurs deserve condemnation, Sanders' keyboard warriors accounted for just 89 such tweets during the New Hampshire primary. That is a mere 0.17 percent of all the tweets mentioning @HillaryClinton that we examined" [WaPo]. Shorter: The #BernieBro smear is a crock or, more politely, a concoction.
Stats Watch
MBA Mortgage Applications, week of April 15, 2016: "Purchase applications for home mortgages in the April 15 week fell 1.0 percent while refinancing applications rose 3.0 percent from the previous week" [Econoday]. "The very low mortgage rates that have been the driving force [***cough*** manipulation ***cough***] behind increased mortgage activity were a shade higher in the week."
Existing Home Sales, March 2016: "Existing home sales rose more than expected in March, up 5.1 percent" [Econoday]. "Regional data are very positive with all four regions showing monthly gains led by the Northeast." But: "Our analysis of the unadjusted data shows that home sales declined, and the rolling averages degraded. Sales price rate of growth was mixed" [Econintersect].
Shipping: "Truck shipments are reported down in March – with one index showing year-over-year growth whilst the other showing year-over-year contraction" [Econintersect]. However, Econintersect gives a number of reasons why this ATA index isn't reliable, so FWIW.
Shipping: "The Panama Canal Authority has started taking reservations for transit through the canal's new wider, deeper locks, which are slated to open June 27" [Wall Street Journal, "Panama Canal Authority Takes Reservations for Vessel Transit"].
Shipping: "The Baltic Dry Index (BDI) dipped two points today to reach 669, ending a rally seen every consecutive trading day since February 10" [Splash247].
Shipping: Visualisation of Global Cargo Ships [Shipmap.org].
The Fed: "The three academics, Cinzia Alcidi, Matthias Busse and Daniel Gros, argue in their recent paper that policy makers shouldn't measure inflation with the commonly known consumer-price index (CPI). Instead they should use the GDP deflator, which 'measures the difference between nominal and real GDP and, unlike the CPI, captures changes in prices related to production and income developments,' according to the authors" [Wall Street Journal, "Central Bankers Urged to Use 'GDP Deflator' to Measure Price Pressure"].
Today's Fear & Greed Index: 75, Extreme Greed (previous close: 74, Greed) [CNN]. One week ago: 70 (Greed). (0 is Extreme Fear; 100 is Extreme Greed). Last updated Apr 20 at 11:52am.
Corruption
"A Small but Growing Diversion of Public Funds to Private Schools" [Oklahoma Watch].
" Here comes the charter school sneak attack: This is how a bipartisan education reform bill turns into a disaster for our kids" [Salon].
Water
"Two state environmental officials and a Flint water administrator are accused of manipulating water testing results, tampering with evidence and misleading federal and county officials about the safety of Flint's lead-tainted drinking water in criminal charges filed Wednesday" [Detroit News].
Gaia
"[Eduardo Porter] makes a huge error in claiming that evolution by natural selection operates at too slow a pace to be perceptible by ordinary (non-scientist) humans. The evolution of bacteria and viruses is real-time and crucial. The evolution of crop pests in response to pesticides also occurs right in front of our eyes and is, or ought to be, a major public concern" [Econospeak].
"Ecuador disaster toll tops 500, big new quake shakes coast" [Reuters].
"Deadly animal prion disease appears in Europe" [Nature].
The Jackpot
"Germany has become a world leader in renewable power thanks in part to its Renewable Energy Act (EEG), which came into force in 2000. It established a feed-in tariff program that guarantees producers of carbon-free power an above-market rate of return for 20 years" [Grist] "EEG pays tariffs to solar PV, concentrated solar, wind, geothermal, biomass, hydropower, and landfill or sewage gas. The tariffs vary according to capacity and level of technological development; they drop every few years based on the latest costs and level of penetration. German electrical ratepayers fund the program through a small fee that amounts to about 15 percent of their electrical bills."
"If we're going to start copying Denmark, let's do it right. Let's not just cherry pick the high taxes, paid parental leave, and free college. Let's tax carbon, decentralize energy production, enforce efficiency goals, support the rapid build-out of renewables, improve the grid, interconnect new grids, and make the electricity sector more flexible and dynamic." [Vox].
Guillotine Watch
"What's Wrong with Voluntourism? Everything" [Vivala].
"These moms spend thousands on cosmetic surgery to get Coachella-ready" [New York Post]. "'You can go like a peasant, too, but it's going to s*ck,' says [Sarah] Mirmelli, who splits her time between Miami and Midtown and works as an associate publisher for Haute Living (when she's not prepping for '`Chella'). 'The goal is looking blog-ready.'"
Class Warfare
"The fashion industry – particularly the fast fashion sector (the one responsible for recreating runway looks in a highly sped up manner and offering them for dirt cheap prices) – has wreaked havoc in the lives of garment workers, on the environment, and in the lives of consumers, as well" [The Fashion Law]. Good roundup "by the numbers."
"Man charged with felony robbery after pouring $1.49 worth of McDonald's soda into water cup" [Raw Story]. He didn't steal enough.
News of the Wired
"The [polio] vaccine switch is part of the final strategy to put a noose around the few remaining cases, by improving the match between the viruses that remain in the wild and the vaccine that suppresses them. If it goes as planned, it will improve children's immunity to wild-type polio while removing their vulnerability to a variant of the disease that can be accidentally caused by the vaccine itself" [National Geographic].
"What would motivate any young person today to pull the plug?" [Steven Fry].
Well maybe they should consider this for a moment. Who most wants you to stay on the grid? The advertisers. Your boss. Human Resources. The advertisers. Your parents (irony of ironies – once they distrusted it, now they need to tag you electronically, share your Facebook photos and message you to death). The advertisers. The government. Your local authority. Your school. Advertisers.

Well, if you're young and have an ounce of pride, doesn't that list say it all? So f*ck you, I'm Going Off The Grid.
* * *
Readers, I still need to fix my fershuggeneh contact form! Hopefully noting that fact publicly will serve a lash and a spur to my endeavors. (Meanwhile, thanks to readers, who already have my email address, who sent in images of plants!)
See the previous Water Cooler (with plant) here. And here's today's plant (Kokuanan):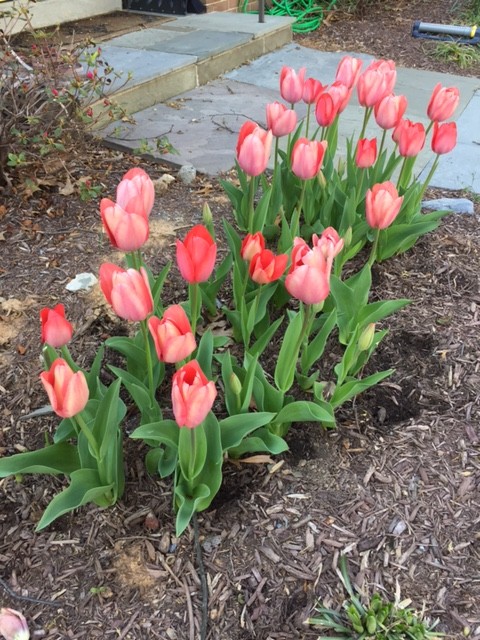 ZOMG. Spring tulips. I can't even.
* * *
Readers, Water Cooler will not exist without your regular support. Your tip will be welcome today, and indeed any day. If you enjoy what you're reading, please click the hat!