By Lambert Strether of Corrente.
TPP/TTiP/TISA
"[T]he Regional Comprehensive Economic Partnership (RCEP) [is] a trade agreement that is being worked on by a bunch of Asian countries, and which is often described as an 'anti-TPP' or, at the very least, a competitor to the TPP. It's being driven by China and India — two countries who were not in the TPP process" [TechDirt]. "Given how concerned we were with the TPP, we had hoped, at the very least, that RCEP would be better on things like intellectual property. Unfortunately, some early leaks suggested it was even worse."
"Support for huge transatlantic trade deal TTIP plummets in both US and Germany" [Ars Technica]. "Today, fewer than 20% of respondents in favour of TTIP; in 2014 it was over 50%."
"Support for the transatlantic trade deal known as TTIP has fallen sharply in Germany and the United States, a survey showed on Thursday, days before Chancellor Angela Merkel and President Barack Obama meet to try to breathe new life into the pact" [Reuters].
"Public procurement could be next TTIP deal breaker" [EurActiv]. "'The EU would welcome a privileged agreement where 'we would get rid of all the strings attached,' said the EU source. 'Why can't we transform the 'Buy American' into a 'Buy Transatlantic'?" he wondered."
"The Real Justification For Free Trade: China Got Rich" [Forbes]. I'm happy for them. Where's my cut?
2016
Voters
One of the more pleasant aspects of the 2016 campaign is Democrats revealing their true selves:

Thurgood Marshall on NY restrictive party registration: "its disenfranchisement"@Joshtpm: "its a hipster concern" pic.twitter.com/O7iz9FtT3X

— Connor Kilpatrick (@ckilpatrick) April 21, 2016

Giving zero f*cks:

"De Blasio Demands Explanation, as Decline in Registered Brooklyn Democrats Doubles" [WNYC].

"Bill Clinton Blames Millennials For Anger, Economy, Congress" [HuffPo]. He dinnit!

"If all the young people who claim to be disillusioned now had voted in 2010, we wouldn't have lost the Congress, and we'd probably have our incomes back," [Bill Clinton] said.

What a steaming load of crap. Thomas Ferguson has shown that precinct losses for Democrats in Massachusetts — where the Dems lost the Senate when Scott Brown beat Martha Coakely — correlated to foreclosures; Obama foaming the runway for the big banks and standing between them and the pitchforks lost the Senate for Democrats. Notice, also, that the Democrat Establishment never takes responsibility for failure. The Democrat Party can never fail. It can only be failed. Specifically by voters.

"Boaty McBoatface and the False Promise of Democracy" [The Atlantic].
Money
I'll just leave this here:

Clinton campaign has spent $157 million and lost a 55 point advantage in a year pic.twitter.com/VpQgUMbLl1

— Michael ⭐️ Whitney (@michaelwhitney) April 21, 2016
Corruption
"If the quid pro quo defense sounds familiar, it's because it is the exact same reasoning that right-wing Supreme Court justicesmake when striking down campaign finance laws, " [Salon]. "
New York
A post mortem on the Sanders loss that doesn't mention voting irregularities [Politico].

" New York Had the Second-Lowest Voter Turnout So Far This Election Season" [The Nation].
The Trail
"Hey, Berniacs: I Learned to Love Hillary and So Can You" [Jon Favreau, Daily Beast]. "But she is running a campaign with a policy platform that's more progressive than her husband's administration, her 2008 campaign, and—in a few cases—Barack Obama's administration. Guess what? Bernie Sanders helped make that happen. He helped push Hillary Clinton to the left. And he should keep pushing her if she becomes president."

"On Becoming Anti-Bernie" [Medium]. By a lawyer in the hedge fund business. For the defense, natch. I'm only linking to this because it's gone viral.

"Long Primary Carries Costs for Hillary Clinton: Money and Time" [New York Times]. Never mind that Clinton did exactly the same thing in 2008. Honestly, do they just pull these stories out of the drawer and swap in new names?

"Betrayal is at the heart of U.S. politics" [Reuters]. "Betrayal is an enduring issue in American politics. That's because the Constitution mandates check and balances and a separation of powers. Every elected president has to compromise in order to get things done." This is a steaming load. Talk policy: Medicare for All, tuition-free college, $15 minimum wage. All policies were strenuously opposed by both parties, although using differing tactics. Compromise had nothing to do with it.

"The smug style in American liberalism" [Vox]. Prolix.

"The other GOP fight: Packing the convention rules committee" [McClatchy].

"Outsider presidential candidate Donald Trump sent emissaries to soothe tensions with the GOP's pre-eminent insiders Thursday, and tried to convince them that his bombastic demeanor is merely stagecraft, that his high negatives in the polls can be overcome, and that if he's the nominee, he'll raise money for the party and help the Republicans locally and nationally to win elections" [Bloomberg]. Must have been like watching scorpions mating.
Stats Watch
PMI Manufacturing Index Flash, April 2016: "Early indications on April factory conditions are no better than mixed with strength in the Empire State report offset by yesterday's flat readings from the Philly Fed and another set of flat readings from today's PMI flash" [Econoday]. "
Backlog orders are down, which is a negative for hiring and also points to operating slack. Manufacturers are keeping their inventories down with stocks of purchases dropping sharply. Delivery times are up, not the result of congestion in the supply chain but, the report says, of insufficient stocks and capacity cuts among suppliers… The report, in a first of sorts compared to other reports, cites the nation's 'political climate' and its relation to the economic outlook as a possible negative."
Shipping: "The deceleration in the rail rolling averages began one year ago, and now rail movements are being compared against weaker 2015 data. There were port labor issues one year ago which affected intermodal movements – which skew the results both positively and negatively (this week again negatively as it is being compared to the shipping surge at the end of the strike). HOWEVER, one can ignore the strike which only affects intermodal – and concentrate on carloads – the data looks very soft" [Econintersect].
""The decline in global activity and the rate of activity disruption reached unprecedented levels as the industry displayed clear signs of operating in a full-scale cash crisis," [Schlumberger Chairman and Chief Executive Officer Paal Kibsgaard] said in a statement announcing first-quarter earnings Thursday. "This environment is expected to continue deteriorating over the coming quarter given the magnitude and erratic nature of the disruptions in activity" [Bloomberg].
Shipping: "North America's biggest freight railroad reported a 15% drop in its first-quarter profit on a 14% slide in revenue from weakening freight demand, the WSJ's Laura Stevens reports. The big drops came in energy shipments, and UP's strong exposure to the shale fracking business hit especially hard" [Wall Street Journal, "Today's Top Supply Chain and Logistics News From WSJ"].
Rigged Economy: "Buried in a report released yesterday by the Government Accountability Office (GAO) was a stunning piece of news. Customers of JPMorgan Chase, the bank that Wall Street analyst Mike Mayo has preposterously called the "Lebron James of banking," were major victims of Bernie Madoff's Ponzi scheme – to the tune of $5.4 billion – because of negligence on the part of the bank" [Wall Street on Parade]. Reading more deeply into the article:
According to the Picard investigation, JPMorgan Chase and its predecessor banks also extended tens of millions of dollars in loans to Norman F. Levy and his family so they could invest with the insolvent Madoff. (Levy died in 2005 at age 93 without being charged with any crimes.) According to Picard, Levy had $188 million in outstanding loans in 1996, which he used to funnel money into Madoff investments. Picard's lawyers said in a court filing that JPMorgan Chase (JPMC) "referred to these investments as 'special deals.' Indeed, these deals were special for all involved: (a) Levy enjoyed Madoff's inflated return rates of up to 40% on the money he invested with Madoff; (b) Madoff enjoyed the benefits of large amounts of cash to perpetuate his fraud without being subject to JPMC's due diligence processes; and (c) JPMC earned fees on the loan amounts and watched the 'special deals' from afar, escaping responsibility for any due diligence on Madoff's operation."
Of course! The fees!
Today's Fear & Greed Index: 73, Greed (previous close: 74, Greed) [CNN]. One week ago: 70 (Greed). (0 is Extreme Fear; 100 is Extreme Greed). Last updated Apr 22 at 11:29am.
Black Injustice Tipping Point
"The South's new re-segregation plan: The Koch brothers, ALEC and the sneaky scheme to undo Brown v Board of Education" [Salon]. Charters. Naturally.
Police State Watch
"These states let police take and keep your stuff even if you haven't committed a crime" (map) [Vox]. Ulp.
"You can now be identified by your 'brainprint' with 100% accuracy" [Kurzweil: Accelerating Intelligence]. Ulp.
Gaia
"From an evolutionary perspective, it makes sense that these human abilities also appear in other species. After all, the whole point of natural selection is that small variations among existing organisms can eventually give rise to new species. Our hands and hips and those of our primate relatives gradually diverged from the hands and hips of common ancestors. It's not that we miraculously grew hands and hips and other animals didn't. So why would we alone possess some distinctive cognitive skill that no other species has in any form?" [The Atlantic].
Imperial Collapse Watch
"Seymour Hersh spills the secrets of Bin Laden's execution: 'He was a prisoner of war. It was a hit'" [Salon]. "The Saudis bribed the Pakistanis not to tell us [that the Pakistani government had Bin Laden] because they didn't want us interrogating Bin Laden… what the Saudis were doing, so I've been told, by reasonable people (I haven't written this) is that they were also passing along tankers of oil for the Pakistanis to resell. That's really a lot of money."
Class Warfare
"How to survive as a whistle-blower" [Nature].
Don't confront potential misconduct alone. Although postdocs and PhD students are the most likely to identify inconsistencies in the previously published data of their groups, they are often the least equipped to highlight serious problems. Be ready to give your supervisor the benefit of the doubt, but also be aware that raising concerns directly could provide an opportunity to obscure evidence of misconduct. In fact, the co-founders of the blog Retraction Watch recommend against contacting authors first if no one else knows of issues in the research.
Not just for postdocts and students!
News of the Wired
"Public Domain Citation Book, Baby Blue, Renamed To Indigo Book, Following Harvard Law Review Threats"[Ars Technica].
"Keynes passed away 70 years ago today, with his copyright now expiring, there is an opportunity to build a digital archive of all his work" [Inet].
"These Guys Were on the Deepwater Horizon When It Blew Up" [Mother Jones]. IIRC, BP executives were on the Deepwater Horizon when it blew, but were evacuated. And we never found out how that happened, and whether any workers were on the helicopter, if helicopter it was. Readers?
The rant that launched a thousand memes:
On this Day – 1945, facing reality, #Hitler had a minor breakdown in his Berlin bunker – made famous by this… https://t.co/SruwUqFTkx

— Roger Moorhouse (@Roger_Moorhouse) April 22, 2016
* * *
Readers, I still need to fix my fershuggeneh contact form! Hopefully noting that fact publicly will serve a lash and a spur to my endeavors. (Meanwhile, thanks to readers, who already have my email address, who sent in images of plants!)
See the previous Water Cooler (with plant) here. And here's today's plant (Chet):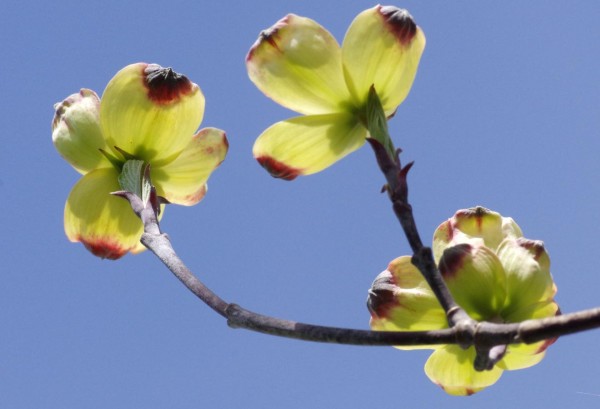 Young dogwood blossoms. Big moment when you look up at the trees and notice the buds!
* * *
Readers, Water Cooler will not exist without your regular support. Your tip will be welcome today, and indeed any day. If you enjoy what you're reading, please click the hat!