By Lambert Strether of Corrente.
TPP/TTiP/TISA
UK readers: a sample letter on TTIP to send to your MP [Open…].
"A loose coalition of trade unions, environmentalists and consumer protection groups in the northern city of Hanover said they drew a crowd of 90,000 to a march and rally outside the city's opera house" on the eve of a visit by President Obama [Yahoo News]. "Police mobilized a large force to keep the peace and estimated attendance at 35,000."
"The Washington Post really really wants the Trans-Pacific Partnership (TPP). So, when they asked Ivo Daalder and Richard Kagan to make the case for the TPP as part of a story about preserving American leadership in the world, the Post apparently gave the greenlight to name-calling" [Dean Baker, CEPR]. "This meant that the opponents of the TPP appear in the piece as "demagogues." Sounds good, now we don't have to deal with arguments from people like Nobel prize winning economist Joe Stiglitz or Jeffrey Sachs. Hey, if you oppose the TPP you're just a demagogue, not someone who might have a serious argument."
2016
Policy
"Aides to Mr. Sanders have been pressing party officials for a significant role in drafting the platform for the Democratic convention in July, aiming to lock in strong planks on issues like a $15-an-hour federal minimum wage, breaking up Wall Street banks and banning natural gas 'fracking'" [New York Times]. But then there's this:

And Mrs. Clinton is well positioned to block any proposals she would not want to defend in a general election. In January, the party chairwoman, Representative Debbie Wasserman Schultz of Florida, appointed dozens of Clinton supporters and advisers to the three standing committees of the Democratic Party convention. Of 45 potential members submitted by Mr. Sanders, she appointed just three, according to Mr. Sanders's campaign.

Head of the Rules Committee: Barney Frank.

"Democratic presidential hopeful Bernie Sanders said Sunday that his level of support for Hillary Clinton as the party's nominee would be "totally dependent" on whether she incorporates a progressive agenda like his into her campaign against the Republican nominee" [WaPo].
Voters
"Key allies of Bernie Sanders are planning to meet in Chicago after the final votes have been cast in the Democratic presidential primary to plot the future of the movement galvanized by Sanders' presidential campaign" [Portside]. "The two-day People's Summit is timed for mid-June in order to fall between the final set of primaries in California and elsewhere on June 7, and the Democratic National Convention in late July. It aims to continue building the "political revolution" Sanders often invokes and to develop a "People's Platform" of issues important to the movement."

"A seriousness about winning power means, to borrow from Sun-Tzu, to know your enemy and know yourself. With respect to the fight for power, this means that we must understand the terrain in which we are operating; the nature of power in the USA; the nature of our enemies; the nature of both our tactical and strategic allies; and the growth and decline of various progressive social movements. Putting this together helps place progressives on a road towards winning rather than a road towards the glorious and heroic defeats with which too many of us are familiar" [Alternet].

"Thomas Frank: It's Clinton Who Wrecked the Democratic Party"

"Voting is of huge importance collectively but any individual vote has almost no impact, so even mild disincentives can substantially reduce turnout. The state's job is to reduce as many barriers as possible, not to create impediments and tut-tut people who can't surmount them" [The Week]. Now that liberal Democrats have accepted the majority doctrine of Citizens United — that absent a quid pro quo, there's no corruption — they might as well go on to endorse voter suppression. Why not?

"In April, Larry Sabato's widely respected Crystal Ball Report pushed the Electoral College toward the Democrats and predicted the party might also take six seats in the U.S. Senate. In the House? Sabato's essential guide sees just a five-to-ten-seat gain for the Democrats. They see 227 seats in the GOP column, 188 safe/likely/leaning Democratic, and 20 toss-ups" [New York Magazine].
PA, MD, CT, RI primaries
"The Democratic races in Connecticut and Rhode Island appear to be toss ups, with Clinton and Sanders each having a slight advantage in one of the states" [Public Policy Polling].

"[In Pennsylvania,] Clinton is beating Sanders 55%-40% among likely Democratic voters" [CNN].

"Together the result is one of the most sizable shifts of partisan allegiance ever in Pennsylvania: 61,500 Democrats have become Republicans so far this year, part of a 145,000 jump in Republican registrations since the fall 2015 election, according to state figures analyzed by both parties. It's more new Republicans than in the previous four years combined" [Duluth Tribune].

"The man that Bernie Sanders forgot" [the excellent Will Bunch, Philadelphia Daily News]. "John Fetterman, the Harvard-trained mayor of a once-comatose western Pennsylvania steel town who looks like a biker-bar bouncer."

"A portion of Maryland voters who requested absentee ballots in order to participate in this year's elections erroneously received written instructions to use a No. 2 pencil when filling them out, despite the fact that the state's system for reading the forms performs best when they are filled out in black pen" [Baltimore Sun]. Reading the detail, this looks like a legit screw-up. That said, a management shakeup of the Democrat Party would need to include the voting process.

"Clinton's Closing Argument" [Roll Call]. "Campaign ad ahead of Tuesday primaries calls for 'love and kindness.'"
Money
A fine exposition of the Hillary Victory Fund scam [Wall Street on Parade]. The whole scam looks like it was worked out by whatever species of lawyer writes private equity limited partner agreements. WSoP comments: "If Bernie Sanders hopes to make good on his call for a political revolution, the next step is to bring the machinations of the Hillary Victory Fund to a higher authority than the DNC, a willing participant itself in the scheme."
Corruption
"Clinton struggles to explain why, when she opposes the influence of big money on politics, that no one should worry about her super PAC money and massive donations. During a New Hampshire debate she said "you will not find that I ever changed a view or a vote because of any donation that I ever received." I bet Clinton actually believes this statement. But it glosses over the more subtle way money influences politics" [Los Angeles Times].

A 2013 study found that the wealthy are much more likely than the rest of us to report having personal contact with a senator or representative. And it turns out that the 1% have very distinct views on public policy. The same study reported that the very wealthy are much less likely than the general public to support policies such as raising the minimum wage, providing substantive unemployment benefits, or expanding public health insurance programs.

Money has influence even before it is donated. …[E]very senator from New York, including Clinton from 2001 to 2009, knows that staking out positions against Wall Street can close wallets or send money streaming to their opponents.

This is a deeply troubling campaign finance system, one which is slipping [??] dangerously toward plutocracy. But it doesn't take a bribe for money to matter, a lot.
The Trail
"'I think the ideas we are talking about, (are) what the American people and the people in the Democratic Party want to hear,' [Sanders] said on CBS' 'Face the Nation,' noting his campaign's strong support among younger voters. 'We are the future of the Democratic Party, so I'm very proud of where we are and we look forward to fighting this out through California'" [CBS]. Good.

"With GOP in chaos, Democrats struggle with their own deep divisions" [WaPo]. Hilariously, no mention of Sanders.

"The 8 A.M. Call" [Paul Krugman, New York Times]. Operative K meditating on which "serious" candidate — Clinton, Cruz, or Trump — is best equipped to handle the "economic emergency" that "probably coming, one way or another." And it's a no-brainer: Since the Clinton Dynasty and the DLC generally did so much to lay the groundwork for the last crash, it stands to reason they're best equipped to handle the next one. Probably a mixture of (a) elite nervous stomach (there seems to be a lot of that about again), (b) Krugman's memory that Obama pulled away from McCain in 2008 only after Lehman, hence (c) positioning Clinton — no doubt aided by the wisest of wonks — to treat an economic emergency opportunistically.

"Is Hillary Clinton Dishonest?" [Nicholas Kristof, New York Times]. A careful description of the ingredients in the dogfood the dogs won't eat.

"Hillary's Big Idea" [Timothy Egan, New York Times]. "Consider the epic changes over the past century that brought lasting good to this country. …. Clinton needs to fashion a [new big idea], attacking inequality with an institutional uplift to the slipping middle class." How about… Hmm, let me see… Medicare for All, tuition-free college, and a $15/hour minimum wage? The real message of this column, however, is the open contempt and hatred the political class has for Sanders.

"[T]he whole Republican contest could come down to Indiana. The state has 57 pledged delegates, and it awards those delegates on a winner-take-all basis statewide and by congressional district. As a result, the difference between a narrow win and a loss is huge for Mr. Trump" [New York Times]. "The math" behind the Cruz/Kasich deal; Cruz could stage a comeback in Indiana.

"Donald Trump's reaction to the Cruz-Kasich alliance was epic" (and annotated) [Chris Cilizza, WaPo].

"Republican presidential candidate Ted Cruz won the majority of delegates that the Utah and Maine parties voted to send to July's convention, another victory for the Texas senator's organizational efforts over front-runner Donald Trump that could bolster Cruz at a contested convention" [Bloomberg]. Cruz positioning himself for the second ballot.
Stats Watch
New Home Sales, March 2016: "Growth in new homes isn't spectacular but, given how soft general economic conditions are, the sector is posting moderate and still respectable numbers" [Econoday]. "Spring is the big season for the housing market and this report, together with an uptick in last week's March report for existing home sales, do keep the door open for a solid season, one that could contribute to a needed pickup in the pace of the overall economy." Well, I'm a Maine bear, so my priors would make me think this sounds like whistling past the graveyard. And "The rolling averages smooth out much of the uneven data produced in this [noisy and methodologically challenged] series – and this month there was a decline in the rolling averages" [Econintersect]. "The quantity of new single family homes for sale remains well below historical levels." And: "Given the supply constraints in existing home sales the weak tone in this report provides a sobering take on the housing sector recovery" [TDSecurities, Across the Curve].
Dallas Fed Mfg Survey, April 2016: "The de[s]cent of the Dallas Fed report may be flattening out, hopefully" [Econoday]. "The ongoing recovery for oil is having a positive effect on energy prices and is likely to have a wider positive effect for the Texas manufacturing area. And perhaps this report, though still mostly weak, is a turning point." Maybe: "Of the three Federal Reserve districts which have released their April manufacturing surveys – only one is in contraction" [Econintersect].
Honey for the Bears: "the charts of the real US economy continue to fall/decelerate with most all pointing south, apart from new claims for unemployment which I believe is due to said claims having been made very hard to get, and not labor market conditions. And unemployment looks low only if you believe the drop in the labor participation rates are largely structural (all the women suddenly got too old to work in 2008…) which I find highly doubtful." [Mosler Economics]. "charts of the real US economy continue to fall/decelerate with most all pointing south, apart from new claims for unemployment which I believe is due to said claims having been made very hard to get, and not labor market conditions. And unemployment looks low only if you believe the drop in the labor participation rates are largely structural (all the women suddenly got too old to work in 2008…) which I find highly doubtful. " Compare this to Operative K's "The 8 A.M. Call" under 2016/The Trail.
And just for fun, from FDR's budget speech in 1941:
FDR's budget speech 1941. @davidgraeber @ProfSteveKeen @StephanieKelton @geofftily https://t.co/4xJKwgRELb pic.twitter.com/8LqYPGhe1O

— Philip Clarke (@pilkingtonphil) April 25, 2016
The Fed: "What might an increasingly elastic labor supply mean for Fed policy? The answer depends on how much surplus labor is available. Suppose it is 1.5 million workers – a conservative figure that would still leave the civilian employment-to-population ratio well below its post-war peak. At plausible rates of US job creation, it would take 12-18 months to absorb those new entrants. That labor influx would dampen wage and price pressures, allowing the Fed to proceed gradually with interest-rate normalization. The bigger the pool of available labor, the longer the Fed can go slow" [Project Syndicate]. "This recalls former Fed Chair Alan Greenspan's experiment in the late 1990s, when he let the US economy boom, on the hunch – which proved to be right – that productivity was accelerating. Might Yellen be willing to make a similar wager on labor supply?"
The Fed: "Yields on $7.8 trillion of government bonds have been driven below zero by worries over global growth, meaning money managers looking for income are pouring into debt with maturities of as long as 100 years. Central banks' policy is exacerbating matters, as the unprecedented debt purchases to spur their economies have soaked up supply and left would-be buyers with few options" [Bloomberg].
Banks: "A dispute has arisen on Deutsche Bank's supervisory board over what some members view as the bank's legal counsel's over-zealous response to scandals it has been embroiled in, Frankfurter Allgemeine Sonntagszeitung reported" [Reuters].
Banks: "While the Bank of Japan's name is nowhere to be found in regulatory filings on major stock investors, the monetary authority's exchange-traded fund purchases have made it a top 10 shareholder in about 90 percent of the Nikkei 225 Stock Average, according to estimates compiled by Bloomberg from public data" [Bloomberg]. "It's now a major owner of more Japanese blue-chips than both BlackRock Inc., the world's largest money manager, and Vanguard Group, which oversees more than $3 trillion."
Banks: "Attackers who pulled off the massive bank fraud at the Bangladesh Bank in February did so by using custom malware and attack tools that were able to monitor the internal messages that conduct financial transactions, delete certain messages, and then insert others to send money to accounts they control, researchers say" [On the Wire]. "The tools targeted the SWIFT system, a platform that thousands of banks around the world use to exchange information on transactions, and researchers at BAE Systems in the U.K. said the toolkit is highly customizable and could be used in other attacks."
Shipping: "Shipping firms owed nearly $1bn in late-return fees for containers in Venezuela" [Splash247].
"Germans flock to property as interest rates fall and rents rise" [Reuters]. Their property market may become more like the US and UK's. What could go wrong?
"Uber is valued at $60 billion. It's privately held. Nobody outside its execs and a few investors really know what its books look like" [Business Insider]. Good wrapup of Silly Valuation unicorn controversy.
Today's Fear & Greed Index: 69, Greed (previous close: 74, Greed) [CNN]. One week ago: 74 (Greed). (0 is Extreme Fear; 100 is Extreme Greed). Last updated Apr 25 at 11:49am. Drifting downward….
The Jackpot
"Solar Impulse Pilot: 'I Flew Over Plastic Waste As Big As a Continent'" [Ecowatch].
" Ruined Chernobyl nuclear plant will remain a threat for 3,000 years" [McClatchy]. "The infamous Reactor Number 4 remains a problem that is neither solved nor solvable." Excellent long-form read. "The bridge they were standing on wasn't yet known as 'The Bridge of Death.' That would come later."
Class Warfare
"In large parts of Europe, the combination of globalisation and technical advance destroyed the old working class and is now challenging the skilled jobs of the lower middle class. So voters' insurrection is neither shocking nor irrational. Why should French voters cheer labour market reforms if it could result in the loss of their jobs, with no hope of a new one?" [Wolfgang Münchau, Financial Times]. Compare the FT's relatively straightforward prose to the drivel at the New Yorker in Links today.
"Why America's impressive 5% unemployment rate feels like a lie for so many" [Quartz]. "If you work for a mere hour per week and make $20, you are still considered employed, according to Gallup. And just like that, the marginally employed workers of the 1099 economy, like some of the long-term employed, are omitted from the unemployment statistics."
"Since 2013, the Federal Reserve Board has conducted a survey to "monitor the financial and economic status of American consumers… The Fed asked respondents how they would pay for a $400 emergency. The answer: 47 percent of respondents said that either they would cover the expense by borrowing or selling something, or they would not be able to come up with the $400 at all. Four hundred dollars! Who knew?" [The Atlantic]. Best economy ever. Move along, people, move along. There's no story here.
"But in reality, a large body of research shows that the rich live longer — and that the life span gap between rich and poor is growing. And that means that the progressive ideal built into the design of Social Security is, gradually, being thwarted. In some circumstances, the program can actually be regressive, offering richer benefits to those who are already affluent" [New York Times].
"What Would Happen If We Just Gave People Money?" [FiveThirtyEight]. The FIRE sector would suck it all up?
" "Game of Thrones" goes to war: The once-radical fantasy is now the establishment—for better and for worse" [Salon]. Filing this story here, because this: "The cinematic male-oriented dramas that dominated the conversation in the late 2000s have almost, with a few notable exceptions like 'Fargo' and 'Better Call Saul,' entirely yielded the territory of critical adoration to quirky and smart half-hour comedies." Heaven forfend, in the year 2016, from continuing to watch a show whose theme is power!
"The complete guide to 'Game of Thrones'" [Alyssa Rosenberg, Washington Post]. Five years of recaps! Given that this is WaPo, it would be interesting to view them through a Beltway power relation lens.
News of the Wired
"The future of Japan's music industry is in this one catchy music video" [Daily Dot]. If you like the meta, you have to watch the video.
"Here are some of the things we learned we would have to overcome, if we wanted to deploy a real chatbot" [Medium]. "[P]eople share feelings and emotions, positive and negative, they also use humor a lot when talking to a bot. A bot with a scripted sense of humor is one thing, but a bot who understands a sense of humor is a completely different ball game."
"Dark Patterns by the Boston Globe" [Rationalist Conspiracy]. "Dark patterns" are "user interfaces designed to trick people." In other words, we have a phishing equilibrium.
"Half Your Brain Stands Guard When Sleeping In A New Place" [NPR] (original study).
For Monday afternoon coffee break, if any:
* * *
Readers, I still need to fix my fershuggeneh contact form! Hopefully noting that fact publicly will serve a lash and a spur to my endeavors. (Meanwhile, thanks to readers, who already have my email address, who sent in images of plants!)
See the previous Water Cooler (with plant) here. And here's today's plant (JN):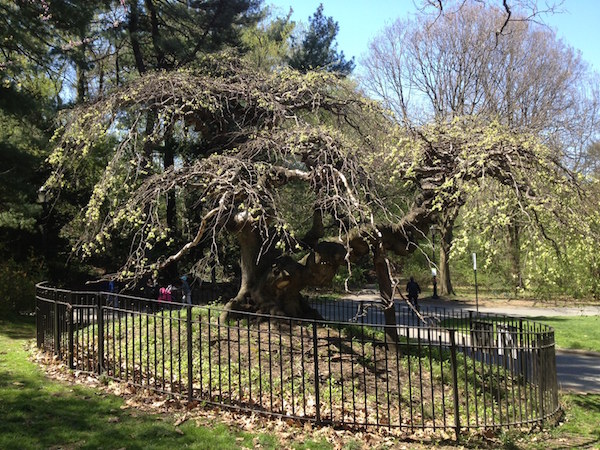 Camperdown Elm, Brooklyn Botanical Garden: 1872.
* * *
Readers, Water Cooler will not exist without your regular support. Your tip will be welcome today, and indeed any day. If you enjoy what you're reading, please click the hat!