By Lambert Strether of Corrente.
Readers, I was fighting connectivity problems, so I'm going to put up what I have now, and add in the 2016 section in a bit. So please come back!
2016
Policy
"The only way toward an economy that works for all of America and not simply for the powerful and privileged is by way of a democracy that's responsive to all of America, and not only the powerful and privileged. And the only means of achieving a democracy that's responsive to all of America is by reducing the power of the moneyed interests. This is what Bernie Sanders's "political revolution" is all about" [Robert Reich]. "This is not 'single-issue' politics. It is essential to the politics we must create in America."

"California and New York's bold $15 minimum wage proposals are exactly what we need" [Economic Policy Institute]. "The fact that these proposals are outside the bounds of recent experience does not automatically make them ill-conceived. Moving beyond the timidity of most recent minimum wage hikes is exactly what is needed if we are to undo decades of falling wages and deteriorating living standards for the lowest-paid third of America's workforce." Hillary doesn't support the $15 minimum wage. But she'll gladly pose for a photo op when it's passed.
The Voters
"I've been astounded by the reaction of some of my Democratic friends, nearly all in their 50s, 60s, and 70s who seem to have given up on even considering we can have a positive, liberal future for our country" [LA Progressive]. "They have bought into the 'it can't be done' meme driven by the current leadership of the Democratic Party." It's especially weird, because in 2008, young people really did get their parents to vote for Obama. Why not now?

"Edging toward an earthquake election" [Democracy Corps]. Despite the name, this is from Carville and Greenberg, Democratic strategists.

"Emails Shed New Light on Bill Clinton's Super Tuesday Stop in New Bedford" [Boston Magazine]. Clinton's not without experience on the trail. He had to have known his presence would be disruptive to voting.
Money
"Did Sanders Lie About Clinton's Oil Money? NPR Factchecker Can't Be Bothered to Check" [Common Dreams]. I hadn't focused on the interchange between Clinton and her interlocutor:

The activist,  Eva Resnick-Day, says: "Thank you for tackling climate change. Will you act on your words and in your campaign?" To which Clinton responds:

. I'm so sick. I'm so sick of the Sanders' campaign lying about me. I'm sick of it.

Notice that Clinton's answer is not responsive! Resnick-Day asks about future contributions, and Clinton responds about past contributions. Nor does Clinton agree to "act on her words" (or disagree about what those words might have been.

"Clinton wasn't specific about the alleged lie she was ["so sick of"], and her campaign didn't give a specific answer when we asked" [Politifact].

"A Washington Post fact-checker [not an oxymoron?] was critical of Sanders' assertions, noting that both campaigns have received money from oil and gas industry employees, and that Clinton has benefitted from lobbyists who work for those industries — but that those lobbyists have multiple clients, so it's inaccurate to cast their fundraising efforts as money "given" by fossil fuel interests" [FOX Q13].

Confronted with that fact-check, Sanders didn't back down Sunday.

"Let the voters decide whether paid lobbyists who represent the fossil fuel industry, 43 of them, gave maximum contributions to the Clinton campaign and whether or not these same people are out in some cases are out in some cases bundling, trying to bring in even more money," Sanders told CNN's Jake Tapper on "State of the Union."

And then there's this:

Clinton: Young people "dont do their own research"….

Pew research: Millennials are the most educated generation in US history#OccupyCNN

— Hamza Mussé (@hamzamusse) April 4, 2016

Actually, Eva Resnick-Day sounds quite well-researched to me.

"Asked this week on MSNBC if he would begin fundraising for other Democrats, Sanders said 'we'll see,' adding that he's focused on winning the Democratic nomination" [Bloomberg]. This "loyal Democrat"… frame… Apparently, debate scheduler extraordinarire and payday loan-lovin' Debbie Wasserman Schultz is the epitome of a loyal Democrat! Is the idea that one can be a loyal Democrat and at the same time not be a small-d democrat?

"A database is also maintained on the website of The Berniecrats Network that lists politicians that have said they endorse Bernie Sanders or support Bernie Sanders' political revolution. On that database, individuals who have been added within the last week are highlighted in green. Bernie Sanders' supporters are using this color-coding as a tool to quickly spot newcomers, thank them on social media, support their campaigns, and often even donate to their fundraising efforts. This database includes memes, video endorsements, websites and links to the individuals' Twitter accounts" [Inquisitor]. I'm inclined to say good, since I'd rather see Canova drub Wasserman Schultz, but I still think an independent organization outside the Democratic Party is crucial.

Clinton: "'If the Court doesn't overturn Citizens United, I will fight for a constitutional amendment to limit the influence of money in elections,' she said. 'It is dangerous to our country and poisonous to our politics" [The Nation]. First, Democrats "fight for" all the time. It never comes to anything. Second, if Clinton were serious about the influence of money in politics, she'd already be raising clean money the way Sanders does.
Wisconsin
"Though Sanders holds an edge of about five points over Clinton in recent polls, all bets may be off due to the swirling confusion around the new ID requirements affecting all the races, according to Molly McGrath, national campaign coordinator for VoteRiders. "There's a lot of misinformation out there that we're trying to address; 300,000 people don't have the IDs they need to vote, and a significant portion of them don't know about the new requirement," says McGrath, whose organization has been driving voters who need assistance to DMVs across Wisconsin" [US News]. Funny how what establishment Republicans do so often helps establishment Democrats. This is a ginormous wildcard, and may account for the relative silence of both candidates on expectations. The other ginormous wildcard would be what the non-Democratic regular Occupiers, who fought Walker so hard with no help from the national Democrats at all, are doing. Can they get people to the polls?

"The Emerson College Polling Society survey showed the Vermont senator with 51% support, compared with 43% for Clinton, although a RealClearPolitics average of the latest polling showed a closer race, with Sanders edging Clinton 48%-45%" [New York Daily News].

"A Sanders win in Wisconsin would launch another round of tough stories for Hillary Clinton and her campaign. But for Team Clinton to truly be in trouble — and for the Democratic alarm bell to sound off — Sanders has to beat her in New York in two weeks" (because of proportional delegates) [NBC].

"Despite following each other around the country for months, neither campaign has come as close to the other as will be the case on Monday evening, when the 19,000-capacity BMO Harris Bradley Center fills up with Sanders supporters and Trump followers pack out the 4,000 seat Milwaukee Theater across the street" [Guardian]. Funny how the size of the venue is inversely proportional to the media coverage….
New York
"Residente: 'Hillary Clinton Does Not Deserve My Vote'" [Latino Rebels].

Without giving you exact numbers, I can tell you the U.S. gets more out of Puerto Rico economically than Puerto Rico receives from the U.S. We are currently living an unprecedented economic crisis and have the highest rates of poverty and unemployment of any other place in the U.S., yet the U.S. does not even allow us to restructure our debt…. I support Bernie Sanders because he has been the only candidate with logical proposals and has expressed support with my country's debt relief. He did not come up to support us now, in the middle of an election cycle to win votes, but he spoke out from the moment the economic crisis began.
The Trail
"Behind #BernieMadeMeWhite" (with charts) [Jacobin]. "Sanders has now made up so much ground that he's running neck-and-neck with Clinton among nonwhite registered Democrats younger than fifty." And:

Finding these voting blocs inconvenient to its preferred framing, the media has largely ignored them. Instead of articles about the young female, black, Hispanic, Native American, Asian American, and Arab Americans who back Sanders, we get a deluge of articles about the horrifying paleness of Sanders's base.

We get absolute silence about Clinton's especially strong backing from rich white Democrats over thirty.

"Kashkari takes on Wall Street from farm-rich Fed region" [Reuters]. Kashkari's head is as bald as Cory Booker's. And Kashkari has run for office before. He's a "fresh face," but unseasoned at the national level. Maybe Paul Ryan's Veep? Especially given that he's from Goldman?

"Michelle Alexander Breaks Down Why Hillary Clinton is Bad for Black America" (video) [Shine]. And an intense comments section.

Well, this is ugly:

Trump poses for a picture like this at most campaign stops. pic.twitter.com/s8pg40Zvnn

— JeffSharlet (@JeffSharlet) April 4, 2016

"How ancient horse-dung bacteria is helping us locate where Hannibal crossed the Alps" [Raw Story]. I'll just file this here, since I said I'd only update 2016.
Stats Watch
Factory Orders, February 2016: "Factory orders fell 1.7 percent in February, more than reversing what was a strong January which, however, is revised 4 tenths lower to a gain of 1.2 percent" [Econoday]. "The February report makes for uncomfortable reading with orders for core capital goods falling 2.5 percent and pointing to continuing trouble for business investment. Other readings include a sharp 0.7 percent fall for total shipments, a 0.3 percent fall for unfilled orders, and a 0.4 percent fall for inventories though the latter is actually a positive given the decline in shipments and keeps the inventory-to-shipments ratio at 1.37." Ugh: "Another bad one, on the heels of very weak auto sales. And even though inventories are now falling, shipments and sales are falling just as fast, keeping the inventory to shipments and sales ratios at elevated levels" [Mosler Economics]. But: "US Census says manufacturing new orders declined. Our analysis says sales improved and is now in expansion" [Econintersect]. "Part of the reason for the poor growth is that the data is not inflation adjusted (deflation is occuring in this sector) – however, all the gains this month are wiped away as deflation lessened. Civilian and defence aircraft was the major tailwind – and most of the data was soft."
"The bottom line is that there are different kinds of business cycles that display different patterns. You can't show that one type is signaling expansion and conclude that risk is minimal. I don't put any effort myself into forecasting, and I have no idea how likely a recession is in 2016" [Econospeak]. In response to Ritholtz.
Labor Market Conditions Index, March 2016: "Employment has been strong, especially the participation rate, but isn't being reflected in the Federal Reserve's labor market conditions index which came in at minus 2.1 in March vs a downwardly revised 2.5 percent decline in February" [Econoday]. "The index, experimental in nature, is a broad composite of 19 separate indicators and is rarely cited by policy makers."
Gallup US Consumer Spending Measure, March 2016: "Americans' daily self-reports of spending increased $5 to an average of $89 in March" [Econoday]. "For each of the past six years, the spending average for March has been a rough bellwether for that year's spending."
"Google's Alphabet Transition Has Been Tougher Than A-B-C" [Wired].
"The market for tech IPOs hasn't been this awful since the Great Recession" [Quartz]. What? That guy with the $700 juicer's doing fine!
"Pullbacks, delays, ad fraud: The story of Facebook's '$500 million' LiveRail acquisition" [Business Insider].
Today's Fear & Greed Index: 75, Extreme Greed (previous close: 77, Extreme Greed) [CNN]. One week ago: 64 (Greed). (0 is Extreme Fear; 100 is Extreme Greed). Last updated Apr 4 at 1:31pm. Well, we just kicked over into Extreme Greed. So I suppose that's good.
Dear Old Blighty
"Murder in Mayfair" [London Review of Books].
"Revealed: what can happen when a Named Person reports on your children" [Scotsman]. Yikes!
Corruption
"An Africa first! Liberia outsources entire education system to a private American firm. Why all should pay attention" [Mail and Guardian]. Somebody should ask @deray about this.
"The empty charter school dream: "Togetherness" sides with smug hipster parents and falls apart" [Salon]. I always file charters under Corruption.
"Syracuse Mayor Miner correct to demand answers about SU arena, some say" [Post-Standard]. I always file "public" stadiums under Corruption.
Militia Watch
"Armed hate group met at Texas mosque protest by gun-toting worshipers" [Raw Story]. I believe Reagan got control passed in California when the Black Panthers did something similar.
Police State Watch
Cops took more stuff from people than burglars did last year https://t.co/u8NhOEKwY7 pic.twitter.com/VHW2NPrczf

— Micah Lee (@micahflee) April 4, 2016
Guillotine Watch
"This is not fine dining as I once knew it, and that's O.K. That's what date night is for. But my daughter got her first lesson in how to behave at a fancy restaurant. And I got to finish a delicious meal while it was still warm, toddler in tow" [New York Times]. And only $74 per adult!
Imperial Collapse Watch
"U.S. Special Operations forces are using rifle sights that are supposed to help shooters accurately hit their targets but instead have a defect, acknowledged by the manufacturer, that potentially endangers the lives of service members in combat, according to court records and military officials" [WaPo]. How is this even possible?
Class Warfare
"The Cities on the Sunny Side of the American Economy" [New York Times]. Times flogging this narrative hard.
"Child slavery: Rich Brits buying children who survived the Nepalese earthquake for £5,000" [International Business Times].
"The Cult of the Professional Class" [Counterpunch].
Perhaps the worst aspect of the orthodoxy is that we cannot truly speak to that fact that humanity is no longer facing the downfall of a single nation or the destruction of a single empire, but the decimation of an entire planetary ecosystem. If we do not challenge the cabal of political and social power in America and around the world, it will likely be the death knell for us all.
Debbie Downer…
News of the Wired
"Google's parent company is deliberately disabling some of its customers' old smart-home devices" [Business Insider].
"LSD could make you smarter, happier and healthier. Should we all try it?" [WaPo]. Not the brown stuff!
"How Walking in Nature Prevents Depression" [CityLab]. 2015, but still true today!
* * *
Readers, I still need to fix my fershuggeneh contact form! Hopefully noting that fact publicly will serve a lash and a spur to my endeavors. (Meanwhile, thanks to readers, who already have my email address, who sent in images of plants!)
See the previous Water Cooler (with plant) here. And here's today's plant (Kokuanani):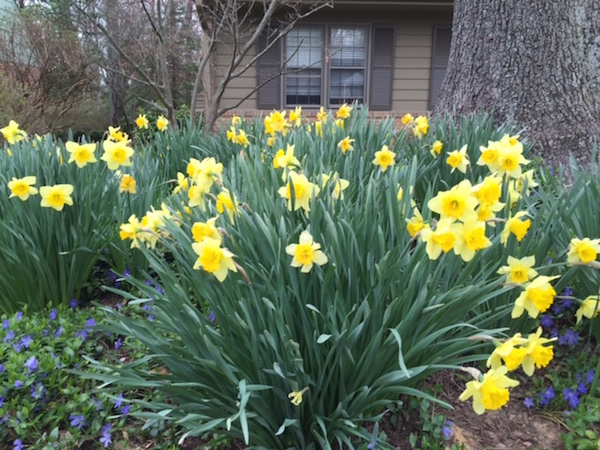 More hopeful signs!
* * *
Readers, I have taken away Bullwinkle! Thanks for your support! Again, however, Water Cooler depends on regular contributions to exist, and I would not wish to imply that your help was not welcome today, or indeed any other day.
If you enjoy Water Cooler, please consider tipping and click the hat. Water Cooler would not exist without your support.