Yves here. This post is important in and of itself, in debunking widely-publicized myths about the state of the Irish "recovery," and it is separately a good example of how official statistics tell a very misleading story.
By Cillian Doyle, an economist with the People Before Profit Alliance of Ireland. Originally published at Counterpunch
Dublin.
Well, the latest national growth stats are in and, despite all appearances, the poster boy for  European austerity is hands down the fastest growing economy in the Eurozone. With GDP supposedly running at 7.8%, we're even outpacing the global titans of India and China.
The US media outlet CNN claimed that once again 'Ireland is booming'. Yes, there it was: the dreaded b-word. It's not that an uptick in economic activity is unwelcome thing; it's more that in an Irish context, owing largely to the weak nature of indigenous Irish capitalism, the word "boom" is usually synonymous with bubble, and it seems another bubble could be building, but more on that later.
For now, let's focus on where this seemingly robust growth is coming from. It's true there has been a slight uptick in genuine economic activity place here with growth in things like personal consumption and construction, but this certainly cannot account for our current level of GDP, which suggests the place is absolutely abuzz with economic activity.
How can this be? Well the reason is that Ireland's is a recovery built on sand – and some highly suspect statistics.
The 'Great Recovery'; The Hope vs the Hype
The final lines of CNN's report alluded to the real reason for our eye catching growth figures, namely 'Ireland is widely known as a tax haven'. Yes owing largely to our status as a tax haven/offshore financial centre, our headline figures are dodgier than Donald Trump's hairdo.
GDP isn't a great measure of economic well-being at the best of times, failing to capture things like inequality, but in Ireland it's effectively useless. The profit shifting of the multinational sector has rendered us a complete basket case where those figures are concerned.
If we were fortunate enough to have a crusading media they would be pointing this out time and again. Instead we have the likes of the Irish Independent cheerleading for this faux recovery and carrying quotations from IBEC, our big business lobby group, that this new boom 'was reaching every corner of the country'.
You see right now we have two rival economic narratives vying for supremacy. The first one, which can be considered the establishment's version, tells the tale of a great recovery and finds regular expression amongst the talking heads in our mainstream media. The second, which is one of ongoing hardship, has to fight hard to get its message across.
There is however a number of individuals/institutions who do Trojan work in countering the often shallow analysis and outright spin which emanates from on high. These include the Unite Union's Michael Taft, the Nevin Economic Research Institute, Trinity College's Professor Jim Stewart and University College Dublin's Dr. Conor McCabe. Their work is required reading for those looking to get an accurate picture of our current economic condition.
Three Charts That Blow the 'Great Recovery' Apart
Conor McCabe's chart below shows the gross amount of credit given to Irish households and non-financial businesses from period 2003 up until to today. This, in other words, is a measure of the increase/decline in the total amount of bank loans given to these groups in the period of the Celtic tiger and its aftermath. Naturally we can see high levels of credit in the run up to the 2008 as borrowing went hand in hand with the construction boom.
But if we look at credit levels today we can see they're rock bottom, and yet somehow in defiance of all economic rationality we are recording massive levels of growth. Conor puts it nicely when he states, 'Credit is the fuel for the engine. What we have here is a country that is claiming it can drive for 50,000 miles on a single tank of petrol. This is no economic miracle; it's just bullshit.'
Credit Advanced to Irish households and non-financial businesses 2003-16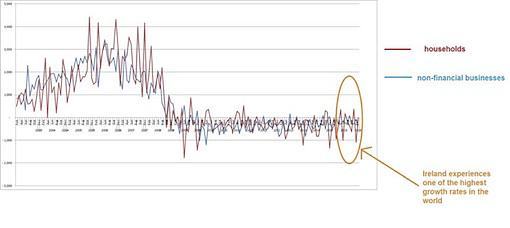 Chart 1. Irish Central Bank.
So we can see from the above that our growth is not being fuelled by credit, so what is driving it? Well that brings us nicely onto our next chart. Total Fixed Asset Investment or FAI is a measure of capital spending in terms of things like machinery, infrastructure, land, technology, etc. After all, you need to be building 'stuff' if you are going to build the economy.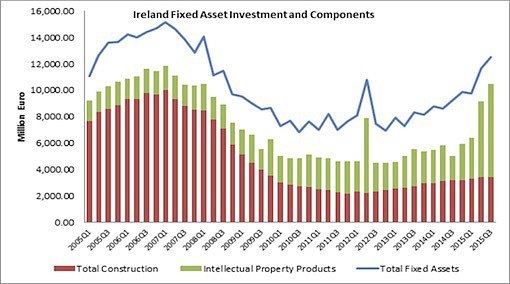 Chart 2. Eurostat.
Construction is included under the heading 'Total Construction' to give you an idea of the impact that a decline in a major sector can have on an economy such as ours in the post 2008 period. Intellectual Property Products, which arise from investment in things like patents, trademarks, industrial design and copyrights, is included to highlight what is arguably the real driver of our current economic growth.
Take a close look at this 'Intellectual Property Products' measure. Anything look peculiar? Well wee see spikes (Q2 2012; Q2 and Q3 2015) which seem to just double in the space of a few weeks and then disappear. There's clearly something up here, and that something is patents. With multinationals starting to relocate some of their intellectual property out of 'bad tax havens' (Bermuda, Cayman Islands, etc) and into 'good tax havens' (Ireland, Luxembourg, etc) our growth figures were give a massive shot in the arm.
Our final a chart plots our nominal GDP growth together with GDP growth minus this IPP component. When we do this our supposed growth of 7.8% does the kind of disappearing act that the late great Paul Daniels would have been proud of. Some recovery, huh?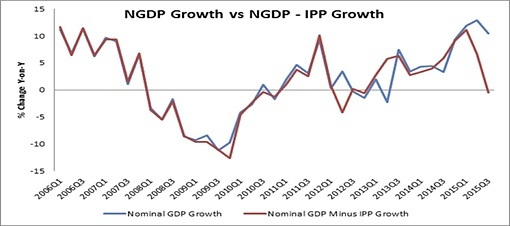 Chart 3. Eurostat.
As we've seen from above, the lion's share of this growth is illusory. How many people does it take to administer the relocation of a patent to Ireland? Just a handful of select individuals, customarily derived from the usual firms Goldman Sachs, Arthur Cox, KMPG, etc, what the Tax Justice Network calls the pinstripe mafia. And whilst all this may be great for the bonuses of the bigwigs down in the Irish Financial Service Centre (IFSC), for the rest of us the effect is pretty negligible.
Back to the Bubble Economy?
Patrick Honohan, the former governor of the Central Bank, before riding off into the sunset warned that our growth figures were 'seriously complicated' by 'distorting features', which is pretty much what we have seen from the above.
The great boom that CNN reported on is really just a corporate tax bubble driven multinationals locating patents and other types of intellectual property here to dodge tax, hardly what you'd call laying the foundations for long term national recovery.
Is this country doomed to stumble from one tax break backed boom and bust to the next? Commercial boom and bust, property boom and bust and will it be corporate tax boom and bust? Because with the OECD's BEPS project, the advent of Country by Country reporting, and growing talk of standardised European corporate tax rates, any of these could act as the pinprick for this this new bubble.
Given that it's Eastertide, our establishment parties who are quick to crow about their Christian credentials, would do well to turn to their holy books for guidance. In Matthew 7:24-27 we hear the story of the wise man who built his house on stone contrasted with the foolish man who built his house on sand; 'And the rain fell, and the floods came, and the winds blew and beat against that house, and it fell.'