By Lambert Strether of Corrente.
TPP/TTiP/TISA
To the Canadians among us: "The other reason that trade deals are in the news is because the House of Commons Standing Committee on International Trade wants to hear your views on the TPP. You are encouraged to send them a 1,500 word brief on how the TPP will impact you and your community at ciit-tpp-ptp@parl.gc.ca no later than April 30, 2016" [Progressive Economics].
"The TPP dairy tariff reductions, flexible labeling rules and tariff classifications for MPC and casein, lauded by the U.S. Dairy Export [and Import] Council, are key elements of a trade policy strategy that continues to reduce the number of U.S. dairy farms and the benefits those farms provide to the families and counties in which they are located" [Institute for Agriculture and Trade Policy].
"TPP 'worst trade deal ever,' says Nobel-winning economist Joseph Stiglitz" [CBC]. And NAFTA set a high bar! "[ISDS is] the 'worst part of agreement,' [Stiglitz] says, because it allows large multinationals to sue the Canadian government. "'It used to be the basic principle was polluter pay,' Stiglitz said. 'If you damaged the environment, then you have to pay. Now if you pass a regulation that restricts ability to pollute or does something about climate change, you could be sued and could pay billions of dollars.'"
2016
Policy
"How Hillary Clinton Militarized US Policy in Honduras" [The Nation]. "She used a State Department office closely involved with counterinsurgency efforts in Afghanistan and Iraq to aid the coup regime in Honduras." Another "mistake"?

"Little-discussed secret audio recordings released in early 2015 reveal how top Pentagon officials, and even one of the most progressive Democrats in Congress, were so wary of Clinton's warmongering that they corresponded with the regime of Libyan dictator Muammar Qaddafi in hopes of pursuing some form of diplomacy" [Salon]. Thinking inside the box here, I wonder if the administration has an October surprise planned?
The Voters
Bill Clinton shuts down #BlackLivesMatter protesters:

"The Daily 202: Bill Clinton's argument with Black Lives Matter protesters is 2016's Sister Souljah Moment" [WaPo]. That was fast!

Bill's comments about the Black Lives Matter movement suggest that a major pivot in the campaign's messaging is on the way…. Now, as the general election looms, polls show that his wife is badly underperforming with white voters in key battleground states compared to 2008. But Bill's strategy is not without risk. Hillary needs high African American turnout to beat Bernie in New York on April 19 and in the Pennsylvania and Maryland primaries on April 26. She also needs to keep the Obama coalition activated through November.

So funny. Remember that South Carolina firewall? Used and discarded. Nobody could have predicted…

An excellent tweetstorm on Bill Clinton's remarks:

Just saw Bill Clinton's comments about his crime bill. I wish he'd spend some time with my clients so he can see how thoroughly wrong he is.

— T. Greg Doucette (@greg_doucette) April 8, 2016

Clinton's running a terrible campaign:

Bernie Sanders's last 12 months: the greatest come-from-behind story in US political history?https://t.co/bMoXglK2KQ pic.twitter.com/BuMGxP5lh7

— Matt Karp (@karpmj) April 8, 2016

"The corporate duopoly electoral system is the equivalent of the sports league cabal: whatever the score, the owners win. The best possible outcome of their quadrennial games would be a breakup of the duopoly, through a split in one or both of the corporate parties. For the first time in at least a century, such an earth-shaking fracture is possible, and even likely" [Black Agenda Report]. "Therefore, those who seek fundamental change in U.S. political alignments and structures should root for whatever primary election results that contribute to the dissolution of the Democratic-Republican duopoly system.

"West Virginia Third State to Pass Automatic Voter Registration" [Brennan Center for Justice]. Sensible.
Money
Clinton deploys white noise machine at Colorado fundraiser:

Clarify – we're across street of private @HillaryClinton fundraiser. "Static noise" turnd on aftr band/before speech pic.twitter.com/4up0EMEwTD

— Stan Bush (@StanBushTV) April 8, 2016

If that's not a great metaphor…

"The Secret Movement to Draft General James Mattis for President" [Daily Beast]. Squillionaires with a bright idea… Could Mattis be Rove's "fresh face"?
New York
"There was another problem with Clinton's ride aboard the 4 Train, one that the media all but ignored: Hillary Clinton broke the subway rules, and did so not only within full sight of New York City officials and law enforcement, who stood around and watched her do it" [Guardian].

According to the Metropolitan Transportation Authority's (MTA) Rules of Conduct, the subway system is for transporting riders to their destinations, and nothing else. But the rules list several exceptions, including "campaigning". So far, so good, Hillary Clinton.

However, Section 1050.6(c)1 of the subway rules states unequivocally that none of these activities may be performed on the actual subway cars.

This is the rule Clinton broke. Clinton's defenders might think the short subway trip wasn't actually campaigning, but I'd urge them to watch a video of her two-stop ride – from Yankee Stadium to 170th Street – that clearly shows Clinton glad-handing on the train itself.

She's aided in doing so by Rubén Díaz Jr, the president of the borough of the Bronx, who introduces her to strap-hangers as "the next president of the United States, Hillary Clinton". If that wasn't enough, Clinton then takes some questions from the press aboard the 4 Train car.

The incident is all the more galling because there are actual, regular New Yorkers trying to make ends meet who are arrested for violating the same rules that Clinton disregards with impunity. These regular New Yorkers are, of course, the acrobatic showtime performers and musicians – a cultural point of pride for the city – who perform legally on platforms and other areas of the transit system (not always without harassment) but are barred from playing on board subway cars by the same rules that should have prevented Clinton's campaigning.

Laws are for little people!

"The 10 Best Reactions to Hillary Clinton's Epic Subway Fail" [Cosmopolitan]. *** swipe swipe swipe swipe swipe ***
The Trail
"Sanders Backtracks, Says 'Of Course' Clinton Is Qualified to Be President" [Bloomberg]. "'On her worst day she will be a—she would be an infinitely better president than either of the Republican candidates,' Sanders said in a town hall-style event hosted by NBC News in New York."

Explaining his "unqualified" remark Friday, Sanders said the Clinton campaign had taken a more negative tone heading into the New York primary, and "we responded."

Sargent frames this as: "Sanders cleaned up the mess" [WaPo]. All I know is I don't want Sanders backing down from anything, ever, because now the political class are going to think he can be muscled. The pattern was: 1) Clinton telegraphed her punch; 2) punched; 3) Sanders counter-punched; 4) political class clutched their pearls and headed for the fainting couch; 5) Sanders backtracked. Once is an outlier. Twice would be a concern. Three times would be a pattern. Just don't take Step #5! And if people like Operative K get their knickers in a twist, that's a good sign.

"In an interview with me today, senior Sanders adviser Tad Devine left no doubt: Not only will Bernie Sanders support Clinton if she is the nominee; he will also do everything possible to make sure the next president is a Democrat, even if it isn't Bernie Sanders" [Greg Sargent, WaPo]. And we get?

"Sanders gaining on Clinton in California poll" [Sacramento Bee].

"Colorado loss reveals chaotic, overwhelmed Trump campaign" [MSNBC]. Trump is a brilliant entertainer, the Perfect Kayfabe Master. That's not the same thing as being an organizer.

Stats Watch

Wholesale Trade, February 2016: "Wholesalers aggressively drew down their inventories in February, 0.5 percent lower following a revised 0.2 percent draw in January. Auto inventories were worked sharply lower in February, down 1.0 percent for the largest monthly decline since September 2013" [Econoday]. "Auto sales have been struggling this year and the decline in wholesale auto inventories could be an early sign of correction for this industry. Still, draws are always welcome news when demand is soft. Note that today's inventory decline and downward revision are negatives for first-quarter GDP estimates." However: "The headlines say wholesale sales were down month-over-month with inventory levels remaining at levels associated with recessions. Our analysis shows an improving trend of the 3 month averages" [Econintersect].

"Just as record companies in the early 2000s had to deal painfully with the digitization of music courtesy of Napster and Apple Inc.'s iTunes, many asset managers are now facing a similar situation as more investors make the switch from high-priced, actively managed mutual funds to passive, low-cost, exchange-traded funds (ETFs) and index funds" [Bloomberg]. "When the dust settles in this sea change, the financial industry may be half of what it once was, simply because its revenues will be half of what they once were."

GDP Now: "The GDPNow model forecast for real GDP growth (seasonally adjusted annual rate) in the first quarter of 2016 is 0.1 percent on April 8, down from 0.4 percent on April 5" [Across the Curve].

Today's Fear & Greed Index: 69, Greed (previous close: 69, Greed) [CNN]. One week ago: 77 (Extreme Greed). (0 is Extreme Fear; 100 is Extreme Greed). Last updated Apr 8 at 11:44am. I wonder what Monday, after the recovery from the Nineteenth Hole, will bring.

Corruption

"On President Obama's first day in office in 2009, he issued an executive order to close 'the revolving door' between government and the private sector by restricting the hiring of any registered lobbyists for positions in his administration" [New York Review of Books]. "But Obama himself eventually hired at least seventy lobbyists, many of whom then returned to lobbying after a stint in his administration. So much for Obama's campaign pledge that he would 'tell the corporate lobbyists that their days of setting the agenda in Washington are over.' The executive order has since been dropped, and the number of business lobbyists in Washington has continued rising rapidly."

Unaoil not dead:

More bribery reports. The Times exposes more #unaoil kickbacks, this time involving UK oil firm Petrofac. https://t.co/7UObKRYtMc

— Nick McKenzie (@Ageinvestigates) April 6, 2016

"President Obama, who invited Mr. Najib to a round of golf in 2014, has met with him twice more since November without commenting on the mounting scandal. It's past time for the administration to distance itself from a ruler who appears headed for well-deserved disgrace" [WaPo (RS)]. Tut tut. Obama needs Malaysia, hence Najib, for TPP. That's why the America's First Black President issued a free pass to Malaysia on slavery.

#PanamaPapers

"Senator Elizabeth Warren Asks Jack Lew, Who Owned an Offshore Account at Citigroup, to Investigate Panama Papers" [Wall Street on Parade]. Didn't Lew get some kinda sleazy sweetheart deal from NYU — sorry for the redundancy — on housing? In addition to all the other "perks" of meritocratic [***cough ***] advancement that WSoP lists?

"The international art market is a money laundry whose details are in the Panama Papers" [Boing Boing].

"For just $309, you too can hide your assets — in the U.S." [Los Angeles Times]. If I were cynical, I'd conclude that the owners of substantial assets will ride out the #PanamaPapers with no ill effects*, but that the little guy will be totally screwed, exactly as with FATCA. (* Modulo casualties of elite factional infighting and/or the ol' "Off the Droshky!" maneuver.)

Big Brother Is Watching You Watch

"Now that it encrypts its messages, social media giant WhatsApp has thrown up a major roadblock for the world's intelligence agencies. But the National Security Agency can take comfort in this, at least: Internet heavyweights such as Facebook and Google are unlikely to embrace similar encryption systems, which would prevent harvesting user information for advertising purposes" [Foreign Policy].

Gaia

"Epigenetics" (video) [PBS]. Old, but I think the concept makes sense.

"Italy's Olive Trees Didn't Have to Die" [Scientific American].

The Jackpot

"While two years of crashing prices for oil, natural gas, and coal triggered dramatic downsizing in those industries, renewables have been thriving. Clean energy investment broke new records in 2015 and is now seeing twice as much global funding as fossil fuels" [Bloomberg]. A countervailing force…

Guillotine Watch

"Luxury car brand Bentley has spent some time imagining what the future holds for the car industry and that future looks bright for anyone who has ever dreamed of owning their very own ghostly man servant" [The Drum]. As I keep saying: Robots = slaves. That's the kind of economy our tech visionaries really want.

Class Warfare

This is interesting (but note the different scales on left and right axes):

Astonishing chart: Men have been leaving Labor Force since 1970; not so for women til ~2000 https://t.co/L9AOWL8IxZ pic.twitter.com/DQBWLJbaQH

— Barry Ritholtz (@ritholtz) April 6, 2016

"White women between 25 and 55 have been dying at accelerating rates over the past decade, a spike in mortality not seen since the AIDS epidemic in the early 1980s. According to recent studies of death certificates, the trend is worse for women in the center of the United States, worse still in rural areas, and worst of all for those in the lower middle class. Drug and alcohol overdose rates for working-age white women have quadrupled. Suicides are up by as much as 50 percent" [WaPo].

"More than 40% of Americans who borrowed from the government's main student-loan program aren't making payments or are behind on more than $200 billion owed, raising worries that millions of them may never repay" [Wall Street Journal, "More Than 40% of Student Borrowers Aren't Making Payments"]. Sounds like a debtor's strike…

"Taken as a whole, the results suggest that the labor market consequences of graduating from college in a bad economy are large, negative and persistent" [Lisa B. Kahn, Labor Economics (abstract)].

"Cooperative and Trade Union Solutions for the Gig Economy" [Grassroots Economic Organizing].

"Banks Record $11.2 Billion in Overdraft Fees in 2015" [Bank Talk]. "An unusual leader in this unsavory game is Woodforest National Bank. This relatively tiny institution, most known for its kiosk branches in Wal-Marts across the country, extracted more in fees from overdraft than did all but nine other institutions."

News of the Wired

There is now a National Videogame Museum [Dallas Observer]. A trend I entitrely missed. Something so massive as video games had to shape the larger culture, but I'm not sure how. Readers?

"Amazon Echo Is Magical. It's Also Turning My Kid Into an [Glass Bowl]" [Medium]. The prompt should be: "Alexa, please…" Then again, if your model for human-to-AI/robot relations is slavery, then that would be dumb.

"How Ta-Nehisi Coates, Kevin Smith, and Other Celebs Learned to Write Comic Books" [Vulture].

"The Weird Redemption of SF's Most Reviled Tech Bro" [Back Channel]. Worth a read for the Silicon Valley hothouse atmosphere, where an artificial construct like "startup culture" is taken seriously. As for the redemption, I'm not so sure.

"Philosophy is no longer a field conducted entirely from the comfort of an armchair. Over the past decade, this notoriously abstract discipline has developed a branch of "experimental philosophy" that conducts its own scientific studies" [Quartz].

Sundar Pichai [Buzzfeed]. Near hagiographical. I wish Google would: 1) Make its search not suck, because it didn't used to suck; 2) stop its customer support from sucking, by which I mean have some; 3) abandon that stupid and evil " One account. All of Google" thing. That's exactly what I don't want.

Reminds me of the USCSS Nostromo, for some reason:

This is a real thing in many datacenters. https://t.co/cJiGqADzMV

— Internet of Shit (@internetofshit) April 8, 2016
* * *
Readers, I still need to fix my fershuggeneh contact form! Hopefully noting that fact publicly will serve a lash and a spur to my endeavors. (Meanwhile, thanks to readers, who already have my email address, who sent in images of plants!)
See the previous Water Cooler (with plant) here. And here's today's plant (Tia):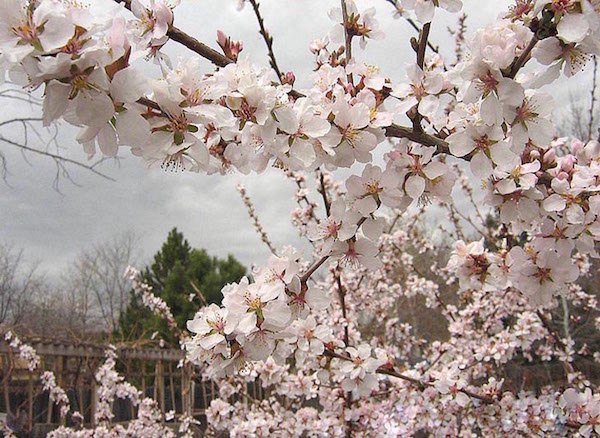 Tia writes: Cherry blossoms before they got whopped by freezing snow. (N.Colo.) Fortunately at least half survived.
Gorgeous!
* * *
Readers, Water Cooler will not exist without your regular support. Your tip will be welcome today, and indeed any day. If you enjoy what you're reading, please click the hat!