China Is Adding a Three Gorges Dam Worth of Wind Every Year Greentech Media
La Nina 2016-2017: What it means for you Slate
Mounting data suggest antibacterial soaps do more harm than good Ars Technica (h/t martha r)
Drugs used to treat nicotine addiction could also be used to treat sugar addiction PsyPost
Zika virus may cause broader range of brain disorders than previously believed The Guardian
2016-o-Rama
Boston Globe Trump front page: The GOP must stop Trump The Boston Globe

Former First Lady Laura Bush hints she would vote for Hillary Clinton over Donald Trump Raw Story

Dana Milbank Tells Readers He Has an Incredibly Weak Imagination Dean Baker

Sanders: Bill Clinton Should Apologize For Remarks To Protesters Talking Points Memo

Statement by Ben Jealous on President Clinton's Remarks on Black Lives Matter Medium

Sanders Renews Feud With 'Greedy' GE, Says Immelt Not Truthful Bloomberg Politics

Banking Expert Who Exposed Savings & Loan Corruption Joins Sanders Campaign Inquisitr. Congratulations to Bill Black!

Can Bernie Sanders Upset Hillary Clinton in New York? The New Yorker. The rough benchmark is Zepyhr Teachout's primary of Andrew Cuomo in 2014. She got 1/3 of the vote (and won several counties upstate) but had virtually no money, and it's two years later, which a much higher expected turnout. So extrapolate to your heart's content.

Sanders backers don't fare well at the S.L. County Democratic Convention The Salt Lake Tribune

A love letter to Bernie Erik Forman, Medium (h/t martha r). Interesting call from Bernie supporters for a movement-based politics that survives any one election and is bigger than any one candidate.
India's Audacious Plan to Bring Digital Banking to 1.2 Billion People Bloomberg
Sorry Paul, but the Bailout WAS about the Banks Adam Levitin, Credit Slips. Today's must-read.
U.S. banks' dismal first quarter may spell trouble for 2016 Reuters
Can central banks make 3 major mistakes in a row and stay independent? Simon Wren-Lewis
Government Spending Cuts Escalate Clashes Over Monetary Policy Wall Street Journal
Why no economic boost from lower oil prices? Econbrowser
Pro-TPP Op-Eds Remarkably Similar to Drafts By Foreign Government Lobbyists Lee Fang, The Intercept
Global trade should be remade from the bottom up Larry Summers, Financial Times. Someone sounds nervous.
Panama Papers
The [panamapapers] scandal intensified the already acrimonious relations between Poroshenko's bloc and Yatseniuk's party, which for months have been fueled by mutual accusations of corruption.
 
Maybe Yatseniuk will say more later about why he walked.
28 Pages 60 Minutes, CBS. A major story on the classified section of the 9/11 report that has already yielded this break of the silence:
Pelosi Calls for Declassification of Redacted Portions of 9/11 Joint Inquiry Report Democratic Leader Nancy Pelosi
Director Brennan: CIA Won't Waterboard Again — Even if Ordered by Future President NBC News
Kerry visits Hiroshima memorial 7 decades after A-bomb The Washington Post. No apology asked for or given.
Macedonian Police Use Tear Gas to Stop Migrants at Border New York Times
Bringing Europe's Migration Crisis Under Control George Soros, Project Syndicate
Senior N Korea spying officer 'defects' BBC
ISIS/Syraqistan
Obama Cites Lack of 'Day After' Plan in Libya as Biggest Mistake Bloomberg Politics (h/t resilc). Kind of a stunning admission.

Isis in Iraq: The women Kurd and Yazidi fighters that put the fear into jihadis – because they'll rob them of paradise The Independent

One woman helped the mastermind of the Paris attacks. The other turned him in The Washington Post
In Pa. and elsewhere, death penalty is dying a slow death Philadelphia Inquirer
Doulas For The Dying Huffington Post (h/t Dr. Kevin)
Federal Prosecutors Cast a Wider Net in New York City Hall Inquiry New York Times. Do tell…
Women-only Uber set to open in Boston. Isn't that illegal? Christian Science Monitor (h/t martha r)
Class warfare
Join the One Percent and Live a Decade Longer Bloomberg

Water systems across country repeatedly exceed federal lead standards PBS NewsHour (h/t martha r)
For Staff on 'Naked and Afraid,' Work Is Just a Blur New York Times. In a past life, this was my job. Not on this particular show, but as a TV editor blurring was often a part of the gig, usually not of nakedness but of a license plate, corporate logo, or face of someone who never signed a release. This is the most painstaking work for the smallest value in Hollywood, particularly on these shows with handheld cameras where the subject moves around in the frame a lot. You can keyframe and interpolate the blur as the subject moves around, but inevitably you have to add more and more keyframes to keep up with the blur, until you're effectively painting each of the 30 frames per second. The estimate here is that blurring an entire episode of this show takes 50 hours, and that sounds right to me. I know I'm not supposed to describe a cushy desk job as "soul-crushing," but that sounds like it to me.
Global Wild Tiger Population Increases, But Still a Long Way to Go World Wildlife Federation
Antidote du jour: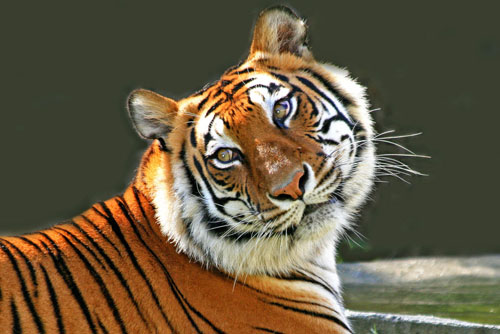 See yesterday's Links and Antidote du Jour here.