Dear patient readers: I went out to vote (and if you are in NY, you should too!), so you will get a few additional links after our normal 7:00 AM launch time. Please check back later.
Snow Leopards WWF (guurst). Watch the video.
Octopuses are super-smart … but are they conscious? The Conversation
Ecuador quake death toll hits 413 BBC :-(
El Niño: Feeling the heat Financial Times (David L)
Dinosaurs 'already in decline' before asteroid apocalypse PhysOrg (Chuck L)
38 genes influence when you lose your virginity. But so what? New Scientist
Simulated smells and other tricks to make training stick Financial Times (David L)
Psilocybin reduces psychological pain after social exclusion Medical Express (Chuck L)
Mossack Fonseca
IRS issues Panama Papers warning CNBC

Tax Havens Radio Monocle (Richard Smith). Nicholas Shaxson speaks!
China?
China's credit-fueled growth gives reason to doubt market recovery: James Saft Reuters

China is tightening its grip on the world's commodities markets Business Insider
Brazil?
After Vote to Remove Brazil's President, Key Opposition Figure Holds Meetings in Washington Intercept

The Guardian view on Dilma Rousseff's impeachment: a tragedy and a scandal Guardian (Richard Smith)

Dilma Rousseff vows long impeachment fight Financial Times
Brexit?
Treasury Brexit figures spark row BBC
Can we believe what the Treasury says about the cost of Brexit? The Conversation
Farmers' union backs staying in EU BBC. FWIW, a recent FT sotry on Brexit, on Obama saying it would be bad for the UK to leave (as in he has a say!) got what looked like a record number of comments, over 700. One reader estimated that 80% were pro-Brexit. If you don't have FT readers on your side, you are really in trouble.
Wolfgang Schäuble Tries to Save the Euro Wall Street Journal. This is an example of the sort of thing you get on the WSJ editorial page, which is why it's generally best avoided. But it can nevertheless be instructive to read the rationalizations of the German case.
Forget Brexit – Italian banks are a bigger worry for Europe The Banker (Richard Smith)
Refugee Crisis
Migrant crisis: Hundreds dead after capsize, say survivors BBC
Syraqistan
Obama to Visit a Saudi Arabia Deep in Turmoil New York Times

History Deserves the Release the 28 Pages of the 9/11 Report That Concern Saudi Arabia Esquire
Big Brother is Watching You Watch
Smart Mattress With Lover Detection System Will Alert You Of Illicit Shagging, Rat Out Cheaters HotHardware. Chuck L: "Just what a Hedge Fundie needs to make sure his arm candy isn't wrapped in the embrace of the wrong arms."

I wrote "ISIS Beer Funds!!!" in a Venmo memo and the feds detained my $42 Inverse (Dan K)
Imperial Collapse Watch
A Nationalist Foreign Policy? National Interest (resilc)

The tragedy of 'foreign policy elites' Washington Post
2016
Why Secrecy Rules Apply to Everyone American Conservative. Resilc: "I would have lost my security clearance in a nanosecord and drummed out of the foreign service for a fraction of what Clintoon and her crew did with servers and outside employment."
Betrayal is at the heart of U.S. politics Reuters (resilc)
How the GOP is losing its grip on working-class Republicans. Slate
Obama Administration Trying to Keep 11,000 Documents Sealed Rolling Stone
Campus cop orders students to scribble over penis on a "free speech ball" Boing Boing
Driver's license claim could put the brakes on U.S. immigration case Reuters (EM)
Republican Energy Committee Chairs Shutter Fundraising Committee Bankrolled By The Fossil Fuel Industry International Business Times. David Sirota takes a scalp.
Culling of the Unicorns
Theranos Is Subject of Criminal Probe by U.S. Wall Street Journal. Still a remarkable number of comments trying to make Holmes out as a victim of meanie jealous journalists. I suppose that's the best the media consultant could come up with.

Theranos Under Investigation by SEC, U.S. Attorney's Office Bloomberg
Oil
Going Negative
Lord Adair Turner: Are Governments and Central Banks Out of Ammunition? CFA Institute

Central banks feel pain of negative rates Financial Times
No consequences, no justice in Goldman Sachs settlement Phil Angelides, Sacramento Bee
Hedge funds in US regulators' spotlight Financial Times
Getting Past Slow Growth Project Syndicate (David L)
When Lies Are Allowed in a Business Deal New York Times
Class Warfare
Robber Baron Recessions New York Times (Dr. Kevin)

More cable and internet installers are independent contractors, and the hours and wages are brutal Slate

Review — Bleak scene of unequal America Financial Times. Subhead: "Democrat leaders have sacrificed blue-collar workers for elite."
Antidote du jour (@PaulTobin via Richard Smith):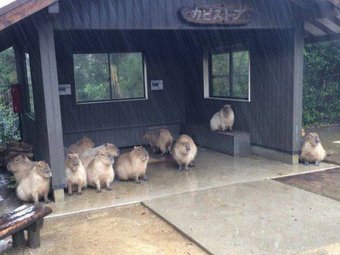 See yesterday's Links and Antidote du Jour here.