A friend is giving me a ticket for Otello at the Met, and so I need to get on a more normal sleep cycle to be in shape to enjoy it. Please forgive the lack of original posts!
Tributes in purple to superstar Prince BBC. Even the FT has this as its top story.
Petition: You can make Japanese whaling a deal breaker Care2
Gender stereotyping may start as young as 3 months—study of babies' cries shows Medical Xpress (Chuck L)
Solar plane successfully departs from Hawaii with no fuel (Update) PhysOrg (Chuck L)
Koch Brothers Look West, Set Sights on Mining the Grand Canyon Sputnik (Chuck L). Ugh.
Leaders Roll Up Sleeves on Climate, but Experts Say Plans Don't Pack a Wallop New York Times
Signing on to a more secure and stable world Bangkok Post. Climate.
Light-driven dinitrogen reduction: Scientists shed new light on global energy, food supply challenge PhysOrg. Chuck L: "This could be mucho beneficial. In the short term. Unfortunately, it will likely encourage the breed-the-way-to-dominance theocrats such that the human-lemmings make an even bigger splat when our descendants eventually hit the wall."
We Still Haven't Found a Fountain of Youth in Our DNA MIT Technology Review (David L). Key point: "Longevity is one of the lowest heritable traits."
Apple should pay more tax, says co-founder Wozniak BBC. 50% tax rate! Go Woz!
Mossack Fonseca
9 questions you were too embarrassed to ask about the Panama Papers Vox
China?
The Post-Crisis Economy's Long Debt Hangover Project Syndicate (David L)

Criticism of EU's Budget Rules Gains Traction Wall Street Journal
Refugee Crisis
Europe's rising shame: Islamophobia and de-democratization RT
Brexit?
History suggests the UK will vote to stay in the EU… but only just Europp
Big Brother is Watching You Watch
Open Letter to Congress on Encryption Backdoors Zdziarski's Blog of Things (guurst)

FBI paid more than $1.4m for iPhone hack Financial Times. Contrast this with the post above on the value of the information….

News Flash: Only "Customary" Speakers Protected From Prior Restraint Patrick Durusau. Another horror.
Imperial Collapse Watch
After drones: the indelible mark of America's remote control warfare Guardian (resilc)
2016
Click-bait headline, the video gives insights on the process and the dynamics in play. Video at:
https://www.youtube.com/watch?v=OSNTauWPkTc

Most detailed and cogent description of a problematic audit process is at 1:16:13, several examples of different methods of adjustment of audit tallies to match reported ("certified") numbers.: https://www.youtube.com/watch?v=OSNTauWPkTc&feature=youtu.be&t=1h16m13s

Right before the 24-minute mark referenced in the dailykos page, they pass a motion to destroy the records… before opening the floor to statements by observers.
How Sanders Could Lay the Foundation for a Third US Political Party TruthOut (Chuck L)
Bernie Sanders and the Rainbow in Vermont (1990) Verso. Lambert: "Important"
Native American Council offers amnesty to 220 million undocumented whites Minds (Chuck L)
How Clarence Thomas Became the Supreme Court's Strangest Justice Vice (resilc)
Congress' Top Legal Pot Advocate on the Future of Marijuana Policy Rolling Stone. Resilc: "Better to use smack for pain since it supports the economy of Afghanistan is the DC thought I gather."
Gunz
More Than 1,000 Shot in Chicago So Far This Year New York Magazine (Dr. Kevin)
Why Haven't Bankers Been Punished? Just Read These Insider SEC Emails ProPublica. While the documents provide some additional detail, as Richard Smith points out, there really isn't anything new here. From the outside, it was clear the SEC had decided to make only a token effort of prosecuting banks for creating toxic CDOs, with one settlement per player. We wrote about this in gory detail at the time. And the article skips over the real reason: the head of enforcement, Robert Khuzami, had been General Counsel of the Americas for Deutsche Bank from 2004 to 2009. Greg Lippmann (featured prominently in The Big Short and in Greg Zuckerberg's The Greatest Trade Ever, which has much more detail on the subprime short strategy) was patient zero of subprime CDOs. Deutsche had a program like Goldman's Abacus program called Start. Any serious investigation of CDOs would implicate Khuzami. It was never going to happen.
How Goldman Sachs' vampire squid became a flattened slug Gillian Tett, Financial Times
US finance professionals face fresh pay crackdown Financial Times. I hope to say something on this for Sunday or Monday. This is promising but (as usual) there are potential problems.
Class Warfare
Antidote du jour (Kittie W via Lawrence R):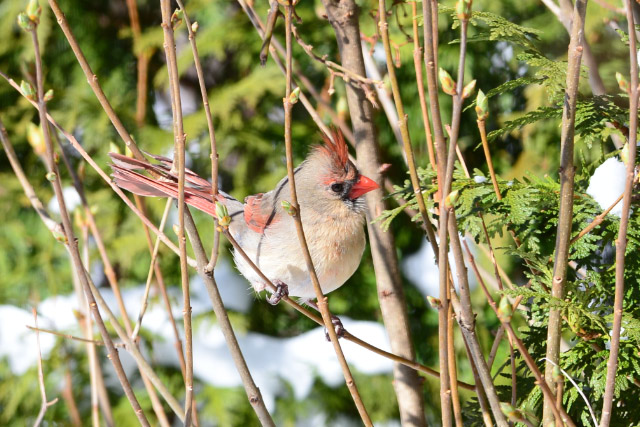 See yesterday's Links and Antidote du Jour here.