By Lambert Strether of Corrente.
2016
Policy
"The Urban Institute and the Tax Policy Center have released an analysis of the costs of Bernie Sanders' domestic policy proposals, including single-payer national health insurance.They claim that proposals would raise the federal deficit by $18 trillion over the next decade" [CNBC]. "To put it bluntly, the estimates are ridiculous. They posit outlandish increases in the utilization of medical care, and ignore vast savings under single-payer reform, and ignore the extensive and well documented experience with single-payer systems in other nations — which all' spend far less per person on health care than we do."

"Bernie Sanders wants everyone to be offered a tuition-free college education and he's called crazy. America can't afford it, naysayers scoff. He's just pandering to young voters" [Los Angeles Times]. "But too many of us in California forget: This state did provide tuition-free college for generations." Really, the DNC might just as well hang a "This is Reagan Country" sign on their front door!

"Hillary Clinton Takes a Step to the Left on Health Care" [New York Times]. So Clinton is adding a few more epicycles to save our broken system; "Medicare for Some," as Sanders, correctly calls it. And get this: "Mrs. Clinton did not say, for example, whether lower-income Americans choosing Medicare would receive help paying their premiums." Clinton's supposed to be the detail-oriented candidate, and she left a gaping hole like that in her proposal? Clearly, Clinton just isn't serious.

"A $15-hour minimum wage could harm America's poorest workers" [Brookings]. "In some parts of the country, many employers will be very reluctant to pay high wages to workers with modest skills." Well, employers are "reluctant" to do lots of stuff. And I'm so old I remember when Brookings was liberal!
The Voters
"Today's rejoinders to criticism of these [corporate-friendly] policies from many establishment Democrats underscore how tone deaf the party elites have become. They claim that things would be a lot worse if Republicans had been running the show. Without a doubt, I believe that to some extent, that is true. However, 'Hey, vote for us because we're not as bad as the other guys' is a lackluster slogan — a wheezing plea that lacks credibility for many voters who have been ignored for decades" [CNN]. "Wheezing plea." Ouch!
Our Famously Free Press
"Washington Post Squeezes Four Anti-Sanders Stories Out of One Tax Study Over Seven Hours" [FAIR]. That Jeff Bezos, he sure does know how to use the lash with the galley slaves, eh?

I'll just leave this here:

this is actually a very honest moment that usually goes unstated by liberal elites pic.twitter.com/6wB81rlUsw

— brendan james (@deep_beige) May 11, 2016

"Milieu."

"Sorry, but that fake pundit isn't more accurate than Nate Silver" [WaPo]. Political class protecting their own, the "fake pundit" being Carl Diggler…
West Virginia
"CARL DIGGLER'S ANALYSIS: Bernie Sanders' Win in West Virginia Was His Worst Loss Yet" [Carl Diggler, Cafe].

A study by bipartisan David Brock Study Group (PDF here ) revealed that late primary Sanders voters have racism levels of 58%.

"If Sanders' rise in coal territory shows one thing, it's that candidates can embrace strong action on climate change and still manage to earn support in Appalachian counties" [Grist].
Money
"Donald Trump's rise to de-facto Republican nominee for president poses an unusually high level of uncertainty for investors and businesses, potentially weighing on the economy and the Federal Reserve's plan to raise interest rates this year" [Reuters]. Political risk…
House and Senate Races
"Democrats are increasingly bullish about their chances to take back the Senate, where Republicans now dominate 54-46, with Trump atop the Republican ticket. The challenges for Democrats in the lower chamber, however, where Republicans outnumber them 246 to 188, are much steeper. They hope a landslide win by Hillary Clinton, their likely presidential nominee, would lead to significant gains in the House, but plenty would have to break their way to have a legitimate shot at retaking the chamber" [Real Clear Politics]. As is well known, however, Obama's been a disaster for downticket Democrats, and Clinton's Victory Fund, while ostensibly raising money for the state parties, is in fact a money laundering device for the Clinton campaign, and the states don't see the money. So call me a bear on this one, based on institutional factors.
The Trail
Jon Stewart on Clinton, oddly unremarked in the press [@Shaunking].

"We're about to find out if Trump really is a gifted politician, or merely a boor who got lucky. Because if he's as smart as a lot of his supporters claim, he won't waste a lot of charm sucking up to congressmen" [Yahoo News].

"[T]he Republican establishment just got its butt kicked all over the map by a guy who says he loves debt and has no idea what the nuclear triad is. So I'm not sure the warm embrace of party leaders is necessarily the key to generating critical enthusiasm anymore…. Talk to frustrated pollsters for other candidates who conducted focus groups during the primaries, and they will tell you that Trump's essential outsider-ness was the main reason that nothing he said or did — no matter how crass, offensive or flat-out dumb — substantially affected his support. Trump was blowing up the entire system, and that's all anyone cared about."

Yep. You can always tell when some strategist poured a little poison into Trump's ear, because his messaging goes off. Same with Sanders (who should have amplified "unqualified," not damped it down, IMNSHO. How on earth do Iraq, Afghanistan, Libya, Syria, Honduras, and our mad adventure in Ukraine qualify anyone to handle the launch codes?)

"In the interview, Trump outlined a general election campaign that banks heavily on his personal appeal and trademark rallies while spurning the kind of sophisticated data operation that was a centerpiece of Barack Obama's winning White House runs. 'I've always felt it was overrated,' Trump said. 'Obama got the votes much more so than his data processing machine. And I think the same is true with me'" [AP]. That's not such a bad argument (and keeps Trump away from the wonk perps responsible for Romney's Orca debacle).

"No Tax Returns Means No Real Skinny on Trump's Charitable Behavior" [Nonprofit Quarterly]. A good wrap-up. The political class seems to think they've got Trump by the short and curlies on his tax returns. I'm not so sure a Walmart part-timer making money under the table as the contractor they used to be would agree.

"Trump and Ryan say they are 'totally committed to working together'" [WaPo]. "This is a developing story. It will be updated." I'll bet. Totes committed. Rilly.
Stats Watch
Jobless Claims, week of May 7, 2016: "There are no special factors behind a very large jump, the second large jump in a row, in initial jobless claims, up 20,000 in the May 7 week following a 17,000 rise in the prior week" [Econoday]. "Unsettling but not definitive." And: "The more important (because of the volatility in the weekly reported claims and seasonality errors in adjusting the data) 4 week moving average moved from 258,000 (reported last week as 258,000) to 268,250" [Econintersect]. But: "the odds that the labor market is falling apart and that layoffs are accelerating rapidly are extremely slim. There is little to no indication that labor demand are weakening, so even if I did not have an explanation ready at hand, I would be skeptical" [Amherst Pierpont Securities, Across the Curve]. "However, in fact, I do have an explanation. New York City schools were off for spring break in the week of April 25, and as I laid out back in February, when NYC schools had their winter break, every year, when NYC schools are out, there is a blip in claims. The story is that non-teacher school employees (bus drivers, cafeteria workers, etc.) are somehow permitted to file for unemployment when schools are closed for a week or two…. Since the timing of the breaks swings around from year to year, the seasonal adjustment process is unable to properly take this special factor into account. In any case, of the 18K increase in initial claims nationally on a not seasonally adjusted basis in the latest week, almost 15K comes from New York. … [T]he bottom line is that … the rise in claims has nothing to do with broader economic fundamentals."
Import and Export Prices, April 2016: "The rise in oil prices gave a second straight but still limited boost to cross-border inflation pressures in April….Export prices rose 0.5 percent in April for the best showing since May last year" [Econoday]. "The decline underway this year in the dollar is another major factor that should help lift import prices which, though still concentrated in oil, are showing improvement and will help what has been a stubbornly weak inflation outlook." And: "Trade prices continue to deflate year-over-year – although the rate of deflation declined this month" [Econintersect].
Bloomberg Consumer Comfort Index, week of May 8, 2016: "The consumer comfort index continues to break lower" [Econoday]. "Weakness in consumer confidence readings typically reflect weakness in job and income prospects. " The beatings will continue until morale improves.
Shipping: "The deceleration in the rail rolling averages began one year ago, and now rail movements are being compared against weaker 2015 data – and it continues to decline" [Econintersect]. "We are now at the very end of the strike impact" (which affected intermodal only, not carloads). The deceleration still holds when backing out coal and grain. I know it's a service economy now, but beauty salons still have to buy shampoo and scissors, at some point…..
Retail:" "The Labor Saving Effects of Switching from Store to Online Purchases: Amazon vs. Department Stores and Malls" [Econintersect]. The first part focuses on whether online retail costs jobs (it does), but the second focuses on the evolution of malls (in my mind because the Bangor Mall is anchored by Sears and Macy's). "Occupancy rates are now as high as they were before the 2008 collapse. And operating incomes at malls are higher than they have been in years. … So what is propelling the growth of malls? Like gambling casinos have been doing for the last decade, successful malls are transforming themselves into all-purpose "recreation experiences" for customers. This can be seen most clearly in northern states where indoor malls are where many families with children will spend a good part of a day. They shop, have a meal, and possibly take in a movie." And imagine. We used to have "downtown" for that. Progress is a wonderful thing!
Real Estate: "The world's wealthiest homebuyers are pulling back from the traditional magnets of New York, Hong Kong and London, making way for cities such as Auckland, New Zealand, and Jackson Hole, Wyoming, to rank among the fastest-growing luxury real estate markets" [Bloomberg].
The Bezzle: "[A]s the number of likes attracted by a Facebook page is considered a measure of its popularity, an ecosystem of so-called "like farms" has emerged that inflate the number of page likes" [Bentham's Gaze]. "the jury is still out on the effectiveness and the scalability of deploying algorithms that use timeline features for fraud detection over billions of posts." So it's a phishing equilibrium!
The Fed: "The U.S. Federal Reserve will likely wait until September before raising interest rates again, stretching to nine months the time since its first hike in nearly a decade, as it waits for clear signs inflation is picking up, a Reuters poll found" [Reuters]. "A majority, 45 of 51 respondents, said they were 'confident' the labor market was in good shape despite a recent slowdown in the pace of hiring. Four said they were not sure and the remaining two said they were 'not confident.'"
Thomas Friedman on foreign policy… Larry Summers on economic policy. And on the cover of Business Week:
NEW COVER: How to pull the world economy out of its rut https://t.co/tdLAYEOVyz pic.twitter.com/Rk338htMS2

— Businessweek (@BW) May 12, 2016
Shaking my head…
Today's Fear & Greed Index: 59, Greed (previous close: 61, Greed) [CNN]. One week ago: 58 (Greed). (0 is Extreme Fear; 100 is Extreme Greed). Last updated May 12 at 11:37am. C'mon, man. The Fifties?
Unsettlement
"Half-Million on Strike Across France" [Blog Factory].
"French gov't bypasses parliament to push through labor bill" [Deutsche Welle].
Nuit debout:
#GlobalDebout actions map keeps growing https://t.co/m3HNCBpp2D
Europeans still leading, shall we thank the #Troika? pic.twitter.com/xvG6hALwiv

— Sol Trumbo Vila (@Soltrumbo) May 12, 2016
Water
"Southeast Asia's Rivers Run Dry" [Asia Sentinel]. A good wrap-up, and includes the geopolitical importance of China's position upstream.
The Jackpot
"Imagine trying to throw a giant party while going through an ugly divorce — and as disease-bearing mosquitoes swarm around your badly damaged house. That, essentially, is what Brazil is trying to do as it barrels toward this summer's Olympic Games during an impeachment crisis and an as-yet uncontrolled Zika outbreak" [Foreign Policy]. "[T]he Olympics could help a dangerous strain of Zika go global."
Guillotine Watch
"[M]ere millionaires being humiliated by billionaires in paradise" [Bloomberg]. "'The pool had been a major problem,' says Mike Sack, who bought in 2004 with his partner, suspense novelist John Saul. 'I've been down to the pool, and someone has reserved five chaises, and that's a problem for me.'"
Class Warfare
"Workers in plants run by the largest U.S. poultry producers are regularly being denied bathroom breaks and as a result some are reduced to wearing diapers while working on the processing line, Oxfam America said in a report Wednesday" [Bloomberg].
"Poor Wages Send A Third Of US Manufacturing Workers To Welfare Lines In Order To Pay For Food, Healthcare, Data Show" [International Business Times].
"[Uber and Lyft] call themselves "ridesharing" companies, but that's a deceit, for they don't share anything — their business model relies on folks needing a ride to hire a driver through the corporations' apps. With the bulk of the fare going to out-of-town corporate hedge funders" [Jim Hightower, Salon]. "Their gig economy is aptly named, for "gigs" are crude four-hook fishing devices that are dragged by commercial fleets through schools of fish to impale them, haul them in, and cash in on the pain."
"An April 29 ruling from the [NLRB] says that employers cannot require employees to be constantly positive at work" [HuffPo]. "The NLRB's ruling last week said that requiring employees to maintain a "positive work environment" is too restrictive, as the workplace can sometimes get contentious. You can't keep your employees from arguing." And the key point:
The key here is recognizing that being positive at work is good for business, but what's good for business is not always good for labor.
Reminding me irresistibly of:
"[Emma Watson], who played wizard Hermione Granger in the Harry Potter series, set up an offshore company using Mossack Fonseca, the law firm at the center of the leak, newly released data show" [CNN]. "'Emma (like many high profile individuals) set up an offshore company for the sole purpose of protecting her anonymity and safety,' [Watson's spokesman Luke Windsor] said in a statement emailed to CNNMoney." Something the rest of us don't need, eh?
News of the Wired
"This Isn't a Google Streetview Car, It's a Government Spy Truck" [Vice]. In Philly, note well.
"The Unbiased Algorithm is a Myth" [Medium]. "[A]lgorithms cannot be completely objective or pure. Designing algorithms requires compromise, especially when the input and output involves human messiness. Algorithms are made by humans that have bias in optimizing the algorithm's output towards a goal." Including Facebook's "Trending" algorithm. Or Google News. Or…. Or…
"Indonesian villagers mistake inflatable sex doll for fallen angel" [Asian Correspondent]. And who's to say they're not right? If life were a William Gibson novel, they would be!
"The True, Boozy, and Very Disturbing Story of The Replacements" [St. Louis Magazine].
* * *
Readers, feel free to contact me with (a) links, and even better (b) sources I should curate regularly, and (c) to find out how to send me images of plants. Vegetables are fine! Fungi are deemed to be honorary plants! See the previous Water Cooler (with plant) here. And here's today's plant (James H):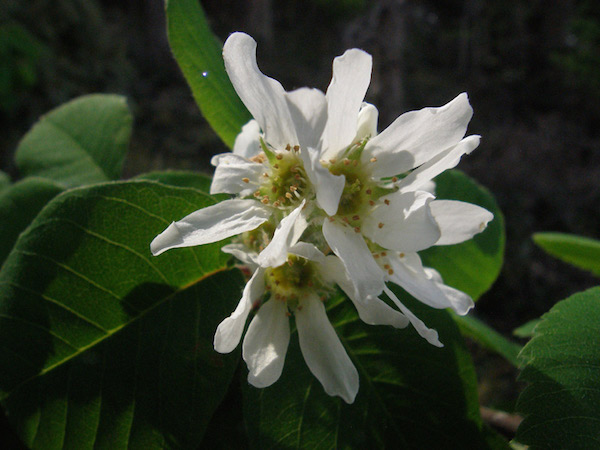 A Pacific serviceberry, in Saskatoon.
* * *
Readers, Water Cooler will not exist without your regular support. Your tip will be welcome today, and indeed any day. If you enjoy what you're reading, please click the hat!