By Lambert Strether of Corrente.
2016
Policy
"O.K., it's easy to pick on Donald Trump's foreign policy…. [I]f I were critiquing Trump's foreign policy views it would not be on inconsistency, hypocrisy or lying. It would be that he shows no sign of having asked the most important question: What are the real foreign policy challenges the next president will face?" [Thomas Friedman, New York Times]. Readers, those of you who came in late may have missed how The Moustache of Understanding justified the Iraq war, post facto:

You should really listen to it all, just to show how insane "The Blob" is, but the (NSFW ) climax is at 2:45.

"Trump's proposals are likely to run into direct conflict with the Fed's monetary policy. More government spending and lower taxes would generate more demand for goods and services. This would add to inflationary pressures, raising the question: How would the Fed respond?" [Narayana Kocherlakota, Bloomberg]. "Right now, the Fed is sending conflicting signals."

"Sanders: Clinton's Medicare Buy-In Proposal 'Not Good Enough'" [Bloomberg]. Medicare as "public option," where people can buy-in at a certain age. How pleasant to see the "public option" being deployed as a fallback defense against single payer yet again; the career "progressives" who pushed it in 2009 — while simultaneously suppressing single payer advocacy — have a lot to answer for.

"Ultimately, [Sadie Tanner Mossell Alexander] called for a fundamental restructuring of our economic system through the guarantee of jobs to all who wanted to work" [Review of Social Economy (2008)]. Alexander was the first African-American woman to earn a PhD in economics.
The Voters
"In multiple polls conducted by Manta, a social-networking site for small-business owners, Trump has repeatedly come out on top. In a survey asking about both major parties' fields conducted at the end of February, Trump won with 34 percent, double that of Hillary Clinton, who came in second with 17 percent. OnDeck, an online lending platform specializing in loans to small businesses, found last month that 37 percent of its small-business-owner respondents felt Trump was the most likely candidate in either party to keep their interests in mind" [Salon]. "When the Center for Public Integrity analyzed Donald Trump's filings at the Federal Election Commission, it determined that the largest source of "identifiable" donations to Trump's campaign—after those who described themselves as retired—came from people who self-identified as the heads of small- to medium-sized businesses."

"Why 2016 made a mockery of Nate Silver" [Ryan Cooper, The Week]. "[A]ll but the most stone simple journalism requires engagement with normative questions. I strongly suspect that Silver, understandably horrified by Trump, ended up doing the political equivalent of talking his book, predicting things that he wanted to happen rather than thinking with a clear head. This is the exact same problem with most gut-check political reporters, except they usually camouflage their own views by putting them in the mouth of a taxi driver or some other service employee."
Our Famously Free Press
"Many people believe that what you see on Facebook represents some kind of data-mined objective truth unmolested by the subjective attitudes of fair-and-balanced human beings. None of that is true" [Farhad Manjoo, New York Times]. "[M]ost of the stories Facebook presents to you are selected by its algorithms, but those algorithms are as infused with bias as any other human editorial decision. 'Algorithms equal editors,' said Robyn Caplan, a research analyst at Data & Society, a research group that studies digital communications systems. "

"Facebook's news section operates like a traditional newsroom, reflecting the biases of its workers and the institutional imperatives of the corporation. Imposing human editorial values onto the lists of topics an algorithm spits out is by no means a bad thing—but it is in stark contrast to the company's claims that the trending module simply lists 'topics that have recently become popular on Facebook"" [Gizmodo]. This story is being framed as "suppressing conservative voices," but thinking of Facebook as a newsroom makes more sense, IMNSHO. If that were explicitly Facebook's role, which it isn't.
West Virginia
"Sanders defeated Clinton among women, independents, and West Virginians anxious about their economic wellbeing, according to exit polling" [RealClearPolitics]. "Worries about jobs and the economy dominated Democrats' concerns in West Virginia, where unemployment is 6.5 percent and where a third of Democratic voters Tuesday said someone in their household works in the embattled coal industry, according to exit polling."

"A third of those who voted in West Virginia's Democratic primary say they plan to back Trump in November, according to NBC News exit polls. Sanders won those voters by a wide margin" [NBC]. "Change" (Trump or Sanders) vs. "more of the same" (Clinton).

"[The message] — that the battle for the Democratic presidential nomination is effectively over — isn't getting through to Democratic voters. Despite an insurmountable delegate gap, Sanders coasted to victory, yet again" [Good Morning America]. "Clinton's struggles among core Democrats continue. Economic anxiety and frustration with the status quo drove voters to Sanders –- the alternative, at least in this state on this night, to the person they viewed as continuing Obama administration policies." The dogs won't eat the dog food…
The Trail
"Hillary Clinton: A woman and candidate with seriously complicated woman issues" [WaPo]. Treats the Lewinsky matter as Bill Clinton's "philandering," and as "infidelities," adopting the Republican framing of the time.

I don't agree. Clinton was the President, Lewinsky his intern. Clinton, by entering into a dalliance with Lewinsky as her institutional superior, abused his position, and her; a classic case of the use of public power for private benefit. Clinton's corrupt behavior was much more like Representative Mark Foley (who abused House Republican pages) or Denny Hastert (who abused his students), then the behavior of Gingrich or Livingstone, who were merely adulterous. Funny how all the feminist talk about "power imbalance" vanishes when it's time to drag Clinton over the finish line.

I added a link to the following material on the Clinton Foundation here because "the story is out there," as we used to say during WhiteWater, and even if FOX is the source that mainstreamed it, that just means it comes a different tank from other venues, so far as I'm concerned. "Notes on the continuing crisis" [Charles Ortel]. Ortel doesn't have the scent of a denizen from the right-wing fever swamp, but maybe that just means I'm insensitive or the piece needs debunking on a higher plane. Readers?

"Dems brush off polls showing close Clinton-Trump race" [The Hill]. "'It's a little early in the process for people to wrap their heads around the idea that Donald Trump could have the nuclear launch-codes,' said another Democratic strategist unaffiliated with the Clinton campaign, Evan Stavisky. 'As the election comes closer, that suspension of disbelief will end.'" I dunno about that. The hawkish Clinton has supported war in Iraq, Afghanistan, Libya, Syria, Ukraine, and a coup in Honduras. Do we want an itchy trigger finger next to the button?

"Joe Biden: 'I Would Have Been the Best President'" [Good Morning America]. The circling shark shows a fin…

"What could be in the taxes that Trump has vowed not to release" [Francine McKenna, MarketWatch]. "Analysts anticipate a maze of real estate transactions showing losses and licensing profit left offshore."

[Jack Blum of Tax Justice Network USA] says guesses that the Trump tax returns take full advantage of offshore arrangements to defer income from licensing his name. "His name could become a trademark owned by an offshore shell company in a tax haven and the shell would license its use. That income would remain untaxed until repatriated," said Blum. "Imagine the name of a U.S. president being the property of an offshore shell!"

"Donald Trump and the Invention of Charismatic Finance" [The Atlantic]. Interesting article on Trump as a hotelier, compared to Paran Stevens, Statler, and Hilton.

"There is also strong evidence that most traditional public opinion surveys inadvertently hide a segment of Trump's supporters. Many voters are reluctant to admit to a live interviewer that they back a candidate who has adopted such divisive positions" [New York Times]. "An aggregation by RealClearPolitics of 10 recent telephone polls gives Clinton a nine-point lead over Trump. In contrast, the combined results for the YouGov and Morning Consult polls, which rely on online surveys, place Clinton's lead at four points. Why is this important? Because an online survey, whatever other flaws it might have, resembles an anonymous voting booth far more than what you tell a pollster does." An interesting twist on landline vs. cellphone. And I'm 100% sure this happened in Maine with LePage, who was elected twice (though I don't have any data other than anecdote).

"And to make creative choices, [Trump] writes: 'I try to step back and remember my first shallow reaction. The day I realized it can be smart to be shallow was, for me, a deep experience'" [CNN]. So meta. And very similar to Clinton's focus on wonk-friendly fine-grained detail.

"Trump Campaign Says Selection of White Supremacist Delegate Due to 'Database Error'" [New York Magazine]. Uh-huh.
Clinton Email Hairball
"FBI's Comey: I feel 'pressure' to quickly finish Clinton email probe" [Politico]. "In response to another question, Comey said he wasn't familiar with the term 'security inquiry' that Clinton and her aides have used to describe the ongoing probe. Comey said he considers the work agents are doing to be an 'investigation.' … However, he passed up the chance to repeat a reporter's characterization of it as a "criminal" probe."
Stats Watch
MBA Mortgage Applications, week of May 6: "Falling mortgage rates stirred up some mortgage activity in the May 6 week, with purchase applications for home mortgages up 0.4 percent and refinancing up 0.5 percent from the prior week" [Econoday]. "Stirred up"?
"[Macy's] expectations for profits are now lower because people just aren't shopping in malls the way they used to" [Business Insider]. The Bangor Mall is "anchored" by Macy's… And Sears. In a slow-moving crisis, things correllate slowly.
"China is still a major buyer of global assets. What changed last year is the risk appetite of those investing abroad, with private investors replacing the central bank as the buyer of these assets" [Liberty Street].
Today's Fear & Greed Index: 63, Greed (previous close: 65, Greed) [CNN]. One week ago: 57 (Greed). (0 is Extreme Fear; 100 is Extreme Greed). Last updated May 11 at 11:49am. Puttering along.
Dear Old Blighty
Latest elections: "Labour lost seats in Scotland, lost seats in Wales and lost seats in England. The very special case of London aside, these elections were awful for Labour" [Guardian]. UK readers?
"Jeremy Corbyn hasn't got an 'antisemitism problem'. His opponents do" [OpenDemocracy]. This was the pre-election scandal, IIRC.
Imperial Collapse Watch
"War crimes" [Geographical Imaginations]. Dense discussion of the US air strike on the MSF hospital in Kunduz, Afghanistan.
Class Warfare
"Growth of income and welfare in the U.S, 1979-2011 [NBER]. "The major consistent findings include what in the colloquial is referred to as the "hollowing out" of the middle class. According to these estimates, the income of the middle class 2nd and 3rd quintiles increased at a rate of between 0.1% and 0.7% per annum, i.e., barely distinguishable from zero. Even that meager rate was achieved only through substantial transfer payments. In contrast, the income of the top 1% grew at an astronomical rate." Astronomical.
"The Fed Made the Poor Poorer" [Narayana Kocherlakota, Bloomberg]. "[T]t seems that the poor would have been better off if the Fed had done more to support asset prices — and particularly home prices. In other words, inequality rose because monetary policy was too tight, not because it was too easy." What, the Fed has a triple mandate now? Inflation, unemployment, and asset prices?
Nike's Phil Knight releases biography: "To cut to the chase, the real secrets of creating a fortune are not genius, leadership, risking your own money, or lots of hard work. They're chutzpah, who you know, and luck. And the greatest of these is plain old luck. Oh boy, is it luck" [MarketWatch].
"Social Reproduction Beyond Intersectionality: An Interview" [ViewPoint]. "When one attends to the social reproductive relations, it becomes clear that – despite the equalizing impulses of capitalist value extraction – all labor-power is not the same. Certain workers, indeed increasingly so, are more vulnerable to heightened oppression than others – not due to any difference in the ways in which capitalist laws of accumulation operate, but because oppressive relations beyond the workplace mediate the social reproduction of labor-power, ensuring not only that workers arrive at capital's doorstep, but that they do so embodying varying degrees of degradation or dehumanization."
News of the Wired
"Cancellation of subscriptions to 2,116 Springer journals" [Université de Montréal]. Spring's bundling model for journal sounds a lot like cable's.
"I would no more urge everyone to learn to program than I would urge everyone to learn to plumb" [Tech Crunch]. On the "Learn to Code" movement.
* * *
Readers, feel free to contact me with (a) links, and even better (b) sources I should curate regularly, and (c) to find out how to send me images of plants. Vegetables are fine! Fungi are deemed to be honorary plants! See the previous Water Cooler (with plant) here. And here's today's plant (MR):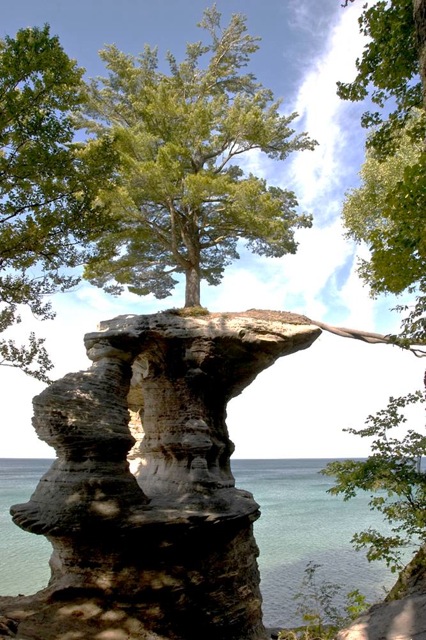 Roots, mon.
* * *
Readers, Water Cooler will not exist without your regular support. Your tip will be welcome today, and indeed any day. If you enjoy what you're reading, please click the hat!