By Lambert Strether of Corrente.
TPP/TTiP/TISA
"Power players in the financial services industry are threatening to sit out the push for President Obama's Pacific Rim trade deal unless the administration addresses one of their main objections to the pact" [The Hill]. "Banks, insurance companies and other financial companies oppose a provision in the 12-nation Trans-Pacific Partnership (TPP) that would give foreign governments the ability to require that U.S. businesses maintain data servers within their borders, fearing it could create high costs and security risks." Francis Creighton, executive vice president of government affairs at the Financial Services Roundtable: "We would rather see nothing happen than pass TPP with this provision." Yikes!
"Passing TPP and rewarding slave labor is morally reprehensible" [Americans for Limited Government] (see here). They're right!
"TTIP leaks highlight the dangers of regulatory cooperation" [Corporate Europe]. "On top of private parallel courts which would create an avenue for multinationals to receive vast amount of taxpayers' money in 'compensation' for democratic decisions, TTIP poses another threat to public interest legislation: regulatory cooperation (or convergence, as often referred to in the USA). Regulatory cooperation aims to align standards across the Atlantic by changing law-making in the European Union and the United States of America.
We have already seen the dire consequences of the US government's regulatory interference. One dialogue between the EU and US authorities led to a long delay in the adoption of a ban on cosmetics tested on animals. Originally, the ban should have been fully adopted by 1998. But the regulatory dialogue between the EU and US governments led to a 15-year delay. The full ban only became effective in 2013.
"Economic platitudes about how trade is always worthwhile as long as the winners can compensate the losers are an insult in the age of inequality, where the winners increasingly use their political power to claim ever more winnings" [Jared Bernstein, WaPo]. Bernstein's bottom line, summarizing the results of "a superb set of recent papers by economists David Autor, David Dorn and Gordon Hanson."
2016
Policy
"Mr. Trump's victory was an endorsement of Mr. Trump but also a rebuke to professional Republicans in Washington" [Peggy Noonan, Wall Street Journal, "Mr. Trump Goes to Washington"]. "He understood, either intuitively or after study, that the Republican base was changing or open to change, and would expand if the party changed some policies. He declared those policies changed. And he won" (for example. What other Republican candidate would go into South Carolina, a heavily military state, and declare Bush (and Clinton's) Iraq war the "worst decision," instead of wrapping himself in the flag?) Nooners concludes: "As for the political consultants who insult Mr. Trump so vigorously, they are the ones who did most to invent him. What do they ever do in good conscience?"

"In a statement to The Washington Post, Clinton's campaign said she supports removing bankers from the boards of directors and increasing diversity within the Fed" [WaPo]. I'm filing this under policy, even though there's no evidence this victory for identity politics would have any effect on policy whatever.

"Donald Trump Becomes More Conservative On Entitlements As He Seeks Republican Donors" [International Business Times].

"U.S. Gives Sweeping Guidance to Schools on Transgender Students" [NBC]. I'm baffled by this. It's impossible for me to believe that the White House is acting from a sense of justice, especially in an election year, but who does this persuade besides the already convinced?
The Voters
"But according to polling we conducted at Democracy Corps in February, moderates make up a stunning 31 percent of the GOP base. Commentators on the ongoing GOP train wreck pay a lot of attention to the tea party, white working-class voters and rural evangelical Christians, but how much have you heard about the alienation of the moderate third of the party?" [Stanley B. Greenberg, WaPo]. Shorter: Polling shows Clinton will throw Sanders suppporters under the bus.
Our Famously Free Press
"'This (Washington Post) is owned as a toy by Jeff Bezos, who controls Amazon. Amazon is getting away with murder tax-wise. He's using the Washington Post for power so that the politicians in Washington don't tax Amazon like they should be taxed,' Trump said" [CNBC]. Trump got the first part right, anyhow; any entity the size of WaPo is "owned as a toy" by any squillionaire, by definition. A second example is the New Republic, owned by a lucky Facebook squillionaire until he got tired of it after a year.

"But, on one subject in this election [Jennifer Rubin (conservative) and Greg Sargent (liberal)] have found common ground: A mutual distaste for Donald Trump's presidential candidacy" [WaPo]. Now there's a shock.
Money
"Bet" means there's a payoff, no?

Wall Street is betting on a democrat for president for first time in a long time- @business https://t.co/GN73xgTerW pic.twitter.com/oJ7XVeXx9s

— Sheelah Kolhatkar (@sheelahk) May 13, 2016

"Trump Campaign Could Use New Donations to Pay Donald Trump $36M for Loan" [CNBC]. That's going to set Trump in solid with the donors.
Corruption
"A $2 million commitment arranged by the nonprofit Clinton Global Initiative in 2010 went to a [Energy ­Pioneer Solutions , a] for-profit company part-owned by friends of the Clintons" [Wall Street Journal, "Clinton Charity Aided Clinton Friends"]. Ka-ching. Giving rise to the usual bimbo eruption framing:

Today's cover: Bill Clinton's charity gave $2 million to a company owned by his "friend" https://t.co/uxrjWmAdbW pic.twitter.com/6S43p8avrp

— New York Post (@nypost) May 13, 2016

"The fit, blond mother of three, who lives just minutes from Bill and Hillary Clinton's home in Chappaqua, West­chester, is the daughter of Joel Tauber, a millionaire donor to the Democratic Party." More to the point: "Other Clinton friends — including former Democratic congressional candidate Scott Kleeb, Democratic National Committee Treasurer Andrew Tobias and Mark Weiner — share ownership of Energy ­Pioneer Solutions." Putting the most benign interpretation on this arrangement, it looks remarkably cozy. Do they all summer at the Vineyard?
The Trail
"Fearing Trump, some Democrats up pressure on Sanders to exit" [AP]. Quoted: DiFi, the loathely Steve Israel, McCaskill… A fine selection of figures who show what's wrong with the Democrat Party. The final paragraph: '"We are looking forward to welcoming him back to the Senate,' said Sen. Debbie Stabenow, D-Mich." I'll bet.

"As the general election campaign nears, Trump has settled on a label for the likely Democratic nominee: 'Crooked Hillary'" [Los Angeles Times]. "It works," he boasted to the New York Times. 'It flows.'" Clinton's counter: "'[L]oose cannon.' … In Trump's case, it boils down to: Do you trust this man with the nuclear codes?" Again, Clinton converts weakness into strength. Iraq, Afghanistan, Libya, Syria, Honduras, Ukraine. How much does a cannon have to move around before it gets called "loose"?

"As Democrats' battle wages on, the White House signals end is near" [CNN]. From May 11. Did anybody pick up the signal? I mean, besides our famously free press?

Pompous article on the Rhodes kerfuffle, from which I pluck this sentence: "It appears that President Obama decided very early on that the Beltway's foreign policy establishment was not to be trusted to do the right thing — or even to think independently about what the right thing might be. To be sure, its track record left something to be desired" [James Poulos, The Week]. "Something to be desired." Who was Poulos' last employer? Emperor Hirohito?

"If real change is to ever come to Indian Country, it will not come packaged by the political elites who stand to benefit from the status-quo. It will come in the form of a man like Bernie who has chosen to put the people before campaign contributions" [Lakota Country Times]. I'd argue that on any environmental or climate issue, being side-by-side with the tribes — many of whom are sovereign — is correct, morally and strategically, giving this endorsement outsize importance.

"Joe Biden, Elizabeth Warren 'discussed' presidential bid last year" [CNN]. Oh.

Great Headlines of Our Time: "Trump disavows butler's call for Obama to be killed" [The Hill].
Clinton Email Hairball
"Clinton abandoned secure line to use home phone, new email shows" [The Hill].
Stats Watch
Consumer Sentiment, May 2016 (preliminary): "Consumer sentiment is absolutely soaring so far this month, up nearly 7 points to 95.8 for the mid-month flash. This is the best reading since June last year. Expectations, which have been pulling down the headline index most of this year, jumped nearly 10 points to 87.5" [Econoday]. "The month-to-month turnaround for this reading is the best of the cycle, since 2006. Current conditions are also moving higher." And: "The largest gains were centered in lower-income and younger households, who may be more sensitive to income gains and the jobs outlook, the Michigan researchers noted in a release" [MarketWatch]. And: "'Consumers discounted the first quarter GDP report as a misleading indicator, instead, they have based their expectations more on their own direct experiences,' Richard Curtin, director of the University of Michigan consumer survey, said in a statement. 'The early May data are a welcome sign of an impending shift toward spending and away from savings'" [NBC]. As a Maine bear, my speculation was that the elite feeling of having dodged a bullet in Q1 finally percolated down to the general; that translates to "consumers discounted," I think. Context: "This is a survey, a quantification of opinion rather than facts and data. The question – does sentiment lead or truly correlate to any economic activity? Since 1990, there seems to be a loose general correlation to real household income growth" [Econintersect].
Business Inventories, March 2016: "Business inventories rose a sizable 0.4 percent in March but held in line with a 0.3 percent rise for sales, keeping the inventory-to-sales ratio unchanged" [Econoday]. "The headline 0.4 percent gain looks heavy for a flat economy though the early indications for the second-quarter, namely the retail sales report, point to a pick up for the economy and perhaps the need to build inventories." But: "The inventory-to-sales ratios remain at recessionary levels" [Econintersect].
PPI-FD, April 2016: "Energy prices may be up but producer prices are still not showing much life" [Econoday]. "Year-on-year rates are also stalled, unchanged for the total reading and up only 0.9 percent for the core. Judging by this report, inflationary benefits from higher oil prices and the lower dollar have yet to take hold." And: "The Producer Price Index year-over-year inflation is zero. The intermediate processing continues to show a large deflation in the supply chain" [Econintersect]. But: "According to the Labor Department's Producer Price Index, the cost to make drugs and pharmaceuticals has jumped 8.5% in the 12 months ending April" [MarketWatch]. "Ian Shepherdson, chief economist of Pantheon Macroeconomics, said that's the fastest growth rate since the erectile dysfunction drug Viagra came onto the market."
Retail Sales, April 16, 2016: "The consumer snapped back to life in April, driving retail sales 1.3 percent higher to beat Econoday's consensus by 4 tenths and the high estimate by 1 tenth. Gains are spread throughout most of the report" [Econoday]. On autos and gas. "Apparel was a big contributor in April along with nonstore retailers and with restaurants also showing a gain. The only component in contraction was building materials & garden equipment [??] which hints at a little cooling for what has been very solid residential investment." But: "Retail sales per capita seems to be in a long term downtrend" [Econintersect]. But see this chart:
This chart is another really ominous sign for the retail industry https://t.co/C8yZ3LbNn0 pic.twitter.com/FjpK0qB9X5

— Elena Holodny (@elenaholodny) May 13, 2016
Suppose that household savings rate decreases, and people start spending on, say, apparel?
Marketing: "The "Influencer" Economy Is Collapsing Under the Weight of its Own Contradictions" [Gawker]. Fun read.
Marketing: "Confessions of a social media exec on influencer marketing: 'We threw too much money at them'" [Digiday]. Same topic. Must be a thing!
Marketing: "Be nice to Hillary Clinton online — or risk a confrontation with her super PAC" [Los Angeles Times]. Unlike the headline, the URL includes the words "digital trolling."
Commodities: "OPEC said the global oil market is oversupplied and signaled the glut may increase this year, as surging output from its members makes up for losses from other countries whose production has been hit by a price fall" [Futures].
Shipping: "Europe's major cargo carriers have seen cargo volumes return to growth in April after a difficult start to the year" [Air Cargo News]. "All four major European airlines monitored in the Air Cargo News monthly spotlight recorded a year on year increase in demand in April for the first time since March 2014."
The Bezzle: "The IMF is already using its bailout power in trying to change deeply entrenched corruption in some nations" [Wall Street Journal, "Bribery Taints $2 Trillion of Transactions Globally, IMF Says"]. Swell.
"As Wall Street analysts beat their heads against a wall trying to figure out the stock market's direction, investors are cutting loose of equities and jumping into the perceived safety of gold and bonds" [MarketWatch]. "Equity outflows totaled $7.4 billion, the fifth straight week of losses, in the five weeks ended May 11, according to Bank of America Merrill Lynch's Flow Show, released Friday. A breakdown of that shows $4.8 billion flowed out of mutual funds and $2.7 billion from exchange-traded funds."
"In yet another sign of a slowdown in the booming Bay Area economy, tech layoffs more than doubled in the first four months of this year compared to the same period last year" [San Jose Mercury News].
"If the unemployment rate for long-term unemployed workers continues to stall, then the [Beveridge] overall curve may not shift back to its previous spot. This would mean unemployment may be near its equilibrium rate right now. But if the curve does start shifting back (down and to the left), that means the equilibrium rate is lower than before and unemployment can go significantly below 5 percent. Clearly, we should keep an eye on these shifts" [Washington Center for Equitable Growth]. Notice the assumption that we regulate the economy by throwing people out of work, rather in the manner of ancient elites sacrificing slaves for a favorable augury.
Today's Fear & Greed Index: 60, Greed (previous close: 61, Greed) [CNN]. One week ago: 60 (Greed). (0 is Extreme Fear; 100 is Extreme Greed). Last updated May 13 at 11:41am.
Unsettlement
"Civil disobedience is the only way left to fight climate change" [Guardian]. "Last Sunday, around 1,000 people closed the world's largest coal-exporting port in Newcastle, Australia and other bold actions are happening at power stations, oil refineries, pipelines and mines everywhere from the Philippines, Brazil and the US, to Nigeria, Germany and India. This is just the start of the promised escalation after the Paris agreement, and the largest ever act of civil disobedience in the history of the environmental movement."
Gaia
"A Eukaryote without a Mitochondrial Organelle" [Cell].
Class Warfare
"Professional-oriented helicopter parents like Andrea left nothing to chance—she began reviewing the dental graduate-school application process before college even began, and ensured that her daughter acquired the right experiences to secure a spot in a top institution" [The Atlantic]. Meritocracy [snort].
" New York Times boss sued over alleged ageist, racist and sexist hiring practices" [Guardian]. "Mark Thompson, the chief executive of the New York Times and former director-general of the BBC, is facing a multimillion-dollar class action lawsuit alleging that he introduced a culture of "deplorable discrimination" based on age, race and gender at the newspaper."
"Why Americans Ignore the Role of Luck in Everything" [The Atlantic]. Nice introductory anecdote, concluding: "As [economist Robert] Frank couldn't resist pointing out, Varney's idea of 'coming to America with nothing' left out the fact that, at the time he did, he had a degree from the London School of Economics — his was not the story of a battered émigré riding in steerage on a creaky transatlantic steamship."
News of the Wired
"In experiments involving a simulation of the human esophagus and stomach, researchers at MIT, the University of Sheffield, and the Tokyo Institute of Technology have demonstrated a tiny origami robot that can unfold itself from a swallowed capsule and, steered by external magnetic fields, crawl across the stomach wall to remove a swallowed button battery or patch a wound." [Robohub]. Or… do other things.
"To help with his class this year, a Georgia Tech professor hired Jill Watson, a teaching assistant unlike any other in the world. Throughout the semester, she answered questions online for students, relieving the professor's overworked teaching staff" [Sidney Morning Herald]. "But, in fact, Jill Watson was an artificial intelligence bot." So much for adjuncts….
"Announcing SyntaxNet: The World's Most Accurate Parser Goes Open Source" [Google Research Blog]. "Given a sentence as input, it tags each word with a part-of-speech (POS) tag that describes the word's syntactic function, and it determines the syntactic relationships between words in the sentence, represented in the dependency parse tree. These syntactic relationships are directly related to the underlying meaning of the sentence in question."
"The Dark Web Has Its Own Lit Magazine" [Wired].
"How Typography Can Save Your Life" [Pro Publica]. The sad story of Clearview, which should have been the mandated successor to Highway Gorthic. I'll bet self-driving cars would find life easier with consistent signage, but n-o-o-o-o-o…..
* * *
Readers, feel free to contact me with (a) links, and even better (b) sources I should curate regularly, and (c) to find out how to send me images of plants. Vegetables are fine! Fungi are deemed to be honorary plants! See the previous Water Cooler (with plant) here. And here's today's plant (Mrs. Mop):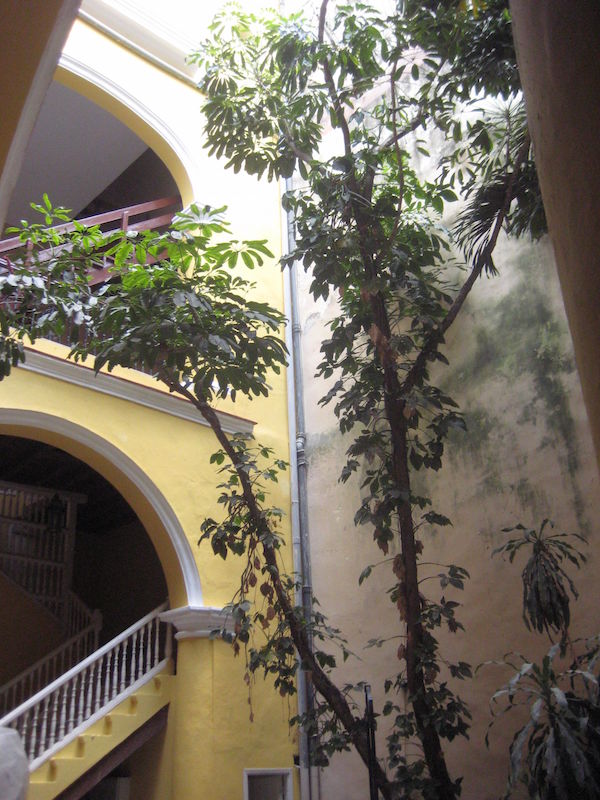 Mrs. Mop writes: "A beautiful secret backyard in Habana Vieja, broiling during the April heat with huge trees reaching for the sun."
* * *
Readers, Water Cooler will not exist without your regular support. Your tip will be welcome today, and indeed any day. If you enjoy what you're reading, please click the hat!