By Lambert Strether of Corrente.
Readers, sorry I'm a minute late. A computer kerfuffle!
TPP/TTiP/TISA
"In all corners of Europe, opposition to TTIP has swept like wildfire since the deal was announced in 2013. Huge demonstrations in Paris, Berlin, Madrid, Amsterdam, London, Helsinki, Vienna, Warsaw, Ljubljana and Prague show no sign of ending. In its first year alone, 3,263,920 people signed a petition against TTIP by a London-based charity. Not only do Dutch voters seek a referendum on TTIP, opinion polls make sobering reading on where most Europeans stand. Only a few days ago, it was revealed that some 70% of Germans see TTIP as bringing "mostly disadvantages" [Euractiv].
" At a time when environmental milestones pointing to irreversible global warming are being reached on a daily basis, the U.S. political leadership's response is to pronounce publicly that it favors environmental resolution while using 'trade' negotiations to assure that effective resolution never takes place" [Counterpunch].
"[The TTIP draft directive on trade secrets protection] is meant to protect companies against the theft of trade secrets but has a potential scope which is too large and threatens to enable lawsuits against people who are not criminals: journalists, trade unionists or whistle-blowers publishing internal information from a company, or employees using information acquired in a previous job.
"Broad opposition in Europe to the Trans-Atlantic Trade and Investment Partnership has prompted its supporters to summon the "protectionist" spectre. In response to the criticism of TTIP by US presidential candidates and progressive politicians in Europe they, according to media reports, are talking up the end of "free trade" that has allegedly brought so many benefits (to so few)" [Prime Economics]. "By contrast, we find little reporting of the considerably stronger spread of EU mercantilism, the witch's familiar of fiscal austerity."
2016
Policy
"How Obama Can Break the Impasse on the Supreme Court Vacancy" [Op-Ed News (Glenn F)].

"For Obama, an Unexpected Legacy of Two Full Terms at War" [New York Times]. Mulligan on that Nobel?
The Voters
"Difference" [Interfluidity]. This is an important post I urge you to read in full (and don't worry it starts with Yglesias).

Universalists want group identity to become less salient and consequential, and so resist tactics that highlight difference in order to promote intragroup solidarity and to sow open conflict with other groups. Identity-centered activists view solidarity and conflict as the best and perhaps only way to overcome identity-distributed oppression. To a universalist, tactics like "no platforming" sow precisely the sort of divisions we ought to be working to overcome. To an identity-centered activist, "no platforming" an apologist for racism or sexual violence is just winning. This distinction blurs in practice, because neither universalists nor identity-centered activists restrict themselves to "neutral" (race-neutral, gender-neutral) tactics. Procedural neutrality is a trope of conservatives, of people working to defend status quo distinctions rather than to alter them. But universalists adopt group-conscious tactics as a means of reducing the salience and importance of group difference (think of how Singapore actively manages the composition of its housing to prevent the emergence of distinct ethnoracial communities), while identity-centered activists work to advance the interests of the groups for which they advocate in ways likely to accentuate the salience of group membership and encourage continued group identification and solidarity.

The core dispute, I think, in identity politics as in economic policy, is over whether to embrace consequential difference across groups but make outcomes more legitimate, or whether to try to reduce the degree to which difference is socially and materially consequential.

I think I'm a universalist with respect to ends (that is, I think Cliven Bundy should be entitled to Medicare for All) and intersectionalist with respect to means ("All politics is local," for some definition of local). However, "vulgar intersectionality" as practiced by Democrats is "either/or" as opposed to the "both/and" it should IMNSHO be. (For example, you never hear the phrase "black working class," which is pretty odd, when you consider the Northern diaspora post-World War II.) I regard vulgar intersectionality as a function of Democratic clientelism and corruption; patron/client relationships are exclusive, not inclusive ("accentuate the salience of group membership," as for example with walking around money). Reader thoughts welcome; these are hard (even wicked) problems, and I'm not sure I've got them right.
Corruption
"The bigger problem [at the Clinton Foundation [besides the"family friend" who got a grant, and the ensuing "bimbo eruption"] may lie in what [the Sunlight Foundation's] John Wonderlich described in the act of blending of politics, charity, and business. That is, after all, the troublesome nexus from which the questions about Hillary's relationship with ExxonMobil [here] emerged" [Nonprofit Quarterly]. The "troublesome nexus" is a polite way to say the use of public office for private gain; the definition of corruption, which NPQ politely skirts. (NPQ also treats David Brock's Media Matters as a serious source. They shouldn't, because Brock is a very well-paid Clinton operative.) Ka-ching, ka-ching, ka-ching.
Nevada Debacle
"[T]he only thing I have learned is that my vote doesn't count for a damn thing in the eyes of the establishment." [Medium].

Every single step of this caucus process has been a nightmare. From the overcrowded caucus held in my old high school's cafeteria by precinct captains that shrugged their way through rules read off of a piece of paper, to the County Convention where we went nine straight hours without food or water, witnessed votes held during a "lunch break" while people were out of the room, and received misleading emails from the Convention organizers incredulously telling us we didn't have to show up at all. It should have come as no surprise that the State Convention would've taken all of these issues and magnified them to an exponential degree.
California
"Sanders steps up in California — will Clinton?" [San Francisco Chronicle]. Betteridge's Law…
The Trail
"I was on cable news for an hour Monday night, and guess what we spent about 50 minutes discussing? You guessed it, Donald Trump's attacks on Bill and Hillary. But not just that — we were treated to a media package about Bill Clinton's past misdeeds" [Roll Call]. "[F]or a generation of millennials who didn't live through the scandals of the 1990s — who now live in a time when allegations of sexual harassment are taken more seriously than ever — this is not necessarily something the Clintons enjoy seeing recycled. … Trump is a more formidable adversary than his opponents may appreciate. Just when it looks like he's doing something stupid — playing right into your hands — you wake up to discover he has pulled off a miracle. The Clintons had better take him seriously." They are. That's why the recent flood of oppo.

"For those who see Trump as a paradox and a conundrum — a billionaire Republican who favors taxing the wealthiest, a man who has described himself as both "very pro-choice" and "very simple, pro-life" — add one more contradiction to the list. While he's spent his whole career saying things that are arguably sexist, like "You wouldn't have your job if you weren't beautiful," and things that are seemingly patronizing, like "I cherish women," and "I will be phenomenal to the women," and been darned proud of doing so" [Yahoo News]. Which the Times story said too. But who wants real power?

"5 Times Bernie Sanders Got Just As Passionate About Women's Rights As He Is About Corporate Greed" [Bustle].

"The Anti-Trump Plot to Find a Third-Party Challenger Hits a Wall" [Vanity Fair]. Was it ever in motion in the first place?

"HIV/AIDS Activists Look To Keep Pressing Clinton After "Unconscionable" Nancy Reagan Comment" [Buzzfeed]. These activists just had their Sister Souljah moment, as Clinton turns toward Republican voters and donors for the general, and they don't even know what's happened to them.

"Although the administration has been reaching out to BLM activists since its inception in the wake of massive protests in Ferguson, Missouri, in 2014 (Obama has twice met with activists), many within the movement have treated those overtures with some skepticism. That, in turn has frustrated Obama and his top aides, who feel that activists need to work within the system, even as they use direct action protests to bring pressure on it" [Buzzfeed]. A second Sister Souljah moment.

"Centrist Democrats: We can work with President Trump" [Politico]. And a third Sister Souljah moment.

"Sanders campaign hopes major voter registration effort pays off in Oregon" [Los Angeles Times]. Oregon is a closed primary. Not at all in the bag for Sanders.

"Clinton team looking for a VP who will be fighter, excite Sanders supporters" [USA Today]. The Democratic establishment seems to be moving past the denial stage, and — very much unlike their supporters online — admitting that Sanders voters have leverage:

The biggest divide in the Democratic Party is along generational lines. A significant number of Sanders' supporters will have voted against Clinton during primaries in 2008 and 2016. "They're not Democrats, these kids," said Howard Dean, a 2004 Democratic primary candidate and a Clinton surrogate. "They're independents and they could vote Republican eventually if we don't do something to get them into our party," he said.

"Why Will Superdelegates Decide The 2016 Democratic Primary? Unearthed Documents Hold The Key" [Business Insider].

And McCaskill:

The populist calculus could change if Sanders agrees to aggressively campaign for Clinton the way she did for then-senator Barack Obama in 2008. "It's why you see the absolute hands-off respect to what Bernie has accomplished," said Missouri Sen. Claire McCaskill. "At the point in time that she is nominated, which I believe she will be, this will really turn on Bernie and how Bernie handles it."

Interestingly, no mention of private equity-lovin' Cory Booker.
Stats Watch
Empire State Mfg Survey, May 2016: "What little momentum there was in the New York manufacturing sector is fizzling" [Econoday]. Consensus range: 2.50 to 11.20. Actual: -9.02. Ouch. But: "As this index is very noisy, it is hard to understand what these massive moves up or down mean – however this regional manufacturing survey is normally one of the more pessimistic" [Econoday]. "This survey has a lot extra bells and whistles which take attention away from the core questions: (1) are orders and (2) are unfilled orders (backlog) improving? Econintersect emphasizes these two survey points – and both declined. Respondents believe the level of unfilled orders (backlog) is has been negative since 2011. Unfilled order contraction can be a signal for a recession – and remains contraction this month."
Housing Market Index, May 2016: "Optimism among home builders is solid and steady" [Econoday]. "sales are the most positive component in this report, at 65 for 6-month sales and 63 for present sales. The drag on the index comes from traffic, unchanged at 44 and continuing to reflect unusual lack of interest from first-time buyers." "Unusual" or a new normal.
"Retail Sales Rev Their Engines With 1.3% Increase" [The Economic Populist]. " Retail sales increased 1.3% for the month and auto dealers sales surged by 3.5%. Without autos & parts sales, retail sales still had a great showing with a monthly 0.8% gain. Gasoline station sales have also shot up as prices rose, a 2.2% increase for the month. Retail sales have now increased 3.0% from a year ago and all of auto dealer sales for the year were gained in April, 3.5%." And: "Better than expected and some upward revisions as well." [Mosler Economics].
Employment Situation: "Summary: The news overflows with chaff about the economy. It's great! It's a recession! Neither is true. Since the 2009 trough we have had growth — but unusually slow growth. Here we look at one measure of growth: jobs, going in slow clear steps from the wonderful headline news to the grimmer reality" (charts) [Fabius Maximus].
The Bezzle: "To project a healthy business to skeptical VCs, job candidates, and potential business partners, [on-demand startups] have started shouting to the world how they are (or soon will be) profitable—at least, by some definitions of the term" [Bloomberg].
The Banks: "Deutsche Bank AG is stuck in a vicious circle as co-Chief Executive Officer John Cryan seeks to overhaul an impaired business that needs more capital, which the bank would struggle to raise if it tried to tap investors, according to Berenberg" [Bloomberg (RS)]. "The Frankfurt-based lender's biggest problem is excessive leverage, Berenberg's James Chappell wrote Monday in a note that said the bank faces
'insurmountable headwinds.'" "Headwinds." As ever, watch out for those airplane metaphors.
Honey for the Bears: "The fuel of the US economy is getting cut off" [Business Insider]. "The warning signs of a credit slowdown are beginning to appear." Loanable funds theory…. You can pump all the blood you want into a zombie, but it's still a zombie.
Shipping: "April 2016 Import Sea Container Count Continued Collapse Raises Recession Concerns" [Econintersect]. "This data set is based on the Ports of LA and Long Beach which account for much (approximately 40%) of the container movement into and out of the United States – and these two ports report their data significantly earlier than other USA ports. Most of the manufactured goods move between countries in sea containers (except larger rolling items such as automobiles). This pulse point is an early indicator of the health of the economy." But see interesting "Caveats on the Use of Container Counts."
The Fed: "Market participants place less than 10 percent chance of a rate hike in June. In contrast, San Francisco Federal Reserve President John Williams continues hold out hope for a third" [Tim Duy's Fedwatch].
How Maine marketed lobsters to China, solving a glut problem [WaPo].
Today's Fear & Greed Index: 60, Greed (previous close: 55, Greed) [CNN]. One week ago: 60 (Greed). (0 is Extreme Fear; 100 is Extreme Greed). Last updated May 16 at 1:26pm. More and more anemic.
Health Care
"Some early studies of the impact of the Affordable Care Act plans are proving patients' grumbling justified: Compared with the insurance that companies offer their employees, plans provide less coverage away from patients' home states, require higher patient outlays for medicines and include a more limited number of doctors and hospitals, referred to as a narrow network policy" [New York Times]. All these problems — and many others — were flagged for NC readers immediately at program launch; the 20%-ers in charge at the Times are only just now catching up, probably because they don't have to use the program (which is why they waited for studies, when all they really had to do was read the NC comments section and use their heads).
​"How Republicans Finally Got a Victory on Obamacare" [The Atlantic].
Dear Old Blighty
"[There have been] constant rumors in the British press of coups to topple Corbyn. Early predictions were that he wouldn't last a month. But if such plots existed they have all been stymied by the support that Corbyn retains among the Labour membership, where he enjoys an approval rating of more than fifty per cent. 'We are in a situation now where he is unelectable in the country but unassailable in the Party,' Lord Mandelson, one of Blair's closest advisers and an architect of New Labour, told me" [The New Yorker]. "Lord Mandelson." Says it all, doesn't it?
The 420
"A new study from the National Highway Traffic Safety Administration finds that drivers who use marijuana are at a significantly lower risk for a crash than drivers who use alcohol." [WaPo]. "And after adjusting for age, gender, race and alcohol use, drivers who tested positive for marijuana were no more likely to crash than who had not used any drugs or alcohol prior to driving."
Gaia
Hat tip alert reader guurst:
#ICYMI: EIA projects 48% increase in world #energy consumption by 2040 https://t.co/BV9SYN3gtF pic.twitter.com/yRrAmqZzKM

— EIA (@EIAgov) May 15, 2016
"Researcher under fire for New Yorker epigenetics article" [Nature]. Epigenetics, as a concept and a field, however, seems to be doing just fine.
Water
"Not to repeat ourselves too often, but it is very likely that many of our future wars will not be over oil, but over water, the commodification of which is one of the more indecent aspects of corporate power and the global economy" [Charles Pierce, Esquire]. Kunkstown, PA meet Poland Springs, ME.
Corruption
"As U.S. Attorney Preet Bharara's office issues a storm of subpoenas to the administration of Governor Andrew Cuomo and his close associates in relation to the state's Buffalo Billion economic development program, the governor and his aides have delivered a consistent message: the investigation targets the dealings of a few bad apples, the governor wasn't aware of any wrongdoing and he wants to get to the bottom of the situation as quickly as possible" [Gotham Gazette]. "The message rings as spin to a number of expert observers who insist Cuomo has long overseen a system that allows, at the very least, for the appearance of pay-to-play to flourish as mini-economies have popped up around the state where connected consultants work with both state government entities and those looking to win state contracts, and where the state funnels money through non-profits, allowing them to avoid scrutiny and standard state contracting procedures." Cuomo should have set up a Foundation!
Black Injustice Tipping Point
"City of Cleveland to pay $6 million to Tamir Rice's family to settle lawsuit" [Cleveland Plain-Dealer]. "Officers Timothy Loehmann and Frank Garmback nor dispatchers involved will admit to any wrongdoing." Of course.
"Black and Hispanic students are both more likely to take on debt and to take on more debt than white and Asian students, they found. (Asian students are 40% less likely than whites to borrow for college, the study reports.) The result is a significant race gap in overall student-debt burdens" [Brookings].
"Why Have So Many People Never Heard Of The MOVE Bombing?" [NPR]. A little bit of Philly history….
"The [Memphis] Massacre showed the failures of Reconstruction even as congressional Republicans seized control from President Andrew Johnson, a Tennessean and former military governor of the state. Johnson's lenient national policies toward rank-and-file ex-Confederates promoted peace and a speedy political reunification after the war ended in 1865. Ex-Confederate states reentered the Union on ex-Confederate terms" [The Atlantic]. A poor choice for Vice President can have outsized impact.
"The curator of the show, Siona Wilson, told me that it's her intention to demonstrate the centrality of women in the #BlackLivesMatter movement, citing its formation by three women who, not incidentally, identify as queer. The convergence of queer politics with those of race and class is precisely what lies at the foundation of the idea of intersectionality — Wilson's key organizing principle" [Hyperallergic].
Unsettlement
"The Kerner Commission report" [Understanding Society]. So much is still true.
"Attempt to turn France's 'Nuit Debout' protest movement global falls flat" [France24]. Interestingly, an indignados anniversary event had excellent turnout, suggesting organizational rather than structural problems. However, from this in the Guardian, we may also be seeing some of the problems that Occupy had.
"Media Blackout on Nuit Debout" [Counterpunch].
"Two thirds of the Nuit Debout followers are men, with 63 percent from the city of Paris (90 percent from Paris and surrounding suburbs) with a large proportion of those from the trendy and more working/middle class eastern arrondissements" [The Local]. " Around 20 percent – double the national average – were unemployed, with 61 percent having gained qualifications above a normal degree, well above the national average of 25 percent." Large numbers of highly educated and unemployed young men are never a good sign for any regime.
Class Warfare
Critique of the Case-Deaton study: " A confusion of parts and wholes, however, began with Case and Deaton themselves, as we can see in the table above. Whites are by far the largest group, so it makes sense to break them into three parts by educational attainment, but that leads Case and Deaton to compare all Hispanics and all blacks with three separate segments of the white population. It could well be that blacks and/or Hispanics with only high school or less have even higher death rates than comparable whites. We can't tell because parts are being compared to wholes" [Portside]. "But the reverse is just as important: comparing patterns between white and black, with no recognition of class differences, erases substantial differences in life conditions and life chances among whites. Dividing the white population by education reveals that white-skin privilege may not be all it's cracked up to be among the largest group of American whites – those with only high school educations or less." See discussion of intersectionality under 2016/voters.
"There's a fairly robust body of research showing that "having or thinking about money appears to heighten self-reliance and dampen attention and responsiveness to others," as Bianchi and Vohs put it. In lab experiments, people who are primed to think of money become more motivated to work and less interested in socializing. Exposure to money diminishes compassion toward others. Wealthy people tend to disengage from social interactions" [WaPo].
News of the Wired
"Over the past couple weeks a project with no mainstream press has become the second biggest crowdfunding project in history. .. It's crowdfunding — or more accurately, crowd-founding — a corporation called "The DAO". This is a corporation whose bylaws are written entirely in code" [Tech Crunch]. :By allowing economic cooperatives to be spun up with a line of code, and by allowing anyone on the internet to become owners of these organizations, DAOs may allow more people than ever before to fully participate in and benefit from the ." Uh-oh. "Innovation." Sounds like prosecutation futures…
"The Worst API Ever Made" [ Casey Muratori]. You'll like this, if this is the sort of thing you like.
"How to Memorize a Random 60-Bit String" (PDF) [Marjan Ghazvininejad, Kevin Knight]. "We learned that long sentences are seemingly easy to remember, but actually hard to reproduce, and we also learned that our poetry method produced relatively short, memorable passwordsthat are liked by users."
"Physicists just discovered a totally new form of light " [Science Alert].
"It is the goal of this paper to introduce a theoretical perspective on the common psychological experience of feeling'creeped out'…" (PDF) [Francis T. McAndrew, Sara S. Koehnke, New Ideas in Psychology].
"Novices play better golf when they have expensive brand name equipment, research shows. Brand name products alleviate some performance anxiety but brands have no effect on better players" [NPR].
"The Generation That Doesn't Remember Life Before Smartphones" [Popular Mechanics].
* * *
Readers, feel free to contact me with (a) links, and even better (b) sources I should curate regularly, and (c) to find out how to send me images of plants. Vegetables are fine! Fungi are deemed to be honorary plants! See the previous Water Cooler (with plant) here. And here's today's plant (Chet G):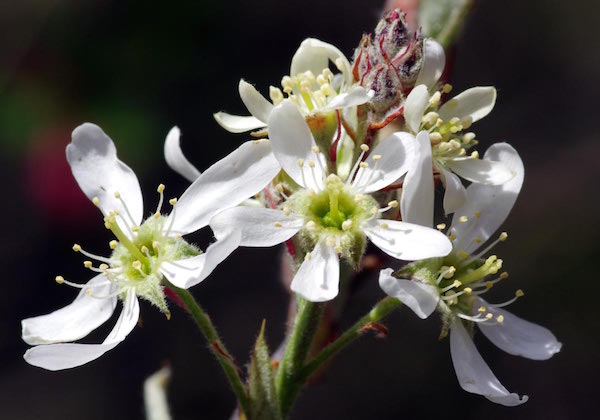 Always a thrilling moment, to see blossoms emerge.
* * *
Readers, Water Cooler will not exist without your regular support. Your tip will be welcome today, and indeed any day. If you enjoy what you're reading, please click the hat!