By Lambert Strether of Corrente.
TPP/TTiP/TISA'
"Barack Obama Readies For Final TPP Push, Which Could Benefit Presidential Library Donors" [Business Insider]. Ka-ching.
"A salient goal of TTIP is to shadow the Investor-State Dispute Settlement system (ISDS), an instrument of public international law granting firms the right to raise an action in a tribunal on the basis that a state's policies have harmed their commercial interests" [London Review of Books]. "The implications for national governments seeking to regulate capitalism in the public interest are obvious."
"Leaked TTIP documents cast doubt on EU-US trade deal" [Guardian]. The Greenpeace document dump.
"TTIP could cause an NHS sell-off and UK Parliament would be powerless to stop it, says leading union" [Independent]
2016
Policy
"Donald Trump's Foreign Policy: Implications for Asia" [The Diplomat]. The question of whose finger you want on the red button is not a bad one. However, as the New York Times shows, Clinton's bias is toward action. Does that translate to an itchy trigger finger?

"Why Zalmay Khalilzad Is Taking Donald Trump Seriously" [Slate]. "I think intellectually he is not the least capable person who would become president."
Money
"[Clinton] says she's raising big checks to help state committees, but they've gotten to keep only 1 percent of the $60 million raised" [Politico]. Remember when all the Clinton's supporters were busting Sanders' chops because he wouldn't participate in that effort? Surprise! It was a Clinton scam, and a shameless one, too.

"Time Warner's cable news network has more than doubled target prime-time audience this year and continues to raise ad rates" [Wall Street Journal, "CNN Enjoys Outsize Ratings Boost From Presidential Race"]. "When CNN President Jeff Zucker saw the ratings for Fox News's first Republican debate last August—a staggering 24 million viewers—he immediately called up his head of advertising sales and told her to raise prices, by a lot." Welll, that explains a lot.
Corruption
"Canadian Partnership Shielded Identities of Donors to Clinton Foundation" [New York Times]. "Aides to former President Bill Clinton helped start a Canadian charity that effectively shielded the identities of donors who gave more than $33 million that went to his foundation, despite a pledge of transparency when Hillary Rodham Clinton became secretary of state." And: "But the [Clinton Foundation] statement did not make clear whether parallel organizations like the Canadian entity would be allowed to accept donations from governments that the foundation itself would not take." Say, from the Saudis?
The Voters
UPDATE Some positive feedback for Andrew Sullivan:

These 3 paragraphs. Everything I have seen, and all I have tried to write/photograhp in last year. By @sullydish pic.twitter.com/6CxNCP0Qeh

— Chris Arnade (@Chris_arnade) May 2, 2016

UPDATE "Clinton Campaign Has Astounding Record Of Smugness Toward Young Voters" [Shadowproof]. A fine compilation.
The Trail
"Trump Said to Lack Plan for Fundraising, Running Mate Vetting" [Bloomberg]. Leave The Donald alone! He's done pretty well so far.

UPDATE "Mr. Trump has seen his support grow in a broad range of places, but has seen particular sharp growth in dense suburban areas" [Wall Street Journal, "How Suburban Voters Put Donald Trump Back on Track"]. "Before the April 19 New York primary, Mr. Trump was winning about 37% of the vote coming from the urban suburbs. But after New York and Mr. Trump's five-state sweep on Tuesday, he saw that number jump to about 42%."

"'It is virtually impossible for Hillary Clinton to reach a majority of convention delegates by June 14, which is the last day a primary will be held, with pledged delegates alone," [Sanders] added. 'She will need superdelegates to take her over the top at the convention in Philadelphia'" [Guardian]. Again, in 2008, Clinton fought to the last delegate in 2008, and then cut a deal with Obama in Denver. So, what the faction of the political class that is calling for Sanders to quit really wants is for Sanders not to have the same power. And one might ask why.

UPDATE Clinton compromising on Sanders policy demands: "'We can't do it,' the [Clinton] ally said. 'But there's going to be a place for him to weigh in on the campaign and at the convention and he should have the satisfaction that he raised some issues that have been a part of the conversation" [The Hill]. "Conversation" is one of those Democratic nomenklatura words you should always watch out for. Because the nice thing about conversations is that they don't have power relations.

UPDATE "Bernie Sanders rips Carrier execs: 'They have no shame'" [Indianapolis Star].

UPDATE "Vermont Sen. Bernie Sanders has withdrawn his lawsuit against the Democratic National Committee, putting an end to an intraparty dispute over unauthorized access to proprietary data belonging to rival Hillary Clinton's presidential campaign" [Wall Street Journal, "Sanders Campaign Withdraws Suit in Intraparty Fight"]. A smallish olive branch?

UPDATE "The complete transcript of Larry Wilmore's 2016 White House correspondents' dinner speech" [WaPo].
Stats Watch
PMI Manufacturing Index, April 2016: "The manufacturing sector has started out the second quarter completely flat, based at least on the April PMI which fell 7 tenths to 50.8. New orders did rise modestly in the month but that's the only good news in the report" [Econoday]. "And manufacturers continue to work down inventories as much as possible. Prices for raw materials, reflecting higher costs for oil-related products, did rise but not selling prices which are decreasing further."
ISM Mfg Index, April 2016: "April's 50.8 for the ISM manufacturing index may be moderately below expectations for 51.5 but details in the report are positive [Econoday]. "New orders did slow by 2.5 points but the level at 55.8 still points to a very solid rate of growth." One gets the feeling that if the index exceeded expectations they'd go mad with joy. PMI isn't closely watched but ISM is. And: "[The ISM is] in expansion for the second month after 5 months in contraction – however it declined and is barely positive. The key internals likewise declined and remained positive" [Econintersect]. And: "Another worse than expected report, and now it's been over a year since it all started going bad, even as analysts continue to find reasons to be optimistic that have yet to pan out" [Mosler Economics].
Construction Spending, March 2016: "Construction spending did inch 0.3 percent higher in March, which is lower than expected, but February is now revised sharply higher" [Econoday]. "Year-on-year, total construction spending is up 8.0 percent, which includes a 7.8 percent gain on the residential side and a 9.3 percent gain on the non-residential side. These are down from 10 percent rates in prior reports but are still very hard to match anywhere else in the economy." And: "The headlines say construction spending improved – but slightly below expectations. The backward revisions make this series wacky – but the rolling averages declined" [Econintersect].
GDP Q1 (April 29): "The initial Q1 GDP estimate shows economic growth as a stagnant 0.5%. Consumer spending was all services consumption. Private investment just walloped the economy as both nonresidential fixed investment and the changes in private inventories contracted. Exports also receded" [Economic Populist].
"The Mohamed A. El-Erian interview: How bad a slowdown do you need as a wake-up call?" [Business Insider]. This is a couple weeks old and Yves linked to it, but the elites do seem to have a bad case of the jitters.
"As venture capital dries up, tech start-ups discover frugality" [Los Angeles Times]. So "startup culture" depended on J-Yel's gusher of free money. I'm shocked.
"What Good Are Hedge Funds?" [David Dayen, The American Prospect].
Today's Fear & Greed Index: 68, Greed (previous close: 64, Greed) [CNN]. One week ago: 70 (Greed). (0 is Extreme Fear; 100 is Extreme Greed). Last updated May 2 at 1:12pm. All well at the club on Sunday afternoon.
The 420
" But Schedule I is different: It lumps together every controlled substance that has no approved medical use, regardless of dangerousness. Distinctions between the degree of risk were ignored by the crafters of the scheduling system because they assumed that if there were no medically approved uses, there was no reason to make fine regulatory judgments concerning who is allowed to manufacture, prescribe and research a drug and who is not" [WaPo].
"Walgreens wants to talk weed" [MarketWatch].
"How Pot Can Save Big Tobacco's Future" [Bloomberg]. Great.
Black Injustice Tipping Point
"'Formation'-inspired protest blocks streets in Chicago" [Rolling Out].
Water
"Brita Unveils New In-Throat Water Filters" [The Onion]. You laugh!
The Jackpot
"3 ways AI could help save the planet" [Business Insider].
Class Warfare
UPDATE "Warren Buffett's mobile home empire preys on the poor" [Public Integrity].
"Money, Race and Success: How Your School District Compares" [New York Times].
"The Emerging Wealthy White Male Donor Class: A Chicago Case Study" [The American Prospect]. Emerging?
"The WHCA Gave Even Less Money to Scholarships in 2014 and 2015" [Washingtonian].
News of the Wired
"Are these cats the answer to Chicago's rat problem?" [MarketWatch]. How many legs do the rats have?
"Excerpts from How Not to Network a Nation: The Uneasy History of the Soviet Internet" [First Monday].
"Who invented the cash machine? I did – and all I earned was £10" [Guardian]. And the PIN. Bankers: "Thanks. We'll take it from here."
* * *
I think I fixed my fershuggeneh contact form below. Just to keep the NC comment section clean, will only those who already have my email address tell me if they have issues, using email? Thank you!
Readers, feel free to contact me with (a) links, and even better (b) sources I should curate regularly, and (c) to find out how to send me images of plants. Vegetables are fine! Fungi are deemed to be honorary plants! See the previous Water Cooler (with plant) here. And here's today's plant (Keith E):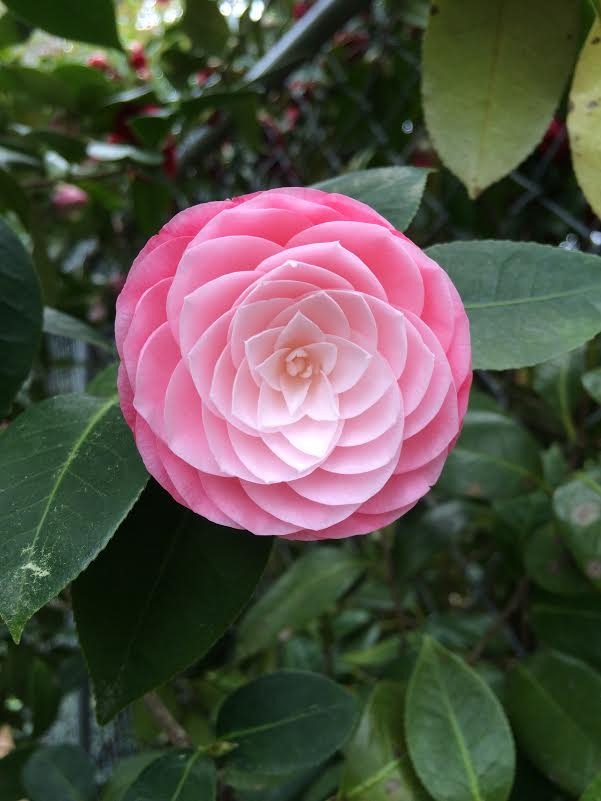 Keith writes: "A custom bred camillia, developed by my ex-wife's grandfather." Gorgeous!
* * *
Readers, Water Cooler will not exist without your regular support. Your tip will be welcome today, and indeed any day. If you enjoy what you're reading, please click the hat!