By Lambert Strether of Corrente.
2016
Policy
"Why did the Clinton campaign say earlier this month that Trump's statement that he plans to partially default on the national debt could work? (And, yes, that, as the NYT mentions today, is what the Clinton campaign said.)" [Angry Bear]. "Risky," operationally, translates to "Yeah, this could work." And so: "[S]ince the Clinton campaign limits its responses and campaign rhetoric to focus-grouped buzzwords and clichés, and "risky" seemed the most apropos of the words and phrases on the be-sure-to-use list, 'risky' it was."
The Voters
"Who will lead the progressive movement after Bernie Sanders and Elizabeth Warren? Here are 6 who could." [WaPo]. Including Zephyr Teachout. I can't imagine why Clinton hasn't endorsed her [snort]. "Special place in hell," and all that.

"This Is What the Future of American Politics Looks Like" [Politico]. " This year, we're seeing the end of a partisan realignment, and the beginning of a policy one." Maybe. I've had productive discussions on single payer with the guys with beards in the woods.

"Still. Polls currently give Trump 40 percent or more of the vote in much of the country. It's far from impossible that he might win in November. Are the vicious, brainless masses really as numerous as that?" [Clive Crook, Philadelphia Inquirer]. "It seems unlikely. … What seems most important is that they think they've little to lose in smacking down politics as usual. They're tired of being ignored and want that understood. Washington is broken, incapable of action, and apparently content to stay that way, so why not declare, in unmistakable terms, that enough is enough?" Voting for Trump, or Sanders, is a volatility play. Voting for Clinton is a stability play. Which do voters want more?

"The 'privilege' that these working class whites are looking to defend is middle-class factory jobs paying between $15 and $30 an hour" [Truth-out].

UPDATE The normally acute Atrios (a) assumes that there's more that unites us than divides us and (b) points to the tightening polls as a reason to think Sanders shouldn't exercise leverage [Eschaton]. Some might urge that neither proposition is true, and further urge that if the left (as opposed to the liberals) is ever to have a place in the Democrat Party, it's now or never. They might further urge in the fight against fascism, if fascism is be, it's the left that's been in the, er, vanguard. Always.
Money
"Clinton Broadens Money Network as Trump Gets Started" [Bloomberg]. "Since the beginning of 2016, Clinton's campaign added 125 major fundraisers to its list of "Hillblazers," supporters who have helped pull in at least $100,000 for her presidential campaign. As of April 30, they had already raised a combined $41.2 million, roughly one-fifth of her war chest."

Nearly all of the recruits are new to presidential fundraising on such a large scale: 114 of them were not among the bundlers disclosed by Clinton in 2008 or by President Barack Obama in either of his campaigns. They include executives from Fortune 500 companies, private equity firms, tech companies, and the entertainment industry. Also among them is an array of people from the Democratic Party establishment: lawyers, lobbyists, members of Congress and state legislatures, one sitting governor, and a handful of professional fundraisers, including one who also raised money for the Clinton Foundation.

It's a big club. And you ain't in it.

"The Price of Public Money" [The Atlantic]. "The Presidential Election Campaign Fund used to give political unknowns a fighting shot. Now $300 million sits in the fund—and no one wants anything to do with it. "

"[T]he biggest money of all, in both Republican and Democrat politics, comes from giant hedge fund billionaires" [Full Measure]. "Which candidate is getting the most support from small donors? It's far and away Democrat Bernie Sanders."
Corruption
"Hillary Clinton Won't Say How Much Goldman Sachs CEO Invested With Her Son-in-Law" [The Intercept]. "The decision for Blankfein to invest in Hillary Clinton's son-in-law's company is just one of many ways Goldman Sachs has used its wealth to forge a tight bond with the Clinton family."
Our Famously Free Press
"The tone of American political coverage for some time hasn't matched the reality of what voters have been going through. Even as America lost its manufacturing base and tens of millions of people were put out of good jobs, the campaign story for years remained the same weirdly celebratory soap opera. Every four years, we whipped up audiences into a lather over the same patriotic fairy tale of political athletes engaged in high-stakes rhetorical combat while chasing the ultimate power prize, the White House" [Matt Taibbi, Rolling Stone].

The problem with this shorthand is that while it may accurately describe something, it's not the politics of the United States. There are not six basic groups of Americans, all of them healthy, polite, dressed in thousand-dollar outfits, and speaking against picturesque backdrops in perfect, poll-tested sound bites.

America instead is a place where a huge plurality of the population is underemployed, pissed off, in debt and barely keeping their heads above water. A good 15 percent or so are not even doing that well, sitting below the poverty line, living in homes without adequate heat, sanitation or food. That portion of America doesn't appear anywhere in campaign coverage, not even as background.

It would have made more sense to have different labels. If there was a Poor Peoples' Party, A Disappearing Middle Class Party, and a Minimum Six-Figure Income Party, and all of them were described as legitimate and reasonable options in the press, people would have no problem pulling levers for the candidates who actually represented them.

Very much like Madison's concept of factions driven by property interests.

"538 Sacrifices Integrity to Go After Sanders on Independents" [FAIR]. "I put it to you that if your headline is "Sanders Isn't Doing Well With True Independents," then concealing the fact that he has a net favorable rating among those voters of +7 percentage points, compared to his opponent's -15 percentage points, is an attempt to deceive your readers."
The Trail
"Sanders: I'm Heading to the Convention Even If Clinton Sweeps Calif., NJ Primaries" [ABC]. In basketball, you play to the buzzer…

"Refusal in Bernie Sandersland to accept reality is really unreal" [Seattle Times]. Splendid genre piece.

"If Clinton Implodes, Democrats May Turn to Biden and Warren" [National Review]. Nobody seems to remember Kerry (not even me). Was 2004 really that much of a disaster? (I mean, besides rolling over after what looked very much like election fraud in Ohio?)

"Now, in 2016, I have three words for Democrats: Winter is here. Your party is now locked in a fierce civil war, the populists are at the gate and there are more bloody battles in store" [New York Post]. The tone is a bit gleeful… "In one corner is the Hillary Clinton wing of the party, represented by the liberal establishment in the Acela Corridor. These are the left-of-center party leaders interested only in preserving power. In the other is the Elizabeth Warren/Bernie Sanders wing that rose to prominence on the backs of the radical Occupy Wall Street protest movement." Wrong on Warren, wrong on Occupy. Sloppy!

"More voters switched from Democrat to Republican affiliation than the other way around during Ohio's March 15 primary, records show" [Toledo Blade]. "In Lucas County, more than 4,000 voters who previously identified themselves as Democrats cast ballots as Republicans, while a little more than 1,000 Republican voters cast ballots as Democrats." Somebody with a bit more time than I have now could do the arithmetic and see if this cost Sanders the state.

"Tom Fiegen wants to bring the Bern to Iowa's Senate race" [Des Moines Register]. Any Iowa readers with details on Fiegen?

"The Strolling of the Heifers" (Brattleboro, VT June 3-5 [Strolling of the Heifers (Re Silc)]. Will Sanders attend?
Clinton Email Hairball
"Clinton's Email Claims Vs. State Department Inspector General's Findings Compared" [CBS]. Not good for Clinton.

"John Podesta sent email to supporters about Hillary Clinton's email server" [CBS]. "The report confirms Secretary Clinton's email account was well-known by many State Department officials throughout her tenure, and there is no evidence of a breach of her email server." Ugh. "No evidence of a breach" is lawyerly parsing. There is evidence of attacks; see above. A successful breach could leave no evidence! UPDATE This Buzzfeed post has Podesta's original letter, in all its glory; he certainly works hard for the money. Enjoy!

More Podesta: "The secretary has once again acknowledged this was a mistake. If she could go back, she'd do it differently" [Daily Mail]. Good judgment comes from experience, and experience comes from bad judgement. But how many cycles?

"Maria Cardona On Clinton Email Scandal: 'No Ulterior Motives Here,' 'Nothing Nefarious'" [RealClearPolitics]. That may be a reason for Obama to pardon her, but it's not a defense against a charge of gross negligence. (Cardona is a "Democratic strategist and contributor to CNN's Spanish language station.")
Stats Watch
S&P Case-Shiller HPI, March 2016: "Indications on the fundamental health of the consumer are suddenly building rapidly and include solid gains for home prices" [Econoday]. "The monthly gains, however, did not translate to acceleration for the year-on-year rate in March. Home-price appreciation is central to household wealth especially when wage growth is low." No. Wealth is capital. Capital and wages are not comparable. And: "The way to understand the dynamics of home prices is to watch the direction of the rate of change. Here home price growth generally appears to be stabilizing (rate of growth not rising or falling)" [Econintersect].
Consumer Confidence, May 2016: "Consumer confidence slowed in May in what is, however, a mixed report that includes some positives" [Econoday]. "The assessment of the jobs market is mostly lower but not entirely. In a negative, those describing jobs as currently hard to get rose 1.6 percentage points to 24.4 percent but April's 22.8 percent was unusually low and a likely outlier. Looking at the future assessment of the jobs market, more see fewer jobs ahead."
Personal Income and Outlays, April 2016: "April was definitely the month of the consumer as consumer spending surged 1.0 percent for the largest monthly jump of the economic cycle, since August 2009" [Econoday]. "The spending gain reflects strength in vehicle sales, which boosted durable spending by an outsized 2.3 percent in the month, and also reflects price effects for gasoline as spending on nondurable goods rose 1.4 percent. Spending on services, which is a bulwark of this report, rose a very solid 0.6 percent in the month." And: "The data this month showed significant expenditure growth. The expenditure year-over-year growth rate increased as much as the income growth rate decreased. This is a good start for 2Q2016 GDP if one considers GDP as a good measure of the economy" [Econintersect]. But: "Yet another pretty good April release that I suspect will be reversed in May, as has happened with several other data series. And the increased spending on gasoline due to higher prices coincided with a reduction in the savings rate, as April spending outstripped income. And note that March's +.1 was revised to 0 with this April number also subject to revision" [Mosler Economics].
Chicago PMI, May 2016: "Businesses in the Chicago area are reporting slowing conditions with the PMI down 1.1 points to a sub-50 contractionary reading" [Econoday]. "A key indication of overall weakness is sharp contraction underway in inventories which are at their lowest point since November 2009. The decrease in inventories points to caution among businesses which apparently do not see demand improving." And: "Below expectations" [Econintersect]. And: "The underlying tone of this report was very weak, and it mirrors the disappointing performance in other regional indicators such as the Philly, Empire and Richmond Fed PMI, suggesting that the US manufacturing sector recovery may be stumbling again" [TD Securities, Across the Curve]. And: "Speaking of firmer April releases that reversed in May, here's another example" [Mosler Econonomics].
Dallas Fed Mfg Survey, May 2016: "The Dallas manufacturing production index fell into negative territory" [Econoday]. "New orders also fell back into negative territory. After popping up 6.2 in April after four consecutive declines, new orders dropped…
State Street Investor Confidence Index, May 2016: "Investor risk appetite abated in May" [Econoday].
Shipping: "The amount of oil carried on US railways has increased 40-fold in the last eight years" [Vice] "Most of the time, those cars travel through rural areas, but often they pass through industrial sections of cities, often in poor, predominantly black areas. According to critics, no matter where these trains travel, they're inherently dangerous."
Shipping: "Airfreight demand picks up but prospects look bleak" [Air Cargo News].
Shipping: "Panama Canal Fever Sweeps Globe Again as New Era in Trade Nears" [Bloomberg]. "The debut coincides, fortuitously, with a surge in U.S. natural-gas production that has shale outfits suddenly seeking out new export markets. The deeper channels will be able to accommodate the kind of massive tankers that transport liquefied natural gas."
Honey for the Bears: "First-quarter earnings season is close to over, and the numbers it's produced are as gloomy as they have been since the Great Recession." [MarketWatch].
The Fed: "The Message From the Flattening Yield Curve" [Across the Curve]. "US Yield Curve: Global Yellow Light?"
Today's Fear & Greed Index: 75, Extreme Greed (previous close: 75, Extreme Greed) [CNN]. One week ago: 63 (Neutral). (0 is Extreme Fear; 100 is Extreme Greed). Last updated May 31 at 12:39pm. Breaking through the ceiling to Extreme!
Health Care
"Capitalism and Obamacare: The Neoliberal Model Comes Home to Roost in the United States – If We Let It" [Hampton Institute].
Our Famously Free Press
"Peter Thiel Does the Impossible! [Politico]. " Nobody's ever sympathized with Gawker before."
Corruption
"The man who seduced the 7th Fleet" [WaPo]. "Fat Leonard."
News of the Wired
"Capsula Mundi aims to help you turn into a tree after you die" [Treehugger (Re Silc)].
"My Adventures in Going Viral" [New York Times].
"An Incredible Machine That Amazingly Sorts Random River Stones By Their Geological Age" [Laughing Squid].
* * *
Readers, feel free to contact me with (a) links, and even better (b) sources I should curate regularly, and (c) to find out how to send me images of plants. Vegetables are fine! Fungi are deemed to be honorary plants! See the previous Water Cooler (with plant) here. And here's today's plant (joe6pac):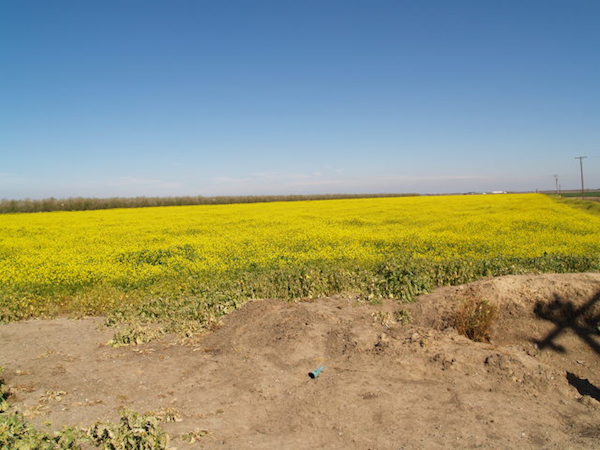 20 acres of mustard (with a foreground of soil).
* * *
Readers, Water Cooler will not exist without your regular support. Your tip will be welcome today, and indeed any day. If you enjoy what you're reading, please click the hat!