By Lambert Strether of Corrente.
Readers, I was detained by a household emergency, so this is a bit light. I'll add some more shortly.
TTP/TTiP/TISA
"TTIP and Jobs" [European Parliament]. "Employment effects are highly uncertain: they could be negative in the short run but positive in the long run. In any case, their magnitude is likely to be very small." And so, "adjustment programs." Which never really adjust.
"David Cameron narrowly avoided the parliamentary defeat of his Queen's speech this week – an event that, theoretically, triggers the fall of a government and hasn't happened since 1924. That was only achieved through an embarrassing U-turn on TTIP, the Transatlantic Trade and Investment Partnership, which he ardently supports" [Guardian]. It would sure be nice if the left could manage to heat up anti-trade action synchronously.
2016
Policy
UPDATE "Barack Obama plans to raise as much as $1 billion to build his presidential library in Chicago." [My San Antonio]. "I hope he puts in a 'deportation wing.' It could be installed on the right side of the structure since, as president, Obama has approached the immigration issue like a right-winger."

UPDATE "Talk of winding down the terror wars has been dropped from the Obama administration's message. Instead, the administration has been pouring thousands of new troops back into the Middle East, and his aides were looking for a new vocabulary to describe a strategy that more closely resembled the approach of the previous decade" [Yahoo News].

UPDATE "Clinton left the White House as the stock bubble that had fueled the prosperity of his second term was in the process of collapsing. It led to a recession that began less than two months after he left office. From the perspective of working people this was the worst recession of the post-World War II era until the Great Recession. The economy did not get back the jobs lost until January of 2005" [Dean Baker]. That's "comparable to a situation where George W. Bush left office at the end of 2007 and describing his departure as being a period of prosperity. "
Money
UPDATE "Half of the 25 most popular pro-Trump pages were selling Trump merchandise. By contrast, just four of the top 25 pro-Clinton pages had merchandise for sale" [Fusion]. Hmm…
Corruption
"Bernie Sanders Tax And Healthcare Plans: Think Tanks That Released Critical Study Receive Funding From Industries That Would Be Affected" [Business Insider]. Shocker.

"Our Supporters" [Center for American Progress].
The Voters
"Since he clinched the Republican nomination two weeks ago, Trump has been the object of even more unfavorable press than he was before… So how can Trump be pulling even with Hillary Clinton?… in my travels around the country I've found many who support him precisely because of the qualities he's being criticized for having [Robert Reich, The Week]. "Trump's rise suggests a new kind of politics. You might call it anti-politics. The old politics pitted right against left, with presidential aspirants moving toward the center once they cinched the nomination. Anti-politics pits Washington insiders, corporate executives, bankers, and media moguls against a growing number of people who think the game is rigged against them. There's no center, only hostility and suspicion…. That most Americans don't particularly like Trump is irrelevant. As one Midwesterner told me a few weeks ago, 'He may be a jerk, but he's our jerk.'" Not irrelevant note on the #BernieBro narrative concocted by the Clinton campaign and pushed by its supporters: Shakespeare covered this in Sonnet 121: "'Tis better to be vile than vile esteemed / When not to be receives reproach of being…" As David Axelrod remarks:

Predicting how race will end 5 mos out is nuts. Many plot twists ahead. What you CAN rely on, based on early returns: Ain't gunna be pretty!

— David Axelrod (@davidaxelrod) May 24, 2016

No. #messy.

"Wait a second. Calm down. Back in April 2008, 35 percent of Clinton supporters said they would vote for the likely GOP nominee, John McCain, over Barack Obama. At the end of the day, however, the overwhelming majority of Democrats voted for Obama" [WaPo].

I think this misreads the Sanders coalition (which, granted, is not the same as Sanders voters). Since 2008, we've had the state capital occupations, Occupy proper, #BlackLivesMatter, anti-fracking, Fight for 15, and a myriad of other organizing events. I would argue that the organizers of all those factional (as we might sort them) unsettlements (as we might dub them) are disproportionately represented in the Sanders faction (with the possible exception of #BlackLivesMatter, but even there, there is real Sanders support); they know how to organize, and how to be organized. Sanders, therefore, cannnot "deliver" a coalition of self-organizing factions in the way that the Beltway expects him to do. By contrast, the PUMAs of 2008 had not (yet, perhaps) acquired similar organizing skills (which is no knock on them, since the time was not ripe for them to do so). Now, I think some subsystem of the Democratic Establishment's hive mind understands this, which is why the typical strategy of decapitating factions by corrupting their leaders has been replaced — the starting gun was Jon Ralson's false reporting on the Harry Reid-owned and operated Nevada convention debacle — by getting leaders fired from their jobs (for "incivility"). In that context, see Axelrove's comment above. #Messy.

UPDATE "A New National Progressive Movement Is Emerging in the Shadows of the Sanders Campaign" [Alternet]. Maybe. I choke on that word "progressive," because I remember how self-identified "progressives" deep-sixed single payer in 2009-2010.

"Today's Republican Party is predominantly a Midwestern, white, working-class party with its geographic epicenter in the South and interior West. Today's Democratic Party is a coalition of relatively upscale whites with racial and ethnic minorities, concentrated in an archipelago of densely populated blue cities" [Politico]. Because, you see, there is no working class in the blue cities. All those lattés are made, the rooms cleaned, the garbage collected, the children cared for, the buildings built, the marble countertops wiped, and the Louis Quinze gold taps in the bathroom polished by little elves. Or subhumans hired on TaskRabbit.

UPDATE "[W]e have two American economies. One is made up of expensive coastal zip codes where the pundits proclaiming "recovery" are surrounded by prosperity. The other is composed of heartland regions where ordinary Americans struggle without jobs" [Quartz]. The coastal zips also seem to be busily inflating a housing bubble for themselves, much of it based on dirty money needing to be laundered by global elites. That's gonna end well.
Our Famously Free Press
UPDATE And then there's this:


Ladies and Gentlemen, The Washington Post. pic.twitter.com/D3R2bixdzT

— Rob Beschizza (@Beschizza) May 22, 2016
The Trail
"Clinton needs to back off trying to muscle Sanders out" [Jules Witcover, Baltimore Sun]. "There will be nearly six weeks after the last primaries and the opening of the Democratic convention for Mr. Sanders to fulfill his pledge to join the fight against Donald Trump, and to bring his loyal army with him in the effort. Hillary should not crowd him and wait until she officially is the Democratic nominee, before behaving as if she already is." I don't think Witcover knows how long it takes to pick out the drapes for the Oval Office….

"Why 'Crooked Hillary' is likely to stick" [The Week]. "The Clinton Foundation and other associated concerns really are a kind of globalist grift."

As Peter Schweizer's book Clinton Cash details, Hillary's loyalty could be well-bought. Consider the financial interests of Mohammed al-Amoudi, who committed $20 million to the Clinton Foundation in 2007. Al-Amoudi profits from the Mohammed International Development Research and Organization Companies, which could have been harmed by U.S. policy changes in Ethiopia, particularly if the U.S. government scrutinized Ethiopia closely for human rights violations, as required by U.S. rules on foreign aid. Clinton dutifully gave a waiver to Ethiopia during her time as secretary of state. Bill Clinton would praise Ethiopia's leaders as a new guard for the continent, even if their rule included extra-judicial killing and plunder.

Of course, Ethiopians are faraway black people. So that's alright, then.

"Clinton declines California debate" [The Hill]. That's what weak candidates do.

Bill Lee, Red Sox pitching great, is running for governor in Vermont [WCAX]. "'The problem with Americans is their fist is like this (closed), and you got to open your hands. Republicans are pterodactyls, they have little short arms that never get to their front pockets,' said Lee."

Sanders names Rep. Keith Ellison of Minnesota, Bill McKibben, Native American activist Deborah Parker, and Palestinan activist James Zogby to the DNC Platform Drafting Committee [WaPo]. The headline reads: "Sanders wins greater say in Democratic platform; names pro-Palestinian activist," but it might as well read "Sanders puts thumb in the eye of AIPAC," and personally I think McKibben is far more important. Oh, and Cornel West, so the Black Misleadership Class has its knickers in a twist.

"This is unique in terms of the makeup of the platform drafting committee," said James Roosevelt, co-chairman of the DNC's rules and bylaws committee. "What it acknowledges is that the Democratic Party is committed to encompassing the broad range of views that Democrats have surfaced in this very substantive campaign between Secretary Clinton and Senator Sanders. And I think that is unusual but it is also very necessary because a unified Democratic Party will be strengthened by a full hearing for all views."

That's "said James Roosevelt through gritted teeth." Fixed it for ya.
Stats Watch
Richmond Fed Manufacturing Index, May 2016: "The Richmond Fed index fell a sharp 15 points in May to minus 1, adding further evidence of a serious slowdown in manufacturing activity" [Econoday]. "Several of the survey's key measures dropped steeply and went into contraction from previous strength." And: "Of the three regional Federal Reserve surveys released to date, all are in contraction" [Econintersect].
New Home Sales, April 2016: "The new home sales report has sealed its reputation as the wildest set of data around" [Econoday] [whistles]. "April's annualized rate came in at 619,000 which is not a misprint. This is the highest rate since January 2008 and dwarfs all readings of the recovery. February 2015's rate, way behind at 545,000, is the next highest rate this cycle. The data even include a very large 39,000 net upward revision to the two prior months, a gain that reflects annual revisions which are included in the data. The monthly 16.6 percent surge is not only far beyond expectations but is the biggest monthly gain since way back in January 1992." And: "The headlines say new home sales improved from last month. The rolling averages smooth out much of the uneven data produced in this series – and this month there was a significant improvement in the rolling averages." [Econintersect]. But: "Even with the increase in sales since the bottom, new home sales are still fairly low historically" [Calculated Risk]. Lambert here: Who's buying?
Housing: "The kids are not moving out. The high cost of housing is having a big impact on the Millennial generation. In high cost areas you are seeing homes being sold to investors (including foreign buyers) and those that do buy as owner occupied tend to be a lot older than previous first time buyers" [Dr. Housing Bubble]. "Even from family and friends it is interesting to see a few homes sold in their varied neighborhoods only to be turned into rentals immediately – these were very standard single family homes in neighborhoods where rentals were rare (not anymore). Yet another continuing trend is the number of working age Millennials living at home with mom and dad. Mom and dad are your typical Taco Tuesday baby boomers and are "shocked" that their kids can't afford to rent let alone buy a home. Given current prices Millennials are not going to be buying in many high priced markets for years to come."
"The Chemical Activity Barometer (CAB) expanded 1.0 percent in May following a revised 0.8 percent increase in April and 0.1 percent increase in March. All data is measured on a three-month moving average (3MMA)" [Econintersect]. "Accounting for adjustments, the CAB remains up 2.3 percent over this time last year, a marked deceleration of activity from one year ago when the barometer logged a 2.7 percent year-over-year gain from 2014."
"Revenues in the fixed-income, currencies, and commodities business dropped 28% year-on-year in the first quarter, according to the data-analytics company Coalition" [Business Insider]. "Fixed-income, currencies, and commodities, or FICC, trading is the largest business for Wall Street banks."
Concentration: "Why a Bayer-Monsanto merger would be bad news for anyone who farms — or eats" [Marketwatch]. "'The consolidation and driving out of smaller competitors, and controlling the marketplace and raising prices of seeds and pesticides for farmers worldwide is going to be a real shock to the food system,' said Robert Lawrence, a Johns Hopkins School of Medicine professor and the founding director of the Center for a Liveable Future."
UDPATE Concentration: "The [LexInnova] study finds that the companies with the greatest number of [Interent of Things] patents globally are the chip-makers Qualcomm and Intel, followed by Chinese network-gear maker ZTE" [Quartz].
UPDATE Oil: "Now, as [OPEC] heads into a June 2 meeting to discuss how to stabilize world oil markets, the cartel has neither the political consensus to cut output nor the technical capability to significantly raise production" [Wall Street Journal, "OPEC's Ability to Ease An Oil Supply Shock is Now Fading"].
Oil: "[T]he OPEC meeting is not until June 2…. The Iranians must think they are in a better position to negotiate as they have made some significant strides in regaining market share and the Saudi Arabian economy is crashing. Iran exports will soon be exceeding 2.0 million barrels of oil a day and the Iranians, after suffering under sanctions, won't want to give that up" [Futures].
Shipping: "Seven kinds of counterparty: part two" [Splash247]. "We should start this section by examining the paradox built into every period time charter – the shipowner tries to fix his ship at a rate higher than he expects the market to sustain for the duration of the charter, to someone who is both willing and able to pay that rate despite taking losses on it. It follows that the owners' ideal time charterer is wealthy and stupid. Everyday experience, however, tells us that "A fool and his money are soon parted", so such charterers, if they exist at all, will soon be out of business. Nonetheless, all owners persist in looking for this unicorn." Such a fun series!
Shipping: "The Port of Hamburg's container traffic shrank by 3.4 percent in the first quarter, a significant improvement on the 9 percent decline in 2015, indicating the market has touched bottom." [Journal of Commerce]. "Europe's third-largest container port handled 2.2 million 20-foot-equivalent units in the first three months of the year, a 78,000-TEU reduction on the same period in 2015 that was almost entirely due to lower traffic with China and Russia, which also impacted last year's volume."
Shipping: "Legislation would require Amtrak to spend [Northeast Corridor (NEC)] profits on the corridor" [Progressive Railroading]. Lambert editorializez: The "deal" with Amtrak has always been that the NEC subsidizes a national rail system. But Acela riders don't like it when the ride gets a little rough, so they exercise their class interests against the heartland (on a thoroughly bipartisan basis).
Shipping: "The report from credit ratings agency Moody's estimates that Amazon's 40 Boeing 767 freighters will give the e-commerce firm a fleet with an aggregate payload capacity equal to roughly one fifth of that of FedEx and one fourth of that of UPS" [Air Cargo News]. And the headline: "Amazon's freighter deal expected to have minimal impact on UPS and FedEx margins." So that's alright, then.
UPDATE Retail: "A recent study by Forrester Research says that because consumers under 25 are strapped with debt, they aren't buying as much as older generations" [Business Insider]. I can think of various ways a debt jubilee will happen, operationally if not explicitly, and all of them are unsettling.
UPDATE The Bezzle: "It doesn't matter whether a company's burn rate is $10K per month or $10 million per month, companies die when their burn rates are greater than investor enthusiasm. Burn rate is a bet on the potential of a business. That bet, re-evaluated at each round of funding, is based on the belief of venture capitalists that multiples of value will be created with the money they invest in a company. Unfortunately for founders, enthusiasm can be fickle while burn rates are stubborn. The two can easily get out of sync" [Tech Crunch]. In other words, Silicon Valley is a phishing equilibrium. ("Founders" is in the same class as "innovative," "disruptive," and "start-up." Count the spoons when whoever uses one of those words leaves your house.)
Today's Fear & Greed Index: 62, Greed (previous close: 54, Neutral) [CNN]. One week ago: 74 (Neutral). (0 is Extreme Fear; 100 is Extreme Greed). Last updated May 24 at 12:15pm. Greedheads poking shy little heads out of their shells….
Dear Old Blighty
"Jeremy Corbyn preparing to call for Tony Blair to be investigated for war crimes" [Telegraph]. High time. Maybe Blair could call Bush as a character witness?
Gaia
"If a massive solar storm struck the Earth today, it could wipe out our technology and hurl us back to the dark ages. Lucky for us, events like this are quite rare. But four billion years ago, extreme space weather was probably the norm. And rather than bringing the apocalypse, it might have kickstarted life" [Gizmodo].
"Shell CEO warns too-fast shift to renewables could imperil dividends" [Seeking Alpha].
The Unsettlement
"Strikes hit French terminals" [Splash247]. Oil terminals.
UPDATE "Queues at French Gas Stations as Strike Disrupts Supplies" [ABC]. If the French workers are being clever about working the whole (extended and very fragile) supply chain, that's big news.
Corruption
UPDATE "Moore Stephens' Hong Kong firm won a victory in a New York federal appeals court on a case that could have a far-reaching impact on class-action lawsuits involving audit reports" [Accounting Today]. "'Audit reports, labeled 'opinions' and involving considerable subjective judgment, are statements of opinion subject to the Omnicare standard for Section 11 claims,' said the Second Circuit in its ruling last Friday. 'There is no evidence that Moore Stephens did not believe its 'clean audit opinions' for Puda's 2009 or 2010 financial statements. Nor is there evidence that Moore Stephens omitted material facts about the basis for its audit reports. Plaintiffs-appellants cannot sustain their Section 11 claim.'" Hmm…
UPDATE "Google's Paris offices were the target of a dramatic dawn raid by French authorities this morning (May 24). As many as 100 tax officials gathered at 5am to enter the chic building on Rue de Londres, near the Place de l'Opera" [Quartz].
Class Warfare
"Between them they've lost billions [and laid off thousands], and yet senior management at China's top two lines have decided to reward themselves with massive pay increases, Splash can reveal, in the latest embarrassing setback to hit gaff prone Cosco and China Shipping." [Splash247]. The workers and peasants aren't going to like that a whole lot.
"But a VICE investigation has found extensive evidence of North Koreans working in conditions of forced labor in Poland, with their wages funding the DPRK regime" [VICE]. I thought the EU was against slavery?
"THE HIDDEN WORKFORCE EXPANDING TESLA'S FACTORY" [San Jose Mercury News]. "The automaker's urgent upgrade of its Fremont facility benefited from cheap, imported workers, but did the companies involved flout visa and labor laws?" That you just read is the subhead (or deck). I think Betteridge's Law is inverted for subheads. Readers?
News of the Wired
"Coming soon: express even more in 140 characters" [Twitter]. More spam! But more creative content as well. Twitter is uniquely sociable, for good or ill.
"Another Whistleblower — One Who Tried To Protect Other Whistleblowers — Says The 'Official Channels' Are Worthless" [TechDirt].
"TSA's Head Of Security 'Removed' From Office, Says House Panel" [NPR]. That boondoggle AL Gore's Vice Presidential choice put into place is sure working out well, isn't it?
* * *
Readers, feel free to
contact me
with (a) links, and even better (b) sources I should curate regularly, and (c) to find out how to send me images of plants. Vegetables are fine! Fungi are deemed to be honorary plants! See the previous Water Cooler (with plant)
here
. And here's today's plant (Portia):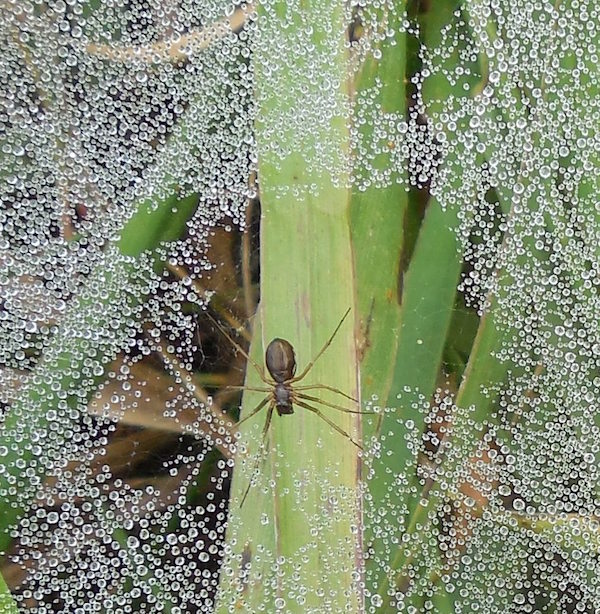 This image includes an animal, which normally I do not encourage (animals are for links), but I include it here because it exemplifies the sort of plant photography I would like to be able to do, a permaculture-y type of photography that sets plants in the context of whole, dynamic systems.
* * *
Readers, Water Cooler will not exist without your regular support. Your tip will be welcome today, and indeed any day. If you enjoy what you're reading, please click the hat!