By Lambert Strether of Corrente.
Readers, sorry for the posting hiccup! A mere moment of inattention, and then… Disaster!
TPP/TTiP/TISA
"Europe, beware. The leaked TTIP text confirms that the United States is trying to export its failed regulatory model. If the United States succeeds in its project, Big Business will gain enormous power to block, slow, undermine and repeal European regulations" [Public Citizen]. "Taken in their entirety, the U.S. Regulatory Cooperation proposals are affirmatively hostile to the precautionary principle. The precautionary principle counsels taking protective action in the face of uncertainty. The U.S. cost-benefit standards, demands for consideration of alternative regulatory approaches, and expansive analytic requirements also counsel for inaction in the face of uncertainty. Moreover, U.S.-style cost-benefit analysis places a premium on industry-provided cost estimates while effectively discounting benefits from action to prevent possible harm."
"Negotiating TTIP" [Cecilia Malmström, European Commission]. "I am simply not in the business of lowering standards. I have a clear negotiating mandate for the negotiations given to the Commission by 28 EU governments, that clearly spells out what a successful agreement has to look like, and what our non-negotiable red lines are." Strong words from a military protectorate.
"'Malmström may well promise not to undermine environmental and consumer protection, but the evidence tells a different story. In several areas the US proposes to lower EU standards, but there are no EU proposals in the leaked consolidated documents to counter this,' [Greenpeace's EU director Jorgo Riss] said in a statement" [Euractiv].
"The fact that the most useful information about TTIP has come, not from the leaked texts of the chapters themselves, but from the State of Play document [also part of the Greenpeace leak], is very telling. It shows that much more is required to reform these closed trade agreements than simply releasing the text. Access to the draft texts alone, while the negotiations themselves remain closed and opaque, is worth very little. Only through inside access to the negotiations themselves is their broader context revealed" [EFF].
2016
Policy
"Many consumers will see large rate increases for the first time Nov. 1 — a week before they go to the polls" [Politico]. "There's a growing realization the financial penalty for failing to obtain coverage is an insufficient cudgel to persuade younger Americans to enroll. The fee for 2016 is $695 or 2.5 percent of income, whichever is higher. Just 28 percent of HealthCare.gov customers for 2016 were between the ages of 18 and 34, significantly below the 35 percent threshold typically considered necessary for a balanced marketplace." The beatings will continue until morale improves.

UPDATE And then there's this:

Here's the clip of a Bernie supporter at his rally in Indiana telling the billionaire class to "fuck off" pic.twitter.com/aG6DEhPtH5

— Shit Hillary Says (@shitHRCsays) May 2, 2016
Indiana Primary
UPDATE "Going into Tuesday's primary, Clinton leads Sanders by 4 percentage points, 50 percent to 46 percent among likely Democratic primary voters, according to a new NBC News/Wall Street Journal/Marist poll. The poll's margin of error was 4.6 percentage points. As in past contests, Clinton leads with those 45 and older, while Sanders is ahead among younger voters" [NBC].

UPDATE "After weeks of personal attacks from Donald Trump, including fresh insinuations that his father was associated with Lee Harvey Oswald, Cruz boiled over Tuesday" [CNN]. "'He is proud of being a serial philanderer … he describes his own battles with venereal diseases as his own personal Vietnam,' Cruz said, citing a decades-old Trump appearance on 'The Howard Stern Show.'"

UPDATE "'I've lost three factory jobs in the last 10 years, to go to China or go to Mexico or go to somewhere out of the country. We're losing our jobs to everybody else. We need 'em back. I think [Trump] can do it," [Matt] Coy said." [NPR]. "Manufacturing plays a bigger part in the economy of Indiana than it does in any other state, and as Indiana residents head to the polls Tuesday, the slow erosion of the state's factory jobs is expected to weigh heavily on the minds of a lot of voters."

UPDATE "Today, vast swaths of the state's Republican electorate, from Indianapolis to West Lafayette, have retreated from the culture wars. And like the 50s-era diner itself, Cruz's dogged socially conservative message seems anachronistic—and perhaps a little tin-eared—to these fiscally conservative, socially liberal Republicans, the kind Cruz has to win over in the state's crucial, populous and well-heeled "doughnut" counties surrounding Indianapolis (if you remove Marion County, the remaining surrounding counties form a doughnut-shaped ring) in order to have a shot at beating Donald Trump in the primary on Tuesday" [Politico]. Hmm.
Corruption
"Former President Bill Clinton accepted more than $2.5 million in speaking fees from 13 major corporations and trade associations that lobbied the U.S. State Department while Hillary Clinton was secretary of state, an International Business Times investigation has found. The fees were paid directly to the former president, and not directed to his philanthropic foundation" [International Business Times]. "Many of the companies that paid Bill Clinton for these speeches — a roster of global giants that includes Microsoft, Oracle and Dell — engaged him within the same three-month period in which they were also lobbying the State Department in pursuit of their policy aims, federal disclosure documents show. Several companies received millions of dollars in State Department contracts while Hillary Clinton led the institution." Ka-ching.
The Voters
UPDATE "Is Hillary Stealing the Nomination? Will Bernie Birth a Long-Term Movement?" [Reader Supported News]. "If we thought we had definitive evidence that the Clinton campaign was stealing the nomination from the Sanders campaign, we'd say so in direct, explicit and unmistakable phrases. imply put: we do NOT at this point believe they rise to the level of provable theft, as we are certain was the case in 2000 and 2004." That's where I am on this. That's not the same as saying that our voting system isn't completely hosed; it clearly is. (I suppose the idea of a phishing equilibrium could apply here, but that's not the same as, say, a whistleblower.)

"There Is A Hole In Bernie Sanders' Strategy For Winning The Nomination" [Sam Stein, HuffPo]. As I understand Stein's summary, Sanders, in his speech at the National Press Club, didn't argue the superdelegates should reflect voter totals in all states, but in his landslide states. While I think this is an argument that nobody will remember in a week, and Sanders clearly can fight to the last delegate if he wants, exactly as Clinton did in 2008, I don't think much of the argument; it's uncomfortably reminiscent of Gore, in Florida 2000, only suing to count votes in counties he was likely to win; too clever by half.

"[Kevin] Drum's case. His real problem with Sanders is that his ambitious ideas are teaching a generation to think that quick, sweeping change is possible, which is bad because the way politics works is Abandon Hope, All Ye You Enter Here" [Ryan Cooper, The Week]. "Stripped to its essentials, Sanders' campaign is following the political tradition of FDR and Lyndon Johnson: trying to convince people of the merits of left-wing policy and demanding candidates who champion that vision. He's trying to ensure that the next Democratic majority will aim much higher than ObamaCare." Exactly. And it's one thing to disagree with the Sander's "theory of change." And quite another to paint Clintonian exMincrementalism as the only ethical stance!

UPDATE "Emotional unemployed W.Va. coal worker confronts Hillary Clinton over comment about putting coal 'out of business'" [WaPo]. Clinton really does not improvise well. There are two videos, one of the protesters being held back by a rope line, the second of Clinton in a small-group setting. It's interesting to watch the second one with the sound down.

UPDATE "This ideological disintegration [of the Republican Party] has been years in the making. I believe one fundamental cause is that after winning the allegiance of millions of "Reagan Democrats" — mostly white, blue-collar, and Southern or rural — the party stubbornly declined to take their economic interests into account" [WaPo]. "But most working-class Republicans are, get ready for it, working-class…. What adjustments did the GOP establishment make for these voters? None." Just like the Democrats!

UPDATE Fifty-seven percent of Democrats said Sanders should stay in the race until the [Democratic Convention], according to an NBC News-Survey Monkey poll released Tuesday [The Hill].
Stats Watch
Motor Vehicle Sales, April 2016: "The Big Three are out and North American-made vehicle sales for April are running a little higher than March" [Econoday]. These are preliminary figures and do not include foreign sales.
Gallup US ECI, April 2016: "Americans' confidence in the economy retreated in April, with Gallup's Economic Confidence Index averaging minus 14 for the month, down from minus 10 in March" [Econoday]. "Since March 2015, Americans have been more upbeat about the current state of the economy than about the direction in which it is headed." It's like the entire country has turned into Maine, whose state motto might as well be "We'll pay for this." For a lovely summer, with winter, and so forth.
"U.K. manufacturing unexpectedly shrank for the first time in three years in April, dealing a shock blow to the economy after growth slowed in the first quarter" [Bloomberg].
"Three Signs Signaling Apple's Losing Streak" [People's Daily]. People's Daily?!
Offshore: "So much money is flowing into tax shelters that companies may have booked more profits in Bermuda than in China, the second-largest economy in the world," according to a UN report [MarketWatch].
Finance: "The massive year over year increase in Freddie Mac's derivative losses suggest that there is more here than meets the eye. It also raises the question as to whether the Federal Housing Finance Agency (FHFA), Freddie and Fannie's official Federal conservator and supervisor, is on top of what's embedded in these derivative contracts" [Wall Street on Parade]. Bezzle, bezzle, who's got the bezzle…
Finance: "Valeant, SunEdison…the S&P 500?" Yikes [Wall Street Journal, "The Hazards of Financial Engineering"]. "Financial engineering has built vast financial edifices, but all too often there is little of substance providing support. The latest Wall Street constructs to crumble are familiar names, Valeant Pharmaceuticals International Inc. and SunEdison Inc. Both relied on financial engineering to satisfy shareholders desperate for two items scarce in today's weak economy: growth, offered by Valeant, and income, supplied by SunEdison's so-called yieldcos. … According to David Kostin, a strategist at Goldman Sachs, the debt and equity of the median U.S. nonfinancial company is worth 11 times operating cash flow, higher than in 2007 and higher than at the peak of the dot-com bubble."
Finance: "In less than seven days, hedge funds have been subject to a three-pronged attack by some of the biggest names in finance" [Bloomberg].
Housing: "The Conference Board data and Pointon's breakdown show, however, that it isn't just that supply can't keep up with simple demand. Supply can't keep up with a historically massive amount of demand" [Business Insider]. ""The latest Ellie Mae data showed that the average FICO score for successful applications rose in March to 722, and that will be preventing many households from qualifying for a mortgage," wrote Pointon. This could mean that some of the historically high intention to buy a home may just be wishful thinking. Demand, however, is certainly higher and that's making the housing market's pricing problem even worse."
Fiscal Policy: "For countries where nominal interest rates are at or near zero, fiscal stimulus should be a no-brainer" [Brad DeLong, Project Syndicate, "Rescue Helicopters for Stranded Economies"]. "Success in rebooting the economy will depend on ensuring that the extra cash goes into the hands of those who are constrained in their spending by low incomes and a lack of collateral assets. And, as with governments engaged in fiscal stimulus, the key to a positive outcome will be to rule out even a smidgeon of fear that repayment obligations will become onerous in any way." And Sanders is the guy selling unicorns?
The Fed: "The United States could see two further interest rate rises this year but uncertainties abound including the impact on the U.S. economy should Britain vote to leave the European Union, Atlanta Fed President Dennis Lockhart said on Tuesday" [Future].
Today's Fear & Greed Index: 64, Greed (previous close: 69, Greed) [CNN]. One week ago: 71 (Greed). (0 is Extreme Fear; 100 is Extreme Greed). Last updated May 3 at 1:09pm. A weak retreat. Come on!
Corruption
"It profits [the American Geophysical Union] nothing to give its soul for the whole world … but for a $35k student breakfast, Margaret?" [Think Progress]. ("Margaret" is AGU President Margaret Leinen.) Yes, AGU taking money from Exxon is a little like the American Cancer Society taking money from RJ Reynolds. Reader timotheus comments:
This is another example of the blithe dismissal of ethical concerns in a once prestigious professional association, an apt but also a rather amazing demonstration of comfort with open immorality for a pittance.
Health Care
"A More Detailed Understanding Of Factors Associated With Hospital Profitability" [Health Affairs]. "Forty-five percent of hospitals were profitable, with 2.5 percent earning more than $2,475 per adjusted discharge. The ten most profitable hospitals, seven of which were nonprofit, each earned more than $163 million in total profits from patient care services. Hospitals with for-profit status, higher markups, system affiliation, or regional power, as well as those located in states with price regulation, tended to be more profitable than other hospitals. Hospitals that treated a higher proportion of Medicare patients, had higher expenditures per adjusted discharge, were located in counties with a high proportion of uninsured patients, or were located in states with a dominant insurer or greater health maintenance organization (HMO) penetration had lower profitability than hospitals that did not have these characteristics."
The Jackpot
"The medieval Silk Road brought a wealth of goods, spices, and new ideas from China and Central Asia to Europe. In 1346, the trade also likely carried the deadly bubonic plague that killed as many as half of all Europeans within 7 years, in what is known as the Black Death" [Science Magazine].
Class Warfare
"Workers losing Indiana factory jobs deserve to be more than political pawns" [MarketWatch]. Since when did the MarketWatch people join the Communist Party?
News of the Wired
"Gas Delivery Startups Want to Fill Up Your Car Anywhere. Is That Allowed?" ("Uber for gasoline") [Bloomberg]. "Filld, an 18-month-old startup with thousands of customers in Silicon Valley, plans to start service in San Francisco on Monday, deploying three delivery trucks at 1 p.m. "You can never ask for permission because no one will give it," said Chris Aubuchon, the chief executive officer at Filld." And there you really do have the startup business model, eh? "Filld, WeFuel, Yoshi, Purple and Booster Fuels have started operating in a few cities including San Francisco, Los Angeles, Palo Alto, Nashville, Tennessee, and Atlanta, Georgia. But officials in some of those cities say that driving around in a pickup truck with hundreds of gallons of gasoline might not be safe." No duh! Why don't we sell gas out of glass bottles by the side of the road, like we see in Cambodia or Laos?
"I hated spending three days without computers. And I feel no deep shame about this" [New Yorker]. "I didn't miss Twitter's little heart-shaped icons. I missed learning about new things."
"Least Resistance: How Desire Paths Can Lead to Better Design" [99% Invisible].
"After 'The Biggest Loser,' Their Bodies Fought to Regain Weight" [New York Times]. "Most people who have tried to lose weight know how hard it is to keep the weight off, but many blame themselves when the pounds come back. But what obesity research has consistently shown is that dieters are at the mercy of their own bodies, which muster hormones and an altered metabolic rate to pull them back to their old weights."
* * *
I think I fixed my fershuggeneh contact form below. Just to keep the NC comment section clean, will only those who already have my email address tell me if they have issues, using email? Thank you!
Readers, feel free to contact me with (a) links, and even better (b) sources I should curate regularly, and (c) to find out how to send me images of plants. Vegetables are fine! Fungi are deemed to be honorary plants! See the previous Water Cooler (with plant) here. And here's today's plant (Kokuanani):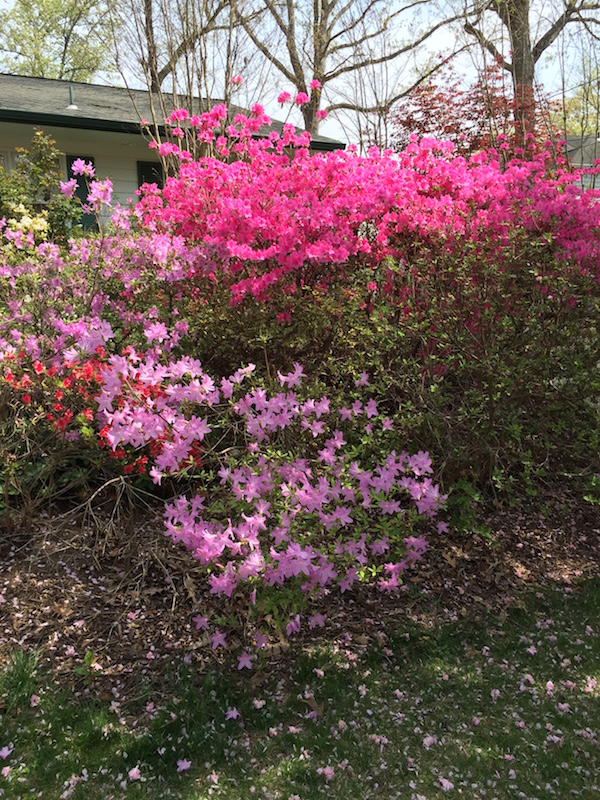 Nice to come out of the house in the morning with a mug of coffee and look at that!
* * *
Readers, Water Cooler will not exist without your regular support. Your tip will be welcome today, and indeed any day. If you enjoy what you're reading, please click the hat!