By Lambert Strether of Corrente.
Readers, thanks for another sparkling discussion on Friday! I should travel more often!
TPP/TTiP/TISA
"[A] video which reveals the procedures requested by the EU in order for the interested parties to gain access to the top secret TTIP documents. The video shows the unprecedented secrecy that engulfs the whole operation" [Failed Evolution].
"Three years after the beginning of negotiations, events protesting free trade agreements have become part of everyday life in Germany. In cities and towns, thousands of events are being held to express opposition to deals like TTIP, CETA, as the recently negotiated agreement with Canada is called, and TISA, an international deal covering trade in services" [Der Spiegel]. Many good examples.
"Hillary Clinton has signaled that if she is elected president in November she would oppose a vote on the Trans-Pacific Partnership trade accord during a lame-duck session of Congress, sharpening her differences with President Obama as he is ramping up his sales pitch on behalf of the deal" [WaPo].
"Clinton's statement that "we need a fundamental rethink of how we approach trade deals" is a strong statement, going beyond simply opposing TPP. "It is critical that we address labor protections and ensure that human rights are protected, as well as health, environmental, and consumer safety issues in any new trade agreements," [Clinton] said" [Dave Johnson, Campaign For America's Future]. "These are important distinctions that show her position is now clearly on the side of those opposing not just TPP but the way our trade agreements have been used to move jobs out of the country, drive down wages and break what power working people once had in the economy. She has not left herself wiggle room on a TPP vote, and she did not hedge herself between the interests of workers and those of the "donor class" and trade policies have not worked for working people." I like Johnson, but that interpretation seems more than a little credulous to me.
"The final three presidential candidates — Clinton, Sen. Bernie Sanders of Vermont and presumptive Republican nominee Donald Trump —have all leveled harsh criticism against President Obama's trade agenda" [The Hill]. So, Clinton joins the crowd. And anyhow, when Clinton did so much to push TPP as Secretary of State, why should Obama's Presidential Library be the influence-peddling vehicle, as opposed to the Clinton Foundation? Where's the justice in that? Not that I'm cynical.
2016
Policy
Trump emits key MMT talking point:

Trump on his debt proposal: "First of all, you never have to default because you print the money."

— Phil Mattingly (@Phil_Mattingly) May 9, 2016

Now the only candidate who's lagging on MMT is… Clinton. Exactly as with TPP. Maybe she'll evolve….

"The Clinton campaign is still trying to figure out exactly what Sanders wants in exchange for rallying his supporters to her side. In recent weeks, he's suggested that Clinton can't expect them to just fall in line, but he hasn't enumerated exactly what he believes would draw them in. He hasn't said which of his policy positions is most important for her to adopt or at least shift closer toward, or what other moves she could make that would satisfy him" [Bloomberg]. Sanders voters are not "fans." They're policy oriented, which is why Sanders has been able to cut across identitarian siloes. Now, how Clinton puts skin in the game on Sanders policies while at the same time seeking money from Republican funders is an open question, though in my view already answered: She'll go with the money, and if that takes doing a Sister Souljah on Sanders and his voters, so be it.

"The Antiterrorism and Effective Death Penalty Act of 1996 — or AEDPA — was signed by Bill Clinton in the wake of the Oklahoma City bombing. While it has been mostly absent from the recent debates over the crime policies of the '90s, its impact has been no less profound, particularly when it comes to a bedrock constitutional principle: habeas corpus, or the right of people in prison to challenge their detention" [Portside]. Which is important, given, say, the Innocence Project.

"Poll: 6-in-10 oppose bills like the North Carolina transgender bathroom law" [CNN]. Which Cruz tried to make a centerpiece of his campaign when it was in its death throes, and apparently Trump doesn't care about one way or the other.

"'There's nobody left': Evangelicals feel abandoned by GOP after Trump's ascent" [WaPo].
Money
Boehlert = Media Matters which, sadly = Brock.

can't wait for Trump to release transcript for the single speech that he was paid $1.5M to give https://t.co/aONNH0LU8r

— Eric Boehlert (@EricBoehlert) May 9, 2016

So Trump and Clinton are peas in a pod. Is that Boehlert's point?

"Facebook Confirms it Will Sponsor Trump's Republican National Convention" [Fortune]. "But according to a statement by Facebook's Erin Egan, the company's continued support is not about endorsing a platform, but instead about facilitating 'an open dialogue among voters, candidates, and elected officials during the conventions.'" Odd. Facebook doesn't seem to want an open dialog on anything else.
The Voters
"Yet hard-fought presidential races come down to small margins in swing states. The difference between losing 97% of black women and only losing 90% could prove decisive" [Kimberley Strassel, Wall Street Journal, "A Republican Party Playbook to Win in November"]. "The rub is that winning over even those 7 percentage points will require an all-out, aggressive campaign—the likes of which no modern Republican presidential candidate has waged."

"The Democrats Are Built to Win" [Peter Beinart, The Atlantic]. "Never before in modern American history have the political parties been as polarized along racial lines as they are right now." A paean to identity politics ("identitarianism"?).

"In nearly every state in the nation, autonomous grassroots organizations began campaigning for Sanders months before his campaign established any official presence on the ground. Ranging from state-level organizations such as Illinois for Bernie and Team Bernie NY to city and even neighborhood groups, they brought together thousands of volunteers—many of whom had never participated in electoral politics—to work together toward a common goal" [In These Times]. "Now, those organizations are beginning to build coalitions with labor, socialist parties and progressive groups to set a post-election agenda for the political revolution. To that end, National Nurses United, which endorsed Sanders, is organizing a People's Summit on June 17 in Chicago, while the People's Revolution, a group founded by former Occupy organizers, is hosting a People's Convention in Philadelphia two days before the Democratic National Convention in July. As with any project to unite the Left, however, these efforts must first grapple with long-standing divides around tactics and priorities."

"The year of the hated: Clinton and Trump, two intensely disliked candidates, begin their face-off" [WaPo]. Hated by everybody except the political class, who hate Sanders, unlike the dull normals.

"Clinton's wonky policies of fine-grained complexity contrast with rivals' grandiose ideas" [WaPo]. Yeah, "grandiose." Like Medicare for All; those Canadians are floridly delusional. And tuition-free college! You know how Germans are; volatile. The article is actually interesting on theories of change:

"Clinton has called out Trump for relying on mass rallies instead of one-on-one conversation with people" [AP]. Clinton has been spectacular at reframing weaknesses — here, an inability to draw large crowds — as strengths. This seems different from 2008.

"Misperceiving Bullshit as Profound Is Associated with Favorable Views of Cruz, Rubio, Trump and Conservatism" [PLOS One]. Apparently, the Bullshit Receptivity Scale (BSR) is a thing. And the article is dated April 29. Not April 1.

And speaking of bullshit: "Labor leaders, progressive groups and Democratic operatives told Reuters in interviews that they took seriously Trump's appeal with white working-class voters and were studying how to respond to his promises to create jobs and negotiate better trade deals" [Reuters]. Need scare quotes round "labor leaders" and "progressives," no? See the TPP section above for more.
California
Polling: Real Clear Politics poll of polls; HuffPo poll of polls.

"East L.A. Latinos tell Hillary Clinton to deport herself from the neighborhood" [Fusion]. Incredibly, some viewed Clinton's mariachi band as pandering. ""Latinos were protesting outside, and Hispanics were inside [with Hillary Clinton]," said [Herbert Siguenza, who was demonstrating outside and is one of three members of the Latino/Chicano comedy troupe Culture Clash], who said the label Hispanic was a more conservative 'government establishment term' assigned to people of Spanish-speaking countries." Hmm. Readers?
The Trail
"[David Brock's] Correct the Record, a super PAC coordinating with Clinton's campaign, is spending some $1 million to find and confront social media users who post unflattering messages about the Democratic front-runner" [Los Angeles Times]. "The plan comes as Clinton operatives grapple with the reality that her supporters just aren't as engaged and aggressive online as are her detractors inside and outside the Democratic Party." On the Twitter, look for an egg and "pragmatic" in the bio. The hash tag: #MillionDollarTroll.

"On the heels of his Indiana victory Tuesday, Sanders is well-positioned for wins in the upcoming West Virginia and Oregon primaries" [Politico]. "'We're going to stay in until the last vote is counted, and that will be in the [June 14] primary in Washington, D.C.,' Sanders said in an interview Wednesday with NPR's Steve Inskeep." I think it would be hilarious if Sanders won D.C., not least because that would be an organizing feat valuable not just this year, but for years to come. Think about it.

UPDATE "Sanders supporters sue Nevada Democratic Party" [Las Vegas Sun (MR)]. "The plaintiffs, who missed the deadline to file for party election, allege the party kept the deadline secret in violation of the party's delegate selection plan, which calls for full notice of deadlines and application procedures for party office." I can't speak to the merits of the case, but if the Clinton campaign is serious about reaching out to Sanders voters, they'll resolve this — and the New York mess, as well — rapidly and in a transparent manner.
Clinton Email Hairball
UPDATE "The FBI will be interviewing Clinton in the coming days" [ABC]. "Law enforcement sources tell ABC News that so far they are not aware of any evidence indicating criminal wrongdoing. The FBI's upcoming interview with Clinton, who is well coached on the issue, is unlikely to change that." Good wrapup. But:

The State Department's inspector general concluded two months ago that Secretary Colin Powell and aides to Secretary Condoleeza Rice handled classified information on private email accounts. At the time, both secretaries made arguments similar to those of Secretary Clinton — that the information was being over classified.

Having an email account is different from having an email server. Controlling your data means you can delete it, which Clinton did to 30,000 of her emails.
Stats Watch
Labor Market Conditions Index, April 2016: "Employment has been the economy's central strength but has not been in the positive column for the labor market conditions index which remains in contraction for a 4th straight month" [Econoday]. "Still, this is an improvement from March… The index, experimental in nature, is a broad composite of 19 separate indicators and, as yet at least, is rarely cited by policy makers. "
Employment Situation: "American employers signaled their caution about a sluggish economy by slowing their pace of hiring in April after months of robust job growth" [AP]. "At the same time, companies raised pay, and their employees worked more hours — a combination that lifted income and, if sustained, could quicken the U.S. expansion." But: "The chart shows the year over year and ongoing deceleration that in general began when oil capex collapsed" [Mosler Economics]. "Nor will there be a reversal until after deficit spending increases- public or private- and I see no evidence of that happening."
Employment Situation (from Friday): "Friday's US payroll data were a little soft but well within any reasonable person's confidence interval" [Socgen, Across the Curve]. "Markets meanwhile, rely on this precarious combination of data – weak enough to keep the Fed in easy mode, but not so weak as to heighten fears of global economic slowdown. Worse, risk sentiment is increasingly sensitive to statistically irrelevant gyrations in the data. …. Friday's data were just about within the range of outcomes that keeps markets balanced but if a mere 50k 'miss' is enough to make everyone nervous, it's just a matter of time before we see a bigger shock and more volatility."
Banking: "The shock resignation of Lending Club founder and chief executive Renaud Laplanche on Friday capped a grim few days for marketplace lending" [Euromoney]. " As well as reporting its first quarter numbers, Lending Club announced that the sale of $22 million loans to a single investor ($15 million in March and $7 million in April) breached that investor's express instructions and – shockingly – certain personnel at the firm were aware that the sale did not meet the investor's criteria. Three senior managers at the firm have now either resigned or been fired."
Banking: "The financial crisis has been a cash cow for central banks. They are turning record profits, bolstered by income from their bulging asset and loan portfolios and, more recently, from charging banks for making deposits" [Wall Street Journal, "Windfall for Central Banks Fuels Political Pressure"]. Hmm. Seems like incentivizing banks for financial crises might be a bad thing?
Banking: "In [Mervyn King's] decade-long tenure, which ended in 2013, the Bank of England became, and remains, the most trustworthy institutional narrator of events in global finance. It's the one place on the inside of global finance where employees don't appear to be spending half their time wondering when Goldman Sachs is going to call with a job offer. For various reasons, they don't play scared. One of those reasons, I'll bet, is King" [Michael Lewis, Bloomberg]. Review of King's book….
Banking: "It is not every day you read a book about global finance by a banker who quotes Lenin approvingly on page two" [Financial Times, 'The City', by Tony Norfield]. Another review.
Banking: "The U.S. is now in its eighth year since the Wall Street bank collapse of 2008 and most members of the general public believe the bailouts are long finished. That's a fallacy" [Wall Street on Parade]. "Then there is the Federal Reserve's balance sheet which pre-crisis stood in the neighborhood of $800 billion and today stands at $4.5 trillion. Making up the bulk of the assets on the Federal Reserve's books are the U.S. Treasury securities and mortgage-backed securities (MBS) issued by Fannie Mae, Freddie Mac and Ginnie Mae that the Fed sopped up from markets choking on the stuff during the crash." Part of the Big Shitpile, as Atrios used to call it. "Holding the rest of the country hostage to make Jamie Dimon and Lloyd Blankfein happy can only, inevitably, usher in the next crash and bailout and permanent loss of confidence in the U.S. financial system." Apres moi….
British humor:
You will have probably seen this before, but the FT's "Page not found" message is unimprovable. pic.twitter.com/uwZwopMl0y

— Stig Abell (@StigAbell) May 7, 2016
Today's Fear & Greed Index: 60, Greed (previous close: 60, Greed) [CNN]. One week ago: 69 (Greed). (0 is Extreme Fear; 100 is Extreme Greed). Last updated May 9 at 11:49am. The doldrums.
Corruption
"The names of more than 200,000 offshore companies found in the Panama Papers leak are being made accessible to the public Monday through a searchable database." [Chicago Tribune]. At 2:00PM EDT!
Gaia
"Combined with erosion caused by loggers and now-rising seas, since 1955, about 90 percent of [Isle de Jean Charles] original land has sunk" [Nonprofit Quarterly]. "As such, the residents will be the first "climate change refugees." The Department of Housing and Urban Development allocated the town a $48 million grant for the resettlement, which is part of part of $1 billion set aside to help communities living under the threat of rising sea levels." Somehow I think Miami will need more. Makes you think that maybe all the globalist squillionaires who bought Miami real estate weren't so stupid after all, doesn't it?
The Jackpot
"An unprecedented number of workers at Hanford have been exposed to dangerous chemical vapors since Thursday, April 28. In one week's time a total of 47 people either sought medical attention after suffering symptoms due to chemical vapor releases or as a precautionary measure" [King5]. "Workers sickened by the sudden release of toxic gasses at Hanford has been a problem for nearly 25 years, but those familiar with the nuclear site cannot remember so many people falling victim in such a short period."
Class Warfare
Zeitgeist Watch: "Economic anxiety" seems to have entered the lexicon, as a shorthand for why people might, for example, oppose trade deals. When you hear it, think "class warfare."
"American consumers aren't what they used to be — and that helps explain the plodding economic recovery. It gets no respect despite creating 14 million jobs and lasting almost seven years. The great gripe is that economic growth has been held to about 2 percent a year, well below historical standards. This sluggishness reflects a profound psychological transformation of American shoppers, who have dampened their consumption spending, affecting about two-thirds of the economy. To be blunt: We have sobered up" [Robert Samuelson, WaPo]. "A bad outcome would be a vicious circle of rising saving and falling returns, leading disappointed households to save even more." Says the guy who also wants to cut Social Security!
"Fights on planes 400% more likely when there's a first class section" [Boing Boing].
"However, De Montfort University may have resolved such intractable issues by charging staff to use its new staff common room." [Times Higher Education]. Why stop there? Lee Jones comments: "Just another step in the conversion of academics from salaried professionals to self-financing subcontractors."
"The housing situation in Metro Vancouver has reached a crisis point. As this report lays out, the city has become one of the least affordable places to live in the developed world, and the crisis shows little sign of abating. The standard measure of housing affordability is an average house price to average income ratio of around 3 or lower. A ratio over 5 is considered 'seriously unaffordable'. Vancouver currently sits at 11-13, depending on the measure" [Vancouver's Housing Affordability Crisis: Causes, Consequences and Solutions (PDF)].
More purges in the newsroom:
Here's the cartoon that cost an #Iowa farm cartoonist his job, he says: https://t.co/ozuDw1gcjr pic.twitter.com/IFaO2Tgca9

— Durrie Bouscaren (@durrieB) May 3, 2016
News of the Wired
"Boaty McBoatface will live on as [a remotely operated sub-sea vehicle], polar research vessel's official name [RRS Sir David Attenborough] revealed" [Splash247]. I'm a hawk: "Boaty McBoatface" should be the name of the vessel, and "Sir David Attenborough" the name of the remotely operated vehicle.
* * *
Readers, feel free to contact me with (a) links, and even better (b) sources I should curate regularly, and (c) to find out how to send me images of plants. Vegetables are fine! Fungi are deemed to be honorary plants! See the previous Water Cooler (with plant) here. And here's today's plant (Phil H):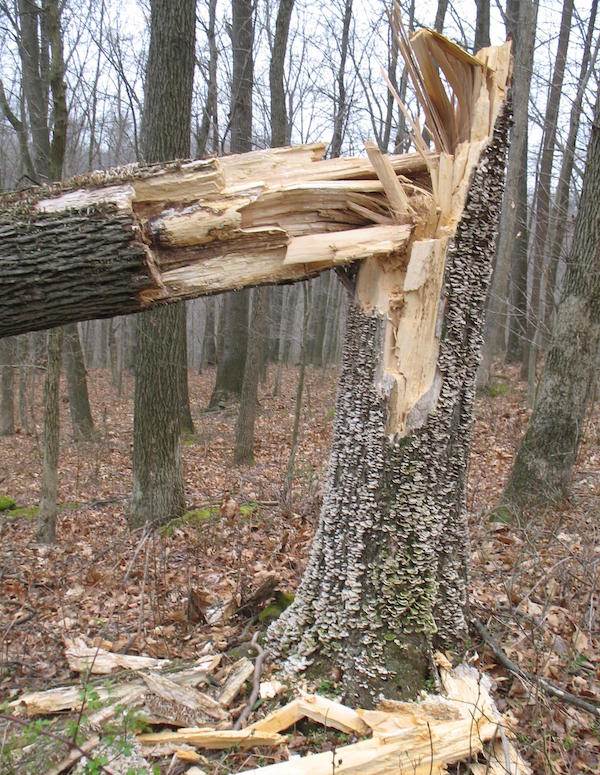 Phil writes:
Recent high winds snapped off the top of a tree a few feet above ground level. The tree had died a few years ago & has smallish bracket fungus growing on the stump. The bits of greenery in the foreground are wild rose (Rosa multiflora) just leafing out. The roses are a weed here in our part of Ohio. Photo taken early last month, April 2016.
* * *
Readers, Water Cooler will not exist without your regular support. Your tip will be welcome today, and indeed any day. If you enjoy what you're reading, please click the hat!