By Lambert Strether of Corrente.
TPP/TTiP/TISA
"PM John Key launches TPP charm offensive ahead of trade deal law changes" [New Zealand Herald].
"French President François Hollande threatened on Sunday (1 May) to reject the ambitious TTIP trade pact if it endangers the future of French agriculture, triggering similar warnings from the US regarding exports of farm produce to Europe" [Euractiv].
"Every single publicly voiced suspicion concerning the lack of transparency in these TTIP negotiations has been justified by the revelations stemming from the leak. If the Commission had the intention to really stand up for the interests of European consumers, European manufacturing industries and in particular small and medium-sized enterprises, they should welcome critical contributions from many NGOs and the broader public in general. But instead, by keeping the public ignorant about the truth of the negotiations they only manage to weaken the European negotiating position. Obviously, the Commission cannot be trusted to be a good steward for European interests in the political battle over TTIP. Not on ISDS, not on regulatory cooperation, not on good protection standards" [European Greens].
"Report of the 17th TiSA negotiation round 10–15 April 2016" (PDF) [European Commission]. Seems to be rolling along, although this is the official report.
"TTIP leaks update: Greenpeace response to Commission statements" [Greenpeace]. A good wrap-up.
"TTIP trade talks 'likely to stop', warns French minister" [BBC].
National Pork Producers Council on TTiP: "We publicly support these talks. There's great potential here, but … we're not going to accept anything other than removal of all the barriers on our products" [Politico].
2016
Policy
"In America, this Soviet-style foreign-policy nomenklatura system has helped the post–Cold War foreign-policy elites in the Republican and Democratic parties to develop a sense of entitlement wholly disproportionate to their accomplishments. How difficult was it to run America's foreign policy during an era of virtually unquestioned dominance? Why—with so many advantages—have our elites produced so many failed policies? And why do they feel no shame?" [The National Interest]. The National Interest hosted Trump's speech. Their reaction: "His remarks outlined a fundamental break with post-Cold War U.S. foreign policy and offered an alternative vision with considerable appeal to a frustrated public, if less to the elites who have defined, articulated and implemented policy through three administrations run by both major political parties."

The sentence sorta popped out at me in a think piece otherwise about productivity: "As best I can, I cover the path back to functional democracy…" [Jared Bernstein, WaPo]. Yikes!

Seymour Hersh: "I've been told there are many more forces in Iraq than we're publicly announcing, including even some elements of one of our airborne divisions. What the hell? As usual, we don't really know what the game plan is" (interview) [Democracy Now!]. (Here's another one from the This is Hell podcast. Hersh is a hoot!)
Money
Or not?

Trump: "Do I want to sell a couple of buildings and self-fund? I don't know that I want to do that necessarily." pic.twitter.com/a8q7RpNhAo

— Sopan Deb (@SopanDeb) May 4, 2016
The Voters
"I Know Why Poor Whites Chant Trump, Trump, Trump" [STIR]. I'm not sure, but the anecdote that begins at "Luckily, life often has a way of turning stereotypes on their heads, if we pay attention" (search on it) is riveting.

"President Obama insists—rightly—that the U.S. has done much better than most other advanced economies. Unemployment has come down further than in Europe, and GDP has risen faster" [William Galston, Wall Street Journal, "How Obama's Economy Spawned Trump"]. "But most Americans are not comparing the U.S. performance with that of other countries. They are comparing it with previous recoveries in this country, and they are evaluating it in light of their own circumstances. They are painfully aware that their household income is still lower than it was at the end of the Clinton administration and that the jobs many of them have gotten during the recovery pay much less than the jobs they lost during the recession."

"Both of these transformations owe much to the same root cause: the failure of elites to appreciate the damage wrought by globalization and technology, and their inability to understand that a great many people do not share their value systems" [Real Clear Politics]. "You can see the problem with the solutions offered in Hillary Clinton's promise to retrain coal miners as she shifts us from a fossil economy; this may sound great to a think tank analyst, but a coal miner sees his life fundamentally altered in ways that may not be for the best. This tendency becomes more marked as elites retreat into gated communities or carefully policed enclaves in cities, stop interacting with people who disagree with them on cultural issues, lose their ability to empathize, and see disagreement transform to disdain." And disdain to hate.

"I believe Republican primary voters are protecting their party. Just as voters knew they could avoid impeachment by approving of Clinton's job performance, GOP voters have decided that the only way to prevent a disastrous convention is to line up behind Trump and give him the path to the magical number of 1,237 delegates" [Real Clear Politics]. Well, it's an interesting idea…
The Trail
I have to say I underestimated how rapidly Republican opposition to Trump would disintegrate; I suppose it's theoretically possible for some skullduggery to occur in Cleveland, but…

"Senior Adviser: John Kasich to Suspend Presidential Campaign" [NBC]. Although he's still waiting to see how Trump's FBI investigation turns out. Oh, wait…

"If we were talking about ANY OTHER LIVING BEING, you would have sympathy for what Cruz just endured. Trump called his wife ugly. Trump accused his father of helping to assassinate JFK…. Even his children run away from him on the podium." [GQ]. But, schadenfreude: "It was Cruz who led the Tea Party charge to infiltrate the American government and then destroy it by cutting the power lines. It was Cruz who shut down Congress and left us on the brink of default for two weeks back in 2013. This is a faction of the Republican Party that demands zero government, and zero compromise in the pursuit of that goal. And Cruz, as much as anybody, has whipped them into the kind of irrational froth that Trump now manufactures on an hourly basis. No one plays the "no surrender" card better or more often than Trump. And the concocted Tea Party faction, Cruz included, lives for that kind of shit. That's why, when the dust has settled, Cruz will slither back into the fray and be right there at Trump's side come July. They are of a kind."

"[Trump said] he had seen a picture of [the elder Cruz] with the man who killed President John F. Kennedy. The picture in question ran in the National Enquirer, and the tabloid's identification of Rafael Cruz is utterly uncorroborated, a point that Fox's Brian Kilmeade feebly tried to make as Trump continued speaking. 'What was he doing with Lee Harvey Oswald shortly before the death, before the shooting?' Trump said. 'It's horrible!'" [The New Yorker]. All I want to know: How did Roger Stone plant this story? Are there no limits to the powers of this wonder man?

"Here's a sentence I never thought I'd write: Ted Cruz is exactly right. Donald Trump is a serial fabulist of a scope virtually unseen in modern U.S. politics" [US News]. From Robert Schlesinger, "managing editor for opinion at U.S. News & World Report."

"Around Washington, chatter about the possibility of an independent run by a traditional conservative is becoming louder. It is fueled in part by the business end of the political cycle: Campaign consultants eagerly await — and financially plan for — the quadrennial, billion-dollar payday that is a presidential election" [HuffPo]. "But there are also political reasons to run an independent candidate. A traditional conservative on the ballot who could peel a few points away from Trump would virtually assure Hillary Clinton of victory — giving business-minded conservatives who prefer Clinton a way to support her without having to support her directly. As importantly, a third-party conservative candidate could potentially draw in Republican voters disaffected by having Trump on top of the ticket, thereby giving a much-needed boost to down-ballot candidates." So, if three, why not four?

Elizabeth Warren: "I know which side I'm on, and I'm going to fight my heart out to make sure Donald Trump's toxic stew of hatred and insecurity never reaches the White House" [Facebook].

"Republicans can afford to lose only a net of three Senate seats to hold their majority, and the party is already defending seven states — Illinois, Wisconsin, Ohio, Pennsylvania, New Hampshire, Florida, and Iowa — that President Barack Obama won twice" [Roll Call]. "[M]any of the men and women running Republican Senate races are still uncertain about what to expect from the unpredictable Trump. They don't know, for example, if he plans to build a ground-game in battleground states or share voter data."

"When you have two well-known and poorly regarded candidates running against each other, it means only one thing: It's not about winning, it's about making the other guy (or gal) lose. Neither Trump nor Clinton has much of a chance — given their unfavorable numbers — of convincing voters to make an affirmative choice for them" [WaPo]. "Both Clinton and Trump offer a target-rich environment for that sort of race-to-the-bottom campaign."

"In an average of the individual polls listed, Clinton beats Trump by 6.2 points versus a Sanders' margin of victory of 13.6 points" [Wall Street on Parade]. "But one thing is for sure now. Corporate media's efforts to shame Sanders into withdrawing from the race and allowing the Clinton coronation to proceed unchallenged, has simply strengthened Sanders' resolve."
Stats Watch
Not "(wonky)" at all: I was talking with Yves about the odd discrepancy between elite skittishness — see Bernstein up under 2016 Policy — and a crappy economy that seems destined to stay crappy forever but not get a whole lot crappier (in the sense of a 1929-style collapse, not ecological collapse). They're really Nervous Nellies! But what about? It's not like 2007 at all, where the colder-eyed observers — Yves very much among them — could, Michael Burry-style, call the coming SHTF episode. Where are the out-of-band, misallocated capital flows that would make the owners of capital nervous? Nobody seems to know, exactly. (Gillian Tett, Financial Times, "The tiny shifts that can signal huge changes"). Then it hit me: "Political risk is the mother of all capital flows." An explanation, then, too obvious to see? (This idea applies, perhaps even especially applies, to China.) Readers?
ADP Employment Report, April 2016: "Consumer spending and economic growth are slowing and now the labor market, at least based on ADP's estimate, is softening. ADP sees private payrolls rising only 156,000 in April for what would be one of the weakest prints of the economic cycle and the lowest since 142,000 in February 2014" [Econoday]. This index, "whose reputation as a leading indicator isn't perfect, has nevertheless been on a 4-month hot streak and today's report is certain to raise talk of trouble for Friday's employment report." It would be hilarious if, after 8 years, the Democrats were given a second response to butcher their response to a recession, and hand 93% of subsequent gains in the recovery to the 1% again. And: "[T]here is no question that this was a weaker jobs report than expected" [Econintersect].
Productivity and Costs, Q1, 2016: "The nation's output is slowing despite an increase in hours worked in what is the latest signal of structural weakness for the economy. Productivity fell at an annualized 1.0 percent rate in the first quarter for the 4th decline of the last six quarter" [Econoday]. (My speculation: "Workers to managers: 'Screw you, Jack.'" Or Jacqueline, as the case may be.) Econintersect doesn't like the methodology, but nevertheless: "Even though a decrease in productivity to the BLS could be considered an increase in productivity to an industrial engineer, this methodology does track recessions. The current levels are well above recession territory" [Econintersect]. In terms of economic modeling: "If productivity growth is a full percentage point slower than pre-crisis, then the 'normal' wage growth figures should similarly be a full percentage point lower" [Amherst Pierpont Securities, Across the Curve]. Actually, no. Workers need a make-good.
Factory Orders, March 2016: "Factory orders rose a solid 1.1 percent in March but follow a downward revised 1.9 percent decline in February" [Econoday]. "March's report got a major lift from a 49 percent jump in defense goods." And: "US Census says manufacturing new orders improved. Our analysis says sales declined. However, the rolling averages improved, but remain in contraction" [Econintersect]. However: "
ISM Non-Mfg Index, April 2016: "ISM non-manufacturing has been among the strongest indicators on the calendar and once again showed strength in April" [Econoday]. "And the strength is centered where it must be, in new orders." With a gain in employment. And: "Important internals were mixed but remain in expansion" [Econointersect]. And: "This performance showed a marked divergence from the manufacturing survey released earlier this week and helps to reinforce the narrative of continued domestic momentum in the US economy" [TD Securities, Across the Curve].
PMI Services Index, April 2016: "The services PMI for April came in at a soft but still expansionary plus-50 reading" [Econoday].
International Trade, March 2016: "The nation's trade gap narrowed in March but, unfortunately, is not a positive for the economic outlook" [Econoday]. "Contraction in imports, though a positive for the gap, is however a negative indication for domestic demand, especially in this report as consumer goods show unusual weakness. And indications on foreign demand are also negative." And: "The unadjusted three month rolling average value of exports decelerated and imports accelerated (but all rolling averages are in contraction). Many care about the trade balance which improved because exports collapsed less than imports" [Econintersect].
MBA Mortgage Applications, April 29, 2016: "Purchase applications for home mortgages managed to rise 1.0 percent in the April 29 week, but refinancing continued to decline" [Econoday].
Gallup U.S. Job Creation Index, April 2016: "Employed Americans' reports of hiring activity where they work were essentially unchanged in April, keeping Gallup's Job Creation Index near its highest level ever recorded" [Econoday]. "New orders bounced up from a survey low in March while business activity also improved. Not improving, however, and echoing this morning's ADP report is employment," reflecting contraction in backlogs.
Shipping: "It could get a whole lot worse" [Splash247]. "Up to now, we have been able to count on a secular trend of rising demand – our version of Moore's Law is that ton mileage doubles every 15 years. This rise in demand has tended to bail us out by mopping up excesses in newbuilding…. The state of the global economy suggests that we may be coming to the end of that regular doubling of ton mileage, which has been driven by globalisation – specifically the homogenisation of demand and the globalisation of sourcing – as there is a move to deliberately manufacture as close to where the demand is as possible."
The Fed: "[T]he domestic economy is no longer the Fed's sole consideration in policymaking. On the contrary, America's monetary authority has all but explicitly recognized a new mandate: promoting global financial stability" [Project Syndicate].
"Janus' Bill Gross: 'Helicopter money' is coming in a year or so" [Futures].
"[T]he product front, it seems that the only people on this planet who remain surprised and awed by Apple's "clandestine" device updates are tech journalists and bloggers, and I'm beginning to think they're faking it" [Recode]. All I want from Apple is that they'd stop making OS X a smidge crappier with every "upgrade." And bring back the MagSafe connector, so — follow me closely here, Tim — I don't trash a two-thousand laptop when I trip over the power cord. Oh, and stop equating better with thinner.
"The Internal Revenue Service (IRS) is going to hire between 600 and 700 new employees focused on tax enforcement, the agency's head announced" [The Hill].
Today's Fear & Greed Index: 57, Greed (previous close: 65, Greed) [CNN]. One week ago: 72 (Greed). (0 is Extreme Fear; 100 is Extreme Greed). Last updated May 4 at 11:45am. A stronger retreat.
Water
"Las Vegas Is Betting It Can Become the Silicon Valley of Water" [Los Angeles Times]. "A hub of water innovation." Silly. We're not going to invade Canada and take their water from Las Vegas; it's too far south.
Gaia
"One way to look at that when I talk to people is to say, "What is the signaling molecule?" All cells in the body communicate by releasing various kinds of signaling molecules, like a hormone is a signaling molecule that travels through the blood and the pancreas can communicate with cells in the body by releasing insulin and telling them to get ready for the cells to be ready for sugar." [Ganjapreneur]. "We came to find in the '90s that nearly every brain cell, the neurons of the brain release these molecules that we call endocannabinoids that act in many ways like THC does to turn down excitability, excessive activity that can be toxic in the brain, and to mediate processes like perception and learning and memory. They're kind of like the body's own cannabis molecules in a sense. They've been called the body's internal marijuana. There's a good reason to say it that way."
"Lakota Lead the Fight Against the Dakota Access Pipeline" [Truthout]. The tribes have done great work protecting the Penobscot, in particular from landfills.
"BP on Tuesday yielded in its almost two-year-long resistance to paying damages to US Gulf Coast seafood industry stakeholders" [Splash247].
The Jackpot
"Missing: The Curious Anomaly of Tiffany Whitton's Disappearance" [Esquire]. Excellent long-form reporting that reads like The Peripheral with the fairytale romance party left out, and very much like Dylan Roof's milieu. The future is here. It's just not evenly distributed…
"Fukushima No. 1 plant's ice wall won't be watertight, says chief architect" [Japan Today].
Guillotine Watch
"Silicon Valley CEO Says He'd Make Low-Income Vendors Lives 'Miserable,' Brags About Driving Out Family of Recyclers" [Alternet]. Classy!
Class Warfare
"[O]ver 90 percent of the money raised by the two major candidates [for Chicago mayor] came from donors giving more than $1,000, and more than half (52%) came from donors outside of the city" [Demos].
"Another Nonprofit Craters Overnight in Wake of Failed Gates Experiments" [Non-Profit Quarterly]. School "innovation." "They were careless people, Tom and Daisy – they smashed up things and creatures and then retreated back into their money or their vast carelessness…."
News of the Wired
"Canadian scientists are now allowed to speak out about their work — and the government policy that had restricted communications" [Nature]. Stephen Harper was a horrible human being.
"How Irritable Are You? Take This Test to Find Out" [New York Magazine].
"Hedgehogs, the Keepers of Order and Knowledge in Slavic Fairy Tales" [Tiny Donkey]. With cute hedgehog picture.
"The future of apps is chatbots, and it's going to be terrible" [Guardian]. "[T]he mid-term success for many chatbots will be as a shield, protecting us from the reality that much of the benefits of automation are actually just low-paid grunt work from call centres in developing nations. Be nice to your bots; you never know when they're actually people." More gigs! Thank you, Mark! Thank you!
"[T]eenagers' experience in the mobile world largely parallels rather than supplants their experience in the physical world. Teenagers mostly use mobile devices to communicate with friends they already know offline. They can have bad online experiences, but they are the same sort of bad experiences they have offline" [Wall Street Journal, "No, Your Children Aren't Becoming Digital Zombies"].
"Neoliberal Tools (and Archives): A Political History of Digital Humanities" [Los Angeles Review of Books]. Important:
despite the aggressive promotion of Digital Humanities as a radical insurgency, its institutional success has for the most part involved the displacement of politically progressive humanities scholarship and activism in favor of the manufacture of digital tools and archives. Advocates characterize the development of such tools as revolutionary and claim that other literary scholars fail to see their political import due to fear or ignorance of technology. But the unparalleled level of material support that Digital Humanities has received suggests that its most significant contribution to academic politics may lie in its (perhaps unintentional) facilitation of the neoliberal takeover of the university.
* * *
I think I fixed my fershuggeneh contact form below. Just to keep the NC comment section clean, will only those who already have my email address tell me if they have issues, using email? Thank you!
Readers, feel free to contact me with (a) links, and even better (b) sources I should curate regularly, and (c) to find out how to send me images of plants. Vegetables are fine! Fungi are deemed to be honorary plants! See the previous Water Cooler (with plant) here. And here's today's plant (Phil H):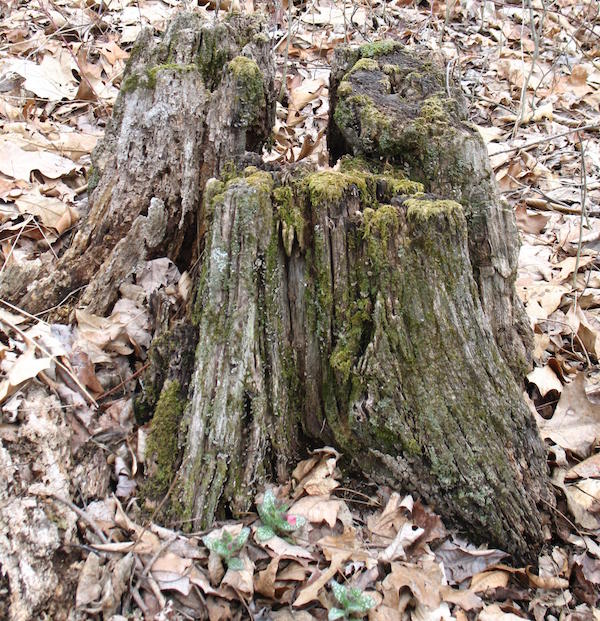 Phil writes:
Old, weathered, mossy, semi-disintegrating tree remains of unknown age, but that has to have been stumpified at least 40 years ago because that is when we purchased our property. The smallish plants in front of the stump are some emerging self-seeded Lungworts (Pulmonaria) that spread from a nearby flower bed.
Photogenic!
* * *
Readers, Water Cooler will not exist without your regular support. Your tip will be welcome today, and indeed any day. If you enjoy what you're reading, please click the hat!