If you think "debacle" is harsh, here's the Times front page (1:50AM, EST):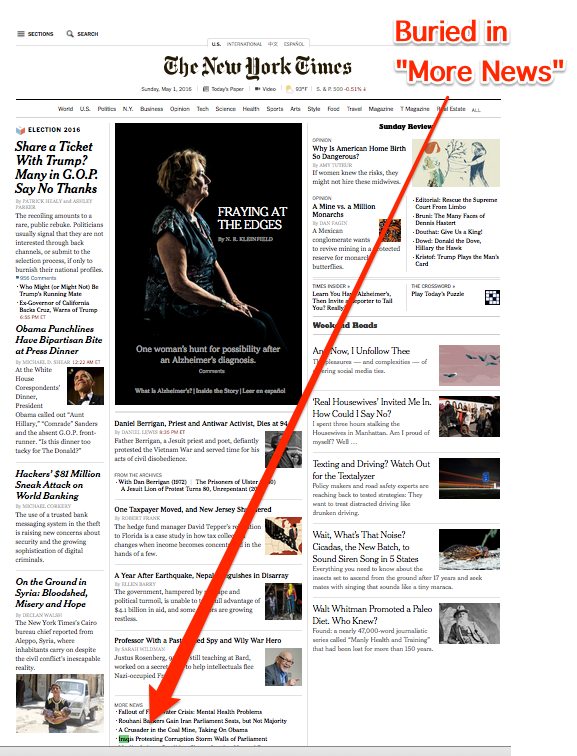 Perhaps the talking points have not been issued?
Iraq parliament stormed Deutsche Welle:
* * *
Readers, normally I'd put what follows in Links under Syraqistan, but since this is a major event, you might want a chance to talk about it. Please add thoughts and links in comments as the story develops.
Protests in Baghdad throw administration's Iraq plan into doubt WaPo. Lot of "whistling past the graveyard" quotes in here.
April 28: Vice President Joe Biden Visits Iraq Amid Political Turmoil Wall Street Journal. ""In the last few days, things have trended in a more stabilizing direction,' one official said. 'So it's actually a good time to be here.'"

April 29: Biden presses Iraq to not let political chaos upend gains AP
Hundreds of demonstrators stormed the heavily-secured Green Zone in Baghdad Reuters. "Hundreds" seems low. And although they broke down the concrete barriers in the Green Zone, the security services offered no resistance. So….
The initial breach was mostly peaceful, but around sunset security forces fired teargas and bullets into the air in an effort to stop more protesters from entering. Around a dozen people were wounded, police sources said.

A United Nations spokesman and Western diplomats based inside the Green Zone said their compounds were locked down. A U.S. embassy spokesman denied reports of evacuation.

Iraqi security personnel and Sadr's militiamen formed a joint force to control protesters' movement, a source in Sadr's office told Reuters. Most protesters had evacuated parliament and some were preparing for a sit-in in its courtyard, he added.

An army special forces unit with armored vehicles was dispatched to protect sensitive sites, two security officials said, but no curfew had been imposed.

All entrances of Baghdad were shut "as a precautionary measure to maintain the capital's security," another security official said.

Prime Minister Haider al-Abadi has warned that the months-long political crisis prompted by his efforts to overhaul the cabinet could hamper the war against Islamic State, which controls vast swathes of northern and western Iraq.
Protesters storm parliament in Iraq's Green Zone Al-Masdar News
Iraq Shia protesters camp out after storming Green Zone BBC. Tactically, this is a Capitol occupation, along the lines of Madison, Wisconsin. So "camp out" suggests that the "protesters" are in this for the long haul.
Sadr followers dig in inside Baghdad's Green Zone, political crisis deepens Reuters
Baghdad in State of Emergency After Supporters of al Sadr Storm Green Zone NBC and Baghdad Chaos: Protesters Topple Green Zone Walls, Storm Parliament (photo gallery) NBC
Who Will Rule Mosul? Foreign Policy. Just to show where our delusional foreign policy establishment was focusing….
* * *
Of course, it will be interesting to see how "Who lost Iraq?" plays out in election 2016. After eight years, Obama (and Clinton) own Iraq policy.