By Peter Beattie, ex-lawyer and current PhD candidate in political psychology, forthcoming book "Crooked Timber and the Broken Branch: Why Democracy Is Not Working"
A year ago, almost no one predicted that Bernie Sanders' campaign would ever pose a serious challenge to Hillary Clinton's nomination. Even fewer thought that a balding, white-haired, disheveled democratic socialist septuagenarian with a Brooklyn accent would become the clear favorite of young voters – particularly young female voters. Sanders seemed to come out of left field, and his gradual rise to virtual parity with Clinton in national polls has perplexed pundits – causing many to grasp at straws, while others ended up with their foot in their mouth. Hindsight being 20/20, today it may seem as though Sanders' formerly-unexpected popularity should have been more widely expected – but how? How did Sanders go from a marginal, small-state senator on the sparsely-populated Left of the US political spectrum – with a widely-agreed-to-be negligible chance of challenging Clinton – to coming uncomfortably close to upsetting her?
One hypothesis that can be disregarded is that the legacy media did the work of getting his message out. Last year, Sanders was effectively absent from television news, America's go-to source for political information. This year has been marginally better, but he still received less than half of Clinton's coverage. (Trevor Noah suggested that to get more TV coverage Sanders should try dressing as Trump's podium.) Nor did he get much help from newspapers (or Politifact). And the commercial theory of media bias – that the media slavishly focuses attention only on what its audience is interested in – doesn't seem to fit the data.
On the internet, however, Sanders has received roughly equal coverage since late 2015, with a slightly more positive tone overall than Clinton. But that's including news websites; on social media, Bernie is "breaking the internet". He dominates on reddit, facebook, twitter, and instagram (though Cosmo, while agreeing on objective metrics, points out that Clinton wins on instagram aesthetics, like posting cute animal photos). No wonder Clinton recently introduced to her social media strategy some tried and tested policies from countries around the world, by hiring some help.
I first became interested in the internet-Sanders connection while doing survey research on the relationship between economic knowledge and candidate preference. Unexpectedly, I found that degree of reliance on the internet for political information predicted greater support for Sanders over Clinton, even after controlling for the demographic usual suspects. With help from Matthew Zuk and Michael Tesler, I then looked at the correlation between Sanders' share of state votes and statewide internet access: it was a moderate-to-strong .687 (p < .01).
State-Level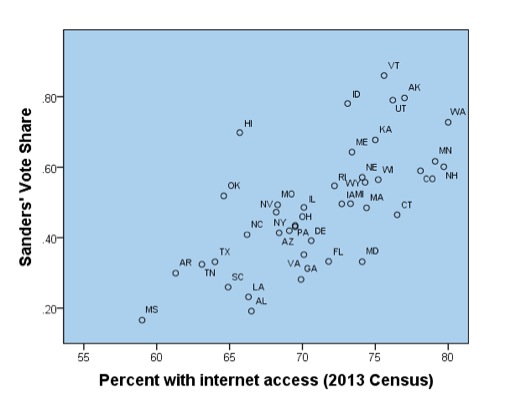 To see whether this correlation held at the county level, I used data from the National Broadband Map (NBM), along with county-level voting data from the caucuses and primaries that have taken place. Unlike the statewide Census data, which asked people whether they access the internet, the NBM data only measures broadband internet availability, without a measure of actual use. Nonetheless, on the county level, broadband availability is still significantly correlated with Sanders' vote share, albeit weakly at .167 (p < .01).
County-Level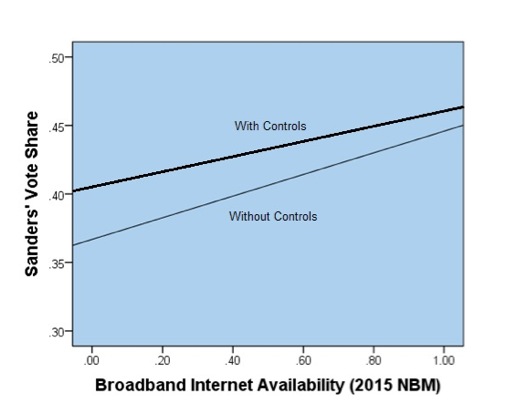 However, this correlation may be deceptive: thanks to the "digital divide", internet access also correlates with education, income, age, and race. To see whether there is any statistically significant effect of internet access after controlling for these demographic usual suspects of candidate preference, I created a model using education (percent of county with bachelor's degree), income (median), age (percent Millennial), race (percent Black), population density, whether the county had a primary or a caucus, and broadband internet availability to predict Sanders' share of the county vote.
Combined, these seven variables explained nearly 60% of the variation in Sanders' vote share across 2,190 counties; all were statistically significant, except for population density and age. As would be expected, a higher county median income and a greater percentage of Blacks in the county population predict fewer votes for Sanders, while having a caucus (versus a primary) and higher levels of education predict more votes for Sanders. Even after controlling for these factors, broadband availability still significantly predicts a greater vote share for Sanders.
Impact of Broadband Availability with Moderating Variables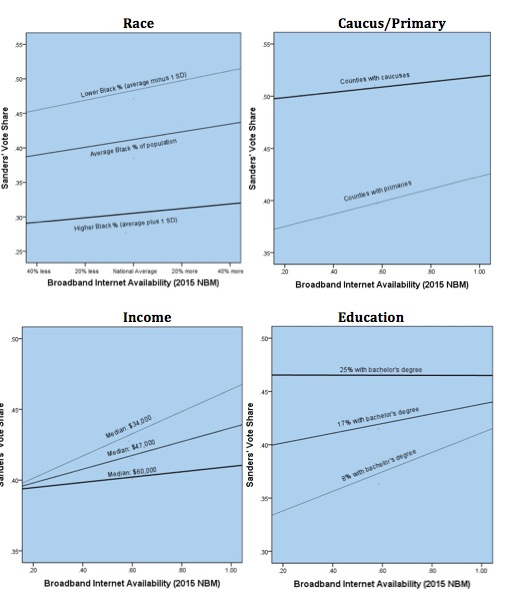 The graphs above display the model's predicted effects for broadband internet availability on Sanders' vote share, with differing levels of the other four significant variables. Reflecting Sanders' poor performance in southern states with higher percentages of Black Democratic voters, he does worse as the percentage of the Black county population increases; yet as levels of broadband availability increase, so too does his vote share. (The digital divide is particularly apparent in the South.) Sanders has done better in states with caucuses versus primaries, but in both primaries and caucuses he does better as broadband internet is more widely available. Sanders fares worse in wealthier counties overall, but as median income decreases, the effects of broadband internet availability on his vote share increase. A similar pattern is seen with education: when a quarter or more of the population has a bachelor's degree, broadband availability has no noticeable effect – but as levels of education decrease, broadband availability plays a larger role, mimicking the effect of education.
But… what is causing what?
Even with fancy models and statistical controls, this is merely a story of correlation – which may imply, but never prove, causation.
One hypothesis is that young people simply like to use the internet – and their preference for Sanders is unrelated to their internet use, owing instead to Sanders' promises of free healthcare and college, and not to send them off to war. Younger generations, after all, are more liberal than older generations. But if that hypothesis were correct, we would expect to see the effect of broadband availability being swallowed by another variable: the percentage of the county population comprising internet-addicted, Bernie-Sis-and-Bro Millennials. Instead, the Millennial population percentage is statistically insignificant, while internet availability remains significant. It would seem that even "the Olds" are feeling the Bern from the internet.
Another hypothesis is that some other, unrecognized variable highly correlated with broadband availability is driving voters to support Sanders. This hypothesis cannot be disregarded.
A third hypothesis is that the internet provides a significantly different ecology of information than television and newspapers – and this can produce different effects on the formation of political opinions. The vast breadth of the internet provides a far greater variety of facts (and lies), arguments (both sound and specious), perspectives (worthwhile and worthless), and interpretations (considered and kooky) than any television station or newspaper could hope to offer. Those who turn to the internet for political information have a greater chance of being exposed to ideas one may never find in the legacy media.
This point is obvious enough, but since we are talking about "unknown unknowns" here, an example may be helpful. Stephanie Kelton is a Sanders economic advisor, and a member of the Modern Monetary Theory (MMT) school of economics. Want to learn something about this influence on Sanders' likely economic policies? A LexisNexis Academic search of newspapers for the phrase "modern monetary theory" turns up 40 results (most from foreign papers), and a search for broadcast transcripts nets only 6 results. Meanwhile, a Google search for the same phrase turns up 71,100 results. Regardless of what you think (or more likely, don't think) of MMT, it is incomparably easier to learn about this influence on Sanders' economic ideas from the internet than through newspapers or TV.
In fact, there is a large body of research within political economy of media providing strong theoretical reasons to expect quite different effects from exposure to the internet as opposed to newspapers or TV. Take the anti-Sanders World Socialist Web Site: it reaches over 1 million people per day, nearly 40% from the US. Can you imagine a World Socialist TV channel or newspaper reaching 400,000 Americans? If you can't, you already know something about political economy of media.
If the legacy media is like a small boutique shop for political information, the internet is the world's biggest outlet mall, surrounded by endless miles of bazaar itself surrounded by endless miles of makeshift kiosks and garage sales. The internet is the closest thing humanity has to a free market of ideas. And it seems – with no small irony – that the candidate who went from rags to riches in this free market was the democratic socialist.