By Lambert Strether of Corrente.
TPP/TTIP/TISA
"'I think Obama will go to [Clinton] and say, 'I want to get it done and don't get in the way," said Bill Reinsch, a trade policy fellow at Stimson Center, a nonpartisan think tank. 'My guess is she will go along. … I don't think she'll say no" Not while she's facing the possibility of indictment, no [Politico]. "At the same time, TPP could be the trade-deal-that-must-not-be-named when Obama and Clinton barnstorm the country. 'My guess is when he campaigns with her, they'll talk about something else,' Reinsch said." Unless somebody asks them about it. One more reason the Democrat Party would rather just cancel the convention and move on.
"Google has just lent its support to the Trans-Pacific Partnership, an Obama administration policy priority facing significant hurdles in this fraught election year" [ReCode]. If Google runs true to form, it's going to be harder to find TPP information now than it already is. Not that I'm foily.
"Companies get big enough to influence the USTR to advocate for closed room deals that favor them. And Google is big enough to play that game. This public support of the TPP is a part of that game, but it's unfortunate. The company could have and should have taken a stand on this, noting the things that are important in the TPP, but also being honest about the disastrous IP section and other problems in the agreement (such as the corporate sovereignty provisions that will almost certainly come back to bite Google and others)" [TechDirt]. "There are good trade agreements to be made. And they can focus on things like protecting a free and open internet, and creating important safe harbors for communication and innovation. But the TPP is not that agreement — and it's disappointing that Google has decided to jump on board, rather than highlight the very clear and very real problems of the TPP."
"The White House Exaggerates the Benefits of the TPP to the Open Internet" [Council on Foreign Relations]. "[TPP] could help promote an open internet because it encourages cross-border information flows, bans data localization policies, and offers a means to challenge censorship and filtering as barriers to trade. However, the TPP signatories can continue to block, filter, or censor cross-border information flows by relying on TPP's broad exceptions. Moreover, the TPP says little about users or how to enhance their welfare online except to protect privacy. If the United States really wants to promote Internet freedom in its trade agreements, it should include language related to the regulatory context in which the Internet functions. By incorporating language to encourage interoperability, free expression online, the rule of law, and due process, trade diplomats can justifiably make a case that these rules safeguard digital rights."
2016
Policy
"Trump, Clinton and the Future of US-Vietnam Relations" [The Diplomat]. "Since World War II, the United States has been the purveyor of global public goods, such as developing international institutions, maintaining the freedom of the seas, promoting democratic values, and serving as an off-shore balancer to international conflicts." So, cui bono? Public goods for private benefit being the definition of corruption.

"Does Hillary Really Have the Foreign-Policy Advantage?" [The Atlantic].

"Obama says the border fence is 'now basically complete'" [Politifact (2011)].

Resolutions of the West Virgina Democratic Party State Convention (pdf).
Orlando Mass Shooting
UPDATE "Orlando shooter's imam is pro-Trump" [The Hill].

"Three of the most contentious questions in American culture and politics — gay rights, gun control and terrorism — collided in a horrific way in an Orlando nightclub early Sunday" [Karen Tumelty, WaPo]. "[I]t happened in a gay club, just two weeks shy of the first anniversary of the U.S. Supreme Court decision legalizing same-sex marriage, and on a weekend when cities across the country, including Washington, were holding gay pride festivals. It was perpetrated during the holy month of Ramadan by an American-born man whose family originally came from Afghanistan. During the attack, he reportedly made a 911 call pledging allegiance to the Islamic State. He did it with a handgun and an AR-15." Ticks all the boxes, doens't it?

"President Barack Obama says there's no clear evidence that the shooter at an Orlando nightclub was directed to conduct his attack or part of a larger plot" [Business Insider].

UPDATE "Exploiting Orlando" [The American Conservative]. A tweet collection with a gloriously self-cancelling last paragraphy. Speaking only for myself, tweets from people facing death isn't the kind of pr0n I prefer, dreadfully sincere youth heart-tuggingly hugging each other by candlelight isn't the kind of pr0n I prefer, and the hot takes of our political class are not the kind of pr0n I prefer. Snarl.

UPDATE "America's gun problem has everything to do with America's masculinity problem" [Quartz]. "Everything"? I dunno. Where I grew up, the ultimate masculine "role model," as we say, was the scholar. Right or wrong, that's blown away now, and not for reasons for which identity politics can give an account.

UPDATE "Omar Mateen bought guns used in Orlando gay club massacre from Florida store owned by retired NYPD officer" [New York Daily News]. That explains the T-shirt, I suppose.

UPDATE "Omar Mateen and Rightwing Homophobia: Hate Crime or Domestic Terrorism?" [Informed Comment]. Useful corrective on "domestic terrorism."
Corruption
"When RealClearPolitics talked to current and former lawmakers and Capitol Hill staffers about the leadership styles of Clinton, Pelosi, and Wasserman Schultz, the response often heard was: Just concentrate on Clinton and Pelosi" [RealClearPolitics]. I'm very happy to see a corrupt election fixed like Debbie "Taking One for The Team" Wasserman Schultz thrown under the bus making a soft landing on K Street, but shoving one hack through the revolving door doesn't exactly constitute a political revolution, does it? Granted, Rome wasn't burnt in a day.

"New Hillary Scandal Checks All the Boxes on the Clinton Controversy Bingo Card" [Slate]. Ka-ching.
The Voters
"Norman Lear Calls Donald Trump "The Middle Finger" Of America, Talks "Golden Age" Of Diversity On TV – ATX TV Festival" [Deadline Hollywood].

Google Autocomplete Revisited [Social Strategy].

"Sanders voters in California look for concessions from Clinton, but most will support her — if reluctantly" [Los Angeles Times]. Even the ones whose votes were suppressed?

"Clinton will have to work to sway Sanders' millennials" [Detroit News].

"Georgia Democrats seek DNC tickets for Hillary Clinton, Bernie Sanders" [Atlanta Journal-Constitution].

"Bernie Sanders should stop scheming" [Seattle Times]. Moar unity! (And who's funding Sanders challenger Al Giordano, anyhow? The challenge in the upstart's home district is a classic Democrat Party ploy.
The Trail
"[W]hy did Obama endorse Clinton when Sanders's body, politically speaking, was still warm?" [WaPo]. This: "[Obama] also knows that the longer a rump Sanders faction is left on its own, the longer it will take to focus on what he believes to be the real enemy: Trump in the White House." Making Sanders the real enemy. But then you knew that.

UPDATE True, this:

2016's presidential race = an Internet comments thread (Trump) vs. a ream of a focus-grouped talking points written by DC staffers (Clinton)

— David Sirota (@davidsirota) June 13, 2016

Now, anyhow. We used to have a candidate who delivered hour-plus "white papers with elbows" on policy, to cheering crowds in the tens of thousands, who would chant the good lines. Fortunately, that candidate has been suppressed. Alice in Wonderland:

Here one of the guinea-pigs cheered, and was immediately suppressed by the officers of the court. (As that is rather a hard word, I will just explain to you how it was done. They had a large canvas bag, which tied up at the mouth with strings: into this they slipped the guinea-pig, head first, and then sat upon it.)

`I'm glad I've seen that done,' thought Alice. `I've so often read in the newspapers, at the end of trials, "There was some attempts at applause, which was immediately suppressed by the officers of the court," and I never understood what it meant till now.'

So, like that.

UPDATE "Clinton Calls For 'Common Sense Gun Safety Reform' After Orlando Massacre" [Talking Points Memo]. Because "common sense ______ reform" has received the Good Focus Grouping Seal of Approval™….

UPDATE "'This is a moment for Republicans, Democrats and Independents to work together as one team. The American team. And it's a time for statesmanship, not partisanship,' [Clinton] said on MSNBC " [Wall Street Journal, "Hillary Clinton Bets the Political System Works"]. I'll just leave this here. From 30,000 feet, identity politics, as practiced by Democrats, makes that impossible even taking "multiculturalism and diversity" as unproblematic. I just can't figure out if it's hypocrisy or Orwellian doublethink.
Voter Suppression, Election Fixing, and Fraud
"Confessions of a Hillary Shill" [Reddit]. I wish this were better attested. Readers?

UPDATE "California Counts Millions Of Provisional And Mail-In Ballots, Counties Flip For Bernie And Nine More Superdelegates Drop Clinton" [The Inquisitr].
The Hill
"The number of executive orders by every U.S. president" [Daily Dot]. Obama has issued surprisingly few.
"Exclusive: Obama administration not pursuing executive order to shut Guantanamo – sources" [Reuters]. What a shocker.
Stats Watch
No interesting stats today. Carry on with your beach reading!
Employment Situation: "Which Labor Market Data Should You Believe?" [New York Times]. The unemployment rate vs. the (new) "Labor Market Conditions Index."
Shipping: "Demand [for air cargo] in general has been flat, but the bigger problem has been pricing: the rapid expansion of passenger fleets has added big amounts of cheaper bellyhold space to the market" [Wall Street Journal].
Shipping: "South Korea's president calls for 'bone-crushing' shipbuilding restructuring" [Splash247]. "'If we don't carry out a bold restructuring by downsizing the overgrown workforce… and cutting costs, the future of not only the shipbuilders but also the whole economy will be in jeopardy,' [South Korean president Park Geun-Hye] warned."
Shipping: "As Maersk Line Goes, So Goes The Container Shipping Industry" [James Sands, Seeking Alpha]. "[M]any in the industry are seeing anywhere of around 12 major shipping lines becoming the future for shippers to choose from once this pricing war ends. This is not just a fact of losers exiting the industry, but also of vessel sharing alliances, VSAs. In other words, there are going to be fewer choices for shippers once this pricing war comes to an end; and pricing power will be in favor of the carriers rather than customers as is the case today."
Shipping: "Major U.S. retail container ports are anticipating import cargo volume to be mostly down during the summer, but they should see a significant uptick just prior to the winter holiday season, according to the monthly Global Port Tracker report released last week by the National Retail Federation (NRF) and Hackett Associates" [Progressive Railroading]. Makes sense, assuming no strikes.
Housing: "Real estate inventory is extremely low in this current market. This has allowed the market to put upward pressure on prices even though sales volume is low. The idea of real estate correcting has once again been washed away from the cultural psychology. Home prices, the media, and house horny shoppers have once again turned real estate into a no lose proposition" [Dr. Housing Bubble]. "Once again we are in uncharted waters here. In the last bubble, we had record home sales, record home building, and record buying. This all actually makes sense from a 'market' perspective. Today, what is happening doesn't. What you have is acceptance that this is a rigged system. If prices are soaring, and inventory is tight, you would assume that builders would be out in force like last time. Yet builders don't believe the market. If they are building, it is in large part for renter households (because they believe income figures – they already got burnt last time chasing hype)…. The market right now is driven by hype and prices are set at the margins. Frothy markets can remain frothy for a long-time."
"Silicon Valley's Audacious Plan to Create a New Stock Exchange" [Bloomberg]. "[Eric Ries has] assembled a team of about 20 engineers, finance executives and attorneys and raised a seed round from more than 30 investors, including venture capitalist Marc Andreessen; technology evangelist Tim O'Reilly; and Aneesh Chopra, the former chief technology officer of the United States." For "long term" investment, unless it turns out to be a bait-and-switch.
Self-driving cars and the trolley problem [Vox]. "[M]oral behavior, in the real world, has much less to do with first principles than with wisdom, perceptiveness, and self-possession…. The way self-driving cars will be made more ethical, in practice, is the same way they'll be made more safe, efficient, and effective: by improving their sensors, communications, and learning."
"Microsoft to buy LinkedIn for $26.2 billion; LNKD shares jump 47%" [CNBC].
The Fed: "A 'New Normal'?" [Federal Reserve Bank of Richmond]. Betteridge's Law. Because innovation:
On balance, there is reason to be sanguine about the prospects for future technological . There is also reason to celebrate recent innovations that may not immediately appear as fundamentally transforming as, say, the development and widespread use of automobiles during the middle part of the 20th century, but that have still brought great gains to millions of Americans and billions of people worldwide, gains that arguably are not fully captured in many standard measures of well-being. It would be rash to attempt to predict with precision the pace at which future innovation will take place or how important those innovations will be, but it would also be premature to say that America's best days are behind us and that future generations will not live much better than we do today. In the next section, we will raise several policy issues that might be addressed to help provide an environment in which innovation can continue to occur and economic growth can be robust. [one can only wonder why] and that some could have adverse economic consequences for segments of the population [but then you knew that]. Insofar as the latter is true, policymakers may wish to consider ways to compensate those who are made worse off [which never happens].
Like the Bourbons….
Today's Fear & Greed Index: 58, Greed (previous close: 63, Extreme Greed) [CNN]. One week ago: 80 (Extreme Greed). (0 is Extreme Fear; 100 is Extreme Greed). Last updated Jun 13 at 11:58am. Still dropping!
Our Famously Free Press
UPDATE "Guns? Terrorism? Hate crime? Media go to their corners in reporting on Orlando." [Margaret Sullivan, WaPo]. "Is there any way out? Or does the public simply have to bring a large helping of skepticism to its media consumption and assume that much of what it's hearing is driven by politics?" And maybe by owners?
Police State Watch
"St. Louis police secret settlements total $4.7 million" [St Louis Post-Dispatch].
Black Injustice Tipping Point
"History of Juneteenth" [Juneteenth.com].
"Black Lives Matter Pasadena Organizer Convicted of Felony 'Lynching' Charge" [Pasadena News Now]. How does that work?
"Making Freedom in Colonial Antigua: An Interview with Natasha Lightfoot" [African American Intellectual History Society]. This is fascinating.
Class Warfare
Gin and Tacos [Facebook]. Reads like the South Carolina fire-eaters in 1860, but in class, not regional terms.
JESUS CHRIST THE SYRIAN REFUGEES AREN'T COMING TO WHATEVER GLORIFIED TRAILER PARK / FEMA CAMP / OPEN AIR METH LAB OR DYSTOPIAN INNER RING TRACT HOUSING AND STRIP MALL FART-FUCK OF A SUBURB YOU CALL HOME, THEY WOULD TAKE ONE LOOK AT YOUR SAD EXCUSE FOR A LIFE AND THINK "I'LL GO BACK AND TAKE MY CHANCES, DID YOU SEE THAT WOMAN WITH THE 'BAD BITCH' TATTOO HER TORSO LOOKED LIKE SOMEONE WAS BAKING BREAD IN A HALTER TOP."
From a professor of political science.
University of Connecticut professor Peter Turchin has described [the] problem of 'elite overproduction,' the process by which a growing number of elites got thrown into competition over a proportionally shrinking number of trophies. He says that phenomenon didn't just help bring down the Roman Republic; it also contributed to the onset of the American Civil War, along with countless other historical calamities" [International Business Times]. "For proof, look no further than the 2016 presidential campaign. As America has become more unequal over the last few decades, the top echelon of politically active billionaires and multimillionaires has grown. Classic elite overproduction."
"But the aspect of Hamilton's life [Miranda] celebrates — the self-making entrepreneurialism of the American dream — cannot be fully understood without including, indeed without highlighting, Hamilton's insistent and emphatic inegalitarianism. Hamilton and his contemporaries understood these seemingly contradictory positions as two sides of the same coin. Ignoring one side, as Mr. Miranda has done, obscures their connection both then and now" [New York Times].
"The Supreme Court has ruled that people should be jailed only when they refuse to pay, not when they can't, and in theory safeguards protect the indigent. In practice those safeguards are chimerical, and the poor are routinely jailed for being poor. The way forward is to curb these fees, end the use by courts of private collection companies that add their own charges to the debt, and limit court debt to some percentage of a person's income" [Nicholas Kristof, New York Times].
"One problem with the obscenity of using 'poverty porn' to raise money is that it works. These images do not aim to tell the truth; they sell a product. Besides its profitability, these images work as tourist brochures. As Lindsay Murdoch wrote in a previous article, 'Orphanages are often run as businesses, the children being the assets.'" [Nonprofit Quarterly].
News of the Wired
"Is Particle Physics About to Crack Wide Open?" [Scientific American]. "Hints of an unexpected new particle could be confirmed within days—and if it is, the Standard Model could be going down."
"The Venmo Request: A New Wrinkle in Modern Dating" [The New Yorker].
"Can sludge-like color deter smokers? The psychology behind advertising" [CNN]. Not after the ISDS suit for lost profits!
"Mongolia will become a global pioneer next month, when its national post office starts referring to locations by a series of three-word phrases instead of house numbers and street names" [Quartz]. To a data geek, this is extraordinary.
"HBO is ruining 'Game of Thrones'" [MarketWatch]. The show has outrun the book, and the made-for-TV version didn't kill off Arya, and turned Vaerys into a "kindly uncle." So WTF?
"Rae Sremmurd's June/July 2016 'The FADER'" [The Undefeated]. Fun music criticism. Don't understand a word of it, but the writing style is tasty!
Unfortunately, I had stopped listening to popular music just before hip hop broke through, so I'm stuck with 70s punk and reggae. This hip hop classic has contemporary relevance:
"Suckers, liars get me a shovel."
* * *
Readers, feel free to contact me with (a) links, and even better (b) sources I should curate regularly, and (c) to find out how to send me images of plants. Vegetables are fine! Fungi are deemed to be honorary plants! See the previous Water Cooler (with plant) here. And here's today's plant (b1whois):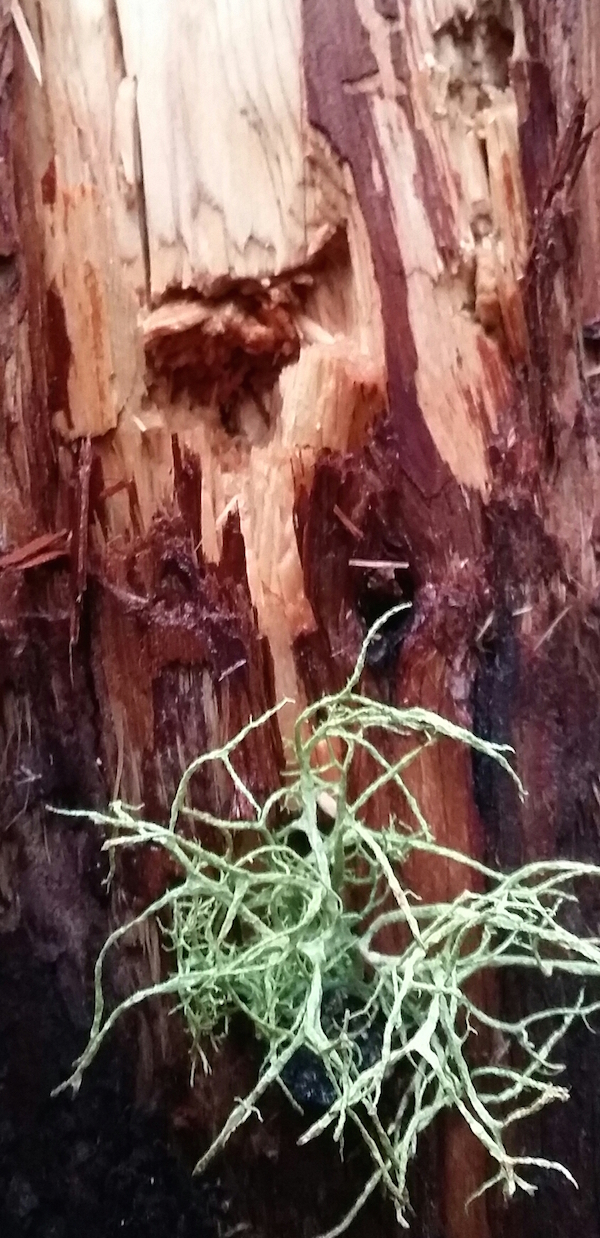 From the Rainbow gathering in the Stanislaus Forrest in California.
* * *
Readers, Water Cooler will not exist without your regular support. Your tip will be welcome today, and indeed any day. If you enjoy what you're reading, please click the hat!