By Lambert Strether of Corrente.
Readers, today's Water Cooler is a little bit visual, but all these charts just happened at once!
2016
Policy
"Did Hillary Clinton Really Restore America's Reputation in the World?" [Bloomberg]. Betteridge's Law: "International public sentiment about the U.S. did not improve when Clinton was in charge of State, an aggregate of polls shows." And the Iran deal, which I think is a real achievement by Obama, only took place after Kerry took over.
A map of Clinton/Trump money, definitely coastal (and Texan):

The top 20 ZIP codes for individual contributions to Donald Trump and Hillary Clinton: https://t.co/bVSXYUNxaf pic.twitter.com/fDzvabumbu

— Capital Journal (@WSJPolitics) June 3, 2016

A map of Sanders money, definitely not coastal (or Texan):

#CLICK: We built most complete list of @BernieSanders donors possible and sliced it every which way. Plus a map!https://t.co/xSJXHTNv3p

— Ben Welsh (@palewire) June 3, 2016
The Voters
"Ultimately, after Hillary lost to Obama, those who voted for her could get solace from the fact they were getting on board an exciting and popular campaign that was going to win" [Sean King, New York Daily News]. " That's just not where we are right now. Democrats who supported Hillary weren't holding their nose when they got on board with Obama. That's exactly what Bernie supporters would be expected to do now. Voters of a more likable candidate who is beating Donald Trump handily in the polls will be expected to get behind a widely disliked candidate who is struggling… Yes, we're still in the thick of the campaign, but her trustworthiness and favorability aren't going up anytime soon. My gut tells me, though, that her campaign and the Democratic establishment will do little to nothing to woo Bernie's supporters. They'll just expect everybody to come together by osmosis and that's just not going to happen." And again, unlike the PUMAs, Sanders voters have the tools to do something to create alternatives.

"Hillary Clinton's run for the White House will be a test case of whether playing the 'woman card' is a winning hand" [Bloomberg]. "Senator Barbara Boxer, a California Democrat, said Clinton 'really rewrote the rules and took a lot of the heat' as first lady but there remain lingering, often subtle, biases—that women are 'overly emotional, that we're not tough enough, but when we do try to be tough we're not really tough we're just shrill,' she said" [Bloomberg]. Cuts both ways. Do we really want somebody who continually has to prove they're "tough enough" with their finger on the trigger?

"Sanders is beating Obama's 2008 youth vote record. And the primary's not even over" [Vox]. "Sanders is beating Clinton by a 71-to-28 margin, receiving more than 2.4 million votes from young voters in the 25 states we can compare, according to numbers compiled by Kei Kawashima-Ginsberg, director of the Center for Information and Research on Civic Learning and Engagement at Tufts.
California
"As he has done across the country this primary season, Sanders commands the support of younger voters by huge margins in advance of Tuesday's primary — even among Latinos and Asians, voter groups that Clinton easily won when she ran eight years ago. Many of his backers come from a large pool of voters who have registered for the first time in the weeks before the election" [Los Angeles TImes]. And… Well, did they ever figure out what happened to those missing 100K votes in Brooklyn?

"Clinton running phone banks in Spanish, Mandarin, Korean, Cantonese, Vietnamese and Tagalog" [CNN]. "As she spends the next few days crisscrossing California, Clinton is relying heavily on her relationships with California politicians — some that go back decades. Her army of surrogates include national Democratic leaders like [relative-by-marriage] Sen. Barbara Boxer as well as scores of local elected officials. This network of supporters has been particularly critical to the campaign's outreach to non-white voters — an expansive effort that includes multi-lingual phone banks and TV ads."

"Videos posted on Twitter and online by local and national media showed clashes on Thursday evening in the street outside of the San Jose Convention Center, where demonstrators fought and threw punches. Hundreds of protesters waved Mexican flags, chanted anti-Trump slogans and burned Trump hats and at least one U.S. flag" [Reuters]. "Violence has peppered recent rallies in New Mexico and California, the U.S. state with the largest immigrant population, in advance of primary elections there on Tuesday. Trump opponents have said the unrest is fueled in part by his fired up tone." Well, if you really think Trump is a fascist, why gamble on an uncertain outcome in November? I think I asked this before… But I don't recall interviews with actual protesters. Readers? The reason I'm asking is that I can think of the following players with interest in, er, sharpening the contradictions through violence: Trump, Brock, the cops, and Black bloc types, in addition to organic protesters. How do we get a sense of the mix?
Our Famously Free Press
The Trail
"The essence of the argument [in Clinton's foreign policy speech] is simple. You may not agree with everything she says or everything she's done or will do, but you can at least be sure that a Clinton presidency won't lead to some enormous unforeseen cataclysm. With Trump, there's no such guarantee" [Matt Yglesias, Vox]. "[I]t's not an argument that's going to warm the hearts of liberals. Pursuing the argument that Trump is simply too risky to serve as president requires Clinton to try to denude the campaign of as much ideological content as possible." It is an argument to appeal to liberals (and moderate Republicans). It's not an argument to appeal to the left, or to volatility voters, generally. Yglesias references Barro on "tail risk," where of course the question is "tail risk for whom?" Personally, I don't think Trump's any more likely to press the nuclear button than Clinton, who voted for Iraq and Afghanistan, instigated the Libyan debacle, instigated a coup in Honduras, and whose creature, neo-con Victoria Nuland, did her best to foment yet another war, this time wiht Russia, in Ukraine. Don't Acela riders like Yglesias have a rather tendentious notion of stability? (To be fair, the smaller nuclear weapons that Obama has developed might give Clinton the chance to press the button without creating an actual cataclysm. So there's that.)

"The US economy created 38,000 jobs in May, the slowest pace of job growth in five years, according to disappointing statistics released today by the Labor Department. It's an ominous sign for the US economy — and for Hillary Clinton's chances of beating Donald Trump in the November election" [Vox]. " If this month's report signals the start of a recession, that would boost Donald Trump's chances of becoming the next president. Much more below at "Stats Watch," but only a [racist|sexist|#BernieBro] would tell you this isn't the best economy EVAH! What's wrong with you people?
Clinton Email Hairball
"Nixonian palace guard now protects Hillary: Jonathan Turley" [USA Today]. "Greatest danger from electing Clinton president may be her cadre of fawning aides."

Indeed, recently, top Clinton aides took the notable step of agreeing to be represented by the same lawyers in both the criminal and civil investigations into the email scandal. That is a move that can greatly assure a more uniform account in the testimony of Clinton aides. It is also a move that rejects potential conflicts between aides in both their recollections and interests. In the most recent depositions, that joint counsel instructed key aide Cheryl Mills to simply refuse to answer most of the questions about the reasons and arrangements made for the use of a personal server at the State Department. So far Clinton's top aides have remained a uniform front.

It is hard not to think of Nixon aides like John Ehrlichman and H.R. Haldeman in the "palace guard" surrounding Nixon. They should be a cautionary tale for all of these aides. Ehrlichman would later look back and marvel at the loss of his own sense of self and independence: "I, in effect, abdicated my moral judgments and turned them over to somebody else."

Turley's not wrong.
Stats Watch
Employment Situation, May 2016: Nonfarm Payrolls M/M change, consensus: 158,000; consensus range: 110,000 to 219,000 ; actual: 38,000 . Grim [Econoday]. "Payrolls by industry show wide declines apart from telecommunications. Construction spending has been strong but construction payrolls, at minus 15,000, are down for a second month. Manufacturing payrolls, which have been consistently weak, are weak again, down 10,000 in the month. And mining payrolls extended their long contraction…." On the positive side, government payrolls are up." And: "Non-seasonally adjusted non-farm payrolls improved 697,000 – worse than last year and well below average for May's in times of economic expansion" [Econintersect].
Worse: "The headline jobs number was very disappointing, and there were downward revisions to job growth for prior months. The key negatives were few jobs added (only 38 thousand, although the Verizon strike cut the job growth by about 37 thousand), a decline in the participation rate, and a sharp increase in the number of people working part time for economic reasons" [Calculated Risk]. Even worse: "There's other bad news in the report too. Over the past six months, the economy had started to reverse a years-long decline in the labor force participation rate — a sign that a healthy economy was starting to draw workers who had left the economy back in. But the latest report shows the economy has given most of those gains back, with the labor force participation rate falling from 63 percent in March to 62.6 percent in May." [Vox]. And: "While the strike at Verizon lowered the jobs numbers in the establishment survey by roughly 35,000, the picture would be little changed if these numbers were added in" [CEPR]. But: "The weak employment report bucks data on consumer spending, industrial production, goods exports and housing that have suggested the economy is gathering speed after growth slowed to a 0.8% annualized rate in the first quarter" [Futures]. Or in chart form via MarketWatch (with markup added):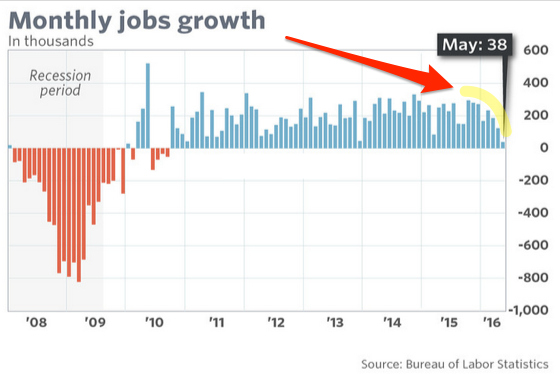 And a second chart, also from MarketWatch: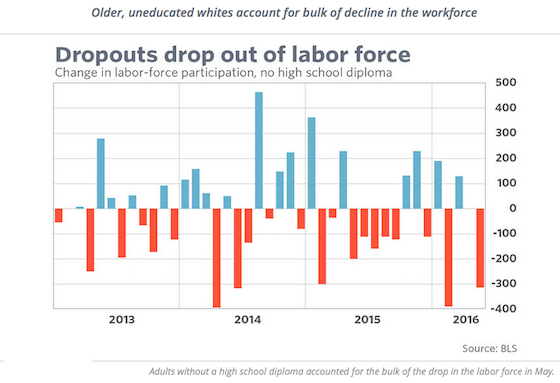 So look for plenty of cheering from virtue-signalling liberals under Rule #2 of neo-liberalism: "Go die". (Anyhow, they're uneducated whites, so they're all racists and deserve whatever they get.)
And a third chart, from the Economic Policy Institute:
Wage growth—a key indicator the Fed watches when it decides whether to raise rates—is far below target. #jobsday pic.twitter.com/VANC2LyZYg

— Economic Policy Inst (@EconomicPolicy) June 3, 2016
Liberals: They need credentials!
And a fourth chart:
#JobsDay If you take health/education #employment gains out of this report, it's a disaster. #wkdev #data pic.twitter.com/1lvEnBt6ae

— SCPA Works (@SCPAWorks) June 3, 2016
On "Education and Health Care Services," how much of that is delivery of real services to citizens, and how much is administration? Readers?
International Trade, April 2016: "The nation's trade deficit is narrower than expected, at $37.4 billion in April with March revised sharply lower, to $35.5 billion from $40.4 billion. Exports show wide strength in the April data, up 1.5 percent and with particular strength in industrial supplies and autos and including gains for foods, consumer goods as well as capital goods" [Econoday]. "Imports rose 2.1 percent in the month led, in what is welcome news for business investment, by capital goods which surged $2.5 billion. Industrial supplies and also autos and consumer goods show import gains with the latter two pointing especially to strength in domestic demand." Good news for GDP.
PMI Services Index, May 2016: "Markit Economics' service-sector report appeared to be signaling what was exaggerated weakness in the nation's economy, that is until this morning's depressing employment data" [Econoday]. "Growth in new orders, hit by weakness in investment spending, continues to slow and is among the weakest readings in the 7-year history of this series. Service firms unfortunately had little choice but to work down backlogs which contracted for a 10th month in a row which is a telling statistic. The sample is still adding to payrolls but by the least amount since January last year."
Factory Orders, April 2016: "Factory orders did rise 1.9 percent in April but reflect a monthly swing higher for civilian aircraft. Otherwise, data are mostly soft especially for core capital goods where orders, reflecting contraction for machinery, fell 0.6 percent and follow a soft 0.3 percent rise in March and a steep 2.1 percent decline in February" [Econoday]. "Orders for non-durable goods rose 0.4 percent and reflect, not fundamental strength in demand, but the month's rise in energy prices." And: "US Census says manufacturing new orders improved. Our analysis says sales improved but less than the headline numbers. The rolling averages improved, but remain in contraction" [Econintersect].
ISM Non-Mfg Index, May 2016: "The ISM's non-manufacturing index confirms what is proving to be a very weak month of May for the nation's economy" [Econoday]. "This report has been consistently upbeat which underscores the unwelcome importance of today's results." And: Below expecations. "Important internals declined but remain in expansion" [Econintersect].
ISM Mfd (yesterday): "It was an unusual set of results. The new orders gauge held strong at 55.7, but the production measure cooled from 54.2 to 52.6 and the employment index was steady just below 50 yet again. The supplier deliveries component shot up by 5 points to 54.1, the highest reading since 2014. It was this component that made the difference between a rise in the headline figure and a decline" [Amherst Pierpont Securities, Across the Curve]. Meanwhile, the inventories index inched lower to 45.0, the 11th straight month that manufacturers have cut raw materials inventories. The ISM spokesman noted that this reflects a "very, very conservative inventories policy" and was likely responsible for the difficulty that suppliers had in filling their customers' orders in a timely manner."
Corporate Profits: "Seems the corporate profits report includes the Fed's profits, all of which get turned over to the Treasury, of course…" [Mosler Economics].
Shipping: "The trucking industry went on a vehicle buying binge in 2014 and 2015, and many companies are now struggling to find enough freight to fill their expanded fleets. Most large trucking companies have said they will sharply reduce purchases of new trucks until the market shows signs of improvement" [Wall Street Journal, "Heavy-Duty Truck Orders Tumbled 31% in May"]. "Orders typically see a lull in May, but were still well below the 18,000 to 19,000 new vehicles per month needed just to replace aging and damaged trucks, analysts said. Freight volumes typically pick up in late summer, as stores restock for back-to-school and holiday shopping seasons. However, retailers are holding onto historically high inventories, meaning they need to buy fewer goods to keep shelves full and replenish warehouse stocks."
Shipping: Rail, calculated with year-on-year rolling averages and backing out coal and grain from carloads, improved, contra AAR data yesterday [Econintersect].
Retail: "[C]omments about the scourge of late March and April [sales] have come from more than a dozen [apparel] retailers" [The Fashion Law]. "But there was no macro slump, and no disaster — just deep discounting. … It's time for retailers to stop blaming a weak consumer for their sales slump. It's true they face industry-wide challenges such as online retailing and consumer preferences. But they need to realize that the way they are fighting back — by offering holiday-like promotions and hoping for the best — is hurting them even more."
The Bezzle: "Uber is in the sub-prime auto business" [Houston Chronicle]. "Uber is having a hard time finding enough people with cars willing to work for them. To solve that problem, the company has raised $1 billion to start Xchange Leasing, a sub-prime lender with the sole purpose of getting poor people into new cars so they can drive for the ride-hailing service."
The Bezzle: "A Middle East investor is now Uber's single largest source of cash. On Wednesday, the global ride-sharing startup said it had raised $3.5 billion from Saudi Arabia's Public Investment Fund, the main investment fund of the kingdom" [Boing Boing]. It's all about synergy. Beheading and whipping fits well with Travis Kalanick's labor relations model.
The Bezzle: "The independent regulatory authority of Abu Dhabi's newest financial free zone is seeking to promote the development of blockchain startups as part of a drive to create new efficiencies in the regional financial sector" [CoinDesk].
The Bezzle: "[T]his feels like the final stages of the current unicorn boom, like when your best friend who never invested in the stock market started buying dot-com stocks in early 2000" [Business Insider]. "The good news is that Silicon Valley always renews itself." O rly? The Archdruid would disagree.
The Bezzle: "Twitter Is Betting Everything on Jack Dorsey. Will It Work?" [Vanity Fair]. Twitter, as it turns out, is a public good. Therefore, capital runs it badly.
The Fed: "[Brian Bethune, an economics professor at Tufts University] said the job report is a lagging indicator and is reflecting the weak growth in the first quarter. He said the U.S. central bank won't know much about the resilience of the economy until the September meeting. … Traders who use fed funds futures contracts now see only a 4% chance of a rate hike in June, according to CME FedWatch. " [MarketWatch]. Right when people will have started to pay attention to the election.
The Fed: "In a troubling sign that the economic recovery may have stalled, at least temporarily, the government reported on Friday that employers added just 38,000 workers in May. The significant plunge in hiring is likely to push back a decision by the Federal Reserve to raise interest rates" [New York Times]. "Stalled." Watch those airplane metaphors from elites! (Being flown is one of the few times and places elites feel out of control, so they tend to apply that metaphor to all systems larger than themselves and their own class where outcomes are not completely predictable. "Turbulence," "headwinds," "tailwinds," "hard landing," etc.
The Fed: "Nevertheless: does anybody want to say that the Federal Reserve's increase in interest rates last December and its subsequent champing-at-the-bit chatter about raising interest rates was prudent in retrospect? Anyone? Anyone? Bueller?" [Bradford J. DeLong].
"Yahoo! Inc.'s Messenger has for almost 18 years been the default communication tool for the men and women who each day move billions of dollars' worth of crude oil and petroleum products around the planet. From Singapore to Rotterdam, daily deals are pitched, contracts negotiated and global price benchmarks assessed on the chat service" [Bloomberg]. "Now the company's core business, including its chat service, is up for sale and the future of Messenger is uncertain. Yahoo, meanwhile, is forcing new users to an updated platform that compliance officers at some trading houses have declared off limits because the chats can't be recorded and logged internally." Is there anything Yahoo! can't fuck up?
Today's Fear & Greed Index: 75, Extreme Greed (previous close: 79, Extreme Greed) [CNN]. One week ago: 77 (Neutral). (0 is Extreme Fear; 100 is Extreme Greed).Last updated Jun 3 at 11:29am. Almost broke the 80 psychological barrier, there. Oh well….
Health Care
"Health journalists seeking information from government agencies often encounter obstacles, especially at the federal level, according to AHCJ's recent survey. The biggest roadblocks involve delays, bureaucracy, scripted replies, and barriers to interviews, survey respondents said" [Health Journalism].
Gaia
"Decolonizing Permaculture: Exploring the Intersection of Permaculture and Decolonization" [The Hampton Institute]. "This matters because an injury to one is an injury to all. I know that sounds trite and cliche, but that's because it's a truism."
"Record $286 billion spent on renewables in 2015: Study" [CNBC].
"Researchers in the United States and Canada have located 39 unreported sources of major pollution using a new satellite-based method, the U.S. National Aeronautics and Space Administration said" [Reuters]. "The unreported sources of toxic sulfur dioxide emissions are clusters of coal-burning power plants, smelters and oil and gas operations in the Middle East, Mexico and Russia that were found in an analysis of satellite data from 2005 to 2014, NASA said in a statement on Wednesday. "
"While it makes up 18 percent of the United States' total area, the state stores 53 percent of all of the nation's carbon, much of it in permafrost below the ground, the USGS study reports. Indeed, it adds that wildfires in Alaska give off more greenhouse gases to the atmosphere annually than all fires in the Lower 48 states" [WaPo]. "Clearly, any change to this carbon in one direction — shifting it from the land to the atmosphere — would be disastrous. But is that happening?"
Water
"The Louvre is Closing as Flood Waters Threaten Paris" [Atlas Obscura]. "'[The Seine has] risen over 15 feet above normal levels."
Guilotine Watch
"Busy with work schedules and wary of weekend traffic, some homeowners are buying second homes in the same city as their primary residence" [Wall Street Journal, "The Ultimate Staycation? A Second Home in the Same City"]. So it's not just wealthy foreigners creating buildings with no lights on at night.
"Ferrari has announced a one-off custom version of its 458 Speciale — the ultimate and final version of the highly-successful 458 line — built to the specifications of a wealthy British client" [Business Insider].
Class Warfare
"Why the Verizon Worker's Victory is A Big Deal" [Portside].
News of the Wired
"Deep in a dark cave in southwestern France lie half a dozen mysterious structures that scientists believe were built by Neanderthals 176,000 years ago — about 140,000 years before the first modern humans arrived in Europe" [Los Angeles Times]. "Archaeologists say these mineral formations were probably broken off the cave floor by ancient hands and then deliberately arranged into two large rings and a series of four round piles up to 15 inches high….Red and black soot smudges and other evidence of fires can be found inside the structures, but not outside them. That suggests they may have been used to contain fire, perhaps to light the cave. "
"#NoTROHere – Defending Free Speech and MuckRock" [Another Word for It] "The public is the ultimate arbiter of the conduct of its government. Concealment of information by government serves only to breed mistrust and a lack of confidence in outcomes."
* * *
Readers, feel free to contact me with (a) links, and even better (b) sources I should curate regularly, and (c) to find out how to send me images of plants. Vegetables are fine! Fungi are deemed to be honorary plants! See the previous Water Cooler (with plant) here. And here's today's plant (Chris A):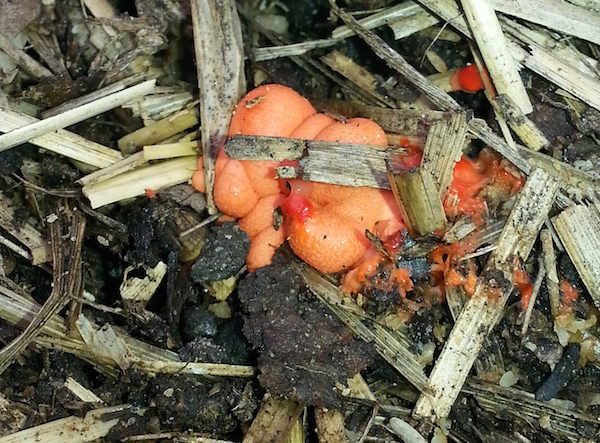 Chris writes: "I found this Wolf's Milk slime mold on my straw bale this morning, considering your interest in recyclers I thought I'd send it your way. Straw bale organically conditioned with my own homemade carp hydrolysate, along with bone and blood meal." Sounds awesome!
* * *
Readers, Water Cooler will not exist without your regular support. Your tip will be welcome today, and indeed any day. If you enjoy what you're reading, please click the hat!