By Lambert Strether of Corrente.
TPP/TTIP/TISA
"Congressional leadership has all but ruled out a [TPP] vote before the November elections, leaving a potential lame-duck session as the only time for consideration of the deal" [Politico]. "As of now, the White House still hasn't sent Congress a draft statement of administrative action detailing how it plans to implement the trade pact. Under fast track, the White House must submit the draft action plan, along with the final legal text of the agreement, at least 30 days before sending Congress the implementing bill." The Senate goes into recess on December 3, 2016. 30 days from December 3 is November 3 — just before Election Day, November 7. And the Senate is in session for 12 days (total) in October and November. Obviously, the pros think they can get this done, but it looks tight, there's plenty of time for constituents to share their views with their Senators, and TPP could be an election issue. If I were Clinton, I'd want to fuzz over the advent of that "draft action plan" as much as possible. And if I were Trump, I'd be demanding a date certain for it. (Of course, Republican Senators who were planning to sell out would have a sad, but is that such a bad thing?)
2016
Policy
"Mrs. Clinton was serving as a senator from New York when Congress approved the $700 billion bailout in the final months of the Bush administration. She voted in favor. 'I think that the banks of New York and our other financial institutions are probably the biggest winners in this," she said in 2008, 'which is one of the reasons why, at the end, despite my serious questions about it, I supported it'" [Wall Street Journal, "Where Clinton and Trump Stand on Wall Street"]
The Voters
"Are Black Voters Invisible to Democrats?" [The Nation]. C'mon, let's be fair: Not when they are there to used as firewalls. "What you won't see in the announced plans on the left is any money for making sure that black voters turn out in large numbers in the first national election of the post-Obama era. While Priorities USA has said it will spend some of its $5.3 million set aside for radio ads on black radio and an undetermined amount on digital ads targeting African Americans, there are no funds specifically targeted for the proven and effective grassroots, person-to-person work required to get people out to vote. While there is at least a modest, albeit also underfunded, program to mobilize Latino and immigrant voters, the left and its donors have failed to fund anything comparable among African Americans." Or anyone!!!!!!!! At any time!!!!!!!!!
The Trail
"Trump's decision to fire Lewandowski, who has been with him since the beginning of his campaign, came after a weekend meeting with his children in which they pushed for the aide's ouster, according to a source close to the campaign. Daughter Ivanka Trump has been seen as a driving force behind the effort. Her husband, Jared Kushner, who advises his father-in-law on policy, also clashed with Lewandowski, according to the source" [RealClearPolitics]. In kayfabe terms, Trump is now a heel. But kayfabe enables startling reversals: Trump needs to become a face. I'm not sure how he does that, short of rescuing a baby from a burning building. But perhaps Ivanka can help. And then there's this: "'Donald Trump is going to be Donald Trump,' says Boris Epshteyn, a New York based-Trump surrogate, arguing that the campaign changes illustrate the candidate's ability to make tough management decisions. '[He got this far] by being himself and trusting his instincts, so you're not going to see him change.'" So, a surrogate at last!

And this from Trump:

I will be making a big speech tomorrow to discuss the failed policies and bad judgment of Crooked Hillary Clinton.

— Donald J. Trump (@realDonaldTrump) June 21, 2016

Polling: RCP aggregates says Clinton up 1 in PA and up 2 in Ohio (important swing states) [RealClearPolitics]. I grant the Clinton campaign can spend money like water, but the results, so far, have been disprortionately poor, have they not?

[Wall Street Journal, "Hillary Clinton to Rally House Democrats at Capitol Hill Meeting"]. Well, that should give the 20K+ operatives who run the political parties a thrill; the rest of us, not so much. The story: "While the majority of House Democrats supported Mrs. Clinton during the primary, a handful backed Mr. Sanders and are working to make sure their liberal ideas, such as a significant increase in the minimum wage, will be embraced by the party." WSJ is confusing liberals with the left, a common category error in the political class.
Guccifer 2.0
Readers, as you know I'm always skeptical of digital evidence, arguing that "digital evidence is not evidence" absent a chain of provenance to a known and trusted creator; digital material is too easy to fake. And I'm old enough to remember — summarizing the chain of events very tendentiously — that evil genius Karl Rove settled the controversy over Bush's (Vietnam War-evading non-)service in the TANG (Texas Air National Guard) by (1) feeding CBS news true information (2) in discreditable form, and then (3) arranging for it to be discredited (by an Atlanta blogger named Buckhead, in a post that blew up from nothing to utter dominance in a single news cycle, an amazing achievement). So Rove used faked true evidence to impeach the story and saved Bush's bacon. (The CBS reporter, Dan Rather, was later fired, along with his reporting team.) So if I look at Guccifer, I'm seeing steps (1) and (2), and I worry about step (3). That is, if we suppose that the information on Clinton corruption is true, but the form is discreditable, and then imagine it is discredited, Clinton's reputation would be laundered, at least until the impeachment hearings begin. That is, a sponsor at the DNC or from the HillaryLand would take on Rove's role in the TANG play from Rove's playbook. Too foily? Perhaps. Arguing against the TANG replay theory: (a) The Guccifer documents would take a lot of time and effort to create. But the Clintons have motive, a lot of money, and the ability to launder payments. (b) One release would be sufficient to bait the trap, so why then several? But who said you had to catch a fish in only one cast? (c) The DNC has neither confirmed nor denied the validity of the Guccifer releases, plural, so silence means consent. But see point (b). (d) The Clinton-dominated media have not gone full-throttle to denounce them, so they are suppressing the story. But see again point (b). Arguing for it: (a) The DNC and the Clintons have both shown themselves to be utter f*ckups technically on multiple occasions; it's entirely plausible that they got massively hacked. Or (b) the hackers, having failed in an attempt to get the DNC to buy back its own data in exchange for silence, have sent a message to others in the political world that they have also hacked, with this release. It really is like a LeCarré novel, isn't it? That said, some links:

"We still don't know who he is or whether he works for the Russian government, but one thing is for sure: Guccifer 2.0—the nom de guerre of the person claiming he hacked the Democratic National Committee and published hundreds of pages that appeared to prove it—left behind fingerprints implicating a Russian-speaking person with a nostalgia for the country's lost Soviet era" [Ars Technica]. Or a person imitating such a person, yes. "Of course, it's still possible that the Russian fingerprints were left intentionally by someone who has no connection to Russia, or by a Russian-speaking person with no connection to the Russian government, or any number of other scenarios. The abundance of plausible competing theories underscores just how hard it is to accurately attribute attacks online and how perilous it is to reach summary conclusions. Readers are once again advised to keep an open mind…. But given the house of mirrors surrounding this entire episode, the evidence should be thoroughly investigated before anyone reaches that conclusion."

"The DNC has not yet confirmed or denied the authenticity of the leaked documents" [Washington Examiner].

"Two independent research firms have confirmed an assessment by the Democratic National Committee that its network was compromised by Russian government hackers" [Ellen Nakashima, WaPo]. That's the lead. But the farther down in the story you read, the more Nakashima's stenographic certainty dissolves. The last sentence: "It is also possible, researchers said, that someone else besides the Russians were inside the DNC's network and had access to the same documents." So we don't really know anything, then, do we?

This is delicious, if true. Clinton's "standard requirements" for her appearances:

I need to remember to write this into my next contract. Thanks @GUCCIFER_2 pic.twitter.com/j7DgNuHtAT

— (((Marise Hausner))) (@olimassociates) June 21, 2016

My attention was caught not so much by the executive jets, but by the horridly smarmy language from the Clinton staffers: "I look forward" to "working closely with you" on "this opportunity" (for the Clinton Foundation to insert its sucking mandibles into the body of your organization, presumably). And "share" "the standard requirements." Note also the Beltway Subjunctive: "The fee for this type of event …" Always "would be." Never "is'!

And this is devastating, if true. The Twitterer is with the Young Turks:

New Guccifer memos indicate DNC held database of 25K Clinton Foundation donors (waiting 4 DNC response) https://t.co/0lXddWaTis

— Jordan (@JordanChariton) June 21, 2016

Here is Guccifers link to that "database," an Excel spreadsheet. I don't have Excel, so I can't look for the metadata. Readers?
Stats Watch
A second day without interesting stats. The livin' is easy…. And a lot of angst from rail and trucking. Readers, any anecdata?
Shipping: "A slump in the U.S. freight market is getting deeper and starting to take a toll on transport providers. The closely-watched Cass Freight Index for May showed its biggest year-over-year decline since 2009 and edged up just 1.3% from April, WSJ Logistics Report's Loretta Chao writes, a poor signal that suggests a summer slump may be forming. Werner Enterprises, Inc., the country's fifth-largest truckload carrier, says the weaker demand is hitting its earnings… The company cites the weak demand but says driver pay and "difficult" negotiations with shipping customers are hurting. [Wall Street Journal]. "There may not be much help in the pipeline: Drewry Shipping Consultants Ltd. says its talks with big shippers suggest they expect this year's peak season to be flat or down this year compared to last year." So containers are (seasonally) up at the Ports of Los Angeles and Long Beach, but as so often the peak will disappoint? Apparently so.
Shipping: "A year-long pullback in U.S. business inventories will likely continue through the rest of 2016 as retailers and manufacturers remain cautious amid uncertain demand and the prospects for higher interest rates, according to a report on U.S. logistics" [Wall Street Journal, "Inventory Pullback a Drag on Logistics Spending]. "The inventory pullback has roiled the logistics sector. It has hit transportation companies hard since they are holding expensive assets that they added between 2011 and 2014. Lighter volumes have led ship operators and trucking companies to slash their prices, eating into profit margins. The trucking industry has 75,000 to 80,000 more trucks than companies need to move goods, said Marc Althen, president of Penske Logistics."
Shipping: "[T]he Cass Freight Index, which tracks freight moved by rail and truck, rose just 1.3% in May from the previous month, and was down 5.8% from a year earlier. The reading was the lowest for May since 2009, and the biggest year-on-year drop since that year" [Wall Street Journal, "Freight Market Bracing for Summer Slump"]. "Retailers typically begin ramping up orders in the spring ahead of the back-to-school rush. The relatively small uptick in freight volumes measured by the index indicate sluggish economic growth and high inventory levels are reducing retailers' shipping needs."
Shipping: "Canadian Pacific expects second-quarter revenue to decline about 12 percent compared with the same 2015 period, the railroad announced this morning" [Progressive Railroading]. "The reasons: lower-than-anticipated volumes in bulk commodities such as grain and potash, the 'unexpected and devastating wildfires' in northern Alberta and a strengthening Canadian dollar, CP officials said in a press release."
Supply Chain: "The tailwind of low inventory carrying costs that U.S. businesses have enjoyed in recent years came to an end in 2015, and carrying costs are likely to prove a tougher challenge should the cost of money become dearer" [DC Velocity]. Note elite airline flight metaphor: "Tailwind."
Honey for the Bears: "Gut-wrenching gyrations in financial markets early in the year helped summon the specter of a new recession. Now, warning signs are coming mostly from the U.S. economy itself" [Wall Street Journal, "Economic Gauges Raise Specter of Recession"]. "Hiring is slowing, auto sales are slipping and business investment is dropping. America's factories remain weak and corporate profits are under pressure. All are classic signs of an economic downturn, and forecasters have certainly noticed." Lambert here, opining: As readers know, I'm a Maine bear, so I have priors. That said, my recollection of what I felt in last winter and spring was that the elites were talking themselves into it — like the Fat Boy in Dickens' The Pickwick Papers who says "I wants to make your flesh creep" — and we in the 90% were bumping along on the bottom, New Normal-style. As we say in Maine: "Depression? What Depression? We've always been depressed!" But real economy stuff, like the employment conditions, and containers, and trains, and trucks, and goods on the shelves, and making stuff, seems more sketchy now. Whether sketchy enough to affect the election, I don't know. Perhaps enough voters will have embraced the suck. Readers with more than vague intuitions, thoughts? Key stats that you watch?
The Fed, Yellen Testimony: "As late as April, the labor market situation was viewed as rock solid, even as growth concerns were substantial. Now, the situation has flipped. The growth outlook is back on track, by and large, but the May employment report threw Yellen and the FOMC for a loop. In the most ironic passage of the testimony, Yellen asserts that "it is important not to overreact to one or two reports," but this is almost certainly what the Fed has done in the wake of the soft May payroll figures. Yellen acknowledges that "several other timely indicators of labor market conditions still look favorable," so the Fed thinks that the labor market is still in good shape, but the level of confidence is sufficiently low that I suspect the June employment report will be one of the more important ones in a long time" [Amherst Pierpont Securities, Across the Curve]. "She concludes with the construct that she fleshed out on June 6 that structural headwinds (global drags, subdued household formation, and meager productivity growth) may be depressing the equilibrium interest rate for the economy. The Fed's view is that these headwinds will lift gradually, which argues for gradual rate hikes and the Fed adjusts policy to track changes in the equilibrium rate." "Headwinds…."
Today's Fear & Greed Index: 67, Greed (previous close: 62, Greed) [CNN]. One week ago: 50 (Neutral). (0 is Extreme Fear; 100 is Extreme Greed). Last updated Jun 21 at 12:25pm. No change.
Health Care
"Medicare is About to Get Even More Complicated" [HuffPo]. Well, that's neoliberalism. Phishing equilibria for fraudsters, and jobs for the 10% 'splaining the complexity that should never exist in the first place.
Our Famously Free Press
"According to data published in the Reuters Institute's Digital News Report last week, there is a generational divide when it comes to news consumption. While the large majority of those who grew up with the internet see it as their most important news source, those who relied on the TV news for a daily news fix for decades still tend to prefer the television over online news sources" [Econintersect].
Corruption
"It is sobering that discussions about regulatory capture now include the subject of criminal prosecutions. The last group of public officials one would expect to be influenced by special interests would be federal prosecutors. Nor are prosecutors normally thought of as akin to regulators enforcing policy. They enforce criminal laws" [RegBlog].
Class Warfare
" [T]he correct diagnosis is that in the US, populism is rooted in the failure of globalization to deliver palpable benefits to its working class, in Russia, it is rooted in its crony capitalism and inability (or unwillingness) of the West to include Russia as an equal partner, and in China, it is rooted in an inadequate political system. Once we see the correct cause of the problem, we can begin to try to solve it. Otherwise, the sickness of populism, which for all problems blames globalization and foreigners, in the three major powers that control 98% of all nuclear weapons in the world, is indeed a cause for major concern" [Global Inequality].
News of the Wired
"But he does good work" [Violet Blue, Medium].
"If you ever doubted 'anti-terror group surveillance tools' should always be called titled 'group surveillance tools,' New online ecology of adversarial aggregates: ISIS and beyond. Science, 2016; 352 (6292): 1459 DOI: 10.1126/science.aaf0675 by N. F. Johnson, et al., puts those to rest" [Another Word For It]. NC readers will have noticed that was what the Democrats' heroic gun control filibuster was really about: Watch lists with no due process protections.
Alert reader Nik sends in some links on my speculation that radio could be used for the Decentralized Web. One answer is: We already use radio for the Internet; it's called "cell phones." But mobile is Anot, in its insitutional structure, decentralized. And here is Reddit: Would it be possible to transmit High Speed Internet over FM Radio Waves? Nik comments: "So all in all, it seems like the prospects are limited, but not impossible?" Readers, thoughts?
"Solar-storm: A serious security exploit with Ethereum, not just the DAO" [Medium]. "[W]hen an Ethereum contract talks to another contract, it can lose its own program control and state." Rather like robosigning!
* * *
Readers, feel free to contact me with (a) links, and even better (b) sources I should curate regularly, and (c) to find out how to send me images of plants. Vegetables are fine! Fungi are deemed to be honorary plants! See the previous Water Cooler (with plant) here. And here's today's plant (bobk):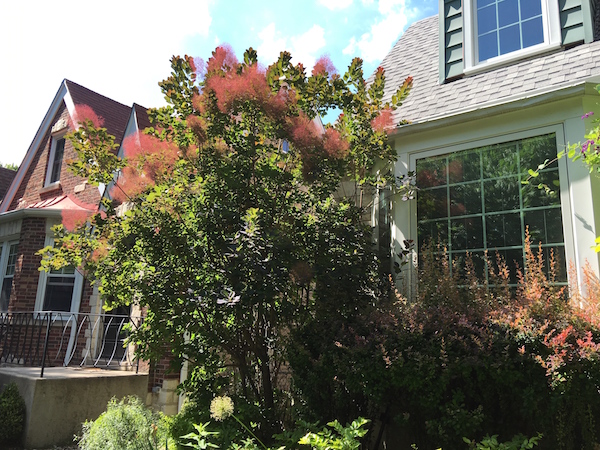 Bobk writers: "Smoking' smokebush, Chicago."
Adding, thank you readers for last week's rapid and successful Water Cooler Mini-Fundraiser. I'm still writing thank you notes!
* * *
Readers, if you enjoyed what you read today, please use the dropdown to choose your contribution, and then click the hat! Your tip will be welcome today, and indeed any day. Water Cooler will not exist without your regular support.