Our mini-fundraiser for Water Cooler is on! 163 donors have already invested to support Water Cooler, which provides both economic and political coverage, at a time when former Clinton Administration official Brad Delong announced, following the purge of two Sanders-supporting writers, that those deemed to be too far to the left will be "gleefully and comprehensively trash[ed]" come November. Independent funding is key to having an independent editorial point of view. Please join us and participate via Lambert's Water Cooler Tip Jar, which shows how to give via check, credit card, debit card, or PayPal.
By Lambert Strether of Corrente.
TPP/TTIP/TISA
"The top Democrat on the subcommittee, Rep. Charles Rangel, expressed doubt that TPP would see any action before the election, but urged Republicans to consider combining TPP with a bill to modernize the United States' aging transportation infrastructure. "If that was included in the bill, or part of the package, I think people would take another look at TPP," Rangel said" [Politico]. Uh oh. Horse-trading.
2016
The Voters
"'I think the whole argument about the [delegate] math is irrelevant to most Bernie supporters,' [Sanders supporter Aaron Selverston] said, as Dave Matthews played in San Francisco's Crissy Field before Sanders took to the mic" [NPR]. 'Because it's not about some sort of allegiance to a party. The party has failed. The party has failed half of the people who typically vote Democratic. And those are the people who are supporting Bernie.'" And: "'People in social movements don't really see an end to their work,' [Winnie] Wong said. 'The very idea that something has failed, it's not a part of our language.'" Useful reporting from NPR. I think, however, that we always want to be leery of the tendency of the press to single out protagonists. There's no question that Occupy and its organizers were important in sparking the Sanders campaign. I am convinced, however — evidence will have to wait for historians! — that all the movements and organizations that flowered after the crash were important: Occupy, but also the state capitol occupations, which preceded Occupy (and won on SB5 in Ohio, though not in Wisconsin), anti-fracking, anti-foreclosure, Fight for $15, Black Lives Matter, even single payer advocacy, in which National Nurses United plays such a role: All contributed to the ability of Sanders voters to organize, and be organized. There are many protagonists, the vast majority completely unknown (and there are probably many more organizations than the ones I just dredged up from memory).

"Americans' Confidence in Institutions Stays Low" [Gallup] (Re Silc). Shocker.
California
"2016 California Democratic Presidential Primary Running Tally" [GoogleDocs].
The Trail
"Hillary ushers her guest to the door. 'We're going to be a great girl squad,' she says, squeezing Warren's hand. 'It will be so easy to beat this airhead. I bet he doesn't even know what Cafta is. Sorry to cut this short. I need to call Tim Kaine. But I will dictate a nice tweet about you'" [MoDo, New York TImes (Carolinian)]. This is very funny. Dowd seems to have returned to form, however temporarily.

"Clinton, Sanders Hold 'Positive' Meeting After DC Primary" [Talking Points Memo]. "The Clinton statement said that the two talked about 'unifying the party,' but the Sanders statement did not, as NBC News noted." The results of that meeting — attendees Clinton, Podesta, Mook, Sanders, Jane Sanders, Devine — seem to be quite closely held; no leaks that I've encountered as of this writing. Readers? Oh, and it's crossed my mind that "positive" corresponds to "a full and frank exchange of views" in diplospeak. Clever of Sanders to, in essence, give the Clinton campaign a hard deadline by scheduling a video speech for his supporters tomorrow; Sanders will deliver the speech from Vermont, and there are no travel advisories for reporters (here's the tweet for an RSVP, which sadly requires a mobile phone).

"Bernie Sanders's Democratic Party reforms focus on things that would've helped Bernie Sanders win" [Philip Bump, WaPo]. Oh! Oh! Sanders wants to win! Oh my goodness! This from the guy who thought he had a scoop and a gotcha when the Sanders average contribution jumped from $27 to $29. A good politician wants to win. Sanders is a pretty good politician, considering that he started from zero money and zero name recognition. There seems to be a general assumption in the Beltway that the left shouldn't have any operational skill, shouldn't hire professional staff, shouldn't have any money. Not that they don't; they shouldn't. Hopefully, the Sanders campaign has changed that.

"Will Hillary Clinton sacrifice Wasserman Schultz to appease Bernie Sanders?" [Orlando Sun-Sentinel]. Depends on what DWS has on Clinton, I guess. Sanders: "We have to replace the current Democratic National Committee leadership. We need a person at the leadership of the DNC who is vigorously supporting and out working to bring people into the political process. Yeah, I know political parties need money. But it is more important that we have energy, that we have young people, that we have working lass [sic (!!)] people who are going to participate in the political process and fight for their kids and for their parents."

"As the sun set over the capital city, which had the unpleasant distinction of voting after every other state and territory in the country, it was easy to forget how close the 2016 presidential contest came to going sideways for Democratic Party elders" [NBC]. " They had so carefully cleared the way for Clinton to be their next leader. But if a few votes had gone differently in Iowa's exceptionally tight caucus, or if Bernie Sanders had run a more effective campaign in Nevada, the insurgent could have given Clinton a real run for her money." As it were.

"Will Bernie Sanders Win the Platform?" [David Dayen, The New Republic (GF)]. "Because of the unusually high stakes—and scrutiny—that's come with Sanders's focus on the platform, the hearings that continue this week in Phoenix (with St. Louis and Orlando to follow) have become a kind of public trial on the party's future. If the first week's hearings were any indication, stakeholders are signaling to Clinton that the party's sins of the past will no longer be tolerated." Dayen, unfortunately, confused liberals with the left. Liberals, unsurprisingly like conservatives, are neoliberals. The left is not. One of the nicer clarifications of the 2016 election so far as been the emergence of this distinction, which the Democrat Establishment will doubtless to haze over. Dayen's attending the Phoenix meeting, and writes:

Listening to the first two days of testimony, I was struck by the witnesses' desire to wake up the political establishment to realities outside the Beltway. Multiple experts and ordinary people testified that the U.S. economy simply isn't working for most of its citizens. And they pointed to some interesting root causes. For example, Sabrina Shrader, Vice President of West Virginia Healthy Kids and Families, blamed oligopolistic electricity companies in her state for high heating costs. "One runs the northern part and another runs the southern part," she said.

If only the Czar knew? Perhaps. Perhaps not.

"Bernie Sanders's Down-Ballot Effect" [The Atlantic]. On Lucy Flores. We'll see!

"Millennials Rage Against the Machine (and Lose)" [Roll Call].
Stats Watch
Producer Prices Index, May 2016: "May's producer prices final-demand index rose an almost fierce looking 0.4 percent for the hottest reading since May last year" [Econoday]. "The strength is tied not only to energy, which rose 2.8 percent in the month, but also to trade services which jumped 1.2 percent in what may hint at the successful passing through of higher costs." Finally, "inflationary pressure"? Maybe not: "The Producer Price Index year-over-year inflation is insignificantly in contraction. The intermediate processing continues to show a large deflation in the supply chain" [Econintersect].
Empire State Mfg Survey, June 2016: "back up" [Econoday]. "New orders, at 10.90, are also up for the third time in four months as are shipments…. Unfilled orders, however, fell deeper into contraction at minus 10.20. This is a negative indication for employment which is already dead flat at a zero reading. Destocking of inventories is picking up speed and the length of delivery times is shortening, both consistent with weak conditions.'" However: "The Empire State Manufacturing Survey jumped like a rabbit into expansion, after its major decline last month" [Econintersect]. But: "As this index is very noisy, it is hard to understand what these massive moves up or down mean – however this regional manufacturing survey is normally one of the more pessimistic."
Industrial Production, May 2016: "A steep drop in vehicle production pulled industrial production lower" [Econoday]. "The manufacturing component, hit especially by vehicles, is the big disappointment, down 0.4 percent in the month. Declines sweep sub-components including consumer goods, business equipment and construction supplies. Year-on-year, manufacturing volumes are unchanged in what is reminder of how soft the factory is."
MBA Mortgage Applications, week of June 10, 2016: "Despite a drop in fixed mortgage rates to the lowest level since January 2015, purchase applications for home mortgages fell 5 percent in the June 10 week on a seasonally adjusted basis, with the previous week's results adjusted for the Memorial Day holiday" [Econoday]. Year on year gains remain "impressive."
Retail: "Retail sales rose 0.5% in May from a month earlier, raising hopes that U.S. economic growth is accelerating despite weak hiring" [Wall Street Journal].
Retail: "'The problem is the fake products today are of better quality and better price than the real names,' he said at Alibaba's investor day in Hangzhou. 'They are exactly the same factories, exactly the same raw materials but they do not use the names'" [Wall Street Journal, "Jack Ma Says Fakes "Better Quality and Better Price Than the Real Names"]. But what about our intellectual property?!
Shipping: "Container shipments at ports of Long Beach and Oakland reach highest levels since last August" [Wall Street Journal, "California Seaports Report Slight Increase in Cargo Volume in May].
Shipping: "When disaster strikes, many people assume the ocean carrier will absorb the cost of recovery and repairs. But that's generally not the case. Under a doctrine of maritime law known as "general average," cargo owners are required to pay a share of those costs." [DC Velocity]. "When would an ocean carrier declare general average? Historically, it typically happened when a ship was in imminent danger and the crew had to jettison cargo to lighten the vessel… How much you'll pay is based on the value of your cargo as a percentage of the total value of the voyage: the value of the ship itself plus the value of the cargo on board, says Bridges. If the value of your cargo is equal to 5 percent of the total value of the voyage, then you'll be required to pay 5 percent of the costs that meet the general average criteria." Now reread this with the understanding that at one point in history, slaves were considered, and called, "cargo."
Honey for the Bears: "Synchrony Financial (formerly GE Capital) announced today that it was seeing more delinquencies from credit card holders and was increasing charge offs to recognize that situation. The stock got whacked and credit card companies declined in sympathy" [Across the Curve].
The Bezzle: "Marc Andreessen sees technology startups cashing out in a wave of acquisitions and public stock offerings over the next few years" [Bloomberg]. "The IPO market for tech companies has been a dud so far this year. Just one VC-backed tech company — SecureWorks Corp. — has gone public in 2016, raising $112 million in April. It's not for lack of candidates. There are now 168 unicorns, or tech companies valued at $1 billion or more, according to research firm CB Insights. Andreessen's Menlo Park, California-based venture firm owns shares in seven unicorns with a combined value of $46.9 billion, according to CB Insights."
The Bezzle: "The Unicorn Godmother Dishes on Silicon Valley" [Vanity Fair]. Aileen Lee: "I think we're in a valuation-adjustment period where we've basically had very bullish markets both in the private and the public sectors for tech stocks over the past three to five years, and valuation multiples just got out of whack. There was too much money pouring into tech; and a perception developed that the only way to win was to offer a higher price."
The Bezzle: "Why do Nigerian Scammers Say They are from Nigeria?" [Microsoft Research]. "By sending an email that repels all but the most gullible the scammer gets the most promising marks to self-select, and tilts the true to false positive ratio in his favor."
Today's Fear & Greed Index: 52, Neutral (previous close: 50, Neutral) [CNN]. One week ago: 81 (Extreme Greed). (0 is Extreme Fear; 100 is Extreme Greed). Last updated Jun 15 at 1:00pm. Up 2. A sign of life, or a random twitch?
Gaia
"In an iconic evolutionary case study, a black form of the peppered moth rapidly took over in industrial parts of the UK during the 1800s, as soot blackened the tree trunks and walls of its habitat" [BBC]. "Now, researchers from the University of Liverpool have pinpointed the genetic change that caused this adaptation. They have also calculated the most likely date for the mutation – 1819" (original).
Class Warfare
"As Tech Evaporates Jobs, 'The Tipping Point Will Be Driverless Trucks'" [Buzzfeed]. Andy Stern of SEIU. I remember Andy; he funded anti-single payer efforts in 2009.
News of the Wired
" The world's oldest computer is still revealing its secrets" [WaPo]. The Antikythera Mechanism continues to fascinate.
"I doomed mankind with a free text editor" [Medium].
"Los Angeles Librarian Inspires a Love of Reading with her Book Bike" [Shareable]. Totally cool, although it does remind me of the sort of ingenious vehicle one sees in Third World countries. Perhaps there's a lesson for us here?
* * *
Readers, feel free to contact me with (a) links, and even better (b) sources I should curate regularly, and (c) to find out how to send me images of plants. Vegetables are fine! Fungi are deemed to be honorary plants! See the previous Water Cooler (with plant) here. And here's today's plant (MK):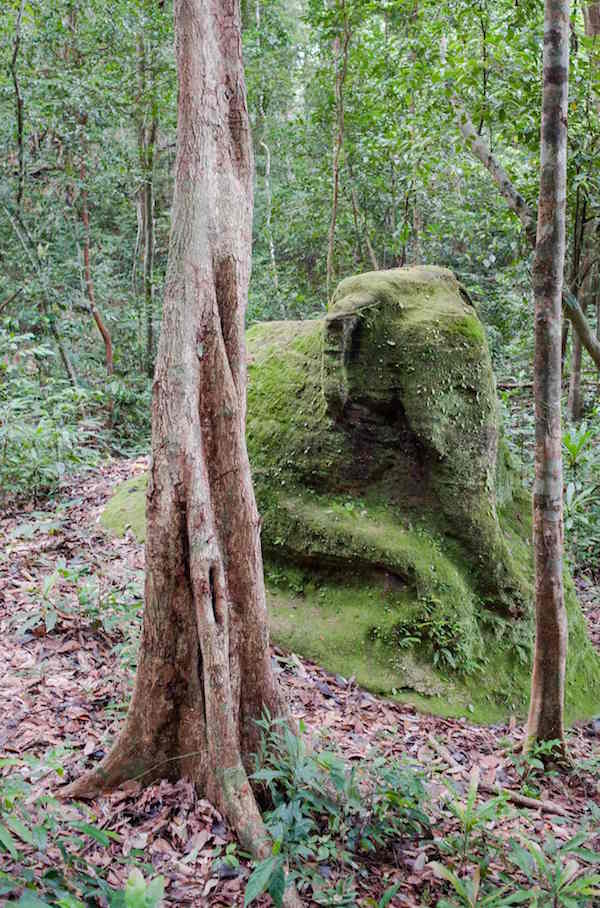 It's an eleplant.
The sun came out again!
Readers, I got a ton of pictures from you all! Thank you so much.
* * *
Readers, Water Cooler will not exist without your regular support. Your tip will be welcome today, and indeed any day. If you enjoy what you're reading, please use the dropdown to choose your contribution, and then click the hat!