By Lambert Strether of Corrente.
TPP/TTIP/TISA
"The Rock Against the TPP roadshow — which has already generated buzz in Rolling Stone and Billboard — is a nationwide concert series going on throughout the summer." [Eyes on Trade]. "Audiences at the free shows will be treated to performances by Tom Morello, activist and guitarist of Rage Against the Machine, Audioslave and Prophets of Rage; Evangeline Lilly, advocate and actress best known for Lost and The Hobbit; the infamous political punk rock group, Anti-Flag, and many more…. The first show is July 23 in Denver, Colorado. Other locations after that will be announced — check www.RockAgainstTheTPP.org regularly to see if a city near you is added to the list."
"The European Commission failed to get trade on the agenda of a meeting of European leaders next week after a range of countries opposed adding a full-scale trade debate to summit schedule, POLITICO Europe's Florian Eder and Hans von der Burchard report" [Politico].
2016
Policy
"Bernie Sanders: Here's what we want" [WaPo]. Finally! An answer to "What are your demands?" Sanders writes:

As we head toward the Democratic National Convention, I often hear the question, "What does Bernie want?" Wrong question. The right question is what the 12 million Americans who voted for a political revolution want.

It's really not hard.

"Hillary Clinton's Message: Yes, the Economy Is Messed Up. But I Can Fix It." [New York Times]. Because it takes a professional:

In an economic policy speech on Wednesday, Hillary Clinton gave this message: I alone am the candidate who knows how to turn those underlying frustrations into actual policies that might make things better. She offered herself as someone who would not merely vent voters' anger, but respond to that anger by pulling the levers of the federal bureaucracy and creating legislation that can be scored by the Congressional Budget Office and just maybe pass a Senate committee.

It's as if I hire a (licensed and credentialed) plumber to fix a leak, and when they're done, I've got a maze of pipes all over the place, and more spraying water then I've ever seen in my life. So, after I put down the buckets, the plumber demands additional billing because only they can fix the problem. After all, they created it! Shaking my head.

"Lending to Poor People Didn't Cause the Financial Crisis" [Barry Rithholtz, Bloomberg]. "Two of Donald Trump's economic advisers, Lawrence Kudlow and Stephen Moore, have revived an idea about the source of the financial crisis that really should have been put to rest long ago…. What's so wonderful about their article, which is an attempted take down of the Clintons, is that they miss the very obvious ways Bill Clinton's administration did contribute to the financial crisis. But doing that would have been at odds with their anti-regulatory philosophy."

"[Clinton] never attempted to pinpoint particular policies to explain the performance gap. All she said was that the US economy does better under Democratic presidents. That is 100% true" [Project Syndicate]. In other words, Clinton is parsing words successfully, as is her wont. And whenever you hear "the economy," always ask "Whose economy?" And in answer we re-introduce (MMT economist Pavlina) Tsechervna's famous chart:
Our Famously Free Press
"Hillary Clinton Just Delivered a Profound Economic Speech" [Time]. I'm just dropping the headline here as a marker that the press seems to have worked out that shameless sycophancy is the way to Clinton's heart, if any. Note the URL: This, in Time's hive mind, is news, and not opinion.
Corruption
UPDATE Interview with Obama [Bloomberg]. Quite some get. Obama on how he's going to cash in his future career plans:

What industries would you think about going into?

[OBAMA:] Well, you know, it's hard to say. But what I will say is that—just to bring things full circle about innovation[*]—[**] .

Satisfying like speculation in cattle futures is satisfying…

* Silicon Valley bullshit tell.

** Democrat bullshit tell.
The Voters
"It was universally agreed [at the People's Summit] that activists should continue their struggles without paying any attention to the complaints of the Clinton campaign, which may argue grassroots mobilizations challenging Clinton must be put on hold until after Trump is defeated so they do not weaken their campaign" [ShadowProof]. Why not match bold movement action with similarly bold action in the electoral arena?"
The Trail
"Trump Enters Clinton Attack Mode" [Politico]. And the subhead: "Can he reframe 25 years of anti-Clinton invective for a new generation?" First, the answer is not "Yes," but "Hell yes!"; that's exactly what the Obama campaign did in 2008, if anybody remembers the vile misogyny of that campaign (now helpfully erased by goodthinking liberals). Second, wrong question: Both Clinton's privatized email server and corruption at the Clinton Foundation are new, not 25-years-old: They are new both institutionally, and in the breathaking audacity and staggering incompetence with which they have been executed.

"More than 50 business executives, including several longtime Republicans, will endorse Hillary Clinton for president on Thursday as her campaign seeks to capitalize on discomfort with Republican Donald Trump" [Wall Street Journal, "Some GOP Business Leaders Are Backing Clinton"]. The endorsements reflect continuing unease among some Republicans with the presumptive Republican presidential nominee despite his romp through the primary contest." Translation: The left can go pound sand; the Democrat Party has the constituencies it really wants. Ka-ching.

"Things to bring to a House sit-in: iPhones, snacks and pink-striped pillows" [WaPo]. But not Milk of Magnesia for the tear gas, it would seem. When I think of what the people in Tahrir Square, or Plaza do Sol, or Syntagma Square, or the state capitol occupations, or Occupy proper, or Carré Rouge, or #Ferguson went through, and then I see powerful political figures — sitting on a plush red carpet! — appropriating the "sit-in," a tactic of the powerless, to try to move a bad bill as a piece of political theatre in an election year, I throw up a little in my mouth. Seldom has virtue signalling among our professional elites been as shameless or disgusting.

"The Clinton Campaign Seems To Think Pennsylvania Is In The Bag" [FiveThirtyEight].

"Can Hillary Clinton Turn Red States Blue?" [The Atlantic]. She sure can if she picks a Red State moderate like Tim Kaine [snicker]! Continues HoHo's wistful thinking from yesterday.
Stats Watch
Leading Indicators, May 2016: "Skewed by a since-reversed rise in jobless claims, the index of leading economic indicators fell 0.2 percent in May" [Econoday]. "Except for the interest rate spread, which once again is the biggest positive and one largely reflecting Fed accommodation [***cough*** manipulation ***cough***], the other 8 components show virtually no change." But: "The Conference Board Leading Economic Index (LEI) for the U.S declined this month – and the authors warn 'volatility in financial markets and a moderating outlook in labor markets could pose downside risks to growth'" [Econintersect]. "The market (from Bloomberg) expected this index's value at -0.1 % to 0.3 % (consensus 0.2 %) versus the -0.2 % reported."
Jobless Claims, week of June 18, 2016: "Strong and welcome strength is the signal from jobless claims which are at historic lows and trending lower. Initial claims fell a very sharp 18,000 to 259,000" [Econoday]. "Initial claims are putting in their best showing since the early 1970s while continuing claims are at their best since 2000 (which for the latter is the beginning of the series). But that's history. More immediately, today's results suggest that May's 38,000 payroll gain very well may prove an outlier." And: "It looks like there was a little week-to-week noise over the past two readings, and the state-by-state data suggest that it occurred in California (which accounts for by far the most claims of any state)" [Amhert Pierpont Morgan, Across the Curve]. "While Chair Yellen and the FOMC were clearly spooked by the May employment report, there has not been very much corroborating evidence of a shift in labor demand. Rather, to the extent that job growth is slowing, it is most likely because the supply of available and qualified workers has dwindled." But: "Low levels of claims typically coincide with ongoing job creation. But hiring slowed in May, with employers adding just 38,000 jobs, the weakest gain since September 2010. Average monthly job growth over the prior three months was 116,000, a sharp slowdown from the growth of 219,000 averaged monthly over the prior year" [Wall Street Journal, "U.S. Jobless Claims Fell as Labor Market Shows Resilience"].
Household Income: "According to new data derived from the monthly Current Population Survey (CPS), median annual household income in May 2016 was $56,853, $514 (or 0.9 percent) lower than the April 2016 median of $57,367." A statistically significant decline [Econintersect]. Best economy ever!
Chicago Fed National Activity Index, May 2016: "May was a weak month based on the minus 0.51 result for the national activity index, one that drives the 3-month average to a minus 0.36 level consistent with below average growth" [Econoday]. "Production, not employment, is by far the weakest component in May, at minus 0.32 and reflecting contraction in industrial production and factory utilization…. The readings in this report are broadly but not deeply negative." And: "The economy's growth declined based on the Chicago Fed National Activity Index (CFNAI) 3 month moving (3MA) average – and remains well below the historical trend rate of growth (but still above levels associated with recessions)" [Econintersect].
PMI Manufacturing Index Flash, June 2016: "Activity this month is moving higher from a cycle low in May for Markit's U.S. manufacturing sample" [Econoday]. "Key components all are accelerating including new orders, backlog orders, production and also employment. Special strength is being registered in new export orders where growth is at 2-year high and likely reflecting the benefits from this year's decline in the dollar. Price data are showing life with raw material costs rising, in part due to steel, and selling prices showing the strongest increase since January. But the sample is still managing inventories tightly… [T]he manufacturing flash is pointing to modest traction for a factory sector that has been stumbling so far this year."
Bloomberg Consumer Comfort Index, week of June 19, 2016: "Consumer confidence readings have been mostly solid but the comfort index has been lagging. Yet not so in the June 19 week with the index jumping a very strong 2.1 points" [Bloomberg]. "Strength in confidence ultimately boils down to strength in the jobs outlook. "
New Home Sales, May 2016: "New home sales fell a severe looking 6.0 percent in May but the annualized sales rate, at 551,000, is second best of the cycle" [Econoday]. "Trends right now in the housing market do not appear to be red hot but only moderate, which perhaps is a positive for an often boom-and-bust sector." Whoa, the spin! But: The series suffers from methodology issues, and "the quantity of new single family homes for sale remains well below historical levels" [Econintersect].
Shipping: "In May 2014, Amazon shipped two boxes containing multiple 1-gallonjugs of a corrosive rust stain remover from Plainfield, Ill., to Davenport, Fla., the FAA said. Workers at a FedEx Corp. sorting facility in Lake Wales, Fla., discovered that the product, called Rid O' Rust Stain Preventer Acid, had leaked through one of the cardboard boxes. The next month, Amazon sent a box containing a 19-ounce container of Simple Air EZ Green,a flammable gas used to clean heating and air conditioning systems, by air from Whitestown, Ind., to Glendale, Calif., the FAA said" [Wall Street Journal, "FAA Levies Two More Fines on Amazon"]. I'm thinking of ordering a propane weed whacker, and I've been wondering whether I could order a tank of propane to go with. Looks like the answer is yes!
Shipping: "Some of the most significant investment triggered by the expansion of the Panama Canal has been taking place in a quiet corner of South Carolina, some 200 miles from the coast. The changes in the countryside surrounding Greenville and Spartanburg, where rolling hills and farmland have given way in recent years to massive warehouses and industrial parks, show how the prospect better access to overseas markets is redrawing the supply chain landscape. WSJ Logistics Report's Erica E. Phillips writes that several million square feet of warehouse space is under construction in the area, business that will add to burgeoning growth in the region known as The Upstate" [Wall Street Journal]. And you can bet there are no pesky unions!
Shipping: "The U.S. Census Bureau reported last Tuesday that May retail sales climbed 2.5 percent from year-earlier figures, and 0.5 percent sequentially. Yet May's overall gain masked divergences in retail activity that impacted the trucking segment in different ways, according to [Thomas S. Albrecht, transport analyst for investment firm BB&T Capital Markets]" [DC Velocity]. "For example, e-commerce's year-over-year sales growth of 12.2 percent, the highest recorded so far this year, would mostly benefit parcel and less-than-truckload (LTL) carriers because they handle a disproportionate amount of online shipments, Albrecht said in a note last week. Truckload carriers, by contrast, would be adversely affected by a 5.8-percent drop in department store sales, as demand for apparel sold through brick-and-mortar retail channels was pushed lower, in part by the growth in online traffic. Spending on health care and restaurants, both of which rose briskly year-over-year in May, would not move the needle much because neither category is dramatically freight-specific… The dichotomy would explain why truckload executives are waxing pessimistic about market conditions even though total retail sales appear relatively solid, Albrecht said."
Shipping: "What will today's referendum in Britain on membership of the EU mean for shipping?" [Splash247] If "sanity" does not prevail, and "the lunatics take over the asylum, and the sort of rabble rousing, anti-foreigner, anti-immigrant, backward looking, Poujadist sentiment which the Leave campaign have summoned up since they discovered that their economic case does not fly, and which has already led one mentally unstable right wing fool to murder his much admired member of parliament, finds support with more than half the voting population of Britain, then the implications for shipping are, as with all disruptive events, rather better. Our industry thrives on chaos. We might be about to get a good dose of it." Volatility voting…
"During the 12 months ending June 30, the number of people leaving California for another state exceeded by 61,100 the number who moved here from elsewhere in the U.S., according to state Finance Department statistics. The so-called 'net outward migration' was the largest since 2011, when 63,300 more people fled California than entered" [San Jose Mercury News].
"China industrial investment slowing amid tepid demand: Deputy minister" [Futures].
Today's Fear & Greed Index: 73, Greed (previous close: 57, Greed) [CNN]. One week ago: 50 (Neutral). (0 is Extreme Fear; 100 is Extreme Greed). Last updated Jun 23 at 12:17pm. UK betting parlors a leading indicator?
Corruption
"[Regulatory] capture happens when special interests have shaped policy in ways that advance industry interests rather than statutory intent" [RegBlog]. "Understood this way, capture is not a binary situation, but rather exists on a spectrum, ranging anywhere from weak, to intermediate, to strong. In strong cases of capture, policy is effectively crafted and implemented by industry. In other cases, capture manifests itself in agency policy being pushed in an overly industry-friendly direction at the expense of statutory intent, but to a lesser extent than with strong capture. In still other instances, capture may be weak, such as with medical device regulation at the U.S. Food and Drug Administration today." Hmm. Would Roy Poses agree, on medical devices?
Health Care
"Striking nurses highlight violence they suffer on the job" (in the ER, from patients) [Workday Minnesota (Will)]. "In the current contract negotiations, Allina has refused to address non-economic issues like workplace violence while insisting nurses move off of MNA health insurance plans and accept what the nurses say are inferior, more expensive plans."
"Feds will use tax penalty data to find uninsured millennials" [Seattle Times]. As enforcement slowly clamps down…
"Conservatives consider [the PPACA] the very embodiment of government overreach. On the other hand, many liberals support a single-payer system and pass the ACA off as a sellout to powerful interests. When it comes to assessing the law, Americans are caught in an echo chamber in which the din of party elites and activists drowns out their positive personal experiences. And that is troubling" [The Hill]. Beltway harrumphing and chin-stroking. As we have seen, Americans prefer single payer to any other solution; liberals sold them out; and the left does not "pass off" ObamaCare at all.
Gaia
"What Permaculture Isn't—and Is" [Toby Hemenway]. "Humans are a problem-solving species. We uncover challenges—How do we get food? How do we make shelter? How do we stay healthy?—and then we develop tools to solve those problems. Permaculture is one of those tools. For the last 10,000 years, agriculture and the civilization it built have been the way humans attacked the problems of meeting basic needs. … [O]ur industrial civilization of seven billion is chewing up ecosystems relentlessly. We are learning that without healthy ecosystems, humans—and everything else—suffer. So we cannot focus solely on the problem, 'How do we meet human needs?' but must now add the words, 'while preserving ecosystem health.' Rafter Ferguson has offered that question as a definition of permaculture." Well worth a read.
"Why Dwarfism?" [Sapiens]. "Both the Liang Bua and Mata Menge hominin fossils are evidence of "insular island dwarfism" among hominins. I should note that "dwarfism" in this context does not refer to the congenital disorder, achondroplasia, of a single individual but to an evolutionary phenomenon in which, over generations, body size is reduced in a population of organisms. For island dwellers over a certain size, body size can reduce significantly over time—and often quite quickly, in as few as 2,000 to 3,000 years."
"Rainbow Family Lays Groundwork for Its Massive Vermont Gathering " [Seven Days].
Class Warfare
On meritocracy: "The collapse of the banks in 2008 and the piss-poor level of political debate and journalism all show that the rich and successful don't have much merit" [Stumbling and Mumbling]. This is a great argument:
The economic case for meritocracy is that the most demanding jobs must be done by the best people, those most able to do them. But what if these jobs are so demanding that nobody can reliably do them – that the span of control is so wide as to exceed anybody's cognitive skills? In such cases, the solution isn't meritocracy, but to deconstruct "top jobs" to make them less demanding. Diversity trumps ability. Ways of doing this might include: decentralizing management to make firms less dependent upon "leaders"; using rules or automatic feedback processes rather than "judgment"; simplifying organizations for example by breaking up banks; introducing proper institutions of deliberative democracy rather than relying upon politicians' initiatives; and so on.
Rice bowls were made to be broken. And in a society with a decent system for public provision of services — avoiding the tendentious, neoliberal "safety net," since life is enough of a tightrope without them adding to it — a broken rice bowl would only be about ego, wouldn't it?
"For the first time, America is no longer No. 1 for super-rich" [MarketWatch]. "The wealth of high net worth individuals in the Asia-Pacific grew by 10% or almost five times North America's 2% growth for high net worth individuals (HNWI) last year, according to the World Wealth Report released Thursday by Capgemini, a global consulting, technology and outsourcing service. There was a big drop from North America's 9% HNWI growth rate the year before, dragged down by poor performance of U.S. and Canadian equities. The World Wealth Report covers 71 countries, accounting for more than 98% of global gross national income and 99% of world stock market capitalization."
"Hardly anyone recognizes–whether politicians, public intellectuals, government policy makers, police or social workers–that focusing on the offender is dealing with only half the problem. We need also to deal with the many and varied ways in which society inadvertently creates the opportunities for crime that motivated offenders exploit" [Schneier on Security]. Schneier labels this recognition "situational awareness," which is an interesting frame.
"Why Radical Libertarians Are the New Communists" [Evonomics]. "Radical libertarianism assumes that humans are wired only to be selfish, when in fact cooperation is the height of human evolution. It assumes that societies are efficient mechanisms requiring no rules or enforcers, when, in fact, they are fragile ecosystems prone to collapse and easily overwhelmed by free-riders. And it is fanatically rigid in its insistence on a single solution to every problem: Roll back the state! Communism failed in three strikingly similar ways. It believed that humans should be willing cogs serving the proletariat. It assumed that societies could be run top-down like machines. And it, too, was fanatically rigid in its insistence on an all-encompassing ideology, leading to totalitarianism."
News of the Wired
"The Rule of 72" [Better Explainer]
"Robert Plant testifies he can't read music or remember the '60s. Verdict: Still a rock star." [WaPo]. Seems legit.
"Mir Spacecraft: Worst collision in the history of space flight" (video) [BBC]. Saw the movie Gravity recently…. Will GPS be forever? Quite possibly not.
"Russia Actually Lights Rockets With an Oversized Wooden Match" [Popular Mechanics]. From the country that did not bring you the F-35…
* * *
Readers, feel free to contact me with (a) links, and even better (b) sources I should curate regularly, and (c) to find out how to send me images of plants. Vegetables are fine! Fungi are deemed to be honorary plants! See the previous Water Cooler (with plant) here. And here's today's plant, or at least plant matter: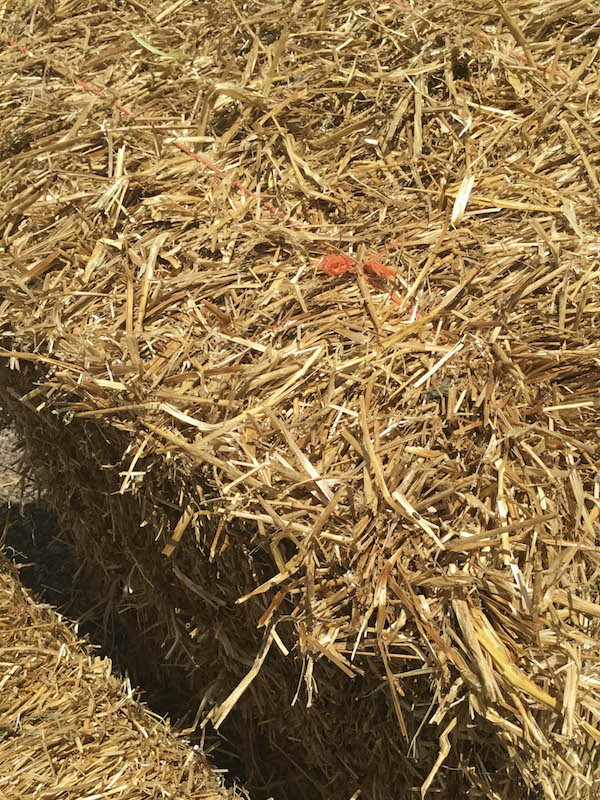 This is not a very exciting picture, but it is exciting to me; my straw came today, and I'm going to sheet mulch everything, including the weeds that are unweeded because I got such a late start. Everybody's complaining about their late start, though, including the driver who dropped off the straw, so perhaps it's the two weeks of miserable rain and cold. Or something economic?
Readers, if you want to send me some videos of plants in whole systems (bees and blossoms, for example, or running streams) — I can use them to practice with FFmpeg and hopefully post them. Because of download times, they'll have to be measured in seconds, rather than minutes. Thank you!
Adding, thank you readers for last week's rapid and successful Water Cooler Mini-Fundraiser. I'm still writing thank you notes! Yours will arrive!
* * *
Readers, if you enjoyed what you read today, please use the dropdown to choose your contribution, and then click the hat! Your tip will be welcome today, and indeed any day. Water Cooler will not exist without your regular support.