By Lambert Strether of Corrente.
TTP/TTIP/TISA
"More and more the word is getting out that President Obama, along with the giant multinational corporations and Wall Street, will launch a push in Congress to pass the Trans-Pacific Partnership (TPP) during the "lame duck" legislative session following the election" [Dave Johnson, Campaign for America's Future]. "President Obama should put a stop to this talk right now. It hands Republican presidential nominee Donald Trump a powerful issue to use against – and embarrass – Hillary Clinton, should she become the Democratic nominee." If Obama, in fact, cares about embarassing Clinton.
2016
The Voters
"Pew's wage-depressed list hints at the Clinton vs. Trump campaign battlefields this fall. Two cities in Ohio are on the top 10 list, along with three in Michigan, including Flint. Austin, Texas, an oasis of progressive politics in an otherwise conservative state and a city that added more than 300,000 jobs since 2000, saw a 3.6 percent drop in average real weekly wages over a decade and a half" [RealClearPolitics]. Introducing a series called "Middle Class Angst," conveniently conflating credentialed professionals with wage workers.

"Donald Trump and the Idea of the Rust Belt" [The New Yorker]. "The conviction that the heartland provided a moral counterweight to coastal excess and cynicism was until recently alive… In the Trump campaign the Midwest has lost its specificity and become a floating metaphor. Its meaning is that everyone is vulnerable. The story that is told is about the certainty of loss." *** cough *** Case-Deaton study *** cough *** It's cute to watch the New Yorker try this sort of story, isn't it? Maybe they should send Adam Gopnik to Flint or Ferguson, next. What say, Hendryk?

"I've examined all the presidential general election polling since 2000 — which is 2,056 polls in all. These data tell a very different story, however. The polls aren't "broken" after all." [The Monkey Cage, WaPo].

UPDATE "[T]his election season has not been kind to the predictive power of the liberal-moderate-conservative typology beloved by pollsters" [Jacobin]. "through constant excoriation, Sanders has formulated what Achen and Bartels would call an identity around which his supporters cohere: they are not the billionaire class. They stand against it. Of course, when coupled with the social-democratic remedies Sanders pushes, this is just old-fashioned class politics — the idiom of any viable left project. But that's the point." Important take-down of identity politics 'splaining of the Sanders campaign.

UPDATE "'Speaking at Union County College, Bill Clinton said "white, non-college-educated Americans" who are widely seen as a core part of Trump's base 'need to be brought along to the future'" [Yahoo News]. No class war there!

UPDATE "Native Americans move to frontlines in battle over voting rights" [Reuters].

"Meet David French: the random dude off the street that Bill Kristol decided will save America from Trump [Vox]. Kristol is truly pathetic.

"[Trump delegate David] Riden told Mother Jones in an interview that US leaders who violate the Constitution may have to be done away with: "The polite word is 'eliminated,'" he said. "The harsh word is 'killed.'" [Mother Jones].

"'The Bullet Box' Is an Option If the Ballot Box Fails, Says Gun-Rights Advocate" [New York Magazine].
Our Famously Free Press
"The Lazy Pundit's Guide to Which Candidate's Lies You Shouldn't Care About" [FAIR]. Thomas Friedman. Of course.

By avoiding press conferences, Clinton is "playing to her strengths" [New York Magazine].
The Trail
"Bernie Sanders Fights On: The Rolling Stone Interview" [Rolling Stone]. Missed this one.

[SANDERS:] Here's what the common denominator is: To the media's great shock and to the pundits' great shock, there are millions of Americans who are very, very angry. And they're angry because they're working longer hours for lower wages. They're angry because they're working two and three jobs. They're worried about the future of their children – getting decent jobs and getting homes. And then they look at the leadership of the Democratic Party and the leadership of the Republican Party and they don't see people addressing – or even paying attention to – their needs. And Trump comes along and starts to blame Mexicans or Muslims or women for the problems facing society. The people are seeing that someone at least is speaking to their anger. And that's unfortunate. That's a very ugly approach. But that's why he's succeeding.

We are also addressing the anger of the American people. [But] in a constructive way. And that is to say: We've got to bring people together. Do the exact opposite of Trump, who is trying to divide us up. To look at the real causes for why the middle class is declining, and develop public policy that addresses the needs of working families.

"Don't rule it out: Bernie Sanders (slightly) leaves door open for Green Party run with Jill Stein" [Salon]. Yeah, but Kevin Zeese. Anyhow, Sanders was asked if he'd take up Stein's offer. "[His] response left open the door to running as a Green. He could have easily rejected the offer of a Sanders-Stein ticket, instead he said: "Right now, our goal is to win the Democratic nomination."

"Hillary Clinton's campaign message keeps evolving" [WaPo]. "So far Clinton has cycled through a half-dozen official and unofficial slogans and themes. She launched her presidential campaign talking about 'four fights' for America (though the exact nature of the fights, and their order, shifted) [see here]. The Clinton campaign's placards have a different take and say 'Fighting for us."" Perpetually fighting for, never winning. Anyhow, there seem to be many people suddenly anxious to help….

Advice for Clinton: "Anti-capitalism, anti-finance, anti-trade and so forth work well for Bernie Sanders because he believes it. You can't plausibly pretend to be a warrior for social justice, champion of managed trade or would-be scourge of Wall Street. Nothing in your record of policy-making, legislation, fund-raising or speaking engagements supports such a posture" [Clive Crook, Bloomberg]. "Emphasizing competent centrism helps with another key element of your winning strategy."

Advice for Clinton: "One of [Clinton's] original campaign slogans — amid many subsequent efforts — was 'Fighting for You.' The implied subject of that sentence is 'I"" [MarketWatch]. "Donald Trump's slogan, by contrast, is "Make America Great Again." The implied subject is 'you,' and it is an empowering slogan that addresses the frustrations of many Americans and offers a solution at the same time… The response of many voters to Trump's empowering slogan has been, "Count me in." … Bernie Sanders's slogan, "A future to believe in," is also empowering because again it is "you," the voter, doing the believing."

UPDATE Advice for Clinton: "Hillary Clinton Has a Shouting Problem" [Kevin Drum, Mother Jones]. And so another Clinton campaign smear bites the dust, given that Drum's quoting a friend's daughters.

"Clinton's campaign hopes that there are many more national-­security-minded Republicans and independents who would vote for her, even grudgingly, rather than see Trump win the White House. Those voters are an important part of the audience for her case that she is fit to be commander in chief and that Trump is not" [WaPo]. Well, sure. Clinton voted for the Iraq War. Former Bush voters should appreciate that.

UPDATE "Hillary Clinton vs. Herself" [Rebecca Traister, New York Magazine]. An extremely sad long-form piece. There is nothing contradictory about a charming and intelligent, even empathetic, Hillary Clinton, effective on the trail in small groups, and a network of corruption. In fact, the two could reinforce each other.

"Why I think Bernie Sanders will drop out and endorse Hillary Clinton soon" [Matt Yglesias, Vox]. As long as Sanders doesn't give his list to the DNC. If he does [threatening voice], I'm voting for Trump. Götterdämmerung: Why wait?

Eight years ago, Hillary Clinton was in a broadly similar position to Sanders — hopelessly behind in the delegate race but vowing to fight to the convention — and she backed down when the voting was done.

One crucial difference, however, was that Clinton's "the superdelegates will swing it my way" theory of the race made a baseline level of sense for her that it doesn't for Sanders.

No. The crucial difference between Clinton 2008 and Sandes 2016 is — I would argue, time will tell — Sanders voters. Sanders voters are experienced at organizing and are self-organizing, since they include activists from movements that sprang up only after 2008; hence, they will not share the sad fate of the PUMAs. That's why the Sanders list (which the establishment commentariat pointedly does not talk about) is one of the biggest issues in the game; it preserves the Sanders electorate's power as an independent actor.

"More Berners to Philly than Pope Francis pilgrims?" [Philadelphia Inquirer (Paul Tioxin)]. "Sanders has promised(?), suggested(?), threatened(?) that the convention will be "messy" if he's shut out. What does that mean? In the committees? On the convention floor? On Broad Street? (Spoiler alert: It does not mean physical violence.)" Speaking of self-organizing….

"Party leaders in Washington had so written off the idea of retaking the majority that a "Majority Project" launched last fall was aimed at elections in 2022 — after the next round of congressional redistricting. Trump's rise to presumptive GOP nominee sparked a scramble in recent months to recruit Democratic candidates, even in some Republican-leaning districts" [WaPo]. The key word there is "scrambled."

Volatility voters: "Why Trump voters are not "complete idiots"" [Medium]. "As any trader will tell you, if you are stuck lower, you want volatility, uncertainty. No matter how it comes. Put another way. Your downside is flat, your upside isn't. Break the system." Important!

"Newly released documents in a lawsuit against Trump University cite several former employees of the school as saying the university didn't live up to what it promised" [Wall Street Journal, "Ex-Employees Criticize Trump University, Calling It 'Scheme' and 'Total Lie'"]. Won't matter to volatility voters; if anything, it will reinforce their convictions.

"Exclusive: Trump's 3,500 lawsuits unprecedented for a presidential nominee" [USA Today]. Ditto.
Stats Watch
ADP Employment Report, May 2016: "The May employment report isn't expected to be very strong but it may not prove, in contrast to expectations, to be any weaker than April, at least based on ADP's estimate for private payrolls which comes in at 173,000 vs ADP's revised 166,000 for April" [Econoday]. Curb your enthusisasm….
Challenger Job-Cut Report, May 2016: "Layoff announcements during May, in contrast to April, were very low" Econoday]. "This report in April was consistent with that month's soft employment report from the government and today's report, perhaps, hints at strength for May."
Jobless Claims, week of May 28. 2016: "The last look at jobless claims heading into tomorrow's employment report is somewhat favorable, pointing perhaps to only slightly less strength in the labor market" [Econoday].
Gallup Good Jobs Rate, May 2016: "up slightly" [Econoday]. "The workforce participation was 67.3 percent in May, matching the percentage for April" (this is a survey).
Bloomberg Consumer Comfort Index, week of May 29, 2016: "The consumer comfort index had been depressed the last several reports but not in the May 29 week as it surged from 42.0 to 43.2 for the best reading since April" [Econoday]. "Today's results, together with upbeat chain-store reports, hint at another solid month for retail sales."
ETFs: "Investors poured just $2.1 billion into U.S.-listed ETFs in May, putting year-to-date ETF net creations at only $49 billion, about half of May 2015's net inflows of $84 billion." [ETF.com]. Still looking for ETF sources; this one, frankly, reads like it hired some of its breathless-with-excitement writers from Bitcoin. But you go to read with the writers you have…
Oil: "Saudi Aramco Seen Increasing July Oil Premium for Asia Customers" [Mosler Economics]. "The higher prices likely indicate a change in policy from that of putting downward pressure on prices to a more neutral stance."
Shipping: "The official opening of the expanded canal will take place in just over three weeks" [Splash247]. "It has not been without its travails – leaking locks, collapsed walls and extraordinary budget overruns – but Grupo Unidos por el Canal (GUPC), the consortium expanding the Panama Canal, said yesterday the project is now ready to accept vessels."
Shipping: "U.S. railroads reported a 6.8 percent decrease in carload and intermodal traffic last month compared with May 2015, the Association of American Railroads (AAR) announced yesterday" [Progressive Railroading]. ""Most economists think the economy has picked up in the second quarter from the dismal 0.8 percent growth in the first quarter, but so far railroads aren't seeing much of it," said John Gray, AAR's senior vice president of policy and economics." Although the stats don't include Memorial Day, unlike 2015's.
Shipping: "Top 22 North America TEU [Twenty-foot Equivalent container] traffic slowdown continued during April, East Coast TEU traffic has overtaken the West Coast by percentage performance from last month." reversing trends" [Seeking Alpha].
Shipping: "A Scandinavian courier company, PostNord AB, and supermarket chain, ICA AB, are testing the new service with about 20 households in the Swedish capital, promising that messengers will remove their shoes and unpack online deliveries, even when customers are away." [Wall Street Journal, "Delivery Service Brings Groceries to Your Fridge When You're Away"]. "The pioneering service hinges on a new add-on lock, which customers must install on their doors and which messengers can open with their smartphones. Made by Swedish startup Glue AB, the lock allows residents to decide remotely when to allow access to their homes." What could go wrong? [reading onward]. Ah, a "startup." So, by default, it's a scam.
The Bezzle: "Machine Learning: The High-Interest Credit Card of Technical Debt" [Google].
The Bezzle, Internet of Things Edition:
Couldn't adjust my air conditioning today because my thermostat was offline. The future is amazing! pic.twitter.com/hlMgaImAiz

— Adam Driscoll (@adamdriscoll) May 31, 2016
"Singapore set to lead the world with driverless taxis, with help from MIT" [The Drum]. "The startup nuTonomy Inc — based in Cambridge, Mass and Singapore — has revealed that it raised $16m to continue work on its autonomous vehicle technology." Ah, another startup. That's going to "continue work." To be fair, the infrastructure of a wealthy and tiny city-state like Silicon Valley Singapore may be able to support such a thing.
"An audit report published on Thursday suggests that debt-laden Puerto Rico may be able to void some of its borrowing because politicians exceeded constitutional debt limits and their own authority" [MarketWatch]. "The report, shared with MarketWatch, states that some of Puerto Rico's debt may have been issued illegally, allowing the government to potentially declare the bonds invalid and courts to then decide that creditors' claims are unenforceable [!!!]."
Today's Fear & Greed Index: 77, Extreme Greed (previous close: 78, Extreme Greed) [CNN]. One week ago: 74 (Neutral). (0 is Extreme Fear; 100 is Extreme Greed). Last updated Jun 2 at 11:45am. Edging higher….
Health Care
"Unpaid, stressed, and confused: patients are the health care system's free labor" [Sarak Kliff, Vox]. "What I didn't understand was the burden patients face in managing the health care system: a massive web of doctors, insurers, pharmacies, and other siloed actors that seem intent on not talking with one another. That unenviable task gets left to the patient, the secret glue that holds the system together. For me, this feels like a part-time job where the pay is lousy, the hours inconvenient, and the stakes incredibly high." Kliff has done really good work on health care, so I don't want to trash her; but it seems she's learning what every NC commenter who's had to cope with ObamaCare has already known for years. Of course, Kliff's solution is technical: Better interchange of medical records through EHR. Not on her radar screen, sadly, is the institutional simplication that single payer would bring. So in fact there two reasons to file this under class warfare, aren't there?
Our Famously Free Press
"How To Herd your Critics into Fake Communities and Waste their Time (Part 3)" [Consent Factory].
Water
"When the River Rises" [Texas Monthly]. "For years he had been asking local politicians and federal and state agencies to install more gauges on the river, to tell him how much water was coming into Wimberley. But still there were no gauges upstream. Instead Czichos relied on a network of old-timers—local ranchers and property owners—to tell him what was coming. Today they had been calling his cell phone one after another, their voices urgent. The river was crawling up their tree trunks, cresting over bridges, rising higher than they had ever seen."
"'This Doesn't Have a Name': A Molecule of Water Can Exist in Six Places at Once, Researchers Find" [Vice]. This is really cool. From Oak Ridge National Laboratories:
Neutron scattering and computational modeling have revealed unique and unexpected behavior of water molecules under extreme confinement that is unmatched by any known gas, liquid or solid states.

In a paper published in Physical Review Letters, researchers at the Department of Energy's Oak Ridge National Laboratory describe a new tunneling state of water molecules confined in hexagonal ultra-small channels – 5 angstrom across – of the mineral beryl. An angstrom is 1/10-billionth of a meter, and individual atoms are typically about 1 angstrom in diameter.>

"At low temperatures, this tunneling water exhibits quantum motion through the separating potential walls, which is forbidden in the classical world," said lead author Alexander Kolesnikov of ORNL's Chemical and Engineering Materials Division. "This means that the oxygen and hydrogen atoms of the water molecule are 'delocalized' and therefore simultaneously present in all six symmetrically equivalent positions in the channel at the same time. It's one of those phenomena that only occur in quantum mechanics and has no parallel in our everyday experience.">

The existence of the tunneling state of water shown in ORNL's study should help scientists better describe the thermodynamic properties and behavior of water in highly confined environments such as water diffusion and transport in the channels of cell membranes, in carbon nanotubes and along grain boundaries and at mineral interfaces in a host of geological environments.
"Transport in the channels of cell membranes" doesn't sound all that removed from the classical world to me: Some of those cells could be in my body!
Class Warfare
"If wages and incomes are rising, why are people so angry about the economy?" [Jared Bernstein, WaPo]. (If you think about it, Betteridge's Law provides the answer volatility-voters would give.) "So I think I get why some people are unsatisfied with the economy and beyond. Growth hasn't reached all corners by a long shot, and policymakers have too often been at best unresponsive to that reality and at worst, just plain awful. You can go one of two directions with that insight. You can turn to a demagogue who exploits this disconnect without any coherent plans to do anything about it. Or you can get to work on the policy agenda that works to preserve what's been going well and addresses what's hurting us. I choose 'b.'" Or you could reject the demagogue, reject the policy agenda, and muddle through, apres-moi-style, trusting the political class that created the problem to solve it.
"Swiss voters will decide in a referendum on June 5 whether to introduce a "basic income". In proposed reforms to the social welfare system, all residents would be entitled to a guaranteed income of SFr30,000 ($30,275) a year from the state — unconditionally" [John Kay]. "Back in the real world, there are two ways to assess household needs for welfare. Contingent benefits target causes of poverty — old age, unemployment, disability, large or broken families. But it is costly and inappropriate to subsidise Warren Buffett, Rupert Murdoch and the Queen just because they are elderly. Income-related benefits address poverty more directly but diminish incentives to work. Social welfare systems everywhere make use of both types of information — contingent and income-related — to balance cost and effectiveness. That is why they are, inevitably, complex." And the complexity is a jobs program for people like John Kay!
"The Sharing Economy Can Transform Economic Development" [Economic Monitor]. Innovative ideas needed: "Some of these ideas are taking shape—for example, a proposal by two economists to create a category of worker who receives limited benefits such as health insurance contributions or payroll taxes, but it is not entitled to a minimum wage or unemployment insurance." Cool!!!!!
News of the Wired
"[W]hile we need lots and lots of people with humanities and social science backgrounds, in today's increasingly anti-intellectual climate, majoring in philosophy is becoming a risk that fewer and fewer people can afford to take. It's also becoming an option that fewer and fewer people have to begin with, as schools from Queen's University to CUNY make it harder and harder to study in fields that can't attract their own corporate donors" [Baseline Scenario]. "This is what happens when you have a poor job market for new graduates, a social safety net in tatters, crumbling financial support for public higher education, an arms race in corporate fundraising by elite private schools, and a general takeover of the intellectual culture by corporate CEOs. Studying French literature will become one more luxury good reserved for the elite."
"2,000-year-old handwritten documents found in London mud" [AP]. Written on wood!
"I invented 'virtue signalling'. Now it's taking over the world" [Spectator]. From 2015, but a useful concept, especially on the Twitter of today.
"Sittuyin retains some of the full-blooded flamboyance from the days when kings used it to plot real battles in which elephants were a fearsome weapon — "Sitt" in Burmese means "war"" [Agence France Presse]. ""Diversity is wealth. If these games can be preserved they must be preserved," [said chess historian Jean-Louis Cazaux]. Speaking of the humanities…
Ha:
well played everyone! pic.twitter.com/V8IkiAKqkp

— Chris Steller (@chris_steller) May 29, 2016
* * *
Readers, feel free to contact me with (a) links, and even better (b) sources I should curate regularly, and (c) to find out how to send me images of plants. Vegetables are fine! Fungi are deemed to be honorary plants! See the previous Water Cooler (with plant) here. And here's today's plant (Martha R):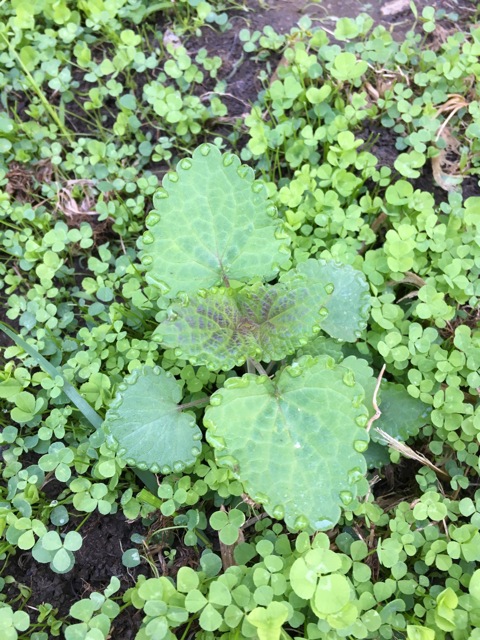 Apparently, readers liked Kurt Sperry's plant-y video yesterday. I had expressed a personal desire for "whole systems" images of plants, hopefully beautiful, but it hadn't occurred to me that appealing to multiple senses would be a way to do this.
* * *
Readers, Water Cooler will not exist without your regular support. Your tip will be welcome today, and indeed any day. If you enjoy what you're reading, please click the hat!