Boxing legend Muhammad Ali dies aged 74 BBC. If you haven't seen it, please watch When We Were Kings, on the famed "Rumble in the Jungle".
Muhammad Ali, the Greatest, Dies at 74 Wall Street Journal. I'm old enough to remember the public uproar when he changed his name to Muhammad Ali.
Muhammad Ali, Titan of Boxing and the 20th Century, Dies at 74 New York Times
Factory Robot Working On Some Of Its Own Designs After Hours Onion (David L)
Wounded elephant appears to plead for help from humans after being shot by poachers Telegraph (furzy)
Canadian Magazine Commits Incredibly Charming Copy-Editing Error About 10-Gallon Hats Gawker (Chuck L)
Superbugs Have Reached The U.S. For The First Time — Again FiveThirtyEight
China?
Calls for China to Respect Maritime-Claim Ruling Grow Wall Street Journal

South China Sea: US warns Beijing against building 'great wall of self-isolation' Agence France-Presse
Paris floods: Seine at 30-year high as galleries close BBC
Brexit?
Jamie Dimon Gets in the Face of His U.K. Workers With Threats on Brexit Pam Martens and Russ Martens
Ukraine/Russia
Over 1 Million Russians Are Modern Slaves — Report Moscow Times (Wat)
Syraqistan
Hard Times Ahead for the Israel Lobby (Thank Sanders and Trump) Counterpunch

'Great Satan' USA & 'evil' Britain not to be trusted – Iran's leader RT (resilc) That happens to be true.
Imperial Collapse Watch
It's Rucksacks and Foxholes as Army Goes Old School for New Conflicts New York Times. Bugs Bunny: "This is not jungle or deserts they are preparing for. My guess is Hillary & Co. are going to try to get their war with Russia."

How Obama's Afghanistan plan is forcing the Army to replace soldiers with contractors Washington Post
Big Brother is Watching You Watch
US Government Used Prisoners to Train Tattoo Recognition Algorithms Motherboard (resilc)

Researchers Uncover a Flaw in Europe's Tough Privacy Rules New York Times
2016
Democratic "superdelegates" endorse Bernie Boing Boing. Resilc: "Someone better start Bernie's car for him remotely. Clintoon special forces on overtime."

Beware Of Beltway Professionals Trying To Cash In On Bernie's Name DownWithTyranny!

'More Than a Chance' Clinton May Not Be the Democrats' White House Nominee Sputnik (Wat)

Susan Sarandon says Hillary Clinton is 'more dangerous' than Donald Trump Independent (Richard Smith)

Hillary Clinton's 'Major Foreign Policy Address' Was Anything But Foreign Policy in Focus (resilc)

Clinton's San Diego Speech on Trump and Foreign Policy American Conservative (resilc)

Hillary Comes Out as the War Party Candidate Counterpunch

The Bigger Nuclear Risk: Trump or Clinton? Consortiumnews (furzy)

If Warren is Clinton's VP, Harry Reid has a plan to replace her CBS

Obama: I have Wasserman Schultz's back The Hill

Trump Leads Clinton on Top-Ranking Economic Issues Gallup (resilc). Neoliberal revulsion.

The Trump Trap Foreign Policy. Lambert: "Important. Rothkopf editor of Foreign Policy. Heart of national security class."

Paul Ryan Disavows Trump's Attack on Judge's 'Mexican Heritage' NBC (furzy)

George W. Bush's torture-justifying lawyer is worried about Trump's respect for the law Boing Boing

Protestors and Supporters Brawl Outside Donald Trump Rally in San Jose Gawker

Photographs Show Trump Supporters Pepper Spraying Protesters in The Face (UPDATED) Gawker
8 Quick Thoughts on the Emmett Rensin Suspension Corey Robin. Important. More purging of leftie journalists.
Freedom Rider: Who's the Fascist? Black Agenda Report
Obama Wanted to Cut Social Security. Then Bernie Sanders Happened. Intercept
Obama's Proposal to Expand Social Security Benefits Is Due to Grassroots Activism TruthOut. Resilc: "Bernie effect."
Welfare to work" resulted in neither welfare nor work for many Americans Slate. We can expect more of the same with Bill in charge of the economy.
Demand Clean Water, Get Sued for Defamation Charles Pierce, Esquire (resilc)
Oregon Militant Leaders Unhappy With Jail Rules, Want Facebook Huffington Post (furzy)
Oil
How OPEC Won the Battle and Lost the War Bloomberg (resilc)
Banks' belt-tightening threatens to drive a terminals decline Financial Times (David L)
Art world is 'hotbed' of corruption, collector claims Telegraph (furzy)
US Commercial Bankruptcies Soar (despite Rosy Scenario) Wolf Street (EM)
DoubleLine's Gundlach calls May employment report 'real body blow' Business Insider
May's job report shows the beginning of the end for the recovery Fabius Maximus
Class Warfare
Retrotopia: The Far Side of Progress Archdruid
Antidote du jour. @HistoryToLearn: "Cats waiting for the fishermen to return, unknown date":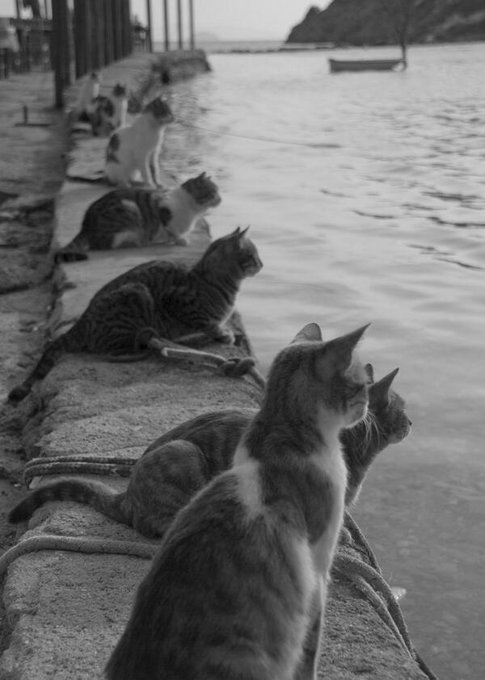 See yesterday's Links and Antidote du Jour here.