Tallest tree in the tropics discovered in Malaysia TreeHugger (resilc)
The most mysterious star in the Galaxy Kickstarter. EM: "On of the more interesting Kickstarter campaigns."
Gene Drives That Tinker with Evolution Are an Unknown Risk, Researchers Say MIT Technology Review (David L)
Changing Direction, Big Food Decides to Label Products Containing GMOs Food Tank
Tesla Knows When a Crash Is Your Fault, and Other Carmakers Soon Will, Too MIT Technology Review (David L)
China?
Refugee Crisis
Europe Is Slamming Its Doors Shut to a Growing and Historic Humanitarian Crisis Alternet (Sid S)
Brexit?
A more accurate version of the Vote Leave poster would run: 'Let's abolish farm subsidies, raise taxes and use all the money we save by leaving the EU so we can spend an extra £350 million a week on the NHS.' Wordy, but, for a lot of left-leaning Britons, an attractive plan. Throw in the promise of cheaper food if we drop tariffs on agricultural imports from Africa, Australasia and the Americas, as Michael Gove wants to do, and it gets even better. Just not for farmers. The spectre haunting the British farmyard is that the EU debate will turn public attention to what's happening down on the farm, whatever the referendum result. There is, after all, another possible version of Vote Leave's poster: 'Let's give our NHS the £75 million our farmers take every week.'
Grexit?
Court cases could face 10-year wait due to lawyers' strike ekathimerini. FWIW, I recall reading in 2015 that the courts are so backlogged that 6 year delays are routine.

Europe Prepares to Pick Who Can Run Greece's Banks Wall Street Journal
Ukraine/Russia
Ukraine's Out of Control Arms Bazaar in Europe's Backyard Daily Beast (resilc)
Syraquistan
Two Important Lessons From Israel's Attack on the USS Liberty Examiner (Judy B)

Clash Looming? Russia-backed Syrian Army heading for ISIL's al-Raqqa in race with US-backed Kurds Juan Cole

CIA and Pentagon Bicker While Russia Wipes Out U.S.-Backed Rebels Daily Beast (resilc)
Imperial Collapse Watch
Destroyers will break down if sent to Middle East, admits Royal Navy Guardian (guurst)

Retire the Foreign Policy Elites National Interest (resilc)
Clinton E-mail Hairball
Voters Will Be Left Hanging by State Department's Clinton Email Slow-Walk TruthOut
2016
California Ballot Status California Secretary of State (Dan K), Circulate this link widely:

Under the federal Help America Vote Act (HAVA) of 2002, every voter who casts a provisional ballot is entitled to find out from his/her county elections official if the ballot was counted and if not, the reason why it was not counted.

Under California Elections Code sections 3017 (PDF) and 3019.5 (PDF), a voter who casts a vote-by-mail ballot can find out if the ballot arrived at his/her county elections office, if the ballot was counted, and, if not, the reason why it was not counted.

Each county elections official allows voters to check the status of his/her vote-by-mail and provisional ballot either through the county website, by telephone, or both.

To find out if your vote-by-mail ballot was received by your county elections official or if your provisional ballot was counted, please click on the appropriate link below or call the phone number listed for the county elections office. For further information about the elections services provided in your county, visit our County Elections offices page.

California Primary: Millions Of Vote-By-Mail Ballots Are Still Uncounted, Will Alter The Final Count Inquisitur (Dan K). Assuming they are counted. Per above, demand an accounting!

Fake ballots with Sanders' name scratched out distributed in Hudson County News 12 New Jersey (martha r). Lambert : "THIS is the explanation for why Sanders does well in caucus states. Elections without Democrats controlling the balloting are, in fact, more democratic.

Analyst: Surge in Younger Voters Failed to Materialize in California Primary KQED

Anthem for Bummed Youth Thomas Frank, Baffler (Phil U)

'The Struggle Continues': Sanders Refuses to Bend the Knee to Establishment Common Dreams (martha r)

Bernie Sanders Supporters Attack Reporters Online After Hillary Clinton Declared Nominee Huffington Post. Steve C: "More Bernie Bro disinformation. It's a tsunami today and everywhere."

Biden: Democrats 'should be a little graceful' in waiting for Sanders to drop out Business Insider (David L)

Obama hopes Democrats 'pull together' BBC

Robert Reich's Open Letter to Bernie Sanders Is Going Viral USUncut (martha r)

Sanders surrogate: 'This is bigger than the math' The Hill (martha r)

Get Out Now, Bernie New Republic. Resilc: "You cannot have a revolution unless you blow shit up. Shit being the DNC and Clintoon crips in control of GOP lite favor of the Democrats currently."

How Bernie Changed the Game American Conservative (resilc)

Hillary's Support Falls American Mirror (Jim Haygood)

Clinton's 'Comeback' That Wasn't American Conservative (resilc)

Democrats Are Now the Aggressive War Party Consortiumnews (Chuck L)

Clinton Tells WSJ She Plans to Take Aim at Trump's Economic Agenda, Calling His Ideas Misguided Wall Street Journal. As Lambert pointed out, foreign policy heavyweights weren't impressed by her speech, and more to the point, I'm not sure it moved voters. Plus she's exposing her strategy early. This gives Trump time to course correct if he really wants to win, which is something I regard as in doubt.

Elizabeth Warren To Endorse Hillary Clinton: Report Huffington Post

Elizabeth Warren Rips Into Paul Ryan's Anti-Poverty Plan Mother Jones. Resilc: "Running hard for VP."

Is Trump Being Racist About Judge Curiel? Benjamin Studebaker. Jeff W:

Even though the topic is Trump and Judge Curiel, the post is really about how the idea that someone's identity (racial, sex, etc.) takes precedence in determining their views or actions has become normalized—so Trump's view of Judge Curiel is no different than the Clinton camps' view of "Berniebros" disliking Clinton because of misogyny—and that idea is itself racist or sexist. It's basically a critique of identity politics.

Cult Deprogrammer: Here's How to Stage an Intervention for Your Trump-Supporting Friend Alternet. Wowsers. Totally dismisses the idea that there could be a rational basis for supporting Trump. And looks like more than a bit of projection. The sycophancy in Clinton's team (per e-mails) is awfully cultish and there are also some signs among her diehard loyalists.

Elected Officials Are Leaving the Republican Party Over Trump Pacific Standard (Chuck L)

Trump's Actual Racism and How It's Thrived Bill Moyers

Donald Trump prepares charge sheet against Hillary Clinton POLITICO

Pfizer CEO Can't "Distinguish Between the Policies" of Donald Trump and Hillary Clinton Intercept
Paul Krugman. VSP The Pub. Important.
Brownback's Abject Tax Policy Failure in KS Barry Ritholtz (resilc)
Dry Taps and Lagoons of Sewage: What America's Water Crisis Looks Like Nation
Police State Watch
Oklahoma Cops Can Now Seize Money From Prepaid Debit Cards, Without Filing Criminal Charges Forbes

Norman Seabrook, NYC correction officers' union head, arrested on federal corruption charges New York Daily News (Abigail Field)
Why Are Fewer People Getting Married? The Conversation
BLS Says Jobs Openings Up; Actually, Openings Falling Fast Michael Shedlock (EM)
Worldwide Alcohol Consumption Went Down Last Year—Except in the United States Alternet
Fidelity snubs Dimon's best practice plan Financial Times
Franklin CEO: asset management industry will consolidate Financial Times
The secret to investing in hedge funds: avoid almost all of them Business Insider
A Bearish George Soros is Trading Again Wall Street Journal
Class Warfare
They Died of Progress Archdruid. Lambert: "This is the Archdruid's version of crapification."
Antidote du jour. Alex F: "The Orange Cat. ???? – 2016. RIP."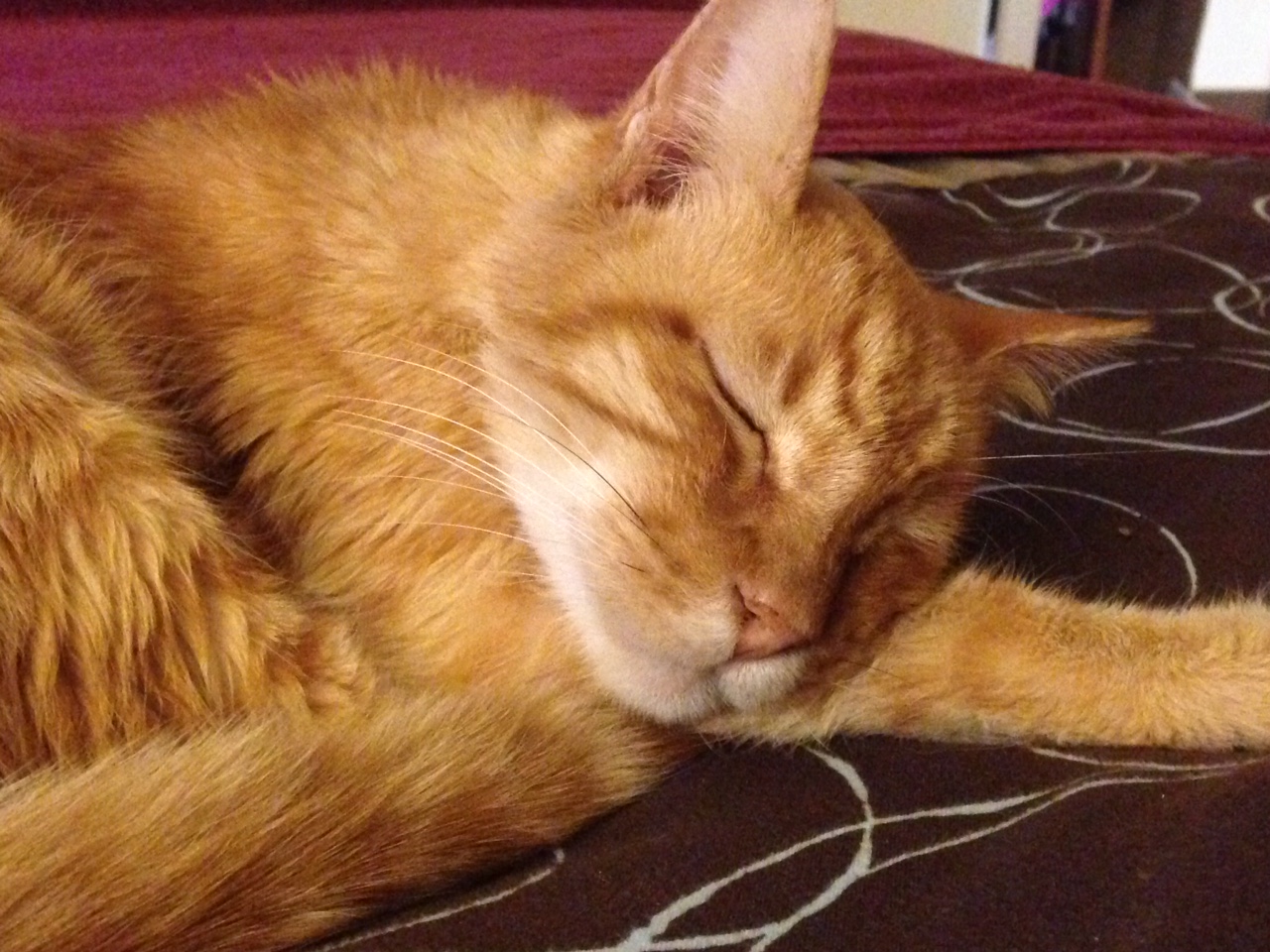 See yesterday's Links and Antidote du Jour here.