A new Council of Economic Advisers study released by the White House on the fall in labor force participation among men of prime working age (25 to 54) should be subtitled, "It's the Neoliberal Economy, Stupid."
The report does a useful job in documenting where the level and nature of the decline in male workforce participation, which peaked at 98% in 1954 and is now at 88%, the third lowest among OECD countries. The decline is concentrated among less educated: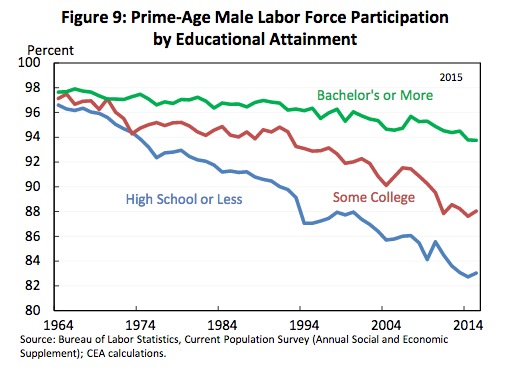 Blacks have been hit harder than other groups: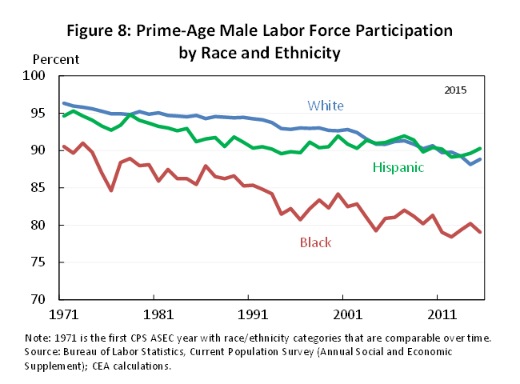 And the general outlook for employment has been deteriorating over time. However, bear in mind that this decay somewhat overlaps with the story that less educated groups have been harder hit. US educational attainment has fallen over time.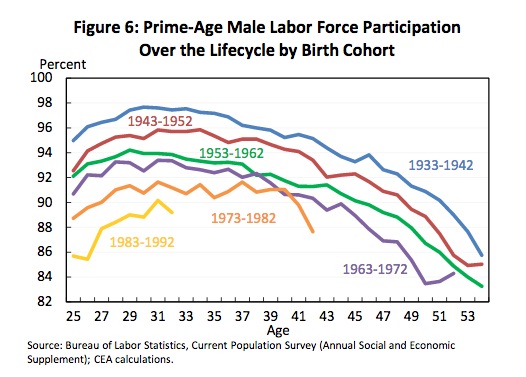 The report dismisses the myths that access to Social Security disability or that men are not choosing to work as culprits. More than a third were in poverty. Fewer that 25% of the men not working have a spouse supporting them and that percentage has dropped in the last 50 years. The CEA's analysis find that Social Security disability explains at most 0.5% of the reduction.
The cause is the state of the job market:
• Participation has fallen particularly steeply for less-educated men at the same time as their wages have dropped relative to more-educated men, consistent with a decline in demand.

o In recent decades, less-educated Americans have suffered a reduction in their wages relative to other groups. From 1975 until 2014, relative wages for those with a high school degree fell from over 80 percent of the amount earned by workers with at least a college degree to less than 60 percent
While doing a fine job dimensioning profile of the groups that have been hit the worst, the authors, after invoking hoary neoliberal defenses, as in these workers are the losers in a globalized market, the paper gives a coded acknowledgment that policies that are hostile to workers have produced the expected result:
This reduction in demand, as reflected in lower wages, could reflect the broader evolution of technology, automation, and globalization in the U.S. economy.

Conventional economic theory posits that more "flexible" labor markets—where it is easier to hire and fire workers—facilitate matches between employers and individuals who want to work. Yet despite having among the most flexible labor markets in the OECD—with low levels of labor market regulation and employment protections, a low minimum cost of labor, and low rates of collective bargaining coverage—the United States has one of the lowest prime-age male labor force participation rates of OECD member countries.
It is remarkably cheeky to see the authors attempt to depict "flexible" labor markets, where workers can be tossed on the trash heap, as beneficial to laborers.
The recommendations are tepid, and the authors assert "A number of policies proposed by the Administration would help to boost prime-age male labor force participation." In other words, we are to believe the problem is those Republican meanies in Congress, as opposed to Obama not pushing hard for these measures in his first term, when he had the opportunity to pass wide-ranging reforms.
One proposal is the new conventional wisdom of more infrastructure spending to create more jobs for unskilled workers directly, improving community colleges and other training so workers will have skills that line up with hot job markets. The problem with the latter idea is that demand can shift quickly (look at how the oil patch was robust a few years back and is now just starting to get back on its feet). Moreover, employers are extremely prejudiced against both older people and people who've been out of the workforce, and the age which is deemed to be "older" has collapsed. Per Wolf Richter (emphasis original):
Now I've come across a fascinating piece on MarketWatch, an article on what to do to get into the cross hairs of a recruiter whose algos are combing through millions of profiles on LinkedIn.

No recruiter in his right might is personally clicking through LinkedIn profiles. They're all scanned by algos by the millions in nanoseconds. And so the trick is structuring your profile to get the algos to pay attention. This isn't a human-to-human scenario, but a human-to-algo scenario. You're trying to second-guess an algo that's going to decide your future….

But apparently the lifespan of a degree has been shortened from 20 or 25 years to just 10 years! Then it rots, and it has to be swept under the rug. The article put it this way (emphasis added):

Older job-seekers….

I mean, I'm already seething.

Older job-seekers need to walk a fine line. Unless you made the cover of "Time" or discovered a solar galaxy, experience has a shelf life on LinkedIn, says Scott Dobroski, career trends analyst at Glassdoor. There's no need to wax lyrical about a job that's more than 10 years old, he says. And those who graduated from college a decade ago may want to exclude the date they graduated. "Your college graduation date will age you," he says, "and although ageism is illegal, it's happening all the time." On the other hand, if you're applying for a job as CEO of a Fortune 500 company and you graduated in 1986, it's okay to leave the date, Dobroski says.

Note the word "older job seekers" in connection with a college degree from 10 years ago. Those older job seekers are early Millennials!
Yves here. Admittedly, candidates on LinkedIn are more educated than the group this study is most concerned about, but consider the message: even among the educated, the shelf life of a degree has diminished greatly due to ageism. Why would it be less bad among the less well educated?
Similarly, the problem with European-style job training programs is that US employers do not want to hire people with general training, even in a particular skill area. Their strong preference is to hire someone who is doing the exact same job for a similar company, so as to minimize their effort (in theory; in practice, the extra time spent on the search probably offsets the theoretical savings). The cure for that is a much more robust job market, where employers realize they are not going to find the perfect candidate and take someone approximate and give them the training and other guidance they need to become productive.
And finally, the report claims that Obama has been pumping for one of the most needed remedies:
Increasing wages for workers by raising the minimum wage, supporting collective bargaining, and ensuring that workers have a strong voice in the labor market.
Help me.
So I'm at a loss to understand the political purpose of this report. It's useless as a policy driver given that this is an election year when Obama is a lame duck. Perhaps it is a weak effort at legacy-bolstering by showing that even though the decline in labor force participation among men was marked in the Obama Administration, it started long before he took office. But it still ignores some elephants in the room, like the fact that employers stopped sharing the benefits of productivity gains with workers starting in the mid-1970s and lack of sufficient demand in the economy. What it does reveal is one of the many time-bombs that Obama has left for the next President.
20160620_cea_primeage_male_lfp
20160620_cea_primeage_male_lfp