Yves here. I seldom put up a post to use as an object lesson, but this one is a case study in how soi disant progressives have internalized the neoliberal world view and are therefore unable to either challenge its working or come up with adequate remedies.
In the article below, the author not just accepts but actually promotes the notion that "disruptors," which is the Silicon Valley buzz phrase for companies that break the law but have been allowed to get away with it, are something we need to tolerate. I know far too many people who consider themselves to be left-leaning who have no compunction about using Uber, despite the fact that they live in areas that are reasonably to very well served by cabs. Uber is perceived to be cool because you get to use your smartphone, when people who use Uber should be shamed unless they have a legitimate reason (for instance, blacks are regularly shunned by cabs, and cabs drivers tell me they don't like going to the outer boroughs of Manhattan, not because they get fewer hails so much as they get stiffed on those rides far more often than on rides within Manhattan or to and from airports). In other words, people who like to style themselves as Good Progressives are all too happy to take a cheap deal even when they know it involves screwing workers (I've spoken to a couple of cabbies outside NYC who looked into applying for Uber and abandoned the idea when they worked through the math. Uber pays less than a cab ride of a comparable distance and takes a cut of driver pay on top of that. And this was in cities where cab fare was not all that high to begin with).
But not surprisingly, the author runs an apps-based company, and therefore is personally invested in the Silicon Valley primacy of technology and markets world view.
Stronger anti-trust enforcement, tougher labor laws (benefits, requiring pricing that exceeds the minimum wage or a living wage) and other measures would do more than the weak tea ideas served up below. But first is to change attitudes around using services that intensify the squeeze on workers.
YOu'll notice the article also perpetuates the STEM shortages myth, which has been debunked here. For instance, anyone who reads Slashdot more than occasionally will tell you that they regularly run stories by new computer science graduates who are desperate to find an entry level job. The reason they can't find them is obvious: they've been outsourced or have been filled by H1-B visa holders. Yeoman work in other fields, like the law, is also being sent overseas, meaning ultimately that the next generation of professionals in these fields will largely be foreign, since we are refusing to grow our own.
By Odysseas Papadimitriou is the CEO of WalletHub. Originally published at Alternet
We've all heard about rising income inequality, and for good reason: It's a huge problem. Just consider the fact that the wealthiest 1% of Americans accounted for roughly 21.2% of all earnings in 2012, compared to just 8.9% in 1973, according to UC Berkeley's Center for Equitable Growth.
But far less obvious is the eventuality that things will get much worse before they get better. Don't believe it? Here are a couple of specific reasons why we're in for more darkness before dawn, plus some ideas on how we can fix the underlying problems.
Why Worse Is Yet to Come
1. Disruption has picked up the pace: Gone are the days when business innovation crept outward from a locale at a snail's pace, providing ample preparation time for all parties with the potential to be affected. Where a new supermarket, for instance, might once have disrupted a neighborhood only to face a long, unlikely journey to meaningful mass adoption, businesses can now reach a worldwide audience at a click of a button, good ideas spread like wildfire and the game is more of a winner-takes-all affair.
As a result, the uber-wealthy are becoming both richer and fewer in number, while the average worker gets hit with a tidal wave of unpreparedness. Such developments should not come as a surprise, however, as they simply represent the continuation of a pattern that has emerged throughout time, whereby innovation occurs at an increasing pace and becomes increasingly technical in the process.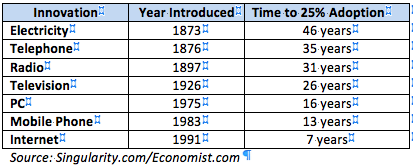 2. Niche skills are required:The economy's increasing focus on emerging technologies renders certain types of old-school training obsolete and puts the select few who are proficient in skills that complement the makeover into high demand.
This effectively devalues certain degrees for those who have already graduated, in addition to providing a roadmap for students making pricey investments in higher education. Just consider the following unemployment-rate discrepancies among college majors as of 2012, according to the Georgetown University Center on Education and the Workforce: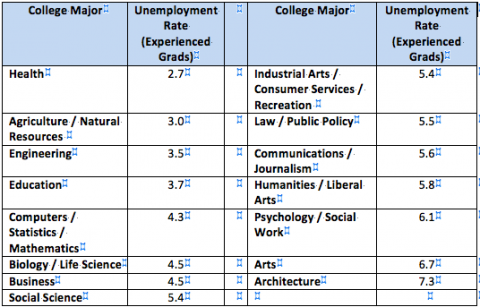 In light of this skills-based barrier to riding the tech wave and the costs that prevent us from addressing this limitation, it will take many graduation cycles for our training to sync up with what the economy values most.
How to Bridge the Gap
We are not resigned to our economic fate, nor must our children repeat our mistakes. So in addition to considering the aforementioned factors that are fueling the fire, we should make sure to keep the following in mind in the years to come.
1.Support progressive tax reform:Although "progressive" is a buzzword often applied with a broad brush, the definition you should really care about relates to the tax code. Most agree it's in desperate need of overhaul, and our focus in that regard should be to separate from regressive policies of the past and abandoning pie-in-the-sky ideas such as the flat tax, which would actually further consolidate wealth.
For example, we should listen to the more than 90% of Americans who want capital and labor to be taxed at the same rate, according to a WalletHub survey. And we should do so with the most powerful tools at our disposal: our voices and votes.
2.Overhaul education to disrupt the disrupters:We need to fundamentally overhaul the education system so it rivals Silicon Valley and the Pentagon technologically. If we use just a fraction of all the wealth being created by the current tech boom to groom the next wave of disrupters, we'll find ourselves in self-sustaining cycle of growth, providing a rising tide to lift all boats.
Despite what the statistics say, it's important to remember there's light at the end of the tunnel for anyone who works hard and focuses on the fundamentals of sound money management. In addition to perhaps making certain jobs obsolete, the internet is a great democratizing force. It offers all of the tools and information that anyone needs to succeed. We just have to put the pieces together to make a profitable puzzle.