By Lambert Strether of Corrente.
TPP/TTIP/TISA
"'With the amendment, the platform lays out a clear, high test for judging trade agreements, including whether they raise wages, create good-paying jobs, and enhance our national security,' Clinton's senior policy adviser, Maya Harris, said in a statement. 'She believes that the TPP fails the test that is now laid out in the platform as a result of this amendment'" [Politico]. So in other words, if Clinton invents a national security reason, it's open season on working people? I mean, as if it isn't always?
2016
Corruption
"[Bill] Clinton changed the rules of political speech-making for cash. He would push not just corporate hosts but also nonprofits and universities to pay fees well beyond what they were accustomed to. His aides would turn what had been a freewheeling format into tightly scripted events where every question from the audience was screened. He and Hillary Clinton would become so skilled at churning profits out of their lectures that they would net more than $150 million from speaking alone after he left the White House" [Los Angeles Times]. And: "There were other worries, too, like a limo ride. Who would the president ride with? It so happened that one of the Mondavi Center's big donors, Angelo Tsakopoulas, is also a whale for the Democrats, so his name emerged. Organizers could not recall whether that limo ride happened. " No, I wouldn't imagine they would have been able to.

UPDATE And then there's the Clinton Foundation:

Good for Michael Hudson!
The Voters
Bayh to run for the Senate again [CNN]. Help me. Note that Bayh is a deficit hawk, and one of the 13 Dems to vote for the Bipartisan Task Force for Responsible Fiscal Action [gag; spew] that started the whole mess. And kept running the same scam. So a cynical view would be Dems are setting themselves up for a grand bargain.
The Trail
"Bernie Sanders, Set for Rally With Hillary Clinton, Says Campaigns Are 'Closer and Closer'" [New York Times]. "The event, confirmed in a news release put out by the Sanders campaign on Monday morning, could do much to appease Sanders supporters who remain skeptical of Mrs. Clinton as she heads to the party's convention July 25-28 in Philadelphia." It "could," yes. I think it would be remarkable if it did. The appearance is in Portsmouth. Not in Unity.

I failed to find a "news release" put out by the Sanders campaign; it's not on the Sanders site as of this writing. Here's the tweet on the Clinton campaign:

.@BernieSanders will campaign with Hillary in Portsmouth, NH tomorrow, campaign announces pic.twitter.com/2fETOMthUO

— Luke Brinker (@LukeBrinker) July 11, 2016

"Join…. for a campaign event… to discuss" doesn't include the word "endorse," as Roll Call points out, so we'll just have to see. I have to say I'd enjoy the picture of Clinton doing a slow burn as Sanders fails to emit a sufficiently sycophantic profession of ritual fealty. But we'll have to see.

"Sanders to Join Clinton Tuesday in New Hampshire" [Seven Days]. "The Democratic presidential campaigns of Sen. Bernie Sanders (I-Vt.) and former secretary of state Hillary Clinton confirmed Monday morning that the two will campaign together Tuesday in Portsmouth, N.H. Citing unnamed sources, multiple news organizations have reported since late last week that Sanders is expected to endorse Clinton at the unity event. His campaign did not respond to several requests for comment." This would imply that Democrat insiders do not believe the Trump campaign is imploding; otherwise, there's no immediate incentive.

"Highlights for Activists from the New Democratic Platform" [Nonprofit Quarterly]. Incidentally, I don't buy the argument that the platform is "just a piece of paper." For one thing, when Obama's faction insisted on inserting language in the 2008 preamble about how important it was that the Republicans be a functioning, bipartisan party, that was a huge honkin' clue stick about where Obama was coming from, that played out (assuming good faith) in the multiple policy debacles of 2009-2010. For another, the platform language matters if people say it matters (and use it to "hold her feet to the fire," as the saying goes.

"The Insider Posing as an Outsider Trying to Get Back on the Inside" [Nomi Prins, TomDispatch]. Excellent review of the state of play of the Trump campaign, and the players. (The text is a lot less tribal than the headline.)

"'I think he's trying to campaign as a racial healer,' [Oklahoma Gov. Mary Fallin] said on CNN's 'State of the Union.' 'I think that has been part of his message, if you watch what he said this week, you know he talked about how devastating it was for Dallas, how we need to respect our law enforcement, how we need to pray for those who are killed and those who are injured. I think that is his intent; I trust him with his words, and I think we all need to move towards being compassionate, loving, healing, but yet also respecting our law enforcement" [Politico]. Fallon auditioning for Veep? I've gotta say I like Jodi Ernst's resumé better: She castrates hogs!

"Why the Clinton America sees isn't the Clinton colleagues know" [Ezra Klein, Vox]. Have fun!
Clinton Email Hairball
"Overall, 56 percent disapprove of FBI Director James Comey's recommendation not to charge Clinton, while just 35 percent approve. Similarly, 57 percent say the incident makes them worried about how Clinton might act as president if she is elected, with most very worried about it. Just 39 percent feel the issue isn't related to how she would perform as president" [ABC]. Presumably, the Clintons knew something like this would be the price. And the price is a good proxy for the value of what's in the "private" mail Clinton's lawyers deleted for their client.
Stats Watch
Labor Market Conditions Index, June 2016: "Not even Friday's surge in payrolls could lift the labor market conditions index out of the negative column, coming in at minus 1.9 for June for the 6th straight negative showing" [Econoday]. (The Fed's research department has created a labor market conditions index (LMCI) based on 19 labor market indicators. It is not an official report. However, the monthly publication is carefully noted by Fed Chair Janet Yellen and has gained market attention.)
Labor Market: "The household survey is more telling at turning points in the economy, [David] Rosenberg asserts [in Barron's]. And this measure's six-month growth rate dipped below zero, which has happened only two other times during the current expansion. With corporate capital-goods orders shrinking at a near 10% annual rate over the past six months, it's unlikely employment will reaccelerate, notwithstanding last month's pop. 'I can assure you that this will not be covered in the business media,' he says. On that score, Rosie, you're proved wrong here" [Across the Curve].
Emploment SItuation (last week): "Employment Situation Report is a Monthly Statistics Lesson" [The Big Picture]. "I am told by some folks that we obsess over the monthly payroll data as an early warning on any upcoming recession. This belief is, in my opinion, incorrect. We are more likely to see a recession coming in other data before NFP. The yield curve and earnings and therefor stock prices will give you the heads up before payrolls do."
Shipping: "'Shipbuilding output of around 103m dwt in 2016 is at least 30% above the underlying demand for new ships,' [Dr Martin Stopford of Clarkson's Research] pointed out [Splash 247]. "Stopford also questioned whether the cuts are in capacity or prices. 'Don't rule out some big price cuts,' he told Splash."
Shipping: "Transportation companies stayed out of the [putative] U.S. employment surge in June, as trucking and rail operators slashed thousands of jobs, the U.S. Labor Department said Friday." [Wall Street Journal, "Truckers, Railroads Slashed Jobs in June"].
G-20: "Excess industrial-production capacity is a global issue that has depressed international commerce and harmed workers, trade ministers from the Group of 20 industrial and developing nations said Sunday after meeting in China" [Wall Street Journal, "G-20 Says Industrial Overcapacity Has Put Dent in Global Trade"].
G-20: "Global economy 'grim' and G20 must step up to fix it: China" [Reuters]. China's trade minister Gao Hucheng:
"Global trade is dithering, international investment has yet to recover to levels before the financial crisis, the global economy has yet to find the propulsion for strong and sustainable growth.

"In the current circumstances, the international community expects the G20 to show leadership in resolving the prominent problems we are facing and inject impetus for recovery and growth"
Chorus: "You first!"
The Bezzle: "Musk hints at top secret Tesla masterplan: tweet" [Reuters]. How Nixonian.
"Pokémon Go is proving more addictive than Tinder and Snapchat" [MarketWatch].
Today's Fear & Greed Index: 82, Extreme Greed (previous close: 76, Greed) [CNN]. One week ago: 71 (Greed). (0 is Extreme Fear; 100 is Extreme Greed). Last updated Jul 11 at 12:41pm. We're really crankin' now!
Black Injustice Tipping Point
"Death in Black and White" [Michael Eric Dyson, New York Times].
"A Closer Look At Police Killings This Year Debunks A Big Myth About Community Violence" [HuffPo].
Class Warfare
"[T]he increase in labor costs during the recovery from the 2007-09 recession has been smaller than that from the 2001 recession. And, the increase in total hours worked and total employed persons has been larger during the recovery from the 2007-09 recession than from the 2001 recession. Hence, the aggregate data cast doubt on the proposition that an increase in labor costs due to labor market regulations has been the reason for the slow recovery from the 2007-09 recession" [Federal Reserve Bank of St Louis].
"'Hacking' the brain: Silicon Valley entrepreneurs turn to fasting and 'smart drugs'" [San Jose Mercury News]. So awesome:
Employees at San Francisco startup Nootrobox don't eat on Tuesdays.

The weekly fast isn't an extreme money-saving move by a scrappy, bootstrapping company. Instead, Nootrobox team members swear withholding food for 36 hours — they stop eating Monday night — improves their workplace focus and concentration.

"We're actually super productive on Tuesdays," co-founder and CEO Geoffrey Woo said. "It's hard at first, but we literally adopted it as part of the company culture."
"We adopted." Pretty amazing. Capital literally starving labor, and all wrapped up with a pretty start-up bow! Wait a minute, let me do a quick scan for "innovative." A-a-a-n-d here it is:
Known by insiders as "biohacking," the push for cognitive self-improvement is gaining momentum in the Silicon Valley tech world, where workers face constant pressure to and produce at the highest levels.
Elevator pitch: "Uber for water and crusts of dry bread!"
"Given that the case for worker democracy is obviously so much stronger than the case for a referendum, how can anyone who favoured having a referendum oppose worker democracy?" [Stumbling and Mumbling]. "My point here is a simple one. Worker democracy should – to say the least – be on the political agenda. That it is not is yet further evidence that politics is systemically dysfunctional."
"The Tale That Might Be Told" [The Power of Narrative]. A classic.
News of the Wired
"Japan's first VR porn festival closed down due to overcrowding" [Ars Technica]. Just a few dozen…
"Activists Cheer On EU's 'Right To An Explanation' For Algorithmic Decisions, But How Will It Work When There's Nothing To Explain" [TechDirt]. Interesting from the "code is law" angle.
"The mysterious syndrome impairing astronauts' sight" [WaPo]. Might interfere with the Mars mission. The downside: We can't put all the squillionaires in a tin can and shoot them out there. The upside: I'm not sure homo sapiens deserves to get off the planet. Take care of the planet we're on, perhaps, however belatedly?
* * *
Readers, feel free to contact me with (a) links, and even better (b) sources I should curate regularly, and (c) to find out how to send me images of plants. Vegetables are fine! Fungi are deemed to be honorary plants! See the previous Water Cooler (with plant) here. And here's today's plant (Paul S):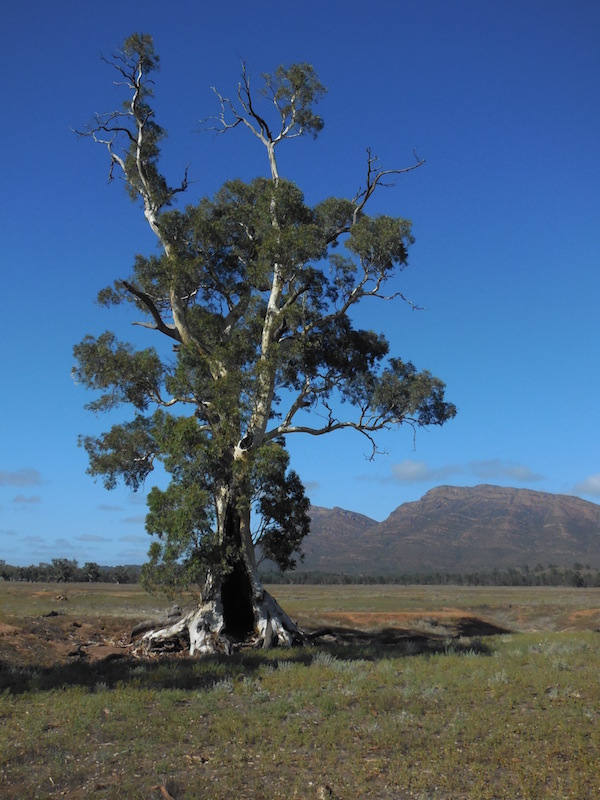 Paul S writes: "The Cazneaux tree. Harold Cazneaux was the Ansel Adams of Australia. He photographed this river red gum in 1937 and titled the image, 'The Spirit of Endurance.' This photo from 2015 shows little change from then, in keeping with the great longevity of the species.
Readers, if you want to send me some videos of plants in whole systems (bees and blossoms, for example, or running streams) — I can use them to practice with FFmpeg and hopefully post them. Because of download times, they'll have to be measured in seconds, rather than minutes. Thank you! Adding, I got another one today! Please keep sending them; they will ultimately appear!
Adding, that I have finally finished thanking readers for their PayPal contributions during the rapid and successful Water Cooler Mini-Fundraiser. Now I must thank those who sent contributions via physical mail! Adding, to me, a reader's reality is their handle, and even more their actual comments. I don't mentally connect handle to email, let alone to contribution. So if I've snarled at you, take comfort that all are snarled at without fear or favor!
* * *
Readers, if you enjoyed what you read today, please use the dropdown to choose your contribution, and then click the hat! Your tip will be welcome today, and indeed any day. Water Cooler will not exist without your regular support.