By Lambert Strether of Corrente.
Readers, this is short because I too was up very late following the heart-sickening events in Dallas, which were also hard to write about. Check back at 3:00PM and I should have figured out more to say and link to. There's also other important news in the business and political worlds. UPDATE As of 3:00PM, that's enough for today!
Zeitgeist Watch
"Republican Senator Ben Sasse of Nebraska will miss his party's national convention in Cleveland later this month because he is planning to "take his kids to watch some across the state," Sasse's spokesman said Thursday" [Heat Street]. "These dumpster fires, the spokesman added, 'enjoy more popularity than the current front-runners' of the major political parties." "Dumpster fire" (or, alternatively "trash fire") seems to be the meme of the moment. I'm not sure it's the right metaphor though; a dumpster fire is contained or, to put this another way, dumpster fires have no contagion.
TPP/TTIP/TISA
"EU TO PROPOSE DETAILS ON TTIP REGULATORY BODY: The European Union is expected to introduce a proposal for an institutional body for regulatory cooperation in the Transatlantic Trade and Investment Partnership at a round of talks scheduled to start next week in Brussels, POLITICO Europe's Hans von der Burchard reports" [Politico]. "The new body would establish and supervise cooperation between regulatory agencies in the EU and U.S. in a bid to ensure that TTIP not only establishes a common approach for current norms and standards, but also future regulations — part of what analysts have termed a 'living agreement.'" And others might call a sovereignty-destroying supra-national vampire squid.
"The Transatlantic Trade and Investment Partnership (TTIP) currently being negotiated with the United States and the recently concluded Comprehensive Economic and Trade Agreement (CETA) with Canada could well signal the end of the precautionary principle, specialists is EU law have warned." [Euractive]. "A group of specialists in European, German, Belgian and Dutch law have published a study in which they stressed that neither the CETA nor TTIP agreements mentioned this fundamental principle of EU law."
2016
Clinton Email Hairball
"The Ahab Caucus Returns to Port Empty-Handed, Again" [Eugene Robinson, WaPo]. That's because the Republicans would rather write Moby Dick than actually harpon the supposed object of their desire; see this disspiriting transcript from gormless Trey Gowdy, where he first dominates Comey and then — search the link for "consciousness of guilt and intent? In your old job…" launches into extended speechifying [Yahoo News]. Why in the name of my dear old Aunt Fanny couldn't Gowdy simply have asked Comey what "administrative sanctions" he would have recommended? Comey tossed him the ball in his presser, and, as expected, Gowdy dropped it. The American people could care less about Gowdy getting down in the weeds one more time. They want to see some elite, any elite, held accountable! And of course, Gowdy didn't do that.

" Fortunately for Hillary — but not the Democrats — heedless incompetence is not a federal crime. Comey's cascade of carelessness is an indictment of a woman who is partly running for president on her ability to handle a 3 a.m. emergency phone call on a secure line" [Walter Shapiro, Roll Call]. I have anecdotal evidence of older professional women in my former technical field, in Clinton's camp and supportive of her, being quite upset by this. As I've said, imagine Clinton were the CEO of a small non-profit; her board would fire her at once. But instead, she's running for President! Do readers have more such evidence?

"Clinton will probably get through this, but if she has any plans to shoot people on major thoroughfares or conduct human sacrifices in honor of the goddess of time and death, she'd be wise to put them on hold" [Chicago Tribune].
Policy
"In a unanimous decision at their 84th annual conference, the United States Conference of Mayors (USCM) passed a resolution condemning President Barack Obama's decision to set the U.S. on track to spend $1 trillion over the next 30 years to 'maintain and modernize its nuclear bombs and warheads, production facilities, delivery systems, and command and control'" [Defend Democracy]. The problem with those old nuclear bombs is that they're too hard to use.
Ohio
"Donald Trump's speech in Cincinnati Wednesday night astonished even those in the press corps and political world who have spent a long time watching Donald Trump speeches. As Trump talked and talked — the speech lasted 68 minutes — some took to Twitter to express amazement, and in some cases, outrage" [Byron York, Washington Examiner]. "Trump is simply so far outside the conventions of political oratory that his style is sometimes hard for political professionals to grasp." Not to break an arm patting myself on the back, but NC readers already know this. But here's the money quote:

"Still, amid it all, Trump manages to cover some of the bases of a conventional political speech. In Cincinnati, he devoted the first part of the speech to attacking Hillary Clinton in light of the Obama Justice Department's decision not to charge her in the email affair.

Readers will remember that yesterday I pointed to the "Rashomon" style of press coverage of this speech, and wondered if Trump mentioned Clinton at all; the headlines didn't reflect that. Today, we see that Trump placed his attack on Clinton up front, but that didn't become "the story." Part of this is that the political class hates Trump (and his supporters), and the editors, who write the headlines, even more than the average reporter; but we also see that Trump's rhetoric gives reporters so many degrees of freedom that he can't control his own messaging. There's very effective attack material in Trump's speeches, but if Trump wants to drive up Clinton's unfavorables, Manafort and Stone are going to have to either fix Trump's rhetoric, or manage the press better. I leave it to reader to determine which will be easier for them. (More and better surrogates would also help Trump, but those would have to come from the same Republican establishment that Trump ripped through in the primaries, many of whom are now trying to McGovern him.
The Trail
Clinton's Veep short list: "Sen. Tim Kaine, Sen. Elizabeth Warren, Sen. Sherrod Brown, Tom Vilsack and Tom Perez" [CNN]. "She has a preferred candidate or two in mind, CNN has learned, but intends to keep her options open until Donald Trump reveals his selection."

"Trump's Capitol Hill Visit Fails to Bring Party Unity" [RealClearPolitics]. A ton of spin on all sides here, but the fact that spin is even possible is troubling. The clock is ticking!

"Trump slashes TV appearances as advisers clash over controlling his message" [Howard Kurtz, FOX]. "Manafort is still firmly in charge of the campaign's direction, relationship with party power brokers and the Cleveland convention. But Kushner, who is married to Ivanka Trump and owns the New York Observer, is increasingly handling the day-to-day mechanics, constantly talking to the candidate, despite his lack of political experience."

UPDATE "Bernie Sanders Makes His Last Stand With Democratic Platform" [NBC].

Team Sanders is preparing for a final push on a dozen policy items at the first meeting of the full Democratic Platform Drafting Committee, with the top priority being an amendment opposing the Trans-Pacific Partnership trade deal….

Michael Lighty, policy director of the Sanders-aligned National Nurses United union, said everything rides on the Orlando meeting as the Sanders and Clinton campaigns prepare for an endorsement.

"They're in the final stages of negotiating an agreement between the two campaigns. I don't know if they're going to get one, but it doesn't take a rocket scientist here at the Kennedy Space Center to know that once that deal is cut, there's nothing left on the table. So this is the table," he said.

Yep. Very pleasant to see Sanders extracting the highest possible price for his endorsement (which I hope turns into a poisoned chalice).

UPDATE "Let Bernie Win on Trade" [US News]. "

Clinton has already said that she opposes this iteration of the Trans-Pacific Partnership. And the party platform doesn't mean that something is set in stone. Far from it, in fact – a future, altered agreement could always be brought up for a vote. So to my mind, there's very little downside – and actually plenty of upside – for Clinton and the rest of the Democrats to go along just to get along with Sanders on this one." Yes and no. It's preparing the battleground for the left later.
Stats Watch
Employment Situation: "May was indeed an odd outlier in what is otherwise a still favorable trend for the labor market. June nonfarm payrolls surged a much stronger-than-expected 287,000 vs a downward revised and recovery low increase of only 11,000 in May. June's strength is led by a 38,000 gain for professional & business services, a closely watched area that is especially sensitive to changes in labor demand" [Econoday]. And: "an upside blowout over expectations" [247 Wall Street]. But: "Nice rebound as Verizon workers return to work, but the year over year deceleration continues and, of course, this number will be revised next month. And the lower average hourly earnings gains could put off fears of the US turning into Zimbabwe and Weimar for several hours" [Mosler Economics]. And but: "Here is a look at employment to population ratios which clearly shows NO group has recovered from the Great Recession" [Econintersect].
UPDATE The Banks: "Deutsche Bank is coming unglued" [Wolf Richter, Business Insider]. "Deutsche Bank will need to raise more capital to rebuild its buffer, fund more bad-loan losses, and pay more legal settlements for wrongdoing that keeps oozing from the woodwork. To raise capital, it will need to sell more shares and CoCos. With both crashing, it's going to be tough. It'll dilute existing shareholders, who are going to dump these shares in anticipation, which will sink them … And issuing 6% CoCos when their brethren trade at 75 cents on the euro, or below, is going to be very expensive or perhaps impossible. Italy is in the middle of a white-hot banking crisis. Risk of contagion in Italy and far beyond is huge."
UDPATE Political Rik: This on Brexit:
Like, genuinely, NEIN.

ht @JoeTwyman pic.twitter.com/okQvBh1HPn

— Katie Martin (@katie_martin_fx) July 8, 2016
UPDATE Political Risk: This on the EU:
Now this is useful: Europe's many unions and alliances in a handy Venn diagram. https://t.co/ddW1K0zWXy pic.twitter.com/vTD4YNkEZB

— Andrew McAfee (@amcafee) July 7, 2016
Gentleman Prefer Bonds: "Long Bond yields are at lowest levels in recorded human history and there is a food fight to strip them and peel away the coupon" [Across the Curve]. "The Bond Stripped Bare By Its Brokers, Even." Surreal!
Shipping: "Total Class I rail traffic through June 2016 was down 7.5 percent with carload traffic down 11.3 percent and intermodal traffic down nearly 3 percent" [James Sanders, Seeking Alpha]. "Class I intermodal container traffic has turned negative at -0.4 percent, as seaport traffic declines have increased."
Shipping: "U.S. rail traffic rose in Week 26, but data excluded holiday impact" [Progressive Railroading].
UDPATE The Bezzle: "Buyer beware: Mozilla deal demands up to $1 billion after Yahoo's sale, Recode says" [Ars Technica]. I don't want to be cranky about a free browser, but if there's money like that floating about, Firefox should be stabler and faster.
UPDATE The Bezzle: "[M]ature startups continue to amass tons of capital and keep their lips sealed about their future plans" [Business Insider].
UPDATE The Bezzle: "It turns out the area around Kangding [China], populated by tall mountains that are scattered with under-used hydro power plants, is an ideal place to mine the [Bitcoin]. 'Everyone says this is a virtual currency but in many ways it's a traditional manufacturing business," says [Ryan Xu, chief strategy officer at Bitcoin Group], who visits the area regularly. 'You buy heavy equipment, you burn electricity and you are rewarded with Bitcoin'" [Australian Financial Review].
"The oil industry is learning it's easier to shut down a supply chain than to restart one. With oil prices up about 25% this year, some producers are looking to invest in new projects and dust off expansion plans that were canceled when the market was at its nadir. But oil-field services companies that do much of the actual drilling say they'll struggle to quickly scale back up" [Wall Street Journal]. "Nearly 70% of U.S. fracking equipment was idled in the downturn, and 60% of field workers involved in fracking were laid off… Not all of those workers will want to return, and it may take higher wages to lure them back. It's a penalty faced in other cyclical industries, from steel to auto parts, where painful downturns continue to exact a price on the way back up."
UPDATE "As apologies go, Grey Singapore's overnight effort upon handing back its Cannes Lion it won undeservingly for an app which preyed on emotion around migrant deaths and ultimately was found not to work, was one of the worst I've ever seen" [Mumbrella]. Fun dissection of a public relations debacle.
Today's Fear & Greed Index: 75, Extreme Greed (previous close: 71, Greed) [CNN]. One week ago: 71 (Greed). (0 is Extreme Fear; 100 is Extreme Greed). Last updated Jul 7 at 11:50am. And acceleration into extreme greed!
Black Injustice Tipping Point
Lambert here, from my armchair at 30,000 feet: I remember the energy and creativity of the original #BlackLivesMatter movement in 2014, after the deaths of Michael Brown and Eric Garner, from even before the hash tag was associated with the movement; everything seemed to accelerate and then stall, right at the point where die-ins at college campuses — one of many non-violent direct action tactics that was, significantly, multi-racial — ended as the semester ended in late 2014. Tactics then seemed to congeal around hash tags of the dead, around which marches tweet storms originated and marches were organized, a pattern that persists to this day.
Here is Hillary Clinton's interview with #BlackLivesMatter activists, well after the stall early in the year ("Hillary Clinton's Private Meeting with #BlackLivesMatter in Keene, New Hamphire," August 24, 2015). "[CLINTON:] I don't believe you change hearts. I believe you change laws." Sadly, Campaign Zero's materials on proposals to change the law were not available for the meeting but it's safe to say their work had no little effect, on either party. But with reflection, I think Clinton was wrong: It was non-violent direct action that did change hearts; it certainly changed mine. (Gay marriage and the long-forgotten or erased ACT-UP also succeeded by changing hearts, also mine.) And I can't help but see the period from early 2015 to this day in Dallas as a period of stasis that did not change hearts and, therefore, not laws.
I know this sounds like I'm blaming the movement, but I'm not. It's as if elites noticed the pot was boiling, lifted the lid, said "Yep! That's a rolling boil!" and then put the lid right back on without turning down the burner. I attribute the stall to the decapitation of the movement by the political class in general and the Democrat Party in particular, especially the Black Misleadership Class. For example, House Democrats didn't stage a sit-in for BLM in 2014, 2015, or 2016, not even the more modest proposals, like body cams, that had some chance of passing. And the fact that corrupt but powerful Democrat pols just appropriated the tactics of the powerless for a sit-in whose goal was to increase mass surveillance is even more distressing. Creativity and energy well up from on the streets and from the neighborhoods, and do not originate from the dry holes of consulting shops or the halls of Congress. But "what happens to a dream deferred?"
* * *
"Reading the news of the latest police murders of African Americans in this country, I've been wondering how much state violence American elites believe African Americans are supposed to tolerate before they take matters into their own hands" [Corey Robin]. "how long do we think this situation can go on like this, without the victims of police brutality fighting back, and what do some of our most mainstream traditions and voices, from the past and present, have to say about that question?" (Robin quotes Locke to good effect; from White Trash, Locke did PR for slave-owners…) And read all the way to the end; even Robin is unnerved.
UPDATE "The Uncomfortable Reason Why it Came to This in Dallas Yesterday" [Red State]. Can't believe I'm quoting Red State, but it's been a strange year. "Here's the reality that we don't often talk about – that societies are held together less by laws and force and threats of force than we are by ethereal and fragile concepts like mutual respect and belief in the justness of the system itself…." The hard truth:
The most important safety valve to prevent violence like we saw in Dallas last night is the belief that when officers do go off the rails, the legal system will punish them accordingly. If minority communities (and everyone else, for that matter) believed that, resort to reprisal killings would be either non existent or far less frequent.

But they don't, and there's good reason for that. And that is because a huge, overwhelming segment of America does not really give a damn what cops do in the course of maintaining order because they assume (probably correctly) that abuse at the hands of police will never happen to them. As long as the cops keep people away from my door, they have my blessing handling "the thugs" in whatever way they see fit.

I see the attitude all the time even in the comments to the stories I write here at RedState.
"One of the main suspects in the shooting in Dallas on Thursday night that left five police officers dead and seven others wounded has been identified as 25-year-old Dallas resident Micah Xavier Johnson, a senior law enforcement official told NBC News and the Associated Press" [Business Insider]. Note "Michael Xavier Johnson"; the oft-used "Michael X Johnson" gives the wrong impression. " Police have not officially identified Johnson, who is believed to have been the suspect who died after a long standoff with Dallas police officers. CBS has reported that Johnson was not on any FBI watch lists. The Washington Post and other media outlets have also named Johnson as the suspect." Meaning that amping up surveillance — that's what the Dems staged their loathesome sit-in to do — won't help a bit.
Military experts have said one of the attackers appeared "tactically professional" and "focused" in videos taken of the ambush.

A Texas law-enforcement official told CBS News' David Begnaud that Johnson claimed to be a US Army veteran during his standoff with the police. The Army confirmed Johnson had served as an enlisted soldier and served a tour of duty in Afghanistan. It said Johnson was trained in the Army reserves as a carpentry/masonry specialist. It was unclear what type of firearms training he had.

Photos of Johnson, apparently taken from his Facebook page, were being shared on social media Friday morning:
UPDATE "Man falsely connected to the shooting by Dallas police is now getting 'thousands' of death threats" [WaPo]. As of this writing, the Dallas Police Department had not taken the tweet down that identifies him.
UPDATE "Law professor's response to BLM shirt complaint" [Imgur]. Fun stuff.
Our Famously Free Press
"Rather than merely dehumanizing and disturbing, these videos can be powerful pieces of evidence and indisputable public records. We may not know what occurred prior to the start of a video or after its end, but what has been recorded may very likely be useful in an investigation" [Nonprofit Quarterly]. Given clear provenance, yes. Maybe Facebook's much-maligned requirement for real-life identity helps with that. I'm of two minds: If they're decontextualized, it's hard to distinguish such videos from snuff pr0n. Contextualized, as the author points out, they're the modern equivalent of Emmett Till's casket, which his mother insisted be open.
UPDATE "As police shootings continue, bystanders get more sophisticated at filming altercations" [Los Angeles Times].
Dear Old Blighty
UPDATE "We can't leave the negotiations with Europe to the Tories" [Jeremy Corbyn, Guardian]. Pretty serene, for a guy in the midst of the biggest political and constitutional fight of his life!
Water
"Climate Change Claims a Lake, and an Identity" [New York Times].
Gaia
UPDATE "You See It Is Not So" [The Archdruid Report]. "Progress" as an exhausted artistic form (or "notional space"). Well worth a read.
"How Trees Calm Us Down" [The New Yorker] (original). "fter controlling for income, education, and age, Berman and his colleagues showed that an additional ten trees on a given block corresponded to a one-per-cent increase in how healthy nearby residents felt. "To get an equivalent increase with money, you'd have to give each household in that neighborhood ten thousand dollars—or make people seven years younger," [University of Chicago psychology professor Marc Berman] told me."
Imperial Collapse Watch
"Good Idea Fairy revealed as O-3 in Pentagon basement" [Duffel Blog].
Big Brother Is Watching You Watch
"Facebook Messenger has started rolling out Secret Conversations, a feature that enables end to end encryption for conversations within Messenger. Secret Conversations is built on Signal Protocol, a modern, open source, strong encryption protocol we developed for asynchronous messaging systems" [Open Whisper Systems].
Class Warfare
"Lenders used misleading tactics in advertising home loans during the U.S. subprime mortgage crisis, according to a new study by a UT Dallas professor" [Eurekalert]. According the study by Dr. Umit G. Gurun, professor of accounting and finance in the Naveen Jindal School of Management, "borrowers spent on average $7,500 more on a $250,000 mortgage when taking an advertised 'low-rate' mortgage, compared to an identical mortgage that was not advertised. A significant number of these advertisements were misleading — explicitly displaying initial low interest rates without mentioning higher reset rates."
UPDATE "Tiny houses are hot right now because they're a reaction against the 2008 housing bubble burst. Mega-mansions have been so popular for so long that it seems rebellious to opt for less. These homes push against the idea that a person's worth should be evaluated based on the amount of square footage they own. Tiny houses maintain the American dream of homeownership while downsizing it to make it more accessible to more people" [Cleveland Scene].
News of the Wired
UPDATE "Thinking about Big Data — Part One" [Robert Cringeley (GF)] and Part Two. These two posts are must-reads to understand search.
UPDATE "W. E. B. Du Bois's Modernist Data Visualizations of Black Life" [HypoAllergic].
UPDATE "How To Make Your Text Look Futuristic" [Typeset in the Future].
UPDATE "Help Protect the CITGO Sign, a Boston Icon" [Change.org]. Only 271 to go….
* * *
Readers, feel free to contact me with (a) links, and even better (b) sources I should curate regularly, and (c) to find out how to send me images of plants. Vegetables are fine! Fungi are deemed to be honorary plants! See the previous Water Cooler (with plant) here. And here's today's plant (Rainbow Girl):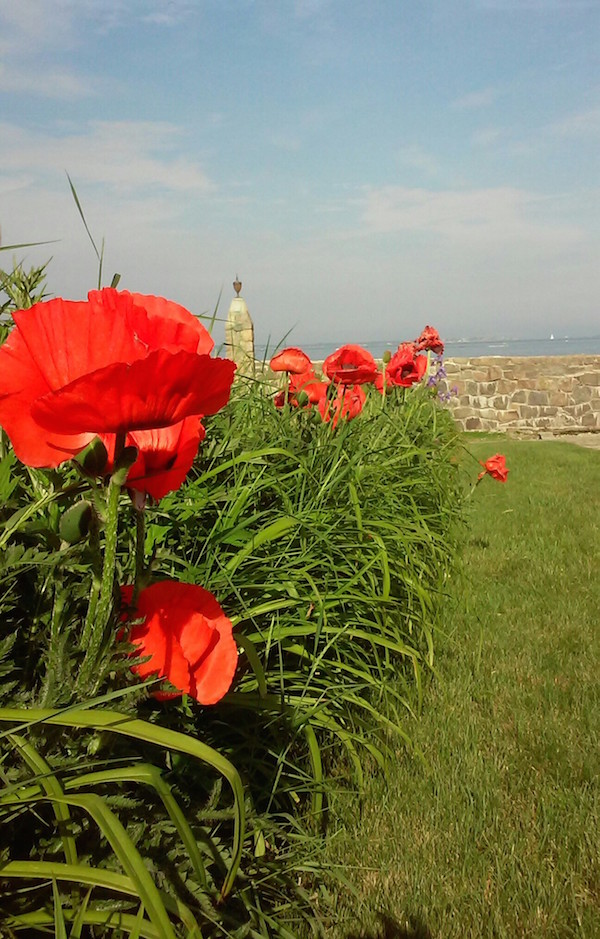 Poppies seem appropriate; but I've spaced out on the reader who sent this in. Hello?
UPDATE Rainbow Girl, who adds "Location is SE Connecticut shoreline."
Readers, if you want to send me some videos of plants in whole systems (bees and blossoms, for example, or running streams) — I can use them to practice with FFmpeg and hopefully post them. Because of download times, they'll have to be measured in seconds, rather than minutes. Thank you! Adding, I got another one today! Please keep sending them; they will ultimately appear!
Adding, thank you so much, readers, for last month's rapid and successful Water Cooler Mini-Fundraiser. I have finally finished all the email thank you notes so yours should be coming, as will notes to those who send contributions via physical mail. Adding, to me, a reader's reality is their handle, and even more their actual comments. I don't mentally connect handle to email, let alone to contribution. So if I've snarled at you, take comfort that all are snarled at without fear or favor!
* * *
Readers, if you enjoyed what you read today, please use the dropdown to choose your contribution, and then click the hat! Your tip will be welcome today, and indeed any day. Water Cooler will not exist without your regular support.