By Lambert Strether of Corrente.
TPP/TTIP/TISA
"The Republican Party appears to be taking some of the bite out of Donald Trump's fiercest trade criticism, crafting a platform closer to its traditional trade views but taking a neutral position on President Barack Obama's signature trade achievement, the TPP" [Politico]. Setting the stage for cutting deals in the lame duck. But don't worry. It's bipartisan! Back to Politico: "The intricate dance resembles the one taking place in the Democratic Party, where Hillary Clinton [BWA-HA-HA-HA-HA-HA!!! Politico wrote this with a straight face!] and Bernie Sanders both oppose TPP but Obama still hopes to win approval of the agreement before leaving office." Note: It doesn't really matter what Clinton promises on policy, given that ISDS will mean no privatizations can be ratcheted back, and that no additional services can be provisioned by government for "the general welfare" without compensating capital for "lost profits," no matter how democratic the process through which the people sought "life, liberty, and the pursuit of happiness" away from the clutches of Mr. Market.
A leaked chapter of the proposed EU-U.S. transatlantic trade deal shows the European Union wants the agreement to include an aggressive regulatory cooperation process for the energy sector. The leaked chapter drew quick criticism from environmental activist groups for, among other things, language that left energy efficiency norms up to industry self-regulation and established non-discrimination requirements for suppliers to electrical grids and gas pipelines. The Sierra Club says those provisions could undermine efforts of governments to pass meaningful regulation and incentivize the use of clean energy" [Politico].
In the New Hampshire rally with Sanders. "Clinton [inserted] into her standard stump speech a strong endorsement of Sanders' position on an issue on which they have differed – one that the Vermont senator had not mentioned in his speech. In her administration, she said, the U.S. would say 'no to unfair trade deals … including the Trans-Pacific Partnership'" [Los Angeles Times]. I'm not hearing "do everything I can to prevent passage of the TPP in the lame duck session."
2016
Corruption
A foundation executive looks at the Clinton Foundation's records [Medium]. Just appalling. Insultingly appalling.
The Voters
"Anti-Trump conservatives, you need to wake up. Wagging your finger at the enemy about the Constitution is going to be as effective as Stoddard pointing at his law books was in his battle against Valance. You don't live in 1950s America anymore or even Ronald Reagan's America. You don't live in Stoddard's East. You live in Doniphon's Wild West. Your enemies don't care about or play by your rules" [Economic Populist]. While not sharing this writer's political views, it looks to me like the whinging Stoddards in the Republican Party are the exact same people who were unable to display adaptability and defeat Trump when he stomped the conservative nomenklatura in the primaries. So we see the Iron Law of Institutions playing out in both legacy parties, this election. What fun.
Sanders and Clinton in New Hampshire
So, what's happening with the Sanders list?

"Text of Bernie Sanders' speech endorsing Hillary Clinton" [MarketWatch]. Lambert here: Mene, mene, tekel, upharsin. The moment had to come, and now it has come. Will Sanders, in practice, have proven to be a sheepdog? Will Sanders' endorsement decapitate his movement? To me, the open question is what actions Sanders voters will take, going forward, beyond the ballot box, and as organizers. I'm not really sanguine about that, because the Chicago conference didn't give me confidence the left could unsilo itself, and distinguish itself, as a single institutional force ready to take power, from the (neoliberal) liberals (mostly Democrats) and the (neoliberal) conservatives (some Democrats, mostly Republicans). That said, the Sanders campaign did more than the left could have expected in its wildest dreams. To the text:

[SANDERS:] I have come here today not to talk about the past but to focus on the future. That future will be shaped more by what happens on November 8 in voting booths across our nation than by any other event in the world. I have come here to make it as clear as possible as to why I am endorsing Hillary Clinton and why she must become our next president.

During the last year I had the extraordinary opportunity to speak to more than 1.4 million Americans at rallies in almost every state in this country. I was also able to meet with many thousands of other people at smaller gatherings. And the profound lesson that I have learned from all of that is that this campaign is not really about Hillary Clinton, or Donald Trump or Bernie Sanders, or any other candidate who sought the presidency. This campaign is about the needs of the American people and addressing the very serious crises that we face. And there is no doubt in my mind that, as we head into November, Hillary Clinton is far and away the best candidate to do that.

I'd prefer the position that Clinton hasn't won the nomination until there's a vote on the convention floor, which I had understood to be the position of the Sanders campaign.

[SANDERS:] Hillary Clinton understands that we must fix an economy in America that is rigged and that sends almost all new wealth and income to the top one percent.

Assumes facts not in evidence.

[SANDERS:] This election is about the grotesque level of income and wealth inequality that currently exists, the worst it has been since 1928. Hillary Clinton knows that something is very wrong when the very rich become richer while many others are working longer hours for lower wages.

Assumes facts not in evidence.

[SANDERS:] I am happy to tell you that at the Democratic Platform Committee which ended Sunday night in Orlando, there was a significant coming together between the two campaigns and we produced, by far, the most progressive platform in the history of the Democratic Party. Our job now is to see that platform implemented by a Democratic Senate, a Democratic House and a Hillary Clinton president — and I am going to do everything I can to make that happen.

Platform as a highly inadequate baseline and a method to hold Clinton's feet to the fire? Yes. Not negligible, but not much. And Clinton immediately showed — before the rally! — that she didn't take it seriously.

[SANDERS:] Hillary Clinton will make an outstanding president and I am proud to stand with her here today.

I don't see how the institutionalized corruption of both legacy parties generally and the Clinton Dynasty in particular make any of this possible. One door closes, another opens…

"'I can't help but say how much more enjoyable this election is going to be when we are on the same side,' [Clinton] said. "You know what? We are stronger together!'" [CNN]. Whichever Clinton operative decided to deploy the "stronger together" slogan shouldn't be expected to have known that it's also a slogan developed by the military junta in Thailand. But whatever.

"Tuesday's rally drew supporters of Clinton and Sanders, some of whom chanted 'Bernie' while others chanted 'unity.' Some Sanders supporters left their seats when Sanders endorsed Clinton. Earlier, when New Hampshire Sen. Jeanne Shaheen said 'we need to elect Hillary,' she was interrupted by shouts of 'No!' and chants of "Bernie, Bernie' [USA Today]. "But there were deafening cheers as Sanders said Clinton would 'make an outstanding president and I am proud to stand with her here today.'"

"The most ringing portion of the endorsement came at the end, with Sanders bringing up some of the personal reasons why he had chosen to support Clinton. But even this portion felt a bit lifeless, with Sanders citing Clinton's intellect and passion on children's issues, and failing to address her integrity, which he directly challenged during the campaign and which will continue to be an issue the Republicans attack in the wake of the conclusion of the FBI's investigation into her email scandal" [Slate].

And what happened here?

Today's Clinton-Sanders rally: no endorsement, says campaign. Come thru NH Berners; let them know #NeverHillary! https://t.co/ubh8vPVGuV

— NEPAforBernie (@NEPAforBernie) July 12, 2016

Do we have any readers who were on that conference call?

"[I]n a nod to Sanders's successful fundraising efforts that brought in millions of dollars from small donors, with at one time an average donation of $27, Clinton's campaign has made $27 an option on its online donor page" [CNN].

"About 85 percent of Democrats who backed Mr. Sanders in the primary contests said they planned to vote for her in the general election, according to a Pew poll released last week. Yet she has struggled to appeal to the independents and liberals who rallied behind the senator's call for a 'political revolution' to topple establishment politicians, Mrs. Clinton included" [New York Times]. 85% of declared Democrats. Not such a good number from a third of the electorate.

"I am not voting for Hillary Clinton, regardless of her endorsement by Bernie Sanders. My decision isn't because of the scandal around her emails or because of some concern over her character. My reasons are pretty straightforward. I don't agree with her ideologically" [Eddie S. Glaude, Time].
The Trail
"The final amendment to the Democratic Party platform was meant to sprinkle Hillary Clinton's name throughout the document, putting a contentious and drawn-out primary process to rest in favor of a unified party. It never came up for a vote" [Bloomberg]. "Despite having the support of both the Clinton and Bernie Sanders campaign staffs, the amendment hadn't been run by committee members or Sanders supporters in the audience, some of whom angrily shouted down the language because, they argued, Clinton isn't the official nominee yet. The moment highlighted the state of the party after a long weekend of intense debates in Orlando, Florida, that left some tempers frayed, and extensive back-room policy negotiations between the two campaigns…."

"On Tuesday, the [Trump and Indiana Governor Mike Pence] will put their compatibility to the test when they appear together at a rally near Indianapolis, the latest in a string of public auditions for the running mate role" [RealClearPolitics].

""Hillary Clinton's campaign is vetting James G. Stavridis, a retired four-star Navy admiral who served as the 16th supreme allied commander at NATO, as a possible running mate" [New York Times]. From the Wikipedia entry, which seems to have been written by a Clinton operative: "Stavridis has long advocated the use of "Smart Power," which he defines as the balance of hard and soft power taken together. In numerous articles[17] and speeches, he has advocated creating security in the 21st century by ." I mean, come on.
Stats Watch
JOLTS, May 2016: "Job openings fell sharply" [Econoday]. "On the breakup side of the labor market, the quits rate is unchanged at 2.0 percent and is not pointing to much confidence among workers who in general, despite low wage growth, are not moving up to higher paying employers." Hysteresis….
Wholesale Trade, May 2016: "Wholesalers held back inventory growth in May, up only 0.1 percent and well under a 0.5 percent rise in sales at the wholesale level. The stock-to-sales ratio is down one notch to 1.35 from 1.36" [Econoday]. "Inventories of two very large components — drugs and autos — fell sharply." That's too bad. A lot of us need more drugs. And: "The headlines say wholesale sales were up month-over-month with inventory levels remaining at levels associated with recessions. Our analysis shows an degradation of the 3 month averages but we see acceleration looking at the single month's data" [Econintersect].
NFIB Small Business Optimism Index, June 2016: " [R]ose 0.7 points in June to 94.5, the third monthly increase since falling to a 2-year low in March" [Econoday]. "[P]lans to increase capital outlays rising 3 points to an even more solid 26, while job openings were even harder to fill, rising 2 points to 29. Expectations of an improvement in real sales rose 1 point to 2, but plans to increase inventories fell 2 points to a minus 3 and plans to increase employment dropped 1 point to 11." And: "[A] negligible increase showing no real enthusiasm for making capital outlays, increasing inventories, or expanding" [Econintersect].
"More than a year after last reaching an all-time high, the U.S. stock market did it again today" [ETF.com]. Best economy ever!
Gentlemen Prefer Bonds: "Some interesting stuff overnight. Risk is back on as global equities continue their surge and the pound sterling recovers. One commentator suggests that the surge is mostly short covering and partly a response to the modicum of stability which has emerged with the naming of new Prime Minister now a certainty. The Yen continues to weaken and that has buoyed Japanese equities. The Treasury yield curve steepened as it cheapened" [Across the Curve].
Shipping: "The Turkish captain and second-in-command of a ship carrying a record £512m ($670m) worth of cocaine were convicted yesterday in a Glasgow court of an international drug smuggling operation" [Splash 247]. "Some 3.2 tonnes of the drug was found in a ballast tank in the bows of the Hamal OSV after it was stopped 160 km off Aberdeen." Isolated incident, I'm sure.
Supply Chain: "General Motors Co. is locked in a bitter dispute with a parts supplier that the auto maker warns could shut down its North American assembly plants. GM is fighting to get inventory and factory equipment from a family owned supplier that filed for chapter 11 bankruptcy protection last week, a filing the supplier says was triggered by a deeply unprofitable contract with GM, the WSJ's Stephanie Gleason reports. The conflict is about as antagonistic as it gets in the automotive world, where the fortunes of car makers and suppliers are closely intertwined and often long-lasting. In this case, 115-year-old Clark-Cutler-McDermott Co. says it has lost $30,000 per day since 2013 under its pact with GM. Small auto suppliers can struggle to struggle to profit from the breakneck production pace that GM and others car makers set because operating above their production capacity actually costs more money than initial supply contracts typically envision" [Wall Street Journal].
Supply Chain: "The cracks that online sales are creating in the retail supply chain may be showing up most vividly at American shopping malls. That's where department stores, once the linchpin of malls, are being displaced by specialty retailers and restaurants that take up a fraction of the space but drive more sales, the WSJ's Suzanne Kapner reports. One mall operator, General Growth, has taken back space from 65 department stores, or about 15% of its anchors, and doled it out to smaller operators. The shift unravels the traditional concept of the mall, with an anchor tenant, and highlights the way e-commerce has fractured retail logistics, with demand to deliver truckloads of goods to outlets giving way to more nimble distribution of lighter loads to smaller storefronts and distribution centers. The challenge for shipping providers is making those sorts of deliveries with the efficiency that comes with bigger loads for big clients" [Wall Street Journal]. Worth noting that warehouse, trucking, and retail work is both ill-paid and the mainstay of millions. These supply chain upheavals must be affecting them, but we don't know how; not part of the narrative.
Supply Chain: "Air New Zealand to replace inventories with 3-D printing" [DC Velocity]. "Air New Zealand is using 3-D printing—also known as additive layer manufacturing technology—to make the fold-down cocktail trays that form part of its 'business premier' passenger seats."
Political Risk: "A performative statement is one which doesn't describe reality but rather creates it – as, for example, when a priest says 'I pronounce you man and wife'" [Stumbling and Mumbling]. Readers will recall I've mentioned the tendency among Democrats to performance statements. Although the post starts on on politics, it broadens out to this crucial example:
I do so instead to suggest that performativity is more common than we might think. Take three very different examples

– As the wonderful Donald MacKenzie has pointed out (pdf), the statement "markets are efficient" created a reality in which index-tracker funds were launched.
Somebody smarter than I am would, I think, find it useful to integrate performativity (which operates at the sentence level of claims) with narrative (which operates at the level of discourse, as per this well-received post "When Narratives Go Bad" from Epsilon Theory, in Links a few days ago.
Political Risk: "Easing Political Uncertainty Encourages Animal Spirits" [Brown Brothers Harriman, Across the Curve]. Pesky voters!
Political Risk: "The Q3 and Q4 comps probably will be better than Q2's (I'm not sure they could be worse), but I suspect it'll be awhile — at least until after the U.S. election and probably well into early 2017 — before rail execs talk with a bit more confidence about the industry's medium-term traffic prospects. Until then, we'll all continue to monitor, navigate, and now and again curse the uncertainty curve" [Progressive Railroading]. Animal spirits? These are the laziest, most torporous animals in the world, and most prone to whinging!
Today's Fear & Greed Index: 88, Extreme Greed (previous close: 81, Greed) [CNN]. One week ago: 68 (Greed). (0 is Extreme Fear; 100 is Extreme Greed). Last updated Jul 12 at 12:05pm. My fellow Americans. As a young boy, I dreamed of being a baseball; but tonight I say, we must move forward, not backward; upward, not forward; and always twirling, twirling, twirling towards freedom!
Dear Old Blighty
"FYI: Glossary Issues with the Chilcot Report" [Another Word for It]. This is important, because people who make bad assumptions about the data may run searches that give partial results, even in the simple-minded world of string searching.
Class Warfare
"Megabank JPMorgan Chase & Co. announced Tuesday morning that beginning next February the bank will begin to raise wages for about 18,000 hourly full- and part-time employees. Depending on the cost of living at various locations, minimum hourly pay will rise in a range of $12.00 to $16.50. The increases will be phased in over three years in more than 75 cities" [247 Wall Street]. In other words, Jippy Mo implemented Clinton's minimum wage proposal, clear evidence she didn't ask for enough. Of course, all this was driven from "below," and is not a matter of nobless oblige.
"Starbucks Raises Lack Detail, Bolster CEO Image" [MarketWatch]. Now that's a shocker. From CEO Howard Schultz's memo: "[E]ffective October 3, all partners [sic] and store managers in U.S. company-operated stores will receive an increase in base pay of 5% or greater. The range of increase will be determined by geographic and market factors and is intended to ensure Starbucks remains a retail employer of choice in all the markets where we operate." So Starbucks implemented Clinton's minimum wage proposal too.
"I argue that neoliberalism is a species of fascism because the economy has brought under subjection not only the government of democratic countries but also every aspect of our thought" [Defend Democracy].
"Friendship and natural selection" [Proceedings of the National Academy of Sciences]. " Across the whole genome, friends' genotypes at the single nucleotide polymorphism level tend to be positively correlated (homophilic). In fact, the increase in similarity relative to strangers is at the level of fourth cousins. However, certain genotypes are also negatively correlated (heterophilic) in friends. And the degree of correlation in genotypes can be used to create a "friendship score" that predicts the existence of friendship ties in a hold-out sample."
"New Economic Thinking Is Needed to Stop Party Crashers Like Trump" [Mark Thoma, The Fiscal Times]. "That empowerment must be both economic and political. Workers deserve to be compensated fairly for their work, and have generous social support programs to rely upon when economic changes that are out of their control throw them out of work or force them to accept lower paying jobs. We should not hesitate to ask those who have gained so much from globalization and technological change to give something back to those who have paid the costs of their success." All this would have been especially great, say, forty or even thirty years ago.
"The Abdication of the Left" [Dani Rodrik, Project Syndicate].
[T]he experience in Latin America and southern Europe reveals perhaps a greater weakness of the left: the absence of a clear program to refashion capitalism and globalization for the twenty-first century. From Greece's Syriza to Brazil's Workers' Party, the left has failed to come up with ideas that are economically sound and politically popular, beyond ameliorative policies such as income transfers.

Economists and technocrats on the left bear a large part of the blame. Instead of contributing to such a program, they abdicated too easily to market fundamentalism and bought in to its central tenets. Worse still, they led the hyper-globalization movement at crucial junctures.
UPDATE True, or not, this is richly ironic, given that not only economics departments and institutions with which Rodrik works intimately, but the political class as a whole, globally, did everything in their considerable power to destroy the capability of the left to deliver the program which they now insist it deliver! Recategorizing a process of suppression and academic marginalization and professional butchery — hackery being far too weak a word — as "abdication" is even more richly in "murdering one's parents and begging for mercy as an orphan" territory. Brad DeLong comments: "In retrospect, who can disagree? We [who?] misjudged the proper balance between state and market, between command-and-control and market-incentive roads to social democratic ends" [Washington Center for Equitable Growth]. It's not clear to me how the list DeLong's keeping of people to fire after Clinton's (presumed) election is going to help "[build] a programmatic economic response from the left" as called for by Rodrik, but perhaps there's a subtlety I'm missing.
News of the Wired
"A dwarf planet half the size of Britain has been found tumbling through space in the most distant reaches of the solar system" [Guardian].
"A Nihilist's Guide to Meaning" [Medium].
* * *
Readers, feel free to contact me with (a) links, and even better (b) sources I should curate regularly, and (c) to find out how to send me images of plants. Vegetables are fine! Fungi are deemed to be honorary plants! See the previous Water Cooler (with plant) here. And here's today's plant (Lee):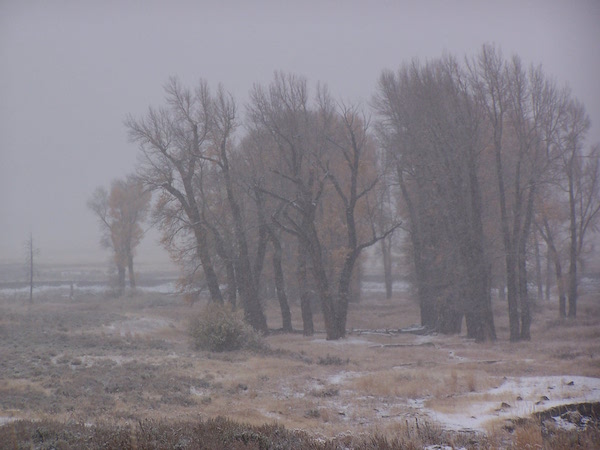 Lee writes: Cottonwoods in mist, Lamar valley, Yellowstone National Park.
Readers, if you want to send me some videos of plants in whole systems (bees and blossoms, for example, or running streams) — I can use them to practice with FFmpeg and hopefully post them. Because of download times, they'll have to be measured in seconds, rather than minutes. Thank you! Adding, I got another one today! Please keep sending them; they will ultimately appear!
Adding, thank you for your contributions during the rapid and successful Water Cooler Mini-Fundraiser. It remains only for me individually thank those who sent contributions via physical mail! Now, let me if I can find a physical pen; I don't think I have any, anymore….
* * *
Readers, if you enjoyed what you read today, please use the dropdown to choose your contribution, and then click the hat! Your tip will be welcome today, and indeed any day. Water Cooler will not exist without your regular support.