By Lambert Strether of Corrente.
TPP/TTIP/TISA
Kaine on TPP (1): "A Clinton aide confirmed to CBS News that Kaine had made a private commitment to Clinton that he would now oppose TPP, falling in line with the former secretary of state's declared view on the trade deal" [CBS] A "private commitment. " Oh, OK. Kaine in public, last week: "I do see at least right now that there is one element that I do have some very significant concerns about. And that is the dispute resolution mechanism. And I've got a lot of concerns about that. But long before there would be a vote on that I'm trying to climb the learning curve on the areas where I have questions. So again, much of it I see I think as a significant improvement over the status quo. The dispute resolution mechanism I still have some significant concerns about." Of course, Kaine voted for Fast Track, one of 13 Democrats to do so. Apparently, the "learning curve" wasn't so important to him then.
Kaine on TPP (2): Based on this story in WaPo, Politico carries water for the Clinton campaign, reporting as fact — "Kaine gives timely disavowal of TPP" — what is in fact a "private commitment" putatively made to the Clinton campaign:
Just in time for the convention, presumptive vice presidential nominee Tim Kaine has gone on record opposing the TPP. Kaine spokeswoman Amy Dudley confirmed Saturday to POLITICO that the Virginia Democrat shared his negative views on the trade deal with Hillary Clinton late last week, even though he spoke favorably of the trade deal as recently as last Thursday
CBS says "private conversation." The WaPo story to which Politico links says "a subject this past week in [Clinton and Kaine's] discussions." In no sense whatever has Kaine gone "on the record," as Politico claims, and treating the words of a Kaine spokesman as "confirming" anything just adds to the fun. C'mon, Politico. Consider a career in reporting, instead of stenography?
Pelosi on TPP: "Success! Leader Pelosi Stands Up for Users and Opposes the TPP" [EFF]. What Pelosi said: "Please be assured that I will oppose the TPP " Please. We're not children. I can already see liberal the liberal nomenklatura writing the budget for the campaign to "fight for" whatever meaningless change they have in mind. Idea: "Say, I think Richard Trumka should join the conversation." Etc.
"Donald Trump took another step toward blowing up the TPP in his speech accepting the Republican Party nomination on Thursday, declaring the United States will no longer join big trade agreements and concentrate instead on enforcing and renegotiating existing trade pacts" [Politico].
2016
Policy
"US: Basic Income Panel at DNC Cancelled" [BIEN].
The Voters
"How Donald Trump Broke The Conservative Movement (And My Heart)" [Buzzfeed]. "Nearly absent from this speech — Trump's coronation before millions of people — were many of the issues that have defined and dominated the Republican Party in recent years (abortion, Israel, soluble entitlements) at the exclusion of one (immigration). More to the point: Trump is all about government. He is for a government that takes care of you. He is disinterested in talk of democratic principles. He is concerned with the inactivity of the state, not the tyranny of power. The idea that you don't want government in your life, the premise of movement conservatism for six decades, is gone."

A fine tweetstrrom on liberals and politics, from former blogger Who is IOZ?
Money
"The DNC emails show how the party has tried to leverage its greatest weapon — the president — as it entices wealthy backers to bankroll the convention and other needs. At times, DNC staffers used language in their pitches to donors that went beyond what lawyers said was permissible under a White House policy designed to prevent any perception that special interests have access to the president" [WaPo]. "The leaked emails reveal the relentless art of donor maintenance that undergirds the system: the flattery, cajoling and favor-bestowing that goes into winning rich supporters. It's a practice that the party fundraisers themselves often find dispiriting." Of course, the Sanders fundraising model proves that "winning rich supporters" isn't a requirement to run a national campaign. That model has also been thoroughly erased from the discourse. So I don't really think the fundraisers find sucking up to the 1% "dispiriting" at all. They enjoy it, and want to keep doing it.
Philly
"Putting Sanders' name in the nomination at the convention was the insurgent camp's order of business Monday morning. Sanders volunteers fanned out across the delegation breakfasts of 50 states Monday to gather the signatures needed to place Sanders name in nomination. This would give Sanders' supporters an opportunity to vote on the floor for their man" [Washington Examiner].

"Democratic discontent with Hillary Clinton was on full display at the California delegation breakfast Monday morning ahead of the first night of the Democratic National Convention" [Roll Call]. "[W]henever a speaker talked about uniting to elect Clinton in November, the crowd balked. They booed Rep. Michael M. Honda. And chanted, 'Bernie, Bernie, Bernie!' during Rep. Barbara Lee's address…. Pelosi tried to unify the room by emphasizing the commonalities in the room rather than the divisions. 'The differences that we have are not so great compared to the chasm between us and Republicans [to whom Clinton is attempting to appeal, for pity's sake]," [Pelosi] said. But the crowd wasn't having it. When a 'Bernie' sign was thrust in Pelosi's face on stage, she remained calm, saying, 'I don't consider it a discourtesy even if it is intended as one.' With one final call for unity, and rallying calls to take back the House and the Senate, Pelosi walked off stage to more 'Bernie' chants."

@DWStweets is Wasserman Schultz:

.@DWStweets booed off the stage at her own FL delegation breakfast @NBCNews pic.twitter.com/GMe0g9t1JQ

— Andrea Mitchell (@mitchellreports) July 25, 2016

The #DNCLeaks lesson Donna Brazile learned isn't conduct yourself ethically. It's don't get caught. @statehousenews https://t.co/Eav8mGJs24

— Scott Wooledge (@Clarknt67) July 25, 2016

(Note that both DNC chair Brazile and new Convention chair Martha Fudge are black women. So you can imagine how booing them will be framed.)

"Live Coverage of the Democratic National Convention: Day 1" [The Atlantic].

"Why Philadelphia DNC protests are already bigger than anything in Cleveland: A reporter's journal" [Los Angeles Times].
The Trail
Kaine's role in gutting Howard Dean's 50-state strategy: "For four years under Howard Dean the Democratic National Committee funded a 50 state strategy which paid for DNC field organizers on the ground in every state. These organizers built local and county organizations which assisted candidates at every level. [Then, after 2008, Obama] replaced Gov. Howard Dean as Chair of the DNC and appointed Tim Kaine who immediately dismissed the 183 DNC field organizers and terminated the 50 State Strategy" Fast forward to the 2010 debacle. [The Pennsylvania Progressive]. So if you're looking for the man to purge the Democrat Party of leftist insurgents post-election, Tim Kaine would be your man.

"With DNC Leaks, Former 'Conspiracy Theory' Is Now True––and No Big Deal" [FAIR]. Article also discusses the other conspiracy theory: That the leak was the work of the legendary Russian FSB, successor to the KGB; so legendary they left the metadata on the files, so the "computer forensics" experts could hand the DNC a hefty bill for "finding" them. Fascinating to see liberals like Josh Marshall and Paul Krugman cross the line from being mere hacks — who among us, and so on — to completely losing their minds. 2016 has been a wonderfully clarifying year.

"How Putin Weaponized Wikileaks to Influence the Election of an American President " [Defense One]. Full of jargon, even more full of qualifications; less so of analysis. Anyhow, Putin must be totally ticked to go to all this trouble, and then end up strengthening the Democrats by defenestrating Wasserman Schultz. Somebody should ask Brazile how she feels about being the beneficiary of a Russian intel operation. But this is the Democrat establishment's story, and they're sticking to it. Some sort of Ems Dispatch deal for an October surprise, maybe, except digital

"'The FBI is investigating a cyber intrusion involving the DNC and are working to determine the nature and scope of the matter,' the agency said in a statement. 'A compromise of this nature is something we take very seriously, and the FBI will continue to investigate and hold accountable those who pose a threat in cyberspace'" [CNN]. Another institution thrown into the giant sucking pit of need that is the Clinton campaign [mental picture of tiny waving arms, G-Man hat, disappearing into the vortex]. I mean, wasn't Comey "exonerating" Clinton enough?

If you're a Russian mole, don't answer this ad from the Hillary campaign.

"Does Hillary Clinton have a political death wish?" [Brent Arends, MarketWatch]. Among the many pieces of supporting evidence, this one: "Her staggeringly bone-headed decision to go on '60 Minutes' and complain about a 'Hillary standard' that is supposedly tilted against her — weeks after getting a remarkable pass from the head of the FBI over her private email server. Really?"

"The Clinton campaign, which provided traveling reporters Friday night with a press release in background, bullet point form about the process, was carefully nudging narratives throughout. In late June, they purposefully seeded the same story to multiple reporters that the shortlist was Kaine, Warren and Castro—though they'd already all but ruled out Warren and Castro—in a successful effort to get stories out about the different possible factors that might make the decision, and to see the response those generated" [Politico]. That's really funny. I wonder how Warren feels about degrading herself during her audition process that wasn't?

"Debra Messing stumps for Hillary Clinton, speaks at Women's Roundtable discussion in Glenside" [Montgomery News]. Talking points at Dino's [!!] Backstage, in Abington, PA.

"Feel the Bern Adult Coloring Contest Winners" [Seven Days].
Stats Watch
Dallas Fed Manufacturing Survey July 2016: "Headline troubles eased in the Dallas Fed manufacturing sector… Details also show improvement but less so, with new orders still deeply in negative ground" [Econoday]. "Inventories are in contraction and delivery times are shortening, both indications of weakness. Price data do show some pressure, with input costs and wages & benefits both up but selling prices still down. Simply enough, low energy prices continue to hurt the oil patch." But: "A bit better than expected, and the narrative sounds hopeful, but the chart still looking like there's a long way to go to get back to where we were before the collapse of oil capex. And no sign of emergence of deficit spending- private or public- to drive top line growth" [Mosler Economics].
Employment Situation: "Based on experience with national unemployment, analysts have viewed sharply higher state joblessness as signaling possible further deterioration. However, analyses indicate increasing state-level unemployment by itself does not indicate a recession, and that applying rule-of-thumb properties regarding recession to state economies is misguided" [Federal Reserve Bank of Dallas].
Retail: "Kmart workers believe all the stores are going to be imminently shut down" [Yahoo Finance]. "If you go to the purging stock rooms then that means the store will be closing soon no matter what they tell you,' one person wrote [on a K-Mart message board]. 'Could be a month, maybe six, but they are already in the process of planning for it to close once they put it all out on the sales floor.' … 'We are currently rolling out a phased project to refine our inventory replenishment process whereby deliveries are directed to Kmart store shelves instead of the stock rooms,' [Sears spokesman Howard Riefs said]."
Oil: "So, why have we seen such a exponentially increasing rate of productivity [in the Utica]? In part, it's because the frackers are getting better at what they do; ie, their fracking techniques have improved. But another big factor is that with prices so depressed, they're no longer fracking half the state willy-nilly, like Chesapeake did during the McClendon era. They are only fracking in those locations where they believe that profitable production is pretty much a sure thing, and hence they're now producing as much gas and oil from new wells running a dozen rigs than McClendon and his boys did two years ago with 4 dozen rigs" [Economic Populist].
The Bezzle: "The NYC Tech Ecosystem: Catching Up to the Hype" [Matt Turck]. By a VC. A market isn't an "ecosystem," of course.
The Banks: "Central bank digital currency: the end of monetary policy as we know it?" [Bank Underground].
Political Risk: "How the pieces are falling into place for another global financial crisis" [Satyajit Das, MarketWatch]. "Any new banking crisis likely will be significant. Banks are networked both domestically and internationally through inter-bank lending and derivative transactions. Problems at one bank can quickly infect others and spread across the financial system. Public finance problems follow as governments and central banks are forced to support banks to ensure continuance of essential payment and credit flows. The only guarantee at this point is that banking problems will remain a continued source of economic instability." What Yves calls "tight coupling." Italy, Brazil, India, China, Germany, Italy, and European banks generally all have problems.
"Verizon agreed to buy Yahoo's core internet business for $4.83bn (£3.62bn) in cash on Monday, marking the final chapter in the struggling fortunes of the fading web pioneer" [Guardian]. " The Alibaba and Yahoo Japan investments are worth about $40bn, while Yahoo had a market value of about $37.4bn as of Friday's close. … [Verizon] is hoping that a combined AOL and Yahoo will create a strong third player to compete with Alphabet and Facebook for online revenues." Yeah, that'll work.
Today's Fear & Greed Index: 84, Extreme Greed (previous close: 85, Extreme Greed) [CNN]. One week ago: 91 (Extreme Greed). (0 is Extreme Fear; 100 is Extreme Greed). Last updated Jul 25 at 12:32pm. Drifting down. Sad!
Black Injustice Tipping Point
"The Tamir Rice Story: How to Make a Police Shooting Disappear" [GQ].
Police State
"There's Something Disturbing About The Way Cops Act Just After They've Shot Somebody" [HuffPo]. "[A]s scene after scene unfolds on shaky screens and in grainy contours, another element of the violence is beginning to come into focus: the pattern of officers showing no concern for the person they have shot, often fatally."
Our Famously Free Press
"The Case Against the Media. By the Media" [New York Magazine]. Very meta, since it's an aggregation of quotes from players, albeit good quotes and skilled players, most of whom are not outright weasels. Best subhead ever — "Plus: 113 Journalists on Why They're So Despised" — links to this useful survey.
"Media: Oligarchs Go Shopping" [Reporters without Borders].
Class Warfare
"The Donald's patented phrase that 'we aren't winning anymore' is what's really striking a deep nerve on Main Street. His rhetoric about giant trade deficits, failed foreign military adventures and other shortcomings of America's collective polity self-evidently touches that chord" [David Stockman]. "[M]ost of America's vast flyover zone has been left behind, and not simply because real wages and household incomes have been relentlessly shrinking, as shown above. Even more strikingly, the bottom 90% of families have no more real net worth today than they had in 1985. The top 1% are an altogether different matter. Their average real net worth has grown from $5 million to $14 million and now stands at nearly 300% of its level three decades ago."
News of the Wired
"Crispr: Chinese scientists to pioneer gene-editing trial on humans " [Guardian]. CRISPR is one of the more creepy acroyms…
"It's a little unexpected to find yourself staring at a work of North Korean propaganda in Washington, D.C. It's even more unexpected to find the artistry of the work completely transfixing" [National Geographic]. "'Most of the history of Western art was propaganda for the church,' [American University Art Museum director Jack Rasmussen says], also noting how similar these works are to American paintings in the 1940s (think Rosie the Riveter). 'This succeeds at every level art should succeed at.'"
"The Psychology of Human Misjudgment" (pdf) [Charles Munger].
"But what libraries meant to my childhood cannot be divorced from the physical place. By all measures, as a nine-year-old, I had very little human capital. I'd walk two and a half miles on summer days to sit for hours in the library's air-conditioning. By design, the building was rambling and given to nooks that were recessed deep between bay windows, where one could be both hidden from and able to watch the outside world. From my favorite nook, at the far end of the children's section, I could see the street and sidewalk and library garden. " [The Hedgehog Review (Re Silc)]. "Access to libraries may or may not help a child on the economic margins move up to a more comfortable social class. It can, however, offer poor children one of the few opportunities to escape the grinding inequities of our late-capitalist economy and experience the rich and quiet life the wealthy can so easily buy"
"Why Libraries Are Everywhere in the Czech Republic" [New York Times]. "There are libraries everywhere you look in the country — it has the densest library network in the world, according to a survey conducted for the Bill and Melinda Gates Foundation. There are more libraries than grammar schools. In fact, there is one library for every 1,971 Czech citizens, the survey found — four times as many, relative to population, as the average European country, and 10 times as many as the United States, which has one for every 19,583 people."
"Just call 917-ASK-NYPL, and a live librarian will try to answer your question, using vast archives collected over 120 years" [Quartz].
* * *
Readers, feel free to contact me with (a) links, and even better (b) sources I should curate regularly, and (c) to find out how to send me images of plants. Vegetables are fine! Fungi are deemed to be honorary plants! See the previous Water Cooler (with plant) here. And here's today's plant (Re Silc):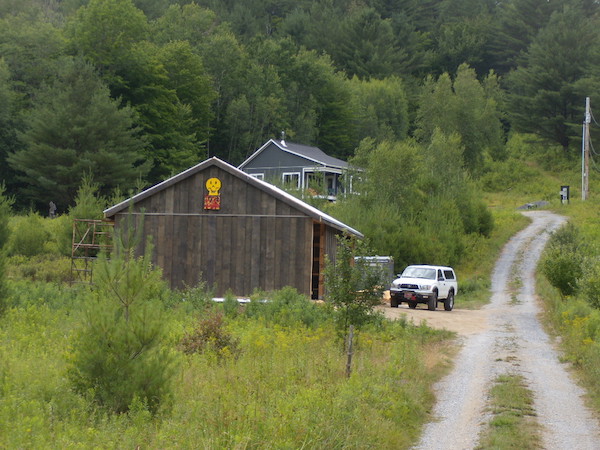 A lovely Vermont tree-scape….
Readers, if you want to send me some videos of plants in whole systems (bees and blossoms, for example, or running streams) — I can use them to practice with FFmpeg and hopefully post them. Because of download times, they'll have to be measured in seconds, rather than minutes. Thank you! Adding, I got another one today! Please keep sending them; they will ultimately appear!
I have finally finished sending thank you notes to the people who helped out during the quick and successful Water Cooler Mini-Fundraiser by sending in checks. Thank you, readers! So, to my knowledge, all should have been thanked, and for those of you who used PayPal, if you have not been, and you have checked your spam folder, don't hesitate to complain using my contact form.
* * *
Readers, if you enjoyed what you read today, please use the dropdown to choose your contribution, and then click the hat! Your tip will be welcome today, and indeed any day. Water Cooler will not exist without your random acts of kindness.