Happy Bastille Day, to all our readers in France! A toast to you!
Has the ISS captured footage of a UFO? Nasa cuts live feed from space station as mysterious object appears Daily Mail (Ryan R)
American Pravda: The Legacy of Sydney Schanberg Unz Review (Chuck L)
Pokémon GO Players Are Facing Unexpected, Sometimes Dangerous Situations Farmington Hills Michigan Personal Injury Lawyer (Chuck L)
Pokemon GO fans told not to play in U.S. Holocaust Museum Reuters (EM)
Organic Farmers Leave Organic Trade Association over GMO Labeling Betrayal Sustainable Pulse (Bill C)
One striking chart shows why pharma companies are fighting legal marijuana Washington Post (Dr Kevin)
Brexit. Dear UK based readers, we Americans very much need your help in making sense of Theresa May's cabinet picks, most of all Boris Johnson as Foreign Secretary and David Davis as "Secretary of State for Exiting the EU". These choices would seem to contradict the theory of my contact (whose intel BTW I have doubted because he has remained insistent despite this being what Lambert calls an overly dynamic situation), that the Tories plan not to go ahead with Brexit. May has said no second referendum (as we anticipated). Putting prominent Leavers in such key positions would make it even harder to retreat, unless the intent it to make them do a "Nixon goes to China". But Boris is so shameless I can't imagine him thinking a walkback would ever be necessary, no matter what information presents itself.
Global trade slowdown worse than thought Financial Times (David L). As you would know if you have been following Lambert's stats watch!
Post-Brexit European Commission Playbook power matrix Politico
Financing vs. Spending Unions: How to Fix the Euro Zone's Original Sin Social Europe
Refugee Crisis
Europeans Fear Wave of Refugees Will Mean More Terrorism, Fewer Jobs Pew Research Center (guurst)
China?
China's Challenge to the Law of the Sea Project Syndicate (David L)
Ukraine/Russia
NATO and Putin's "Threats" to the Baltics Defend Democracy

IRISH ARREST WARRANT APPROACHES FOR CYPRUS LEADER, AFTER CYPRUS PRESIDENT ANASTASIADES MEETS US ENVOY NULAND, THEN RUSSIAN PRESIDENT PUTIN John Helmer. It occurred to me only now (!!!) that the bail-in of Cyrus banks was an economic sanction against Russia. Cyrus was the gateway for in-bound medium and large-scale investment into Russia because investors wanted the benefit of English law (which you got by going through Cyrus and not if you invested directly in Russia).
Syraaqistan
Obama's Syria plan teams up American and Russian forces – The Washington Post. Lambert: "Obama's certainly gotten more creative on foreign policy since Clinton left…"

CIA Chief Says Saudi Arabia Must Adapt Society to 21st Century Bloomberg/ Resilc; "I cannot stop laughing."
Big Brother is Watching You Watch
Sharing Your Netflix, Amazon Prime or HBO Go Password Is Now a Federal Crime Alternet

Computing DARPA Hopes Automation Can Create the Perfect Hacker MIT Technology Review (David L)

Tor Project, a Digital Privacy Group, Reboots With New Board New York Times. Bill B:

Recall that Bruce Schneier is also on the advisory council of the Open Technology Fund…

Which is funded by the Broadcast Board of Governers (BBG)…

Which is linked to the… a drumroll please, the CIA!
Imperial Collapse Watch
CIA director says he would resign if ordered to resume waterboarding Reuters

U.S. arms sales approvals on track to reach nearly $40 billion Reuters (EM)
Clinton E-mail Hairball
2016
Guccifer 2.0 releases new DNC docs The Hill (furzy)
Obama's Big Flip-Flop to Save Obamacare New Republic
Gretchen Carlson's Contract Could Shroud Her Case in Secrecy New York Times (Dan K)
Police State Watch
Likely hack of U.S. banking regulator by China covered up: probe Reuters (Chuck L)
Gretchen Morgenson on covering the mortgage crisis (video) New York Times. A series of monthly interviews with whistleblowers. On Facebook, so not paywalled (Steve)
Class Warfare
Warren joins call for Airbnb probe The Hill (furzy)

Jaime Dimon Is Milking Publicity From Puny Raise New York Magazine

Cash Strapped Towns Are Unpaving Roads They Can't Afford to Fix (Selva)
Antidote du jour. Chet G: "A leaf-cutter bee on birdsfoot trefoil blossoms:"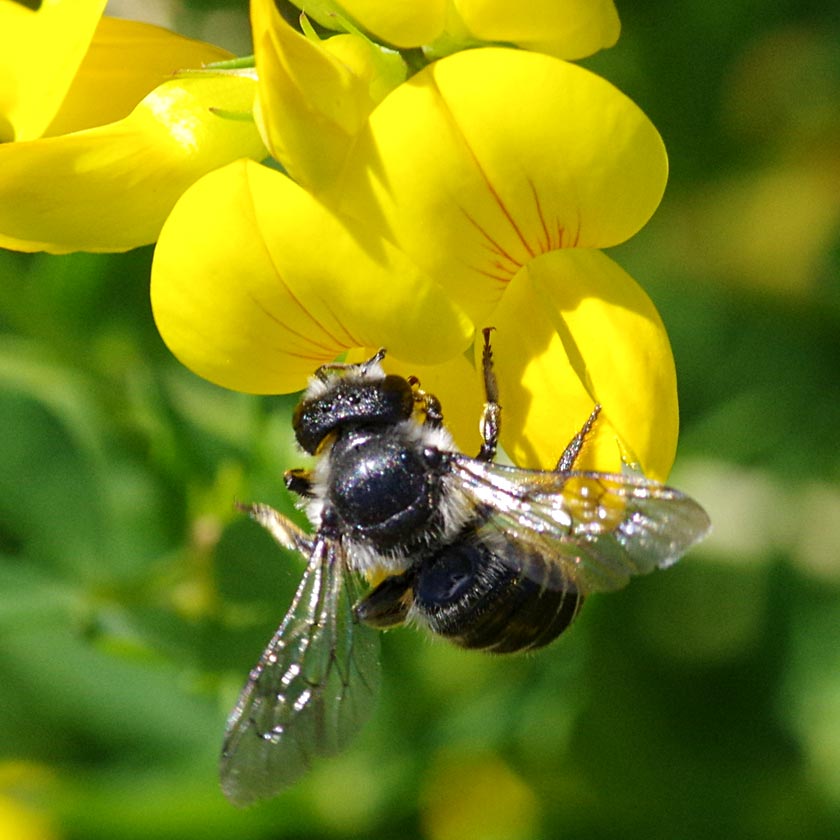 See yesterday's Links and Antidote du Jour here.