Clever koalas learn to cross the road safely BBC
Olympics Committee Says Non-Sponsors Are Banned From Tweeting About the Olympics Gizmodo (Dan K)
Boeing Considers Ending Production of 747 Wall Street Journal. Oh, I love 747s! But even by the standards of jets, they guzzle fuel.
Antibiotic resistance: 'Snot wars' study yields new class of drugs BBC
Hour's activity 'offsets sedentary day' BBC (furzy)
Is the Present Worse Than Any Fictional, Futuristic Dystopia? Vulture
Oxfam in call for crackdown to combat money launderers using Scottish shell firms Herald Scotland. Our Richard Smith has a byline! And some related stories: Mystery as dissolved Scottish firm Childwall Systems provides armed guards in Ukrainian war zone and Fuerteventura Inter: Scots firm at centre of organised crime probe into weapons deal
Brexit
Immigration and Brexit. Jeremy Grantham (vlade) Important. Also a reminder that inequality is why the US has so rapidly become a low-trust society.

Bank of England May Revive Dying Policy for Post-Brexit Package Bloomberg
UK joins Greece at bottom of wage growth league Guardian
France church attack: Second suspect in priest killing named BBC
The end of Germany's golden age Politico
Commission decides against fining Portugal, Spain for budget breaches Politico (paywalled). Mind you, this was Schauble's doing. From the e-mail summary:
Commissioners yesterday decided not to fine Spain and Portugal for breaching EU budget rules. President Juncker had been pushing for fines in recent days but was in the minority — a rare defeat of presidential wishes. Sources told POLITICO that Wolfgang Schäuble, the normally hardline German finance minister, had been ringing commissioners asking them to decide against fining the two countries.
Catalonia Parliament Approves Independence Path in Defiance of Constitutional Court Michael Shedlock
China?
Chinese default heightens creditor anger Financial Times

Horrifying New Credit Scoring in China Cathy O'Neil
Syraqistan
Turkey Expands Purge, Shutting Down News Outlets New York Times

Third Wave Jihadism? London Review of Books. From earlier this month, still germane.
Big Brother is Watching You Watch
New York DA Wants Apple, Google to Roll Back Encryption Tom's Guide (Dan K)

What Are the DNC Hack(s) Rated on Obama's New Cyber-Orange Alert System? Marcy Wheeler
Trade Traitors
McAuliffe: Clinton Doesn't Really Oppose the TPP New York Magazine (resilc). Duh!

Did Longtime Ally Just Blow Major Hole in Clinton's TPP Credibility? Common Dreams
2016
Booing and Nothingness Corey Robin (martha r)

Danny Glover in support of Nina Turner at the DNC Media Tent YouTube (Phil U)

Nina Turner Allies Hold Press Event to Defend Prominent Sanders' Surrogate Common Dreams

Rosario Dawson And Shailene Woodley On The Young Turks To Discuss #ImWithNina YouTube. Phil U:

S​he wasn't de-credentialed, ​she was supposed to be the one that nominated Sanders and Clinton people nixed her speech. The had a "press conference" with a lot of the A list Celebs that backed sanders and Yahne of #BernieOrBust, the "I don't give a fuck about Trump" lady, and a Muslim women Bernie Delegate who was very upset when Clinton won the nomination, Clinton Camp said "what a great picture to exploit" and tweeted it with a misleading caption to make it look like she was thrilled and for Clinton. (they did take it down eventually) Nina decided against talking at the conference.Worth watching,

Coalition of 57 Speaks in Solidarity Effort to Achieve Democratic Unity (martha r). By the group that organized the walkout.

Joe Biden: 'Moral' Bernie Supporters Will Vote for Hillary Daily Beast (resilc)

A Metaphoric Short Circuit: On Michelle Obama's Speech at the DNC Counterpunch (margarita)

After Lying Low, Deep-Pocketed Clinton Donors Return to the Fore New York Times (TF). Quelle surprise!

The Real Paranoia-Inducing Purpose Of Russian Hacks New Yorker. Dan K: "Clickbait title oversells the conclusion, the synthesis is so-so IMO, but good sourcing (links in live article). The author has written some interesting stuff (considering his class context)."

Trump Has A Point On Russia Hack American Conservative (reslc). "'Russia, if you're listening, I hope you're able to find the 30,000 emails that are missing,' Mr. Trump said, staring directly into the cameras. 'I think you will probably be rewarded mightily by our press.'" This was a joke yet the media decided to treat it seriously to feed the Trump-Putin myth. You can watch what he said here. So now we see the MSM playing up something as reality based as the Obama birth certificate scandal.

Why These Union Members and Lifelong Democrats Are Voting Trump Daily Beast (resilc)
Obama's legacy: Are black voters still fired up? BBC
Facebook Fails to Show Up for Seventh Tax Summons From IRS Bloomberg (Dan K)
As Corn Devours U.S. Prairies, Greens Reconsider Biofuel Mandate Bloomberg. Resilc: "And the runoff destroys the gulf."
Secret algorithms that predict future criminals get a thumbs up from Wisconsin Supreme Court Fusion
Black Injustice Tipping Point
Prosecutors Drop All Charges in Freddie Gray Death Case Wall Street Journal

Incandescent With Rage New York Times
Ohio taking a reckless gamble with pension funds News-Messenger (john d). Key quote:
In 2015 Ohio's five public pensions paid outside fund managers a staggering $734.8 million. These management fees are extraordinarily high because Ohio relies on secretive alternative investments more than any state in America..

The results are embarrassing. In 2015 the Ohio Public Employees Retirement System, the state's largest pension fund, spent $428.2 million in external management fees for investment results that fell 99.8 percent from 2014, a year when PERS also failed to match what a low-cost index fund would have returned.
Fed Begins Crawl Toward Rate Hike With Near-Term Risks Diminishing Bloomberg
Benign neglect of NIMs in the US FT Alphaville
Banker Bonus Curbs Are Working But Too Onerous for Some, EU Says Bloomberg
Guillotine Watch
The Four Seasons Restaurant Auction Totaled $4.1 Million Bloomberg

Silicon Valley Elites Get Home Loans With No Money Down Bloomberg (resilc)
Class Warfare
Bill O'Reilly melts down over 'slaves were well-fed' criticism: Liberals 'want me dead' Raw Story (furzy)

Debt Collectors' Abuses Prompt Consumer Agency to Propose New Rules New York Times

United Stag-Nations – the decayed decade for GDP per head Prime Economics (guust)
Antidote du jour. Chet G:
A falconer will take in an immature red-tailed hawk in the autumn (i.e., a hawk born in that year) and work with it over winter and then release the hawk back into the wild in the spring.

The mortality rate (traditional) is that only one RT out of four will survive its first winter, so the training goes a long way for improving the odds of that particular hawk's survival.

Here's a descriptive link describing this year's Wild about Animals, a fund-raiser for Centre Animal Care: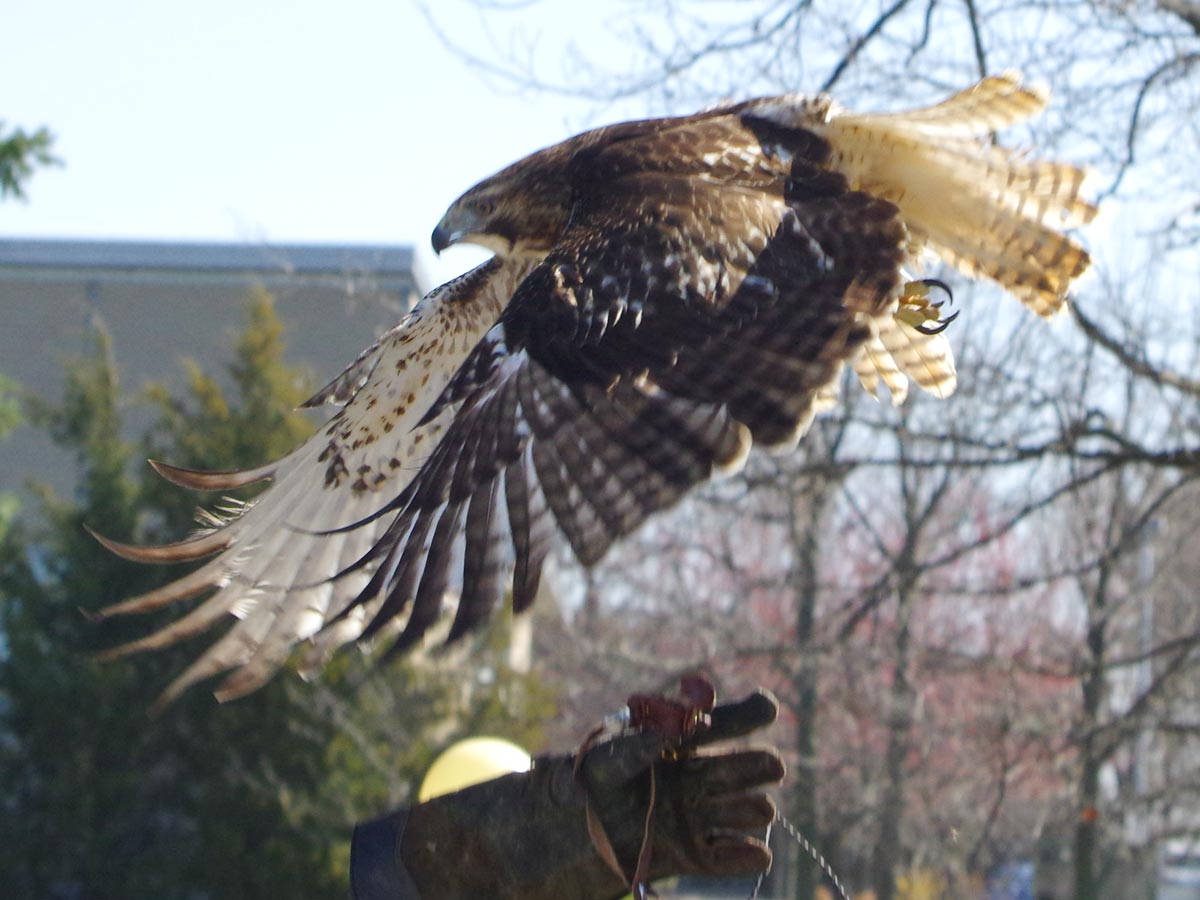 See yesterday's Links and Antidote du Jour here.