Botanists Sniff at Mystery of Smelly Corpse Flowers' Blooming Wall Street Journal
Plastic bag use plummets in England BBC
Australia Has Moved 1.5 Metres, So It's Updating Its Location For Self-Driving Cars Slashdot (Dr. Kevin)
Brexit
Hinkley Point: 'I am prime minister, this is my method,' says May Financial Times. This looks like a Brexit tit for tat. Hollande took a tougher line with May but also said he regarded the Hinkley Point project as important.

The Frenchman who will negotiate Brexit Financial Times
Study Exposes BBC's Deep Anti-Corbyn Bias Jonathan Cook (Catherine A)
Monte Paschi Capital Wiped Out in European Bank Stress Test Bloomberg
Monte dei Paschi board backs private sector rescue plan Financial Times. Details of how the bailout works too fragmentary to post on it. Even the comments at the FT are making best guesses.
French PM: 'France needs new relationship with Islam' The Local (Mark Twain)
Italy's broken banks – the spectre haunting Europe MoneyWeek. From earlier in the month, but a good overview.
Anglo trial: Three ex-bankers jailed over €7bn fraud Irish Times (Neal R)
Scottish firm behind global 'essay mills' offering to write students' work for cash Herald Scotland. Note that there's an essay mill in the US.
Brussels Briefing: IMF's Athens Hangover FT Alphaville
Goldman Sachs Subpoenaed by U.S. Agencies for Documents Related to 1MDB Wall Street Journal
Provoking Russia Le Monde Diplomatique (Sid S)
Erdogan to drop 'insult' lawsuits BBC. Guess he wants to make nice to Merkel.
Big Brother is Watching You Watch
Dark Patterns are designed to trick you (and they're all over the Web) ars technica (Dan K)

Court ruling shows the internet does have borders after all CSO Online (Dan K). Stunning that techies ever thought otherwise. Did they not understand that Wikileaks has its servers in Sweden for a reason?
Imperial Collapse Watch
Despite Objections, Pentagon Takes Step Toward Buying New Nuclear Weapons Defense One

Chelsea Manning faces discipline for prison suicide attempt: lawyers Reuters (EM)
2016
Fake Unity at the DNC – Reserved seats for actors vidme (Chuck L)

Understanding why populist fires are still 'Berning' The Hill

To Win, Hillary Should Be Like Bernie, New Poll Suggests Huffington Post (Li)

10 reasons why #DemExit is serious: Getting rid of Debbie Wasserman Schultz is not enough Salon (Steve C)

How Hillary Survived a Gauntlet of Saboteurs and Scoundrels New Republic. More punching of Sanders supporters.

At the DNC, the debate over drug prices gives way to charcuterie and cheese Stat (Timotheus)

Exclusive: FBI probes hacking of Democratic congressional group – sources Reuters

Clinton Campaign Says Hackers Accessed Data Program It Used Bloomberg

US election: Are the Democrats too confident? BBC. The screechiness about Putin sure doesn't look confident.

Campaigns Eye Pennsylvania Prize Wall Street Journal. Major spin. Pennsylvania is a blue state, so the fact that is in play is a sign that Clinton is wobbly.

Mike Pence Walks 10 Nuns Out of the Voting Booth Reader Supported News (furzy)

Republicans, Democrats and the disunited states Financial Times

Could Trump be Good for Peace? Counterpunch (Mark Twain)

Donald Trump says he's 'taking the gloves off' as party conventions wrap Guardian. Lambert: "Buried lead. Trump comes out against fracking in Colorado." Yves. Is this a play for New York? The state is assumed to be solidly blue, but NYC is about half the state's population, and Long Island and upstate are pretty red. Hlllary did bupkis for the state as Senator, and fracking is very unpopular upstate.
An uncomfortable conversation we need to have: Is the U.S. spending too much money on the elderly? Salon (Dr. Kevin). Moi: "Die faster!" Lambert: "Could barely wait till after they were done with the convention to start selling the Grand Bargain."
The 'smoking gun' proving North Carolina Republicans tried to disenfranchise black voters Washington Post (Dan K)
Two Onondaga County men accused of running check cashing ring Syracuse. Bob: "More small frys for Schneiderman. Like he'd go after the real big guys."
Six more Michigan employees charged with misconduct in Flint water crisis Washington Post (Dan K)
U.S. economy disappoints with 1.2% growth CNN
US economy 'close to stagnant for almost a year' as growth shudders Telegraph
U.S. in Weakest Recovery Since 1949 Wall Street Journal
Fed
Fed's Williams downplays GDP weakness, sees rate hikes Reuters

What More Has to Happen Before the Fed Concludes That This Looks Like Yet Another Failed Interest-Rate Liftoff? Brad DeLong
Speed Traders Invade Sleepy Corner of England, Locals Bristle Bloomberg (Randy K)
Class Warfare
Uber Can't Force Arbitration Over Pricing Antitrust Claim Bloomberg. This may be important as a more general blow against arbitration clauses. Judge threw it out because Uber didn't provide adequate notice. No "gotcha" clauses buried in long agreements.

One Mother's Story: How Overemphasis on Standardized Tests Caused Her 9-Year-Old to Try to Hang Himself Alternet
Everything is Broken Medium. Today's must read. Brian C: "In light of the recent hacking stories in the news, I thought it would be a good time to share one of my favorite blog posts of all time. I have been reading about information technology and working with it since about 1974, and I have never found a narrative that so perfectly captures my personal observations of the state of computer technology today."
Antidote du jour. Alan T: "Our new tiny Pomeranian. Chewing on a toy and a plastic coat hanger. Perfect dog. Instinctively loves to sit in laps. Doesn't bark. Doesn't shed (?Yet). 7 mos old, about 3 lbs. Parents were 4 and 6 pounds."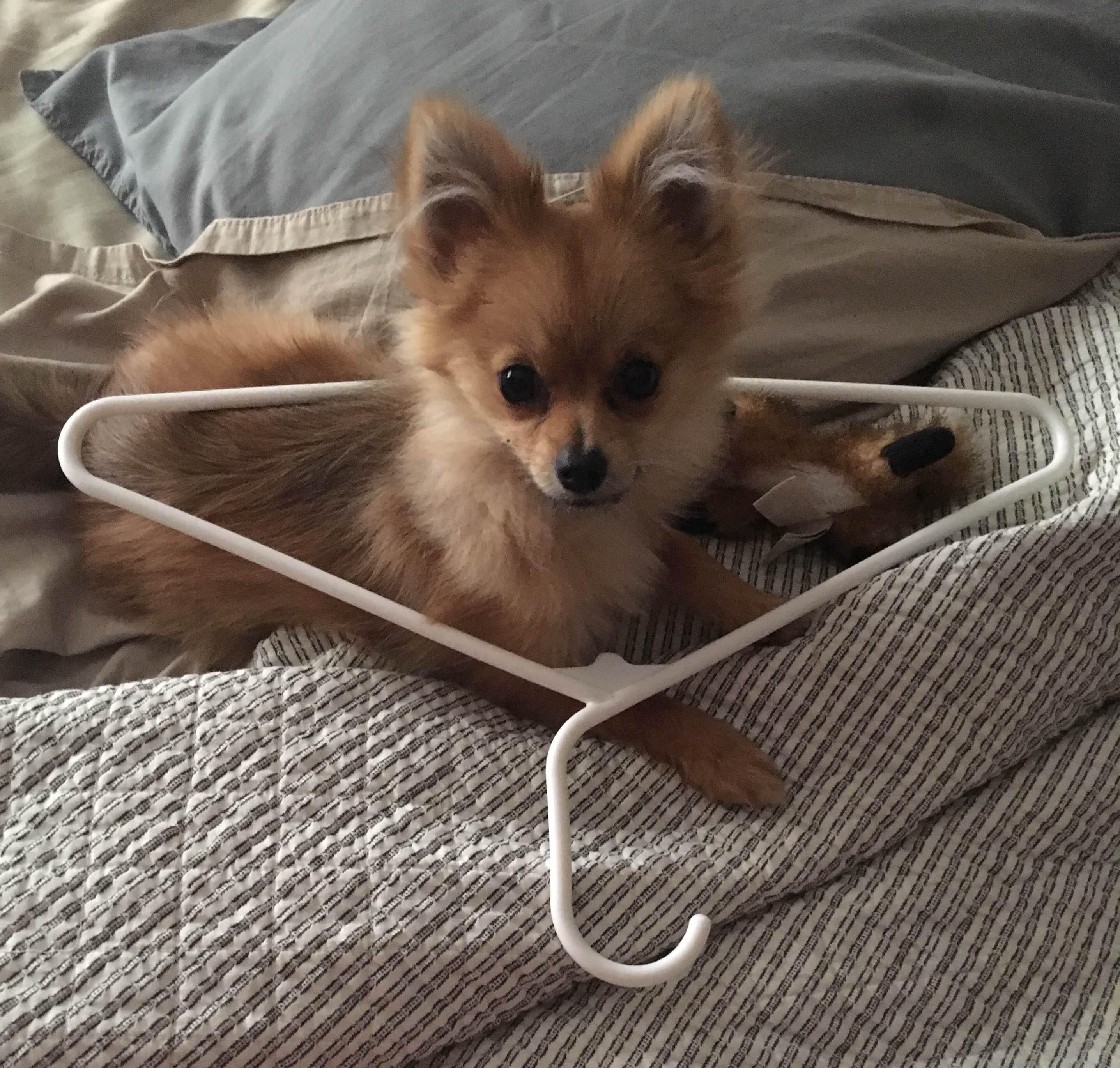 See yesterday's Links and Antidote du Jour here.