Religion may become extinct in nine nations, study says BBC
Kentucky Noah's Ark Encounter opens amidst severe flooding Inhabitat (resilc)
Ashley Madison threatened to expose customers who disputed bills CNN
Brexit
British Politics Gives a Sense of Government by Old School Chums New York Times (Li)

Brexit: a coup by one set of public schoolboys against another Financial Times

Theresa May: Britain faces 'tough times' but can enjoy a 'better, brighter future' outside the EU Telegraph

#asamother Crooked Timber (Philip D). On Leadsom's campaign, such as it is.

Andrea Leadsom is the leader of an am-dram peasants' revolt Guardian (Philip D)

Brexit contagion fears stalk Europe banks Financial Times

Brexit Plows into British Consumers, Economy to Spiral Down Wolf Richter
Brexit Is a Mixed Bag for Russia National Interest (resilc)
Lagarde keeps up Beijing's voice in IMF Financial Times
Imperial Collapse Watch
U.S. Air Force chief confident Boeing will fix KC-46A tanker issues Reuters (EM)

Nato summit: US says it will deploy 1,000 extra troops to Poland Guardian (resilc)
Trade Traitors
Uruguay Wins Its Tobacco Case Against Philip Morris International But PMI Accomplished Its Primary Goal ASH. I wonder if the panel, which is not bound by precedent and therefore does not have to worry about setting one, decided it would make for bad headlines to rule in favor of PMI when the TPP and TTIP are in play. Even though tobacco products are exempted from ISDS rules in one (both?) of these deals, it would still call attention to the power of ISDS rulings to undermine health regulations.
Clinton E-mail Tar Baby
2016
U.S. GMO food labeling bill passes Senate Reuters. EM: "Another 'business-friendly' triumph of bipartisanship!"
Black Injustice Tipping Point
The Police Are Killing People As Often As They Were Before Ferguson FiveThirtyEight
Dallas Shooting
Best-selling author's tweet revives food safety concerns at Chipotle Reuters (EM)
Tech job postings are down 40% and nobody's talking about it. Medium (Randy K). I am told office rents are cheaper in San Francisco, another indicator. The culling of the unicorns.
Investors Get Stung Twice by Executives' Lavish Pay Packages Gretchen Morgenson, New York Times
Gold: It's Still a Pet Rock Wall Street Journal
Class Warfare
Americans too poor to shop New York Post (Mark Twain)
Antidote du jour. From Saturday's Tour de France stage might be infested with llamas SBNation (Chuck L):
Those are pictures taken on the Col du Tourmalet in the Pyrenees, one of the hardest and most famous climbs of the Tour de France. According to the man who took the photos, the llamas were purchased by a proprietor of a nearby campsite and let loose to graze the hillsides in the summer. On the particular day they were photographed, he wrote, they were likely lying down on the road to warm up from the cold mist.

Saturday morning, Tour de France riders will try to surmount the Col du Tourmalet as part of a ridiculously hard stage. They may have more than steep gradients to worry about.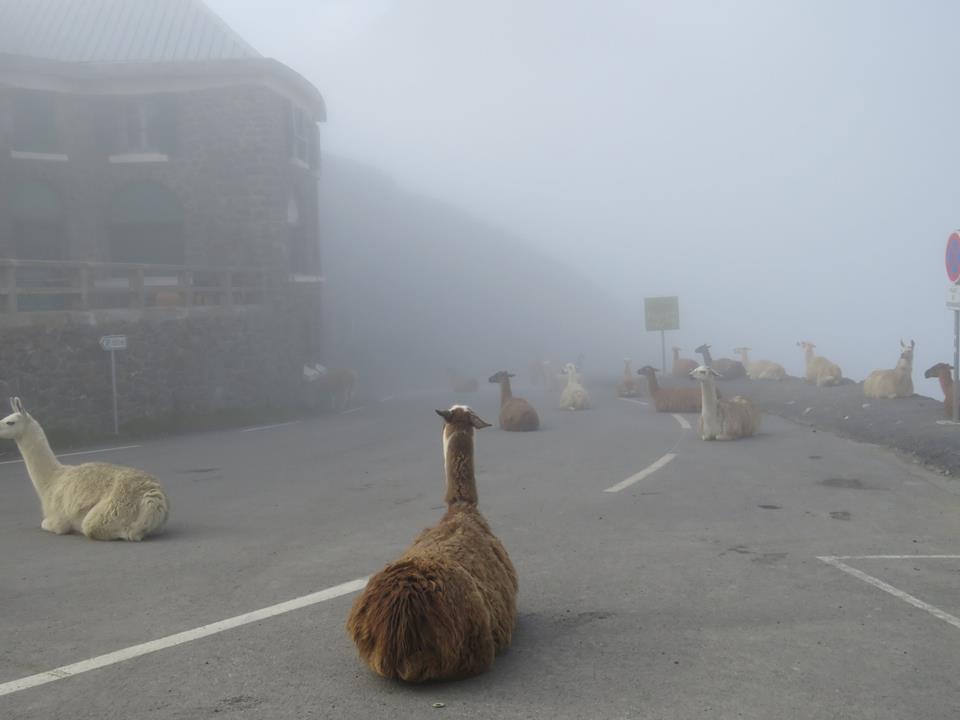 See yesterday's Links and Antidote du Jour here.