By Lambert Strether of Corrente.
The Iraq Inquiry, whose work product is called the "Chilcot Report" after its chair, Sir John Chilcot, was commissioned in 2009 by then Prime Minister Gordon Brown, and released last week. The print version of the report is in 12 volumes that take up a table several meters long. The @ChilcotBot will take about a year to tweet the 2.6 million words, at a rate of one tweet over four minutes or so. (Searchable electronic versions can be found here and here.) Here's a hot take, from the not-actually-that-leftist Guardian.
The Iraq Inquiry commission's scope, from the Executive Summary (itself 150 pages long):
The Inquiry's report sets out in detail decision‑making in the UK Government covering the period from when the possibility of military action first arose in 2001 to the departure of UK troops in 2009. It covers many different aspects of policy and its delivery.
And one important conclusion (page 113):
Did the UK achieve its objectives in Iraq?

792. The Iraq of 2009 certainly did not meet the UK's objectives as described in January 2003: it fell far short of strategic success. Although the borders of Iraq were the same as they had been in 2003, deep sectarian divisions threatened both stability and unity. Those divisions were not created by the coalition, but they were exacerbated by its decisions on de‑Ba'athification and on demobilisation of the Iraqi Army and were not addressed by an effective programme of reconciliation.
And (page 115):
796. By 2009, it had been demonstrated that some elements of the UK's 2003 objectives for Iraq were misjudged. No evidence had been identified that Iraq possessed weapons of mass destruction, with which it might threaten its neighbours and the international community more widely. But in the years between 2003 and 2009, events in Iraq had undermined regional stability, including by allowing Al Qaida space in which to operate and unsecured borders across which its members might move.
Oops. Continuing:
798. The Inquiry has not been able to identify alternative approaches that would have guaranteed greater success in the circumstances of March 2003. What can be said is that a number of opportunities for the sort of candid reappraisal of policies that would have better aligned objectives and resources did not take place. There was no serious consideration of more radical options, such as an early withdrawal or else a substantial increase in effort. The Inquiry has identified a number of moments, especially during the first year of the Occupation, when it would have been possible to conduct a substantial reappraisal. None took place.
So, even in its own, imperial terms, the Iraq War was a debacle. The UK's strategic goals were not achieved, and when it became evident that they were not, the government was unable to change course. Insofar as the Weapons of Mass Destruction (WMDs) were the justification for war, as opposed to a convenient pretext, that justification was false. In other words, the political class was not self-correcting, although some correction after the fact may be the outcome of the report.
The Chilcot Report has been released when British politics are in an overly dynamic situation, what with Brexit and its politically risky aftermath, the potential disintegration of the United Kingdom, and leadership fights in both Tory and Labour Parties; surely the role of Tony Blair will figurely largely in the Labour fight. Even if Blair is a mere scapegoat for the failings of the political class as a whole, Blair — who seemed "close to tears" at his Chilcot presser — deserves that role so very, very richly. The Chilcot report is also being used to relitigate the run-up to the war, and so there is a constant stream of stories in the press as nuggets of horror or idiocy and occasional heroism are dug up, and scores are settled, and quite rightly. Whether the British political class can manage to hold itself accountable for their part in a strategic debacle that left hundreds of thousands of dead and set the Mediterranean littoral on fire is, at this point, unknown.
The Chilcot report shows, then, not merely a lost war, but a failure of statecraft, and even of the State itself. (War on the Rocks has a fine summary of governance dysfunction; the Institute for Governance has a report.) The Chilcot Report is also too big, and the story too fast-moving, for me to give the 30,000-foot account I would prefer to give, so I'm going to cover some topics small enough for me to get my arms around. First, I want to give shout-outs to people who got it right. This is important from the American perspective, since most "serious" people in the United States were for the war and are still in positions of power and influence (including, in the world of Democrat journalism, Ezra Klein, James Fallows, Jonathon Chait, and Josh Marshall, among many others; liberal goodthinkers all.) It is true that one reason Clinton lost in 2008 was her vote for the war, in contrast to Obama's "dumb war" speech against it, when a state Senator in Illinois, but not much else seems to have changed; in regard to Iraq, we in this country are still stuck at the "mistakes were made," and "look forward and not back" stage. If it is a stage. It's a shame to think that the British political class is more functional than our own, but that's where we are. It is what it is. Next, I'll look at an utterly spectacular intelligence omnishambles. After that, I'll take a look at Tony Blair. I'll conclude by asking what the Iraqi people think of the Iraq War. They were, after all, its ostensible beneficiaries.
People Who Got it Right, Then and Now
The millions of demonstrators marched against the war, in Washington, London, and all over the world, got it right: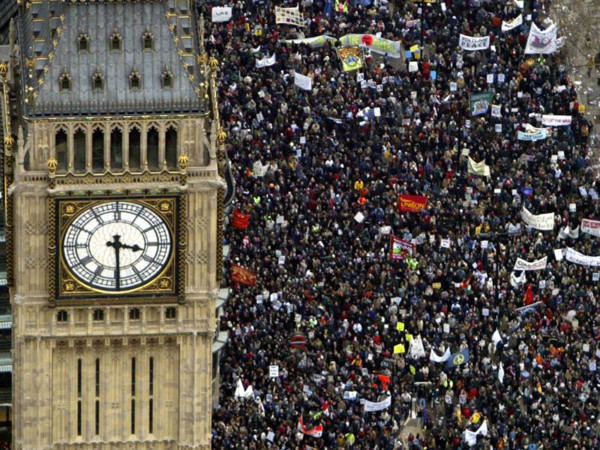 These millions were, of course, ignored by "serious" people everywhere, there and here, on a thoroughly bipartisan basis.
Next, whistleblower David Kelly (and BBC reporter — and not stenographer — Andrew Gilligan) got it right:
The UK's Iraq War inquiry vindicates a whistleblower who took his own life

What Kelly told Gilligan in that hotel room in 2003 was laid out in the 2.6 million-word document released on Wednesday.

Blair's decision to write a foreword for the dossier that concluded Iraq had or could quickly deploy WMDs "indicates a distinction between his beliefs and the [Joint Intelligence Committee]'s actual judgements,"
In less measured terms, Blair's "45-minute claim" (contemporaneous coverage) was wrong, and he over-rode intelligence professionals to make it.
Chilcot's report reads."The assessed intelligence had not established beyond doubt that Saddam Hussein had continued to produce chemical and biological weapons," it adds.

In 2003, Gilligan asked Kelly about the unreliable evidence: "What do you mean? They made it up?"

Kelly replied, according to Gilligan's notes: "No, it was real information. But it was included in the dossier against our wishes because it wasn't reliable. It was a single source and it was not reliable." Kelly blamed Campbell and his press office for that — the same Campbell who, this week, said the BBC was to blame for Kelly's death.

He gave a "classic" example: "The statement that WMD were ready for use within 45 minutes. Most things in the dossier were double-source but that was single source. And we believed that the source was wrong."
(Like every other episode in the history of the Iraq War, massive conflicts of interpretation have accreted around the record; see the Gilligan link above, and see here for Kelly's death.) We'll get to another intelligence omnishambles below.
This week, former Deputy Prime Minister John Prescott gets it right:
[PRESCOTT] As the Deputy Prime Minister in that [Blair] Government I must express my fullest apology, especially to the families of the 179 men and women who gave their lives in the Iraq War. In 2004, the UN Secretary-General Kofi Annan said that as regime change was the prime aim of the Iraq War, it was illegal. With great sadness and anger, I now believe him to be right.
And also this week, Labour leader Jeremy Corbyn gets it right:
[CORBYN:] Politicians and political parties can only grow stronger by acknowledging when they get it wrong and by facing up to their mistakes," he said. "So I now apologise sincerely on behalf of my party for the disastrous decision to go to war in Iraq in March 2003.

That apology is owed first of all to the people of Iraq. Hundreds of thousands of lives have been lost, and the country is still living with the devastating consequences of the war and the forces it unleashed.
And showing what the Labour leadership conflict is about:
As Corbyn issued his excoriating statement to the House of Commons, he was heckled by his own backbencher Ian Austin, who shouted: "Sit down and shut up, you're a disgrace."
Whether it's possible for the political class to award power to those who get it right is an open question, isn't it? But at least it's a question there, unlike here.
Intelligence Omnishambles: The "Linked Hollow Glass Spheres"
Foreign Policy summarizes this particular nugget of horror and idiocy:
If you thought the intelligence leading up to the Iraq war was bad, here's something to chew over: British intelligence used fabricated information about Saddam Hussein's chemical weapons program that appears to have been cribbed from the Michael Bay thriller The Rock. And, yes, that's a true sentence.

On September 23, 2002 British intelligence issued a report from a source that MI6 chief Sir Richard Dearlove had described as having "phenomenal access" to Iraq's biological and chemical weapons programs. That report claimed that VX, sarin, and soman — all nerve agents — had been produced at Iraq's Al-Yarmuk facility. The nerve agents had been put in a variety of "containers," one of which was "linked hollow glass spheres."

MI6 quickly realized the connection — but it was apparently not enough to immediately cast doubt on the source's veracity. In October, the Chilcot Report says, "questions were raised" about the "glass containers," noting that "they are not typically used in chemical munitions" and that "a popular movie (The Rock) had inaccurately depicted nerve agents being carried in glass beads or spheres."

Despite these questions, MI6 gobbled up the information supplied by the source. On September 11, 2002, an MI6 report attributed to the same source claimed that Iraq had accelerated its manufacture of chemical and biological weapons, that it had built additional facilities for that purpose, and that Hussein wished to maintain to his chemical and biological weapons capability
Just for grins, here is an image of those "linked hollow glass spheres"; Sean Connery is on the left, and Nicholas Cage on the right: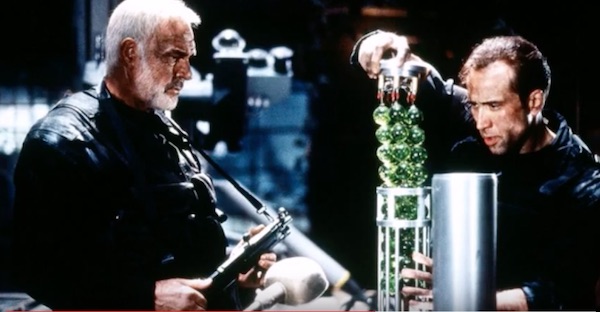 So, when U.S. Iraq Proconsul L. Paul Bremer III writes that "later, it turned out the intelligence was wrong," those glass spheres are the sort of thing he means. Sadly, Richard Dearlove was also CC'ed by the author of the famous "Downing Street Memo," whose key words — "the intelligence and facts were being fixed around the policy" — confirmed so many of us in our view that the Bush administration's case for war was, er, rigged. Honestly, words fail me on this one; we seem to have entered, long ago, some alternative universe where cynicism and ineptitude have inflated to occupy so many dimensions that they are no longer distinguishable. Could MI6 have actually believed Dearlove's source? Did MI6 persuade itself into belief? Were they browbeaten into writing as they did? Did they simply not care? In terms of the health of a political class, do these questions matter?
Tony Blair in the Dock
The wonderful book Military Misfortunes: The Anatomy of Failure in War cautions against "Man in the Dock" accounts of defeat, since debacles of epic scale, like Iraq, are caused by systems failures, not individual failings. Nevertheless — and it couldn't have happened to a nicer guy — Fleet Street is baying for Blair's blood.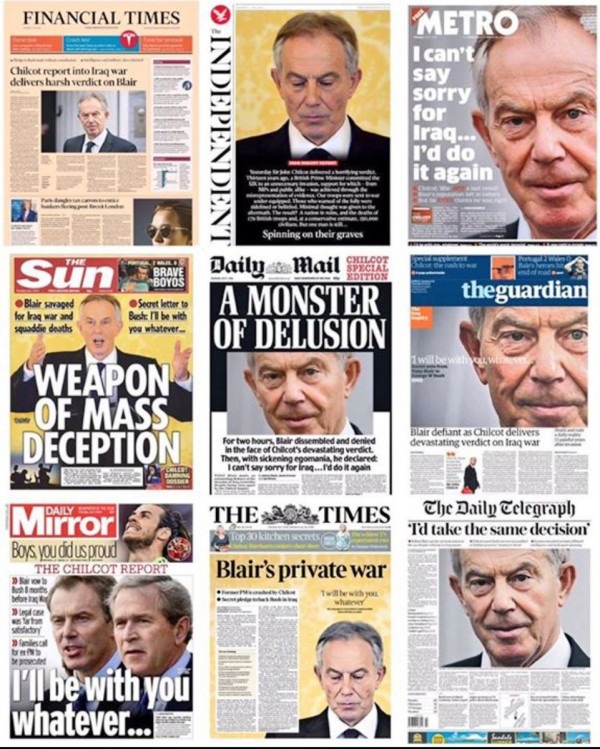 But if one does look for individual failings, the "special relationship" between Bush and Blair provides plenty of material. First, a smoking gun of a memo:
The Chilcot report included a previously classified memo from Blair to Bush written on July 28, 2002 — many months before the invasion — in which the then prime minister said: "I will be with you, whatever." Removing Saddam Hussein from power "is the right thing to do," wrote Blair, noting that while he could be contained, such a decision "is always risky."
Second, a private meeting between the two friends in Crawford, TX:
What exactly happened on 6 and 7 April in Crawford, Texas, between the US president, George W Bush, and the man who was determined to be his best friend, not even Chilcot's 2.6m-word report has been able to entirely unravel.

But if there was one event that changed the conversation about Iraq, it was this. Because while Blair insisted no deal was done and no hands shaken on military action, Chilcot's report describes how the mood changed thereafter and how the Whitehall machine, at different speeds in different departments, reacting to different voices, began to hum; the tempo changed.

And little wonder.
The article provides many examples of the "body language" of the US military, all of which go to show Blair had committed the UK to go to war in Iraq with the US well in advance of his government and that, crucially, the war was about regime change, and not the last resort.
The Chilcot Commission summarizes (Section 7, page 3):
10. By early March, the US Administration was not prepared to allow inspections to continue or give Mr Blair more time to try to achieve support for action. The attempt to gain support for a second resolution was abandoned.

11. In the Inquiry's view, the .

12. In mid-March, Mr Blair's determination to stand alongside the US left the UK with a stark choice. It could act with the US but without the support of the majority of the Security Council in taking military action if Saddam Hussein did not accept the US ultimatum giving him 48 hours to leave. Or it could choose not to join US-led military action.

13. Led by Mr Blair, the UK Government chose to support military action.

14. Mr Blair asked Parliament to endorse a decision to invade and occupy a sovereign nation, without the support of a Security Council resolution explicitly authorising the use of force. Parliament endorsed that choice.
As we saw from John Prescott above, when war is not the last resort, that's criminal, although the Chilcot report only edges up to the brink of that conclusion. Unfortunately for the political class as a whole, they voted for it, which is, presumably, why they're putting Blair in the dock, and not themselves. Blair now faces a motion of parliamentary contempt:
The Conservative MP David Davis, backed by the SNP's Alex Salmond, has said he will present on Thursday the motion accusing the former prime minister of misleading parliament. MPs could debate the issue before the summer if it is accepted by the Commons Speaker, John Bercow.

Sir John Chilcot said in his long-awaited report on the Iraq invasion that , but he did not explicitly say the war was illegal.

Davis said: "It's a bit like contempt of court, essentially by deceit. If you look just at the debate alone, on five different grounds the house was misled – three in terms of the weapons of mass destruction, one in terms of the UN votes were going, and one in terms of the threat, the risks. He might have done one of those accidentally, but five?"
(I think "far from satisfactory" deserves a place in the Hall of Understatement Fame with "not necessarily to our advantage.") Corybn (despite the Independent's deceptive headline) says he'll "probably" back the motion, though he'll have to read it. Corbyn's Blairite opposition[1], as one might expect, has a different view. Leadership challenger Angela Eagle: "I think Tony Blair's been put rightly through the mill about the decisions he took." (This looks like the UK's equivalent of our "he's suffered enough."
The Reaction of the Iraqi People Today
Remember when Saddam's statue was toppled? That great blow for freedom, and especially for public relations? After the Chilcot report, the BBC found the Iraqi man who organized it, and asked him what he thought of the war:
Kadhim, like many Iraqis, blames the invaders for starting a chain of events that destroyed the country. He longs for the certainties and stability of Saddam's time.

First, he says, he realised it was not going to be liberation, but occupation. Then he hated the corruption, mismanagement and violence in the new Iraq. Most of all he despises Iraq's new leaders.

"Saddam has gone, and we have one thousand Saddams now," he says. "It wasn't like this under Saddam. There was a system. There were ways. We didn't like him, but he was better than those people."

"Saddam never executed people without a reason. He was as solid as a wall. There was no corruption or looting, it was safe. You could be safe."

I asked Kadhim he would do if he could meet Tony Blair.

"I would say to him you are a criminal, and I'd spit in his face."

And what would he say to George Bush?

"I'd say you're criminal too. You killed the children of Iraq. You killed the women and you killed the innocent. I would say the same to Blair. And to the coalition that invaded Iraq. I will say to them you are criminals and you should be brought to justice."
And Kadhim is right, as we have seen. The Iraq War was not a last resort; it was criminal. Whether the British political class is heatlhy enough to agree with him, instead of scapegoating (the truly vile) Tony Blair, is still an open question.
Conclusion
If the state has a monopoly of violence, it had better not butcher the job when it exercises that monopoly. The clever writers at The Economist conclude:
Before contemplating any similar undertaking, it advises, there must be a clear understanding of the theatre of operations; a hard-headed assessment of risks; realistic objectives; and sufficient resources. It concludes: "All of these elements were lacking in the UK's approach to its role in post-conflict Iraq."
Oops. We'll see if the UK's political class can hold itself accountable for the Iraq debacle, or whether they'll settle for Tony Blair's head on a pike (not that there's anything wrong with that). As for our own political class, it has yet to even consider an inquiry on the scale and scope of the Chilcot report. I wonder if whoever is the next President will commission one?
NOTES
[1] Writes the Canary: "Of the 100 Labour MPs in office during parliamentary voting on whether to investigate the Iraq War, almost all of them voted against any sort of inquiry at all. That's 98 out of 100 Labour MPs who tried to veto Chilcot. Of the 100 Labour MPs in office during parliamentary voting on whether to investigate the Iraq War, almost all of them voted against any sort of inquiry at all. That's 98 out of 100 Labour MPs who tried to veto Chilcot."