Catching 'Em All at NYPL with Pokémon GO New York Public Library. Cool!
US stocks and bond yields in record territory due to uncertainty FT
Meanwhile, in Japan, Household Consumption Continues to Fall CFR
Barroso chez Goldman Sachs, un bras d'honneur à l'Europe Liberation (translation). Former President of the European Commission joins Goldman. How cozy.
Dark days flag up challenges for Deutsche Bank FT
Piles of Dirty Secrets Behind a Model 'Clean Coal' Project NYT
Standards Body Whines That People Who Want Free Access To The Law Probably Also Want 'Free Sex' Tech Dirt
In clinical trials, for-profit review boards are taking over for hospitals. Should they? STAT. What could go wrong?
Theranos CEO's 2-Year Ban Leaves Few Options to Save Startup Bloomberg. What a shame. And so innovative.
Unexpected Deaths Put Promising Immunotherapy on Hold MIT Technology Review
Brexit
Interview with Juncker and Schulz: 'Deadly for Europe' Der Spiegel

The biggest blunder of them all The New Statesman

Where are we now? Responses to the Referendum LRB

Britain is changed utterly. Unless this summer is just a bad dream Guardian

The post-Brexit ugliness of the left Spiked

The Tory Leadership Mystery: Why Did Michael Gove Betray Boris Johnson? Sputnik (RS).

Priti Patel: Andrea Leadsom could become a Tory Corbyn Daily Telegraph. Ouch!

The Media Against Jeremy Corbyn Jacobin. "BBC's political editor Laura Kuenssberg coordinated the resignation of a member of Corbyn's shadow cabinet so that it would occur live on television."

'No pressure on me' Jeremy Corbyn tells miners' gala, as Labour MPs 'de-invited' Guardian

"[CORBYN:] But one I got today really did puzzle me. They said: are you coping with the pressure that's on you? I said: 'There's no pressure on me. None whatsoever.' The real pressure, the real pressure – real pressure – is when you don't have enough money to feed your kids, when you don't have a roof over your head, when you are wondering if you are going to be cared for."

[drops mic].
Imperial Collapse Watch
The United States and NATO Are Preparing for a Major War With Russia The Nation

Despite fatigue, NATO commits to fund Afghan forces to 2020 Reuters

Delta flight from MSP to Rapid City lands at Air Force base by mistake Minneapolis Tribune
2016
What I Saw at the Summit In These Times
Clinton Email Tar Baby
Judge sets hearing on demand for Hillary Clinton deposition Politico

Clinton refuses to say whether she'll comply with latest investigation into emails McClatchy

Charge Hillary Rodham Clinton pursuant to 18 U.S.C. 641, 793, 794, 798, 952, and 1924 White House Petition (needs 0 votes).
Dallas Shooting
Black Injustice Tipping Point
Black Gun Owners in Texas Decry Racial Bias The Texas Tribune

Police group: Minn. governor 'exploited what was already a horrible and tragic situation' WaPo. Diamond Reynolds' actions were noble, and in a just world she'd get a medal for them.

The Bahamas' new U.S. travel advisory: Use 'extreme caution' around police WaPo
Class Warfare
For Too Many, the Job Market Isn't Working Bloomberg

A Start-Up Shies Away From the Gig Economy NYT

Book Review: Albion's Seed Slate Star Codex
Forget Montauk: Why Maine Should Be Your Modern Summer Retreat Bloomberg. No! Stay away! This article is a tissue of lies!
Do You Own Your Own Fingerprints? Bloomberg
Data Mining Reveals the Six Basic Emotional Arcs of Storytelling MIT Technology Review
When Narratives Go Bad Epsilon Theory (CL). Must read, and keep going. Maybe we need to replace "animal spirits" with "the power of narrative"?
Antidote du jour (via). Ducks are big in Japan: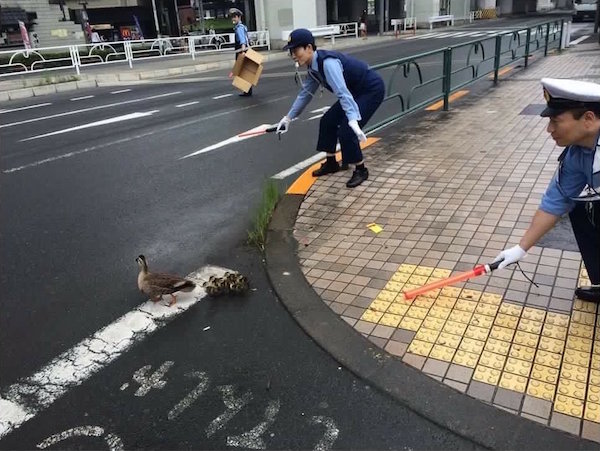 See yesterday's Links and Antidote du Jour here.