By Lambert Strether of Corrente.
TPP/TTIP/TISA
"It looks like another Hillary Clinton acolyte is throwing into question the sincerity of her opposition to the TPP — this time it's Ken Salazar, a former Colorado senator and Interior secretary, who will lead Clinton's transition team. Salazar, like Clinton running mate Tim Kaine initially, has views on trade that run counter to hers" [Politico]. I've never thought of Politico writers as masters of really dry humor, but after "throwing into question the sincerity of her opposition" I'm gonna have to rethink.
"Rock Against the TPP heads to Portland, Seattle, and San Francisco" [EFF].
2016
Corruption
"AP Sources: Manafort tied to undisclosed foreign lobbying" [AP]. Along with everybody else, as the headline somehow neglects to point out. Fourteen paragraphs deep:

The founder and chairman of the Podesta Group, Tony Podesta, is the brother of longtime Democratic strategist John Podesta, who now is campaign chairman for Democratic nominee Hillary Clinton. The head of Mercury, Vin Weber, is an influential Republican, former congressman and former special policy adviser to Mitt Romney. Weber announced earlier this month that he will not support Trump.

The intent of using the two lobbying firmswas unclear [unless you imagine that the deeply corrupt Ukrainians figured they needed to pay everybody off] , but ironically [ha ha ha], one of firms Manafort and Gates worked with has strong Democratic and Clinton ties.

After being introduced to the lobbying firms, the European nonprofit paid the Podesta Group $1.13 million between June 2012 and April 2014 to lobby Congress, the White House National Security Council, the State Department and other federal agencies, according to U.S. lobbying records.

The nonprofit also paid $1.07 million over roughly the same period to Mercury to lobby Congress. Among other issues, Mercury opposed congressional efforts to pressure Ukraine to release one of Yanukovych's political rivals from prison.

TOne former Podesta employee, speaking on condition of anonymity because of a non-disclosure agreement, said Gates described the nonprofit's role in an April, 2012 meeting as supplying a source of money that could not be traced to the Ukrainian politicians who were paying him and Manafort.

TIn separate interviews, three current and former Podesta employees said disagreements broke out within the firm over the arrangement, which at least one former employee considered obviously illegal. Podesta, who said the project was vetted by his firm's counsel, said he was unaware of any such disagreements.

So, that makes Cltion Putin's tool, amiright?
Policy
"Clinton's campaign may perceive some short-term advantage in brandishing these dubious endorsements [by Max Boot and other neocons], but the long-term ramifications are potentially dire. By rehabilitating the likes of Boot, Democrats effectively invite such people back into the fray of respectable discourse. They are once again seen as neutral, duly-credentialed 'experts; whose intonations are worth dutifully listening to. By association, Hillary's tacit approval allows these neoconservatives to accrue renewed prestige and eventually insinuate themselves back into positions of power" [New York Daily News]. There's no paradox here. Clinton's a warmonger, as shown by her record. And the neo-cons are warmonger-tropic. Where the warmonger is, there shall the neo-cons be.

"Hillary Clinton, who prides herself on the details of public policy, has said little about what is now the most ambitious and expensive proposal on her agenda: making public college tuition free for most Americans" [Wall Street Journal, "Hillary Clinton's Free College-Tuition Plan Short on Specifics"]. "On the campaign trail, she typically offers a sentence, maybe two, about the plan. Sometimes it goes unmentioned altogether. Her campaign has offered few specifics about how the program would work, hasn't said how much money states would have to provide or where the program would fall on her list of priorities. The campaign website no longer lists a cost for the program." Shorter: "Clinton to left: Drop dead."
Our Famously Free Press
Breitbart's story on its chairman becoming Trump campaign CEO is just copy & pasted from the @nytimes pic.twitter.com/sZ8nIfOOxm

— Oliver Darcy (@oliverdarcy) August 17, 2016

Shirley Sherrod, meet Judy Miller. Nevertheless…

"How Conspiracy Theories About Clinton's Health Turned Into a Campaign Issue" [New York Magazine]. Useful corrective. Personally, I find Clinton health rumors entirely plausible, based on my own mother's health history. Alas, plausible and true are not the same.
The Parties
Working Families Party endorses Clinton [Alternet]. Not a good look for WFP, especially after endorsing Cuomo over Teachout (and I hate the "working families" locution anyhow, for its faux air of piety, because I'm single, and because family structures are complicated anyhow and shouldn't be used for pandering).

"Democracy needs political parties to function. But our two major parties have become constrained by holding onto more than 100 years of ideas, constituencies and practices that can come into conflict with what those parties need right now to be competitive" [Politico]. "Do either of the two parties need to be replaced? The recent departure of Dmocratic National Committee chairwoman Debbie Wasserman Schultz, and the inability of the Republican National Committee to deal with Trump, might suggest some degree of institutional stagnation." Well worth a read.
Stats Watch
For those if you who enjoyed the Bob and Ray episode yesterday, this from the great Stan Freberg:
I thought of this when reading Wolf Richter's post on the San Francisco housing market; if you want to skip the setup, the punchline comes at 1:32.
MBA Mortgage Applications, week of August 12, 2016: "The purchase index fell 4.0 percent in the August 12 week for the fourth decline in five weeks and to the lowest level since February. Year-on-year, the purchase index slipped 3 percentage points but is still well in the plus column at 10 percent" [Econoday].
Atlanta Fed Business Inflation Expectations, week of August 16, 2016: "Inflation expectations, whether those of the consumer or in this case businesses, are very subdued" [Econoday].
Architecture Billings: "Architecture Billings Index (ABI) was positive in July for the sixth consecutive month, and tenth out of the last twelve months as demand across all project types continued to increase. As a leading economic indicator of construction activity, the ABI reflects the approximate nine to twelve month lead time between architecture billings and construction spending" [The American Institute of Architects]. But the election has brought and will bring volatility.
Consumer Price Index: "Lots of nuances but still tending to keep the Fed on hold" [Mosler Economics].
Housing: "Core inflation's components include shelter, transportation, medical care and anything that is not food or energy. The shelter index is comprised of rent, the equivalent cost of owning a home, hotels and motels. Shelter increased 0.2% and is up 3.3% for the year, yet rent is outpacing homeownership costs. Rent of a primary residence just keeps soaring and this month by 0.3% and is up 3.8% for the year. Graphed below is the rent price index" [Economic Populist].
Housing: "The shifting distribution and demand currents buffeting the retail sector don't seem to be slowing down Home Depot Inc. The company reported strong sales and earnings growth in the second quarter and raised its outlook for the year, the WSJ's Paul Ziobro writes, in a signal that a housing rebound in the U.S. is helping the home-improvement business" [Wall Street Journal].
Shipping: "Why are rails underperforming the overall economy? While we, too, continue our search for answers, it's worth noting that the rails aren't alone — this is a freight recession and with some exceptions (paper?), railroads are not losing share to other modes (although their coal customers have, of course). The business isn't going elsewhere. In many cases, it's simply not going. Which might be worse" [Progressive Railroading]. "What are the headwinds? The low-growth (GDP was up only 1.2 percent in Q2); the strong, though declining dollar; the still low and oh-so volatile (great head fake) energy prices; the high inventory levels across many commodities; and the ongoing decimation of the mighty coal franchise (and the small but high-profile crude-by-rail segment, et. al). Add to the list the mystery of intermodal, the growth savior that went off-duty for the quarter. "
Supply Chain: " Fast food adds fresh fruit. But will customers bite? " [Chicago Tribune]. "When Wendy's wanted to add blackberries — a fruit it had never used on its menu before — to a new salad, the process of finding farmers and growing enough berries took more than two years. McDonald's faced a similar challenge when rolling out a new fruit smoothie. It took the chain more than two years to find and grow enough mangoes to supply its 14,000 U.S. restaurants."
The Bezzle: "Ford plans self-driving car for ride share fleets in 2021" [Reuters]. The only way I can see this happening is if some form of deregulation means that algorithm owners have no liability, even granted a solution to the technical issues. Maybe that's why all the Democrats are heading to Silicon Valley…
Fodder for the Bulls: "[T]he declines in residential and nonresidential fixed investment are worrying because they are often viewed as reliable leading indicators of the cyclical strength or weakness of the economy. Although economists and other economic analysts find it very difficult—if not impossible—to predict recessions in real time, the available evidence suggests that the economy, though exhibiting stubbornly weak real GDP growth, continued to expand heading into the second half of 2016" [Federal Reserve Bank of St Louis].
Today's Fear & Greed Index: 75 Extreme Greed (previous close: 78, Extreme Greed) [CNN]. One week ago: 75 (Extreme Greed). (0 is Extreme Fear; 100 is Extreme Greed). Last updated Aug 17 at 12:41pm. Gramps put the car on cruise control again. What's wrong with these people?
Police State Watch
"Americans are afraid of many threats to their lives – serial killers, crazed gunmen, gang bangers, and above all terrorists – but these threats are surprisingly unlikely. Approximately three-quarters of all homicide victims in America are killed by someone they know. And the real threat from strangers is quite different from what most fear: one-third of all Americans killed by strangers are killed by police" [Granta].
"[Albuquerque DA Kari Brandenburg] had gone nearly 14 years without charging a single officer for a fatal shooting. And so when she decided to charge two of them with murder in January 2015, she did not expect her longtime allies to turn on her. But indeed those longtime allies went on to orchestrate "a complete snow job against her," as former Albuquerque police Sgt. Tom Grover put it. They attacked her reputation. They stripped from her the biggest case of her career. They resisted the authority of her office. And, she told those around her, they threatened her family's safety. It was a surreal turn of events: a district attorney scared of her city's police department" [Buzzfeed].
"Children are being Tasered by school-based police officers. No one knows how often it's happening or what impact it's having on students" [HuffPo].
"PETA offers $1,000 worth of vegan treats to St. Louis police-run ice cream truck" [St Louis Post-Dispatch]. Well, er.
Guillotine Watch
"I constantly lie to get airplane upgrades. Is that unethical?" [MarketWatch]. No, not if all the other kids are doing it.
"Homeless art, lost jobs and low enrollment: Two years later, Corcoran's breakup still stings" [WaPo]. Exactly as with Cooper Union, an insider-driven real estate deal corrupts and destroys an institution.
Class Warfare
"In dollar terms, what group of Americans steals the most from their fellow citizens each year?" [The Week]. "The answer might surprise you: It's employers, many of whom are committing what's known as wage theft. It's not just about underpaying workers. They're not paying workers what they're legally owed for the labor they put in. … Total wage theft in [Chicago, Los Angeles, and New York] amounted to almost $3 billion annually. The Economic Policy Institute estimated that if the patterns the study found are generalizable for the entire country, wage theft is $50 billion a year." It's certainly odd that this isn't a campaign issue. Not.
"[T]he labor market as a whole can be considered a safety net whose good health is a prerequisite for individuals to take risks that may end in failure" [Mike Konczal and Marshall Steinbaum, Roosevelt Institute]. No, it can't be, and no, it isn't. (If you really want to increase risk-taking through the provision of public services, try Medicare for All and a Jobs Guarantee, and maybe a Debt Jubille while you're at it. None of those solutions are market-based.) Always watch out for prose that treats markets as if they were organic beings ("health"). That's always a sign of sloppy thinking, and often a sign of bad faith.
"Food-stamp enrollment in the U.S. is declining from record levels, in part because some states are ending benefits earlier than they have to. Seven states, all led by Republicans, have decided this year to end waivers for some able-bodied recipients that were made available in the 2009 federal stimulus bill — even though the benefits are federally funded" [Bloomberg].
"Swedish fashion retailer Hennes & Mauritz last week said it was collaborating with trade unions and governments to improve workers' conditions, after an AFWA study found violations at its suppliers' factories in India and Cambodia. AFWA, along with other campaigners, will lobby the ILO at its conference in Geneva next week to move forward on setting a global standard for supply chains, including for wages" [The Fashion Law].
News of the Wired
"A Conflict-Free Replicated JSON Datatype" [Archiv.org]. You'll like this sort of thing, if this is the sort of thing you like.
"In the Windows 10 Anniversary Update, version 1607, Microsoft removed the on-off switch for Cortana. But the setting is still available if you know where to look" [ZD Net]. Assuming the switch isn't a "placebo button."
* * *
Readers, feel free to contact me with (a) links, and even better (b) sources I should curate regularly, and (c) to find out how to send me images of plants. Vegetables are fine! Fungi are deemed to be honorary plants! See the previous Water Cooler (with plant) here. And here's today's plant (JD):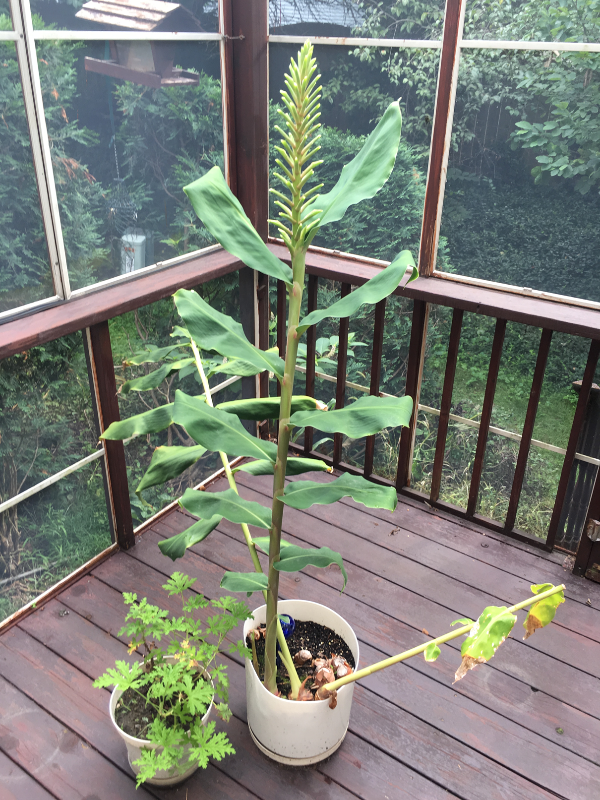 JD writes: "This is what happens when you shove a piece of Ginger in a pot in the Tropics (west of Chicago) and give it no attention."
* * *
Readers, I know it's the dead days of August, but if you can, please use the dropdown to choose your contribution, and then click the hat! Your tip will be welcome today, and indeed any day. Water Cooler will not exist without your continued help.