By Lambert Strether of Corrente.
At a recent meeting on our ongoing fight against "the landfill" — situated[1] on a high ground near the Penobscot, owned by the state, but privately operated, hence rapidly being filled up by out-of-state trash to the profit of the operator, and therefore to be expanded — I was impressed by the thinking of one young environmental scientist from the University of Maine. For context, Maine solid waste policy should be governed by what is called "The Solid Waste Hierarchy," which is embodied in statute:
Title 38: WATERS AND NAVIGATION

Chapter 24: SOLID WASTE MANAGEMENT AND RECYCLING HEADING: PL 1995, C. 465, PT. A, §26 (RPR)

Subchapter 1: GENERAL PROVISIONS HEADING: PL 1995, C. 465, PT. A, §27 (RPR)

§2101. Solid waste management hierarchy

1. Priorities. 

It is the policy of the State to plan for and implement an integrated approach to solid waste management for solid waste generated in this State and solid waste imported into this State, which must be based on the following order of priority:

A. Reduction of waste generated at the source, including both amount and toxicity of the waste; [1989, c. 585, Pt. A, §7 (NEW).]

B. Reuse of waste; [1989, c. 585, Pt. A, §7 (NEW).]

C. Recycling of waste; [1989, c. 585, Pt. A, §7 (NEW).]

D. Composting of biodegradable waste; [1989, c. 585, Pt. A, §7 (NEW).]

E. Waste processing that reduces the volume of waste needing land disposal, including incineration; and [2007, c. 583, §7 (AMD).]

F. Land disposal of waste. [1989, c. 585, Pt. A, §7 (NEW).]

It is the policy of the State to use the order of priority in this subsection as a guiding principle in making decisions related to solid waste management.
It will come as no shock to readers when I say that the state, operating seemingly under the strictures of Matthew 20:16, has inverted the heirarchy: "Land disposal of waste" (that is, landfills) is the first priority (because ka-ching[2]), incineration is being phased out, another business arm of the landfill operator has systematically destroyed local composters, and another business arm of the operator is attempting to destroy local recycling. (In Maine's case, "reduction of waste generated at source" would mean controlling out-of-state sources; difficult to do under the Commerce Clause, but possible for a state-owned landfill, did we but try.)
Why? Because markets. Collecting a fee for dumping ginormous amounts of out-of-state trash into a hole in the ground is more profitable — in dollar terms — than any of the alternatives.[3]
This is, of course, insane, by any other measure than profit for the operator. The landfill is situated on high ground near tributaries with only a short distance to run into the Penobsot. When the landfill liner fails — as all landfill liners ultimately do — toxic leachate will end up in the Penobscot. Maine doesn't have a lot going for it, economically, but — paging Michael Burry — increasingly precious clean water is one such thing. (The Penobscot River Restoration Project has made immense progress cleaning up the river from all the damage done by the industrial pulses of the nineteenth and twentieth centuries.)
Profits, however, are quantifiable: Everybody knows what they are and what (ka-ching) to do with them. "The policy of the State," however, is not quantifiable, and in practice its determination is at the mercy of the army of lawyers and lobbyists deployed by the operator. But what if there were an accounting method other than dollars that made the real costs of the landfill — in this case, the endangerment of the entire Penobscot river basin downstream from the landfill — visible? That would shift the terrain of the regulatory battle in favor of the defenders of the river basin, both inside the regulatory process, and outside it, in the public eye.
As it turns out, there is such an accounting method, and that's what I liked about the young environmental scientist's thinking. The key concept is "emergy" — with an "m" — and the methodology and systems thinking behind it was developed by Howard T. Odum of the University of Florida, "the father of systems ecology." My takeaway from the meeting, therefore, was that policies implementing the Maine Solid Waste hierarchy should be justified using emergy as the unit of account, and not dollars. Happily, if this approach were to be taken, the landfill expansion would not be approved.
Caveat, even moreso than usual: This is my first foray into environmental accounting, which is a vast (and heavily contested) field. My purpose in writing this post — besides doing my little bit to cripple the landfill — is to introduce the emergy concept, and hopefully encourage readers more expert than I (like, all of you) to expand on and critique it, or even offer superior alternatives. To an actual environmental scientist, therefore, this post will be distressingly simplistic. I will introduce the emergy concept, present a worked example, make one of the more obvious critiques, and conclude.
Concept
Here's how Odum defines emergy on his site (and I'll give a less forbidding restatement following). First, he introduces the idea that flows and forms of energy are hiearchical:
Self organization develops a network of energy transformations in a series. … Since energy flows are converging at each step to make fewer flows of energy at the next, it is an energy hierarchy. … Examples are the energy chains in organisms, ecosystems, economies, earth processes, and the stars.

Work is defined here as the available energy degraded in an energy transformation. Since many joules of available energy on the left[-hand, input side of a transformation] are required to make the successive transformations to form a few joules of available energy on the right[-hand, output side of a transformation], it is quite invalid to use joules of one kind of energy as equivalent to joules of another for purposes of evaluating contributions. However, we can express each kind of available energy in units of one kind of available energy.
From the perspective of a physicist, I suppose, energy is energy; everything is a joule. Intuitively, however, as Odum points out, kinds of energy are not interchangeable: To burn coal instead of oil, for example, I would have to expend energy to convert my boiler, I'd have to make sure there was actually a functioning system for delivering coal to my house, and so on; the transformation is not free of "friction." Odum urges that "energy" cannot provide an account of this transform; "emergy" can. He goes on:
Emergy (spelled with an "m") evaluates the work previously done to make a product or service. Emergy is a measure of energy used in the past and thus is different from a measure of energy now. The unit of emergy (past available energy use) is the emjoule to distinguish it from joules used for available energy remaining now.

There is a different kind of emergy for each kind of available energy. For example: solar emergy is in units of solar emjoules, coal emergy in units of coal emjoules, and electrical emergy in units of electrical emjoules. There is no emergy in degraded energy (energy without availability to do work). Like energy, emergy is measured in relation to a reference level. In most applications we have expressed everything in units of solar emergy.
Sounds complex. Then again, natural systems are complex. Here's a friendlier definition:
Emergy is an expression of all the energy used in the work processes that generate a product or service in units of one type of energy. The unit of emergy is the emjoule, a unit referring to the available energy of one kind consumed in transformations. Emergy accounts for different forms of energy and resources (e.g. sunlight, water, fossil fuels, minerals, etc.) Each form is generated by transformation processes in nature and each has different ability to support work in natural and human dominated systems. The recognition of these differences in quality is a key concept of the emergy methodology.
And an even friendlier exposition:
Odum identified the work of biosphere, driven by solar energy, as the source of resources and environmental services, and provided a

common measure for them (solar emergy). Odum suggested emergy to be the basis for value and sustainability assessments
That is, if we were able to give an accounting, quantitatively in emjoules, of the contribution of the Penobscot River basin to the state of Maine, versus the emjoules contributed by the landfill, we wouldn't be thinking about expanding the landfill for a moment.
Example
Just to show that emergy isn't an airy-fairy, hippie-dippy concept, here's an example of emergy accounting performed for the United States Forest Service:
Brown and Campbell (2007) used emergy analysis to estimate the value of the natural capital and environmental services of the nine regions of the U.S. Forest Service (USFS). They evaluated the energy, material and service flows that drove the USFS system, and they also evaluated the system's assets (environmental, economic, geological and cultural). They analyzed two forests, the Osceola and the Deschutes, to apply the methodology at a smaller scale. The authors chose to express the results in emjoules and in monetary-equivalent emdollars to yield comparable results.

The authors calculated the annual emergy driving the USFS in 2005 at em $42.7 billion, most of which consisted of renewable environmental flows. Exports from USFS lands (described as "environmental subsidies to the U.S. economy") added up to em $263.7 billion. Forty per cent of the export value came from clean water, and 37 per cent from fossil fuels and minerals. Wildlife, wood biomass, hydroelectric power and a range of smaller environmental products accounted for the remaining 23 per cent. The authors calculated environmental assets in different groupings: environmental, economic, geological and cultural assets. They also calculated the emdollar value of the genetic resources, biodiversity and endangered species on USFS lands (see Table 2.6).

The authors compared the market price of environmental services and natural capital with the emdollar equivalents, though most of the environmental services and natural capital do not have market values (see Table 2.7 for emdollar and dollar values of environmental services).They found the emdollar values they calculated for the environmental services were approximately 8.2 times the market value of the services. They calculated the emdollar value of environmental services without market values to be em $52.3 billion, and they found the em dollar value for natural capital was approximately 2.5 times its market value. Natural capital without market values added up to more than em $2.8×1018. This value was largely due to the value of geological formations.
Here is Table 2.6:

And here is Table 2.7: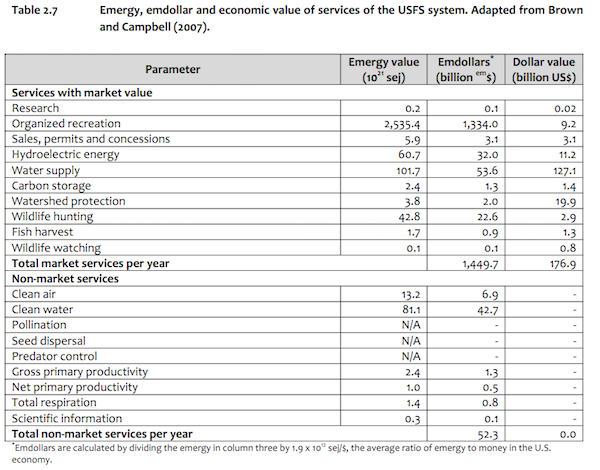 As per the caveat above, I can't do much more than say "Yeah, that seems sensible!" But intuitively, taking the value of geological formations into account makes a lot of sense, and I bet it would make a lot of sense to those fighting another form of extraction from powerless local economies: Mountaintop removal. One of the putative justifications floated for the (hopefully) defeated East-West Highway in Maine was a gold mine (literally) up in the unorganized territories. A mining operation in the Penobscot's watershed, upstream of everything. What could go wrong?
Critiques
Readers will already have spotted one weak point in the emergy approach. How are emjoules to be made commensurable across kinds of energy? That takes work. From the Proceedings of the Sixth Emergy Conference at the University of Florida:
The application of the emergy method needs a large and reliable database of conversion factors so-called Emergy Intensities or Unit Emergy Values (UEVs), used to convert the input flows (energy, matter, money, labor and information) into flows of emergy driving a process.

Lack of a suitable and constantly updated database undermines the evaluation process and weakens any calculated performance indicators.
This doesn't prevent emergy accounting from being used for individual systems like forests or landfills; but it would be nice if the conversion factors didn't have to be developed piecemeal on a project basis. In a perfect world, the conversion factors would be as available and simple to use as any table that engineers use; or the building code.
Of course, a political economy based on endless capital accumulation is unlikely to optimize for the creation of such a database; we prefer to pour our trillions into bright shiny bezzles like Uber, or self-driving cars.
More centrally, I'm leery of universal units of measure. Odum's approach — the necessity of a "reference level" — reminds me very much of Marx's labor theory of value, which gave an account of what made commodities commensurable, hence exchangeable, and labor power turned out to be, in practice, unobservable. The fact that I'm leery of something, of course, doesn't make that something wrong, so I welcome reader commentary on this point.
Conclusions
The young scientist also had — and who among us does not? — an agenda. The permit for the landfill expansion that we are contesting says explicitly that projections of landfill capacity depend on economic growth (or "groaf," as we say), and that as the Maine economy recovers (as if), landfill capacity will need to increase. So, they asked, given that there's a direct relation between growth and the landfill, doesn't growth have to halt? The emergy methodology provides an account for why that should be true.
NOTES
[1] Thanks to corrupt Democrats who to this day have refused to look in the mirror for the landfill debacle.
[2] Not only for the private operator of the landfill, but for a small army of lawyers in Portland, and another small army of lobbyists in Augusta. In a nice touch, this army are billing the state, i.e., me, for its very expensive hours, since the operator is formally the agent of the great State of Maine. I bet if the landfill were sited on Cape Elizabeth, state policy would be very different!
[3] For the operator. Maine governments get a cut of the tipping fees, but most of the profit extracted goes out-of-state.