Dear patient readers,
Due to competing responsibilities, Links are light at their 7:00 AM launch time. You should have a fuller ration by 8:00 AM.
UVic project takes on pesky geese with high-tech laser 'scarecrow' CBC (resilc)
Man's dueling obituaries name wife in 1, girlfriend in other StarTribune (Chuck L)
How to talk about female Olympians without being a regressive creep – a handy guide Guardian (Chuck L)
Holy Grail of energy policy in sight as battery technology smashes the old order Ambrose Evena-Pritchard, Telegraph (Chuck L)
Brexit
Worryingly for May and her Brexit minister, David Davis, several countries — including Germany, Portugal and the Czech Republic — insist that the U.K. adhere to rules on free movement of labor in return for access to the single market in goods and services. Many who backed Brexit did so in the belief it would mean fewer immigrants.

Just three fellow EU members — Denmark, Austria and Bulgaria — cited a shared concern with Britain over immigration, suggesting that May will find sympathy in short supply.

France signaled it is ready to go even further and link freedom of movement to Britain's ambition of retaining the passporting rights that allow the financial industry to sell services and raise money on the continent.
Russia's Putin, Britain's May agree to meet to try to thaw frosty ties Reuters
L'Italie appelle à un « Schengen de la défense » Le Monde
Refugee Crisis
Out of sight, out of mind? Europe's migrant crisis still simmers Reuters

Is Germany trying to set Migration "Plan B" Agenda using Greece? Keep Talking Greece
Greek PM Calls on Europe to Ease Greek Debt as Did for Germany in 1953 Greek Reporter
China?
China to resort to aggressive monetary easing in 2016 Xinhua CNBC

Cutting China's Capital Down to Size Wall Street Journal
Japan's Elderly Face Growing Risk of Poverty Wall Street Journal
Turkey
Putin-Erdogan Meeting – Breakup, Breakdown Russia Insider. Important. Recap by John Helmer.

Welcome to the Erdoğan fanclub Politico
Syraqistan
Google blames malfunction for deleting 'West Bank' and 'Gaza' from Israel/Palestine map Mondoweiss (Chuck L)
Big Brother is Watching You Watch
Julian Assange to be questioned inside embassy as Ecuador agrees to set date Guardian (Chuck L)

Did Assange Say Rich Was A Source? Nina Illingworth Dot Com (martha r)

A New Wireless Hack Can Unlock 100 Million Volkswagens Wired (Chuck L)
Imperial Collapse Watch
The Pentagon Money Pit Counterpunch (resilc)
2016
Stress Over Family Finances Propelled Hillary Clinton Into Corporate World New York Times. We are supposed to take this seriously? My recollection is that the advance on Bill's book deal was $8 million and hers was $4 million. That was more than enough to settle their outstanding debt and provide plenty of funds for a very comfortable lifestyle, particularly when you factor in that presidential pensions are not shabby either.

Canadian Partnership Shielded Identities of Donors to Clinton Foundation New York Times. Resilc: "People forget."

Arkansas rape victim comes forward after 40 years to call Hillary Clinton a 'liar' Daily Mail (Chuck L)

Hillary Clinton is the Dick Cheney of the left The Week (resilc)

HRC Shouldn't Tout Endorsements From Pro-Torture Neocons New York Magazine

Clinton Fiscal Prudence Runs Counter to Krugman's Call to Borrow Bloomberg. Resilc: "Bye, bye, Social Security."

If I were worried that Clinton might lose, here's what I would—and wouldn't—do… Corey Robin (martha r)

Why the CIA Should Brief Trump American Conservative (resilc)

Republican primary donors jump ship to Clinton over Trump Business Insider

How Trump's 'populist' economic policy hides a payday for the wealthy Guardian

A Tale Of Two States |American Conservative (resilc). Suggests Trump will not do well in the Rust Belt, and perhaps also that those voters are taking note of Trump looking more and more, policy-wise, like a pretty standard Republican.

Neo-McCarthyite Kremlin-Baiting of Trump Continues to Prevent Urgent Policy Debates Nation

Bernie Sanders money keeps pouring in for Wasserman Schultz rival Canova Miami Herald (martha r)
These States Are At the Greatest Risk of Having Their Voting Process Hacked MIT Technology Review (resilc)
Balance billing" and "drive-by doctors" are contributing to growing out-of-pocket medical costs. Slate
Big alcohol is working to undermine marijuana legalization, Wikileaks confirms SF Gate (Chuck L)
Colorado Readies for 'All Out War' as Anti-Fracking Measures Advance to Ballot Common Dreams (martha r)
Student Convicted of Rape Faces No Prison Time New York Magazine. Ugh.
Black Injustice Tipping Point
In Baltimore Report, Justice Dept. Revives Doubts About Zero-Tolerance Policing New York Times. Recall that Giulani, via police chief Bratton, depicted zero tolerance policing as one of the centerpieces of crime reduction in NYC. Later analyses suggested that getting lead out of gasoline was the primary driver of the fall in violent crime rates all over the US.

Lawsuit Charges 13 St. Louis Suburbs With 'Extorting' Black Drivers NBC (Chuck L)

Findings of Police Bias in Baltimore Validate What Many Have Long Felt New York Times. It's unfortunate that this sort of thing needs to ben "validated". It should be already understood to be pervasive. For instance, early in the days of Black Lives Matter, there was a hashtag on things white people had done in police stops or other encounters that would have gotten them arrested or killed if they were black. And that's before you get to the fact that men of color are stopped by police in greatly higher numbers than whites.
Oil
Saudi Oil Output Sets Record Despite Global Glut Wall Street Journal

Here's proof that Saudi Arabia doesn't care about killing oil prices – only the competition Business Insider
Regulatory Déjà vu All Over Again Adam Levitin, Credit Slips
Ben Bernanke explains why Fed's not going to be raising rates for a while CNBC
Velocity of M2 declining more quickly Angry Bear
Class Warfare
Schrader bill would gut the Department of Labor's new overtime rule Economic Policy Institute (Chuck L, martha r)
Antidote du jour. Jyoti:
Three juvenile Cooper's Hawks in my back yard near Santa Fe, NM.

After a terrible failure last year our resident pair of Cooper's Hawks succeeded this time around and produced three off springs. Early on one fledgling fell out of its nest, but the two remanning ones managed to grow into charming young males who were recently joined by a slightly older young female that one day appeared out of nowhere.

Interestingly the parent hawks were the ones who left the scene as soon as the young ones were able to fly and thus were expected to fend for themselves.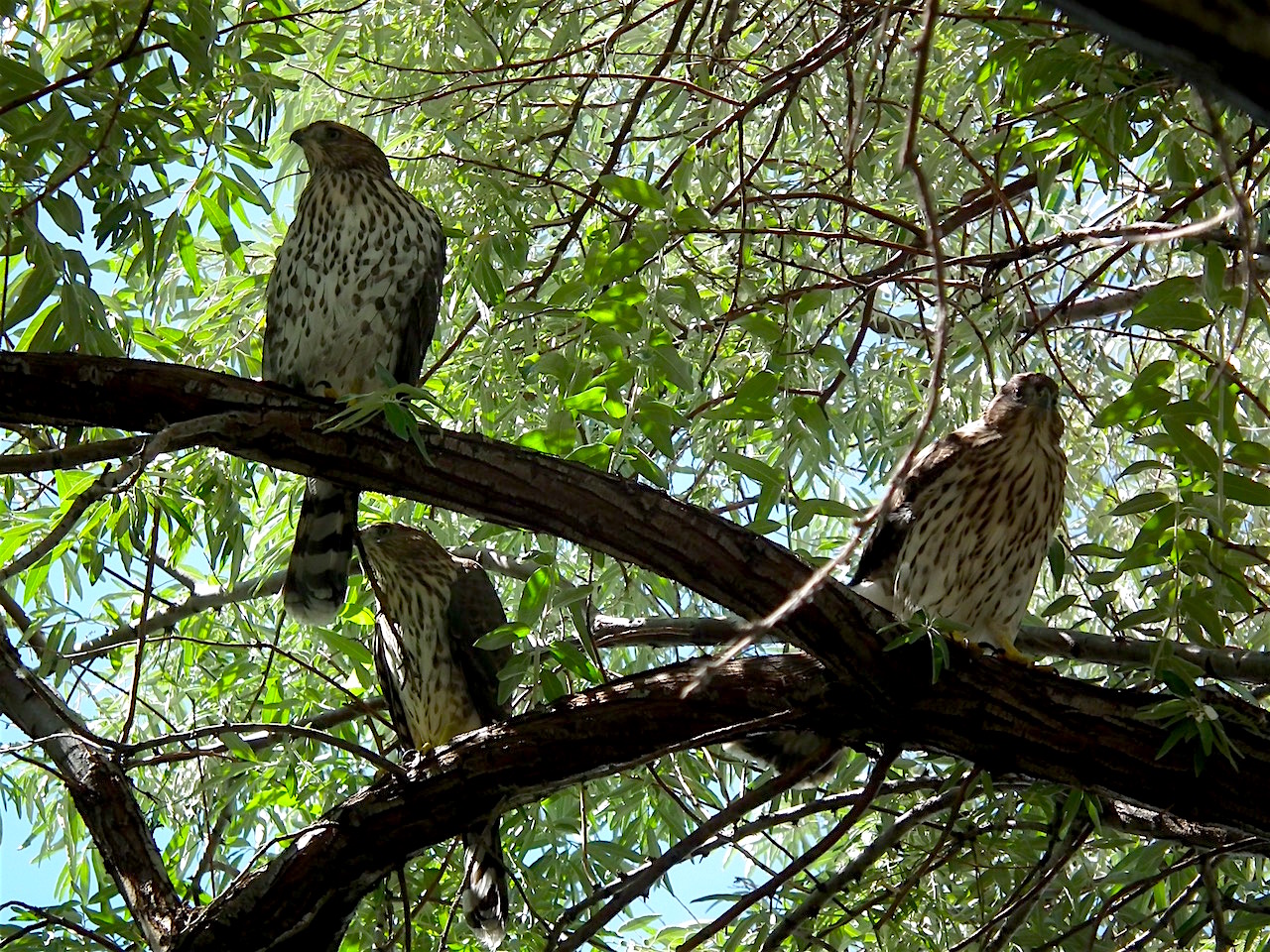 See yesterday's Links and Antidote du Jour here.