By Lambert Strether of Corrente.
Readers, this is a little bit light because I'm recovering from travel on Monday. Tomorrow I should be back in form!
TPP/TTIP/TISA
"The U.S. tech industry is making a push for the Trans-Pacific Partnership in a letter sent to congressional leaders this morning asking them to "intensify" their focus to work with the Obama administration on a path forward for the deal in 2016″ [Poltico]."The United Fresh Produce Association and the National Pork Producers Council are holding fly-ins this week where TPP will be one of the big talking points with lawmakers."
Jamie Dimon: "I'm a big believer of getting the trade deal done, but acknowledge that it actually hurts some people, and give income assistance, do development, relocation, retraining, so those hurt by it can be made better" [Politico]. I especially like "relocation." Throw Momma in a home so Dimon's pals can avoid "lost profits"?
"Nationwide, the TPP would roughly double U.S. exposure to ISDS attacks and a TTIP would quadruple the exposure, spelling an unprecedented increase in U.S. ISDS liability. Under all existing ISDS-enforced pacts, the total number of firms that can currently launch ISDS cases against the U.S. government is about 4,100 foreign corporations that own about 9,829 U.S. subsidiaries. The TPP would newly empower more than 3,682 additional corporations in TPP countries that own more than 10,085 subsidiaries here, to launch cases against the U.S. government. The TTIP would newly empower more than 12,100 European Union parent corporations that own more than 26,961 U.S. subsidiaries, to go to the panels of corporate lawyers and demand U.S. taxpayer compensation" [Public Citizen]. With interactive map showing state-by-state effects.
2016
Money
"The [Donald J. Trump Foundation[ acts as a conduit, receiving gifts from individuals and other wealthy people's foundations and then distributing those gifts to charities under the Donald J. Trump Foundation name, typically with no credit given to the donor or donors funding the Trump Foundation gift'" [Nonprofit Quarterly]. "The Trump Foundation's small size, its lack of employees, and its board composed four-fifths of family members (and one hundred percent Trump Organization employees) may explain—but does not at all excuse—its seat-of-the-pants operating style."
Our Famously Free Press
"Why Are The Media Objectively Pro-Trump?" [Paul Krugman, The New York Times]. He's got a point. After all, the press systematically suppressed stories about Sanders, who would have been a stronger opponent for Trump than Clinton.
The Voters
"Polansky is the kind of voter both campaigns covet: working-class, from a swing state, with networks of friends, coworkers and family they can influence. That's especially true in Polansky's home state of Ohio, which polls show may be the closest of the battleground states in play" [Bloomberg]. "'She's putting us in a category of we don't know anything, we're dummies and she knows what's best for us,' Polansky said. 'I know what's best for my family; Hillary don't.'"

"Our quest was to find the disaffected, currently Democratic, working-class white males Trump appears to be wooing with his appeals to economic angst—and the ones he'll need to change the electoral arithmetic in the states in question" [Bloomberg]. "Since the parties' conventions this summer, the candidates and their running mates have held nearly 40 campaign events in Pennsylvania, Ohio, and Michigan alone—averaging at least one every other day when you count surrogate appearances from Vice President Joe Biden, the Obama-Clinton machine's designated working-man whisperer."

Hmm:

Liberals believe in addressing every issue within a socio-economic context (Crime, Terrorism, …)

Except racism. That issue is context free

— Chris Arnade (@Chris_arnade) September 13, 2016
Realignment
"Candidates do themselves a tremendous disservice when they attack voters [as with "special place in hell" and #Berniebros, let us remember] rather than campaigns. Whatever advantage is procured through the rallying of one's own base is outweighed by what will be read as divisiveness and disdain" [Charles Blow, New York Times]. But: "I understand that people recoil at the notion that they are part of a pejorative basket. I understand the reflexive resistance to having your negative beliefs disrobed and your sense of self dressed down. I understand your outrage, but I'm unmoved by it. If the basket fits …"
Stats Watch
NFIB Small Business Optimism Index, August 2016: "[A] barely significant decrease yet softer than expectations of a slight increase that would have continued a weak rebound from" [Econoday].
Personal Income: "Another positive is that this marked the first real annual increase in median household income since 2007" [247 Wall Street]. After eight years. Income, of course, "not wealth." If you put money into your house and lost it, that's all gone.
Housing: "[N]early one in five home buyers are making offers on homes without even viewing a property" (via Redfin) [Dr. Housing Bubble]. "Buyers of high-end homes were almost twice as likely to have made offers on homes sight unseen. Thirty-nine percent of people who bought homes for more than $750,000 made offers without seeing homes in person."
Concentration: " A proposed merger of two Canadian fertilizer giants would create a single business that would control an enormous part of the North American supply chain for crop nutrients. Agrium Inc." [Wall Street Journal]. "Agrium Inc. and Potash Corp. of Saska tchewan Inc. confirmed the merger plans…. in a deal that would create a crop-nutrient giant worth about $27 billion."
Shipping: "According to Kantar Retail, about 73% of rural consumers—defined as those who drive at least 10 miles for everyday shopping—are now buying online versus 68% two years ago. Last year, 30% were members of Amazon Prime, up from 22% in 2014" [Wall Street Journal, "E-Commerce Is a Boon for Rural America, but It Comes With a Price"]. "Residents here are even starting to buy groceries online because frequently it is cheaper than at the town's United Supermarkets."
Shipping: "Is Hanjin shipping's Lehman moment?" [Splash247]. "Speaking on Bloomberg Television, the Vancouver domiciled shipping veteran [Gerry Wang, the head of Seaspan,] said: 'The fallout of Hanjin Shipping is like Lehman Brothers to the financial markets. It's a huge, huge nuclear bomb. It shakes up the supply chain, the cornerstone of globalisation.' But: "Splash's lead finance columnist, respected ship finance veteran Dagfinn Lunde commented: 'I do not agree at all. Very little will happen due to Hanjin's demise; the ships will still be there.'"
Shipping: "[I]t is believed that many shippers, freight forwarders, and beneficial cargo owners (BCOs) had sufficiently diversified their bookings so that the Hanjin collapse would not be an undue burden on their supply chains" [DC Velocity].
Supply Chain: "Labor has become an increasingly important make-or-break factor in determining the success of retailers and delivery companies during a period marked by a sudden surge in online orders" [Wall Street Journal, "Hunt for Holiday Workers Heats Up, Giving Wages a Boost"].
Shipping: "Seven clues that "Game of Thrones" is really about hazmat shipping" [DC Velocity]. "3. Flammable liquids play a prominent role."
Oil: "Global oil demand growth is faltering and oil production is stabilizing, providing a recipe for the global glut of petroleum and its products to continue through much of next year, the International Energy Agency said Tuesday." [Wall Street Journal, "IEA Cuts Global Oil Demand Forecast Amid 'Wobbling' Asian Demand"]. The IEA's closely watched monthly oil-market report marked an abrupt shift for an agency that a month ago said the world's oil glut had begun disappearing."
Honey for the Bears: "Thieves are stealing catalytic converters out of cars for their precious metals" [Ars Technica]. I put this in the metal theft box, which is never a good sign for "the economy."
Honey for the Bears: " Yuan Liquidity Squeeze a Bad Sign for China's Equity Market " [Bloomberg]. "The rise in Hibor [Hong Kong Interbank Offer Rate] is probably due to increased demand for liquidity before the end of the quarter, according to Wing Lung Bank treasurer Terry Siu. China's markets are closed for holidays on Thursday and Friday, as well as during the first week of October."
Political Risk: " A riot broke out in the southern Chinese village of Wukan on Tuesday as dozens of people, many of them waving flags and hurling stones, protested early morning raids that led to the arrests of activists who had criticized the government" [New York Times].
The Fed: "I think the FOMC should stop playing monetary Hamlet, grow a set of testicular appendages, and raise rates" [Across the Curve].
The Fed: "I am skeptical that a large-scale expansion of government spending by itself is the best way forward, since larger fiscal deficits will lead to higher expected future taxes, which could further undermine private sector confidence" [Neel Kashkari, Medium].
The Fed: "The Fed Is Planning for Another Slow Recovery" [Narayana Kocherlakota, Bloomberg]. Planning? Planning?
Today's Fear & Greed Index: 35 Fear (previous close: 55, Neutral) [CNN]. One week ago: 65 (Greed). (0 is Extreme Fear; 100 is Extreme Greed). Last updated Sep 13 at 11:56am. Yikes! This is what happens when I take my eye off the ball.
Gaia
"In the minds of many, soil is simply dirt, but without it we would all cease to exist. Unlike the water we drink and the air we breathe, soil is not protected in the EU and its quality is getting worse" [Euractiv].
Police State Watch
"Police forces across the United States are stockpiling massive databases with personal information from millions of Americans who crossed paths with officers but were not charged with a crime" [Post and Courier]. "Of particular concern to many advocates is the lack of standards and transparency associated with the use of field inquiries. They exist outside of stringent incident reporting guidelines set by the FBI and, in some places, aren't considered public documents at all. In others, police have worked to put up barriers to sidestep scrutiny." Excellent actual reporting from the Post and Courier.
Class Warfare
"A Wealth Of Problems: How The Housing Bust Widened The Rich-Poor Gap" [Zillow]. "If foreclosed homeowners had been able to hold on, they would have been able to see their home's equity – and therefore their wealth – increase. In fact, throughout the entire recovery foreclosed homes showed greater annual appreciation than homes in general." And: "This state of affairs has given rise to much of the social anger and instability we see today. The 99 percent movement, the increasing homelessness issue, the ever-contentious presidential election and a growing housing affordability crisis all have roots in this growing divide between rich and poor. We've taken to calling it income inequality, but that only speaks to a small part of the problem. Wealth inequality is incredibly real, is getting worse and is distressingly unheralded. We hope this research helps bring the issue to light." Zillow joins the Communist Party!
"[M]ost of the tax code benefits families with more wealth than they can consume in one lifetime. In this context, the estate tax is really just an imperfect, partial, insufficient way to slightly mitigate the inter-generational transmission of wealth and the development of an aristocracy of hedge fund managers and their children. The big question isn't whether we should have an estate tax or not. It's whether we should take much more aggressive measures to give all children a fair shot at a comfortable and prosperous future. Eliminating the estate tax, without addressing the sources of inter-generational inequality, would only accelerate the transformation of American into a new feudal society" [James Kwak, Baseline Scenario]. Kwak too!
"Wells Fargo Exec Who Headed Phony Accounts Unit Collected $125 Million" [Fortune]. I think it's very important that a woman –Carrie Tolstedt — shattered the glass ceiling for accounting control fraud.
Interviews on the Long Island University lockout [Democracy Now]. If you read what the adminstrators say, it seems that they believe they represent the university, not the faculty. Which is odd, since I can't ever remember hearing anybody say they chose their university because it had really good deans.
News of the Wired
"Neglected Food Bubbles: The Espresso Coffee Foam" [National Library of Medicine]. "n spite of the relevant role played by crema as a quality marker, espresso coffee foam has not yet been the subject of detailed investigations."
* * *
Readers, feel free to contact me with (a) links, and even better (b) sources I should curate regularly, and (c) to find out how to send me images of plants. Vegetables are fine! Fungi are deemed to be honorary plants! See the previous Water Cooler (with plant) here. And here's today's plant: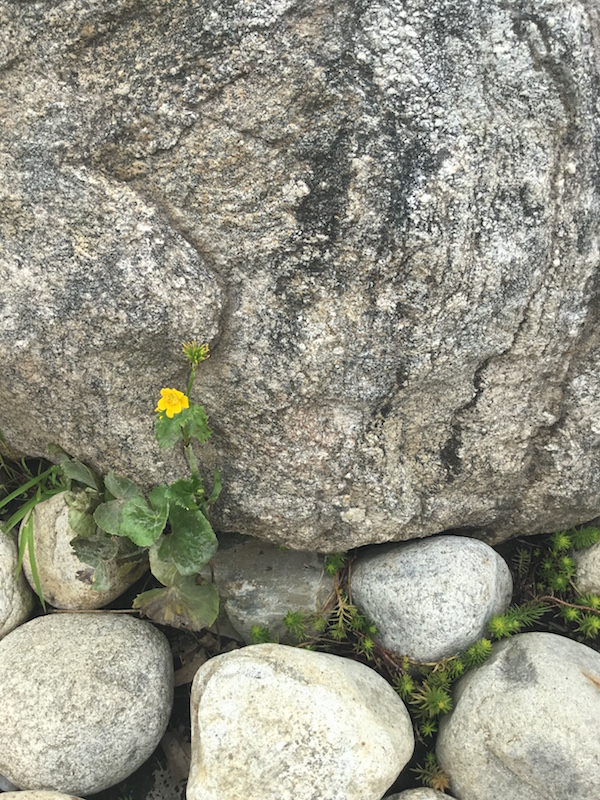 One more from the Coastal Maine Botanical Gardens.
* * *
Readers, if you can, please use the dropdown to choose your contribution, and then click the hat! Your tip will be welcome today, and indeed any day. Water Cooler will not exist without your continued help.