By Lambert Strether of Corrente.
TPP/TTIP/TISA
TPP: "'It's very challenging to get people to commit the political capital to move forward when the doubts are so significant about what the United States will do," [Eric Altbach, a senior vice president at the Albright Stonebridge Group] said" [Politico].
"Organizations including the Communications Workers of America, CREDO Action, Democracy for America and several others sent a letter to Clinton on Thursday asking her to make a 'clear, public and unequivocal statement' opposing any vote on TPP" [Politico]. It will be interesting to parse Clinton's next stateement, if any. (Remember that Clinton's 10% base is cosmopolitan, and supports trade. She won't be punished for remaining "equivocal.")
2016
Corruption
Clinton's 2009 ethics agreement: "I currently hold and will continue to hold my position with The Clinton Family Foundation, which maintains all its assets in cash. If confirmed as Secretary of State, I will not participate personally and substantially in any particular matter that has a direct and predictable effect upon this foundation, unless I first obtain a written waiver or qualify for a regulatory exemption" (pdf) [Cryptome]. First, "will not participate" sets a much higher bar than the ludicrously low "quid pro quo" standard set by Clinton's operatives and supporters. Second, is it really usual for charitable foundation to keep "all its assets in cash"? Why would Foundation do that? And why even say it does? (I'm resisting a joke about "maintains all its assets in Bitcoin"….)

"On the campaign trail, Hillary Clinton is a big critic of for-profit universities, attacking them for charging high prices but offering students little support and delivering degrees of questionable value. Her administration, she says, would crack down 'on for-profit colleges and loan servicers who have too often taken advantage of borrowers'" [USA Today]. "What Clinton doesn't mention are her close family connections to for-profit Laureate Education and the hefty $9.8 billion in loans accumulated just by students at Laureate's Walden University in Minnesota… If Clinton wonders why so many voters consider her to be graspy and question her trustworthiness, she need look no further than the tangled, lucrative ties among Laureate, its owners, the Clinton family and the Clinton Foundation." Graspy.
Policy
"It shouldn't be offensive to consider the interests of Americans before those of illegal immigrants" [David Frum, The Atlantic]. Frum perhaps not the best messenger here, even in this odd year. So I'll repeat: Democrats are telling working class people hit by decades of policy decisions on trade and immigration — many by Democrats or bipartisan — to "take one for the team" (along with "go into debt so you can credentials like me" (and a subtext that "you're all racists so you don't matter anyhow")). But there is no team (as the subtext shows). It's no wonder Democrats are in difficulties. And when I see Democrats enact some concrete material benefits to ameliorate the effects of those policy decisions, I'll treat their views on immigration policy as something more than virtue-signalling. But Democrats never take responsibility for anything, so I have the feeling I'll be waiting some time for that. Back to Frum:

Literally every point in [Clinton's] most public statement of her immigration views deals with the interests of immigrants themselves, and especially of illegal immigrants.

Nobody would do banking policy that way, or any other area of public concern.

Hmm. It seems to me that this is exactly how banking policy was made, by Obama, in 2009. Eh?
Money
"Republican presidential nominee Donald Trump has run an unusually cheap campaign in part by not paying at least 10 top staffers, consultants and advisers, some of whom are no longer with the campaign, according to a review of federal campaign finance filings" [Reuters]. "[N]ot compensating top people in a presidential campaign is a departure from campaign finance norms." Hirohito Award candidate, there.

"Hillary Clinton's presidential campaign raised an eye-popping $143 million in August for her candidacy and the Democratic Party, the best showing of her campaign, her team said Thursday" [Agence France Presse]. Ka-ching. And not doubling down. Squaring down.
Down Ballot
"The news out of Ohio is grim for former governor Ted Strickland: The Democratic Senatorial Campaign Committee and its aligned super PAC have canceled a week of planned TV advertising in support of his challenge to Sen. Rob Portman (R)" [WaPo]. The term of art for this is "throwing in the towel."
The Voters
James Carville: "Whatever weaknesses Clinton has, Trump constantly covers them up" [Vanity Fair]. Hmm. I'd love to see a timeline that combines Clinton corruption eruptions and Trump gaffes, if anybody knows of one. Although creating a timeline like that would be an awful lot of work.

"Hillary Clinton's late-night panic " [Chicago Tribune]. Weapons-grade snark. Spoiler:

Ready4Hillary: Think of it this way. If you asked someone, "Would you like to climb into an old scow full of garbage?" most people would say "No." But if you say, "Would you like to be saved at any cost from the apocalyptic flood that is rising to destroy your city?" most people would say "Yes." The trick is to focus on the second thing and not be too specific about the first thing. OK?

Hillary: am I the garbage scow in that analogy?

Ready4Hillary: the point is, less is more. OK?

"Clinton's advisers tell her to prep for a landslide" [Politico]. "Revealing a level of confidence Clinton's inner circle has been eager to squash for weeks, outside advisers have now identified victories in Pennsylvania and New Hampshire as the path of least resistance, delivering for the Democratic nominee more than the 270 electoral votes needed to take the White House. And they are projecting increased confidence about her chances in Republican-leaning North Carolina, a state that could prove as critical as Ohio or Pennsylvania." I'd add a few grains of salt to this: First, Clinton is notoriously surrounded by sycophants. Second, I think this is messaging, and not reporting: The Clinton campaign wants early voters to go with a winner. Third, a massive electoral win doesn't necessarily translate to a popular vote landslide. Hence, an electoral landslide combined with a much closer popular vote will do nothing to help Clinton in a coming legitimacy crisis (and could even exacerbate it).

"There's almost no chance our elections can get hacked by the Russians. Here's why" [WaPo].
War Drums
Putin on 2016: "All this should be more dignified" [Bloomberg]. Gotchyer casus belli right here…
Realignment
"So you think you can take over the Democrat Party?" [South Lawn]. Cogent points. On the other hand, what's sauce for the sheepdog is sauce for a century-long record of third-party #FAIL. Past results are no guarantee of future performance.

"Downballot Republicans and top GOP leaders are dumping Trump" [NBC]. "[Y]esterday came this campaign video from John McCain, who's engaged in a tough re-election fight: "If Hillary Clinton is elected, Arizona will need a senator who will act as a check," he said, all but admitting that Trump is unlikely to win in November. And McCain won't be the last GOPer making this 'check on Hillary' argument.

"Kissinger, George Schultz mull Clinton endorsement" [The Hill]. Can't we just be open about this and set up a war criminals PAC?
Clinton Email Hairball
"Clinton's meetings as secretary of state finally to be released to The Associated Press BEFORE the election as government backs down" [Daily Mail]. AP content with Daily Mail headline: "Of the documents that were made available, in some instances the calendars had been edited after her events, and in others the names of those she met were omitted."

Maza is, of course, paid by ClintonLand through Media Matters:

Of course, the victims of HRC's foreign policy (which the emails shed light on) have been overwhelmingly non-white pic.twitter.com/fjeJotCKO6

— Michael Tracey (@mtracey) September 1, 2016

I'd say Maza puts identity politics in a nutshell, except a nutshell isn't vacuous enough.
Stats Watch
Employment Situation, August 2016: "Nonfarm payrolls rose a lower-than-expected 151,000 in August with revisions to July and June at a net minus 1,000. The unemployment rate holds at 4.9 percent with modest increases on both the employment and unemployment side of this reading" [Econoday]. "There are definitely weak spots in this report though the headline payroll gain of 151,000 is respectable but isn't high enough to give the hawks the advantage at this month's FOMC where a rate hike will, at least, be discussed." On the bright side, at least the BLS isn't in the tank for Clinton. And: "To sum this report up – it is treading water. There was really nothing good or nothing really terrible – although both construction and manufacturing declined. The year-over-year rate of growth was unchanged from last month. The average hours worked continues to decline pointing to economic slowing" [Econintersect]. And: " The number of persons working part time for economic reasons increased slightly in August. This level suggests slack still in the labor market" [Calculated Risk]. And: "[T]he labor force participation stayed flat at 62.8% in August, compared to 62.8% in July" [Business Insider].
International Trade, July 2016: "A rise in exports helped cut the nation's trade deficit to a lower-than-expected $39.5 billion in July, well down from a revised $44.7 billion in June. Exports rose 1.9 percent to $186.3 billion with strength centered, not this time in services which were flat, but in goods and especially, as indicated in last week's advance goods report, in agricultural products" [Econoday]. " Imports, which are a subtraction in the national accounts, fell 0.8 percent with this decline centered in consumer goods, a decline that hints at cautious business expectations for U.S. retail demand. Petroleum is not a major factor in the July report …." But: " Both the adjusted and unadjusted data is in contraction year-over-year. This is normally a sign of a recession but in the new normal trade is doing crazy things" [Econintersect].
Factory Orders, July 2016: "After monthly declines of 1.2 and 1.8 percent in May and June, factory orders surged 1.9 percent in July for the best gain since October last year" [Econoday]. "Orders for core capital goods (nondefense ex-aircraft) were especially strong in July, up 1.5 percent following June's 0.5 percent gain in readings that upgrade what has been a very soft outlook for business investment. Aircraft, which is always volatile in this report, is July's biggest plus, surging 90 percent in the month. But vehicles are a negative in the report, down 0.5 percent. Other negatives include factory shipments which slipped 0.2 percent and include a 0.5 percent decline in shipments of core capital goods… This report is mostly solid but is a bit dated. This morning's employment report showed a decline in factory hours which points to a retreat for manufacturing in the next industrial production report." So the "surge" is aircraft, which is a "sporty game." C
Vehicle Sales: "Not good. Pronounced slowdown. Negative contribution to growth" [Mosler Economics].
Shipping: "Rail Week Ending 27 August 2016: All Rolling Averages Worsen And Remain In Contraction" [Econintersect]. And: "I do not understand what is going on because this piece of data says goods consumption is down 5% – and it is not being confirmed by any data coming from the Federal Reserve, US Census or BEA. This piece of data says the USA is in a recession – but the monetary measures say the economy remains in expansion." Readers will recognize this as a crisp statement of the sort of unease that has been concerning me (because I like to look at physical thing that you can count by pointing at them, like containers and trains). Speculating very freely: Could there be a flow of goods we don't know about? Like containers full of opioids? Or is there a capital flow that shouldn't exist, but does? Money laundering from those same opioids? Money laundering generally? The Bezzle? Readers?
Shipping: " BNSF launches faster intermodal service between Pacific Northwest, Texas" [Progressive Railroading].
Shipping: "Gap Inc. 's turnaround efforts hit a glitch this week as a fire at one of the retailer's largest distribution centers set back the company's ability to fulfill online orders heading into the holiday season" [Wall Street Journal, "Fire at Gap New York Distribution Center Slows Online Orders"]. "The cause of the blaze, which wasn't fully under control until about 9:30 p.m. on Wednesday, hasn't been determined."
* * *
Hanjin Bankruptcy:
Shipping: "The insolvency of Hanjin Shipping, the world's seventh largest container line, is likely to have a significant impact throughout the maritime sector" [Splash247]. Here are the subject headings from this comprehensive post:
Shipowners – unpaid hire
Container lessors – unpaid hire and recovery of containers
Ports, terminals and container yards – unpaid terminal and storage charges
Consequences for Hanjin's vessel sharing and alliance partners
Consequences for freight forwarders
Consequences for cargo interests
Hauliers and rail operators – unpaid freight
Crew – unpaid salaries
Port agents – outstanding agency payments
Vessel suppliers – unpaid invoices
Banks and bondholders – mortgages, bonds and other corporate debt
Now, the author is a maritime lawyer, so you can practically hear the licking of chops at the billing, but the analysis seems sound. I'm sure we have readers with some expertise in this field. Thoughts? Especially on who gets paid first?
Shipping: "Shipowners' Hanjin exposure tops $1bn as arrears mount" [Lloyd's List]. "THE unprecedented Hanjin Shipping debacle has put shipowners in a tough spot with regards to damage claims. Danaos, Seaspan and Navios Maritime Partners each have vessels chartered to Hanjin, with over $1bn in total contracted revenues…."
Shipping: "Woes at Hanjin, South Korea's largest sea container shipping firm and the world's seventh-biggest with a 2.9 percent market share, are derailing the supply chains of companies that need to send goods well in advance of the year's biggest shopping season as Thanksgiving and Christmas holidays approach. TVs, cars and sneakers sail about 10 days to reach Los Angeles from Asia while they could take as many as 30 days to Rotterdam" [Seattle Times]. And: "Hanjin Shipping is part of Hanjin Group, which also owns Korean Airlines, the world's third-largest cargo airline. Korean Air loaned funds to Hanjin Shipping and bought shares in the container line in 2014 to become the biggest shareholder with 33 percent." Hmm.
Shipping: "South Korea's decision to withdraw support for its largest shipping company has sent shock waves through an ailing global industry. It also shows Seoul's toughening stance when it comes to troubled firms" [Wall Street Journal, "South Korea's Hard Line on Hanjin Shipping Signals New Attitude"]. "Hanjin Shipping Co. 's potential bankruptcy would be the largest container-shipping failure in history, dwarfing all previous carrier bankruptcies, says shipping consulting firm Alphaliner. Not knowing whether they would get paid, ports and handlers from South Korea to China, the U.S., Canada, Spain and elsewhere have refused to handle its cargo. That has stranded 45 ships at sea, according to the company, and more than half a million containers." Read the whole article for detail on Korean bailout politics, and why Hanjin got the chop.
Shipping: "'The biggest problem is what is going to happen to cargos at sea. We are just praying that our cargos are not seized,' said Ra Kyung-moon, executive vice president at Forman Shipping, a freight-forwarding firm in Seoul" [Fortune]. "Freight-forwarding firms, which organize shipments, may be held liable for customer cargo that doesn't arrive and are also worried about the recovery of funds paid to Hanjin in advance for services promised."
Shipping: "A Hanjin spokeswoman told Reuters that 44 of its 98 container ships had been denied access to ports including Shanghai, Sydney, Hamburg, and Long Beach, California" [Fortune]. "These include instances where lashing firms have refused service, or where port authorities have blocked entry." "Lashing firms… " Musical interlude! Go forward! Move ahead! Try to detect it! It's not too late!
Shipping: "'Retailers' main concern is that there (are) millions of dollars' worth of merchandise that needs to be on store shelves that could be impacted by this,' said Jonathan Gold, the [National Retail Federation's] vice president for supply chain and customs policy. 'Some of it is sitting in Asia waiting to be loaded on ships, some is already aboard ships out on the ocean and some is sitting on U.S. docks waiting to be picked up. It is understandable that port terminal operators, railroads, trucking companies and others don't want to do work for Hanjin if they are concerned they won't get paid'" [US News]. Presumably governments [Hi, Penny Pritzker! (waves)] could step in at the receiving end, but what happens at the point of origin? Since there's a good deal of money at stake, presumably this will happen, but….
Shipping: "The turmoil can only aggravate problems for retailers grappling with the challenges and high costs of e-commerce and at a crucial time. Those most likely to be affected include Wal-Mart Stores Inc., Target Corp. , J.C. Penney Co. and clothing retailers" [Wall Street Journal, "Retailers Seek U.S. Help With Shipping Crisis"]. "Reclaiming cargo won't be easy. Cargo owners may have to wait for months to get their cargo off Hanjin ships, analysts said."
* * *
Supply Chain: "In late July, the commercial property insurance company FM Global released a report warning supply chain professionals to start thinking about how increased extreme precipitation could affect their supply and distribution networks. The report felt eerily prescient in August, when 6.9 trillion gallons of rain fell on Louisiana in a single week, causing floods of epic proportions" [DC Velocity].
The Fed: "Taken in isolation, the August employment report was decent. However, in the context of a Fed that has been waiting for a reason to move on rates in the near term, this report is likely to fall short on that front" [TD Securities, Across the Curve].
Supply Chain: "Apple Inc. is trying to shift the burden of falling iPhone sales onto its suppliers. The electronics giant is telling parts makers to accept price cuts even as it lowers order volumes ahead of the release of its next-generation iPhone later this month" [Wall Street Journal]. "This 'double cut' is especially vexing for components makers, many of which have come to rely on the annual surge in orders surrounding iPhone launches. Makers of unique products, like chips and camera lenses, are better-able to resist Apple's demands than manufacturers that produce easily replicable parts. Few expect the situation to improve, as global smartphone sales plateau and Apple's profits shrink." And so what happens when all the Foxconn workers return to the village?
Today's Fear & Greed Index: 62 Greed (previous close: 62, Greed) [CNN]. One week ago: 63 (Greed). (0 is Extreme Fear; 100 is Extreme Greed). Last updated Sep 2 at 11:43am. Smaugs' greedy bellies starting to rumble?
Gaia
"In a final ruling announced Friday, the Food and Drug Administration is pulling from the market a wide range of antimicrobial soaps after manufacturers failed to show that the soaps are both safe and more effective than plain soap. The federal flushing applies to any hand soap or antiseptic wash product that has one or more of 19 specific chemicals in them, including the common triclosan (found in antibacterial hand soap) and triclocarbon (found in bar soaps). Manufacturers will have one year to either reformulate their products or pull them from the market entirely" [Ars Technica]. "Scientists have found that triclosan and other antimicrobial soaps have little benefit to consumers and may actually pose risks. These include bolstering antibiotic resistant microbes, giving opportunistic pathogens a leg up, and disrupting microbiomes."
"In a newly published paper, a team led by University of Wollongong researcher Allen Nutman describes a find from Greenland it thinks represents a 3.7 billion-year-old microbial community. That would push back the earliest fossil evidence by more than 200 million years" [Ars Technica].
The Unsettlement
"'Blockupy' is back, demonstrating against austerity, consumerism, and the plight of refugees in Germany. Supporters could be seen all over Berlin demanding a more egalitarian approach to integration and economic policy" [Deutsche Welle].
Guillotine Watch
"'Now here's the thing. There were sixty big houses for the families that lived there, and every single one of them was full of what's left when you leave dead people lying around for four years. As far as we could tell, right after the old federal government lost control of the Midwest, the security guards turned off the alarm systems one night and went from house to house. They shot everyone but the domestic staff, took all the gold and goodies they could carry, and headed off somewhere else. That wasn't the only place that happened, either'" [The Archdruid Report]. "'I heard some really ugly stories from the Hamptons back in the day,' I said." However, if you read the piece, you'll see why I didn't file this under class warfare.
Class Warfare
"The Real Reason Middle America Should Be Angry" [Washington Monthly]. This is near hagiography about St Louis, especially the St Louis advertising industry (!), with the theme that deregulation of monopolies gutted large businesses in the heartland. All true, but oddly, or not, there's no mention of Ferguson whatever.
News of the Wired
"The world has seen the most unsettling attack yet resulting from the so-called Rowhammer exploit, which flips individual bits in computer memory. It's a technique that's so surgical and controlled that it allows one machine to effectively steal the cryptographic keys of another machine hosted in the same cloud environment" [Ars Technica].
* * *
Readers, feel free to contact me with (a) links, and even better (b) sources I should curate regularly, and (c) to find out how to send me images of plants. Vegetables are fine! Fungi are deemed to be honorary plants! See the previous Water Cooler (with plant) here. And here's today's plant (CR):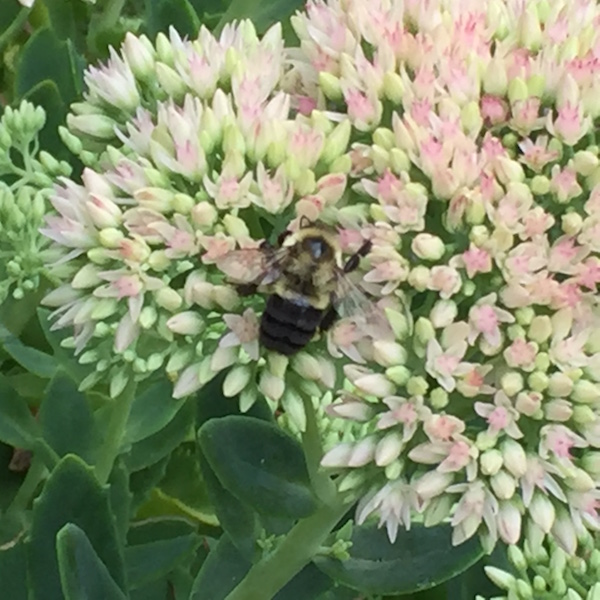 * * *
Readers, I know we're approaching Labor Day weekend, but if you can, please use the dropdown to choose your contribution, and then click the hat! Your tip will be welcome today, and indeed any day. Water Cooler will not exist without your continued help.